~ Some Live Performance Scenes ~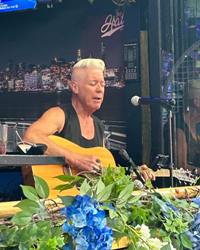 This is from my September 1st gig at the Madd Hatter: https://www.facebook.com/stevie.be.77/videos/2004076473303438
September 20, 2023
---
~ It's Official ~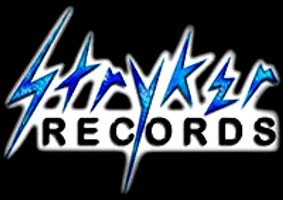 Stryker Records, INgrooves, Universal Music Group, and Mia Mind Music are proud to officially announce that the release date for the BB Stevens "Not My Monkeys" EP is now set in stone as Friday, September 29, 2023. Thank you the amazing Antonio Carlos Silva Filho, the supreme Sir Douglas Fabiano, the exotic Erica Flowers, the wonderful Raquel Ramos, the phenomenal Father John Crowe, the clever Chris Dobry, the super-talented Scotty Austin, top-of-their-game The Audio Scientists Laboratory, the marvelous Malcolm Springer, and all my other fabulous friends and fans for your help in getting this one over the finish-line. Hey World, are you ready to rock?
September 13, 2023
---
~ Great Gig! ~
Cool gig at the Madd Hatter last Friday. Anticipating a smaller crowd due to Labor Day Weekend holiday it was certainly satisfying to see some familiar faces in a larger-than-expected audience. Thank you Roxy and Patricia for sharing your pics of the show.
September 6, 2023
---
~ Whole Lotta Shakin' Goin' On! ~
Call it what you may, but I'm calling it a pre-release record party for my "Not My Monkeys" EP. I'll be performing music from the EP as well as some songs for the post-EP album (or LP) for the first time as the newly anointed BB Stevens at the Madd Hatter (221 Washington St., Hoboken, NJ, https://hobokenmaddhatter.com/) this Friday from 5:30 – 9 PM. Stop in to say hi, check out some tunes, and have a good time!
August, 30, 2023
---
~ Dazed & Glazed Days ~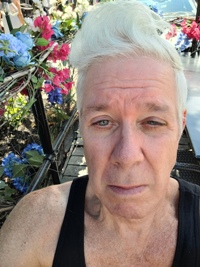 Epic recording sessions over the weekend! My guitar, Gideon, got to visit her Uncle Doug (aka Sir Douglas Fabiano, our record producer). We finalized all the mixes for the "Not My Monkeys" EP and added guitar/vox to Sir Douglas' amazing production of my Xmas single. So, Sunday took a break to chill at The Madd Hatter Bar and just stare off into space.
August 23, 2023
---
~ Step By Step ~
My team shared their vision with me of what they envision as the cover artwork for my "Not My Monkeys" EP. This has been a labor of love for me that would not have happened without the additional blood, sweat, tears, and toil of Sir Douglas Fabiano (producer, arranger, multi-instrumentalist, backing vocals), Erika Flower (congas, backing vocals), Raquel Ramos (backing vocals), His Holiness Father John Crow (exorcist), and Antonio Carlos Silva Filho (graphics, video producer, advisor, consultant). I'm truly humbled by their talent, wisdom, and kindness!
August 16, 2023
---
~

New Beginnings…

~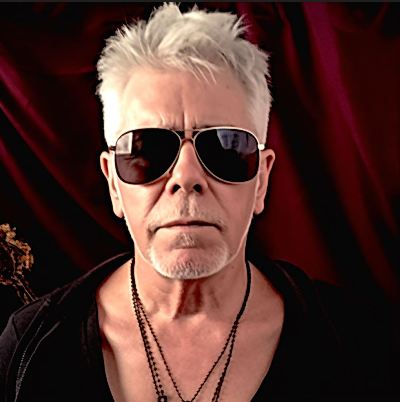 Beginning in early July it was unofficially decided I lay the Stevie B moniker to rest when it comes to all things music and rebirth as BB Stevens. The original plan was to not go public with the change until the late summer release of my "Not My Monkeys" EP. Anyways, sometimes we plan and God, well I guess She had other plans. So, the proverbial cat's out of the bag and it's now official, thanks to That Dang Latonya Mechelle. https://www.latonyamechelle.com/post/meet-bb-stevens
August 9, 2023
---
~ Bad Hair Day On A Good Day In The Studio ~
After endless hours wearing headphones, your hair is sure to get smooshed. But who cares about hair when those hours are spent in the studio cutting tracks with sonic-sibling and record producer Sir Douglas Fabiano. The "Not My Monkeys" EP will be available next month – so stay tuned, my tune lovin' loons!
August 2, 2023
---
~ Makin' Sweet Luv With My Soulmate ~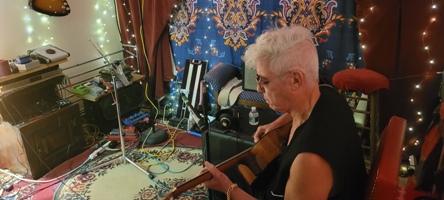 A candid pic yesterday as I sit with my sweet Gideon (the love of my life!) upon my lap and in my arms amid wires and audio processors in the studio as we lay down a final guitar track for the upcoming "Not My Monkeys" EP. In all honesty, Gideon's the true talent in the music we make. Me? I'm just the arm candy – and I'm so blessed she puts up with me and keeps me around…
July 26, 2023
---
~
Cuttin' Class & Gone Fishin'

~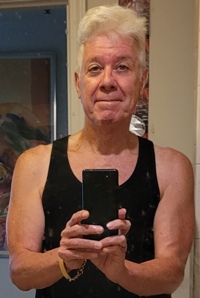 Playing hooky from the 9-5 gig for the next several days to head to the recording studio & finish the final touches on an EP slated for release this summer. Always great to get another chance to work with music producer extraordinaire Douglas Fabiano (aka D-Fab) and the amazingly versatile vocalist Raquel Ramos on this upcoming EP release of my music. The record is slated for release next month. I'm so blessed, baby!
July 20, 2023
---
~
Sweet Gig

~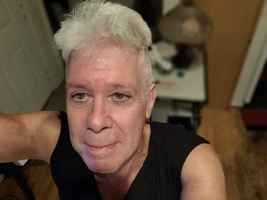 Snapped this selfie after returning from playing a July 4th biker BBQ gig. I was the only unplugged act on the bill but the audience connection was great. Still pumped up on stage adrenaline and the wild ride home courtesy of a very friendly lady with a bitchin' Triumph T120. I love this life!
July 12, 2023
---
~ They Really Like Us! ~
They like us – they really, really like us! Thank you San Francisco Post, Stryker Records, Inc., Chris Dibry, Scotty, Malcolm Springer, Ingrooves Music Group, Universal Music Group, Douglas Fabiano, and Antônio Carlos Silva Filho. You're the best team ever!
July 5. 2023
---
~

Airplay Trifecta

~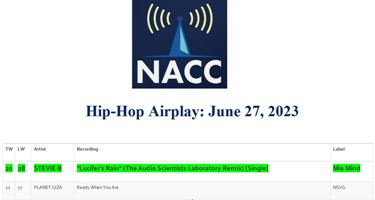 Wow, is all I can say! The the rap remix of my "Lucifer's Rain" single by The Audio Scientists Laboratory has been on the national hip-hop radio airplay charts for 3 weeks in a row. One helluva a wicked way to start this week! Also on the agengda for this week we're releasing the music video for "Lucifer's Rain (The Bad One Is Back)". It's the second installment of the re-imagining of the my Lucifer's Rain single released earlier this year. Former Saving Abel band member Scotty Austin knows the world's going to blazes and shares that message with "Lucifer's Rain (The Bad One Is Back)". It's a devilishly heavy banger collaboration with award-winning producer Malcolm Springer. Hey, you don't have to sell your soul to get down with this infernally diabolically delicious future hard rock classic distributed by Ingrooves Music Group/ Music Group . So let us take you for a melodic and lyrical nightmare ride on the highway to hell!
June 29, 2023
---
~ Thank You WLFR ~

Did a fun interview with radio host Matthew Unversaw on his WLFR 91.7 FM Jersey Rocker "Strange Ways" program. We discussed a myriad of subjects ranging from music to life in general for about 30 minutes. He of course gave my "Lucifer's Rain" a spin or two during the course of our discourse. The listener response was strong enough that it ended up on their TOP 30 Airplay charts that week. Thank you, Matthew and WLFR!
June 21, 2023
---
~

What The Hell

~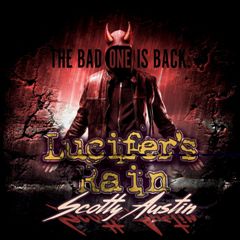 Proud to be the inspiration and genesis of these mash-ups and cover versions of my original "Lucifer's Rain" single. "Lucifer's Rain (The Bad One's Back)", recorded by Scotty Austin, former band member of the legendary Saving Abel, is slated for release from Stryker Records, Inc. with distribution by the Universal Music Group on July 10th. It's a helluva Hellish headbanger produced by the amazing mega hit making Malcolm Springer.
June 14, 2023
---
~Old Friends, Old Friends, Sat On A Barstool Like Bookends ~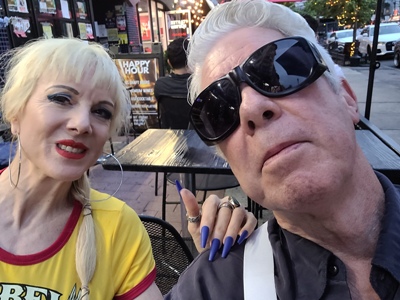 Had a fun Friday evening dining alfresco dodging the occasional raindrop while talking with Elin Hunter (aka Farrah Fire) about old times with her BABYOIL bandmate Judy Gale, new projects, and how lucky we were to still be rockin' after all these years. There weren't many female hip-hop artists around when I produced some of BABYOIL's first recordings in 1990. My, how time flies…
June 7, 2023
---
~ #1 With A Bullet! ~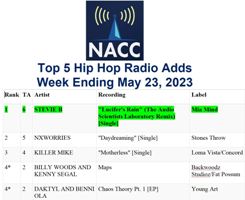 Happy to announce that when "Lucifer's Rain (The Audio Scientists Laboratory Remix)" went for radio adds last week it turned out to be the #1 most added record of the week adding into rotation at stations.
May 31, 2023
---
~ Non-Concert Series Collaboration Video ~
Uniting with a collective of brilliant hip-hop producers and their artists I now offer a non-Concert Series video for your enjoyment. Would be great if you could share your thoughts with me in the comments section of my Channel regarding the first of a few upcoming mash-ups of "Lucifer's Rain" collaborations slated for release.
May 24, 2023
---
~

He's Back!

~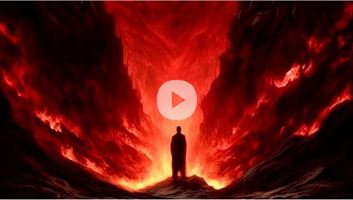 Viewed the first rushes of the "Lucifer's Rain (The Audio Scientists Laboratory Remix)" music video last night and I was blown away. This is also the beginning of our collaborations collaborating with various artists/producers and which will take the original release of the "Lucifer's Rain" record in some unexpected and surprising multiple-genre directions. As soon as the final touches are in place I'll let you know when the video's available to enjoy on YouTube. Would love to know what you think.
May 17, 2023
---
~

Coming Soon!

~
It's official – a re-envisioned and remixed version of my "Lucifer's Rain" single will be ready to roll out next week to retailers, streamers, and media contacts. Am I excited? Hella yes! So keep your ears and eyes peeled. The first reincarnation of Lucifer (well, at least "Lucifer's Rain" LOL) has come…
May 10, 2023
---
~ Fan Art ~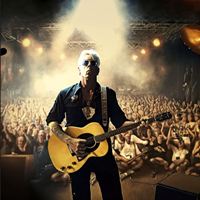 I am so humbled. A fan of my YouTube The Stevie B Selfie-Sessions Concert series sent me a few fan-art images they created. BTW – the "Lucifer Rain" single street-dated in retail and added to radio rotation playlists a few weeks ago to a very receptive audience. More details to follow…
May 3, 2023
---
~

All Work No Play?

~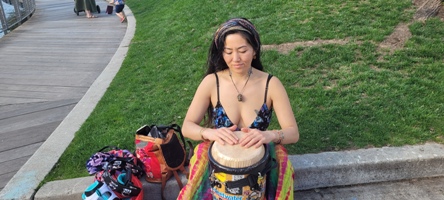 I'm doubly blessed to have Erika Flower involved not only in my work life but in the fun times too. It was a sunny day, so along with Seika (Erika's wonderful daughter) we moved our rehearsal out to the park to picnic and play.
April 24, 2023
---
~

And The Lord Spoketh Unto Lucifer…

~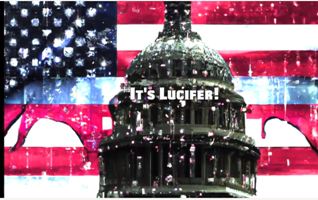 Dear New Music Aficionados,
This is an advance release of the LUCIFER'S RAIN single which will officially street date on April 17, 2023. The music video you're about to view was entirely created using AI (Artificial Intelligence) and is a ground-breaker in technology, as well as the creation of music videos. So please join us in our foray into a brave new world of forward-thinking creativity by watching, commenting, liking or not liking, and of course, subscribing to our music video channel. Together we will make the future happen…
N.B.: If you do not wish to be included in these Selfie-Session Concert Series emails then simply respond with the word "remove" from the email addy you wished removed and thou will be done!
April 11, 2023
---
~

EXTRA! EXTRA! – READ ALL ABOUT IT!

~
The week of April 10th is the debut of a music video produced for my latest record. Not only is it my first release in many, many years but it may be the first music video ever created using AI (Artificial Intelligence). So please join us in our groundbreaking foray into a brave new world by watching, commenting, liking, not liking, and of course subscribing to our forward-thinking channel. Together we will make the future happen…
April 6, 2023
---
~Lucifer's Rain ~
Excited to announce we're out of the recording studio after tracking a red-hot single titled "Lucifer's Rain". Current and easily predictable future news headlines are sure to provide millions of dollars worth of free promotional publicity in support of this record for years to come. This apolitical song focuses with unbiased eyes and ears on strictly the events which took place in our nation's capital on January 6, 2021. I took great pains in structuring the song by sticking solely to the empirical visible and audible sights and sounds I personally witnessed, not only that tragic day but the days that followed. In other words, neither I nor the composition takes any side on the cantankerous political issues that caused the 2020 post-election confrontation. It's only the facts – just the facts!
Now, nearly 800 days after what occurred, the riots, countless past and upcoming court cases, investigations, and still often nasty arguments not only haunt our minds but are still lead stories from almost every news source. "Lucifer's Rain" will be available on radio and in retail before the end of April 2023, and it has the potential to stick around for a very, very long time. Remain ever vigilant, my friends, for again, Lucifer may come…
March 29, 2023
---
~ Feeling The Love ~
Birthdays! They're usually something I personally prefer to ignore and forget. But lately, with so much going on and changing in my world, I've come to realize the importance of slowing down to take a little time to smell the roses in life. And oh, how sweet it is…
Last week I hung another year on the line, and along with those I consider to be family and friends we gathered together to celebrate for the night at The Court Street Restaurant and Bar (nestled in the heart of my beloved adopted home of Hobohemia). And oh, oh, what a night it was! Love, friendship, fine food, generous and thoughtful gifts galore, and a powerful reminder of just how blessed I am.
While I'd told all attending that their presence on that evening was what mattered most to me on the occasion and that if they felt the need to purchase any presents they should simply pay it forward as an act of random kindness toward anyone in need, they sagely ignored that suggestion (as wise family and friends often will well do). I was not only shrouded by their love, comforted by the presence of their company, but also the grateful recipient of unexpected wondrous gifts.
Erika (someone I'm prone to tease as a woman worth waiting for) and her daughter Seika (a Japanese name that literally translates as "the art of flower arrangement") are seated next to me in the photograph. Across from us are our kind, close friends, Julie and Kevin. Together we united for an early evening meal that lasted so far into the night that we were the last table left occupied after a busy day's dining crowd had departed. To the entire staff and management Of Court Street, people who always treat my guests and me as if we were royalty, my family, and friends; thank you for the presence of your company, your thoughtful presents, your friendship, and especially your love. You made this the best birthday ever for your birthday boy B!
March 22, 2023
---
~ Reeling In Shorts To The Tik-Tok Tango ~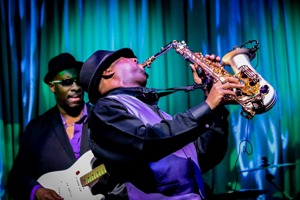 With the assistance of my UABS (Unofficially Adopted Brazilian Son) we've been posting these crazy little things called snippets on Tik-Tok, Instagram, Reels, and YouTube Shorts. They've really helped to drive more traffic over to my The Stevie B Selfie-Sessions Concert Series on Youtube (@StevieBConcert Series). Please take the time to take a gander – we're sure you'll like what you see!
March 15, 2023
---
~ You Really Send Me! ~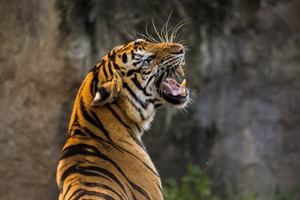 Q: What do you do when a tiger tail-tugging new love sends you to seek out your guitar and slide out a tiny new tune?
A: You bow to the power of your lovely lyrical and beautiful musical muses and just do it.
I promise to spill the tea with y'all next week about an amazing recording session last Sunday at my musically masterful producer's studio (none other than The Sir Douglas Fabiano – aka DFab), some new friends, and Sadie, his ever-loving puppy dog. We were tracking the last parts of my "Lucifer's Reign" single and I couldn't be happier with what everyone contributed to the project. Totally talented and soulfully zesty performances from one and all who kindly contributed their time, energy, and hearts to it. Y'all are the best of the best. If all goes according to plan the song should be mixed, mastered, and uploaded to a streaming site by next Wednesday's blog entry deadline. I'll be keeping my fingers, arms, toes, legs, and eyes crossed until it is.
And that's no jive!
March 8, 2023
---
~

Something That Has To Be Said

~
During my routine M-F/9-5 corporate gig, I plug records to program/music directors at radio stations. Sometimes friendships develop over the phone and/or emails. One such friend was a music director at a New England community station. During the course of several years of conversations, Maggie shared with me pretty much all you'll read in this tragic tale (https://blog.reedsy.com/short-story/3u18x1/). I hope this story makes you feel uncomfortable, shocked, sad, or angry – it should! My major takeaway from the talks with my friend was the abuse in itself was bad enough – but the scar it left on the abused, which prevents many from ever again establishing lasting relationships – for many – could be even worse. Should anyone need to reach out for assistance, or if you wish to provide support for this vital organization, contact: https://www.ascasupport.org/
March 1, 2023
---
~ Tear Stained Tango ~
This was a tearful but thankfully cathartic piece to compose. May I share the lyrics with you?
Our world's still reelin'
After the news
Ever so predictable
Typically atypical
Run of the mill hard to swallow bitter pill
We ignored all the clues
Still in denial
See what we choose to see
Alternate facts, loads of bull crap
Sorry
But reality, with us, now
Begs to disagree
Oh come dance this tango
A tearstained one for sure
Cause life's dancers must die
From death, there's no cure
So face the music before it ends
Dance while we still can
For it's difficult to dance with
Monkeys on your back
Albatross round your neck
The music moves faster
Tripping toward disaster in a stupor
You careen face first
Upon the floor
Once so full of promise
Now soulless shells
While reaching for heaven
You fell into hell
Scattered in tatters, nothing else mattered
Trapped in your dark wishing wells
Where spirits still haunt you
Demons possess
Your pas de deux
Left a scar on my heart
While defending your tearstained delusions
You ultimately failed the ultimate test
Gradually disappearing
Into a slow fade
Ghosting from existence
With little resistance
A total bust, dust off the rust, fix now – you must
Like master criminals
You dreamed masterful crimes
It's gotten so old
Your empty souls
How low can they still go?
Investing valuable seconds
Into futile second guessing
Oh, how you wasted my time
Not sure if there's been a crime, a lost rhyme,
Or a even cure – for the choices we made
Our world's still reelin'…
February 22, 2023
---
~ Writing the Last Chapter of My Life ~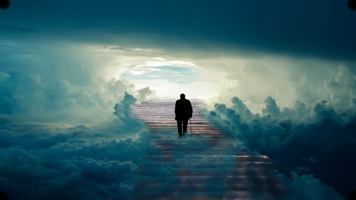 I try not to think about it. Yet, it's always in the back of my mind: I'm dying. Nothing will change that. As it was in the beginning it'll be in the end, a world without end, amen. Hey, wait a minute! My world is ending. It doesn't have to be perfect to be wonderful. And honestly, I don't want to die — I want to live forever! But well, what're you going to do, right?
I'm losing my battle with COPD. For those who don't know, that's Chronic Obstructive Pulmonary Disease. It's a long-term respiratory disorder that began as a dry cough, usually absent of any mucous expectorant, or shortness of breath. The two flights of stairs leading up to the landing of my apartment were now a breathless battle. It was not unusual to take a seated pause for a breather before each set of steps. And OMG, I think I've reached the point where carrying anything heavy such as groceries is nearly impossible. Today I'd returned with a few full bags after shopping at the local supermarket, and nearly blacked out halfway up to the second landing. My lungs are shot.
Once upon a time, I smoked cigarettes. From the age of thirteen through twenty-nine, I'd battled a tortuously powerful, tobacco addiction. With a lot of help from self-hypnosis, I was finally able to fully kick that dirty habit. Kids, don't start smoking. It's probably less addictive than heroin, and even if you had more dollars than sense, you may correctly surmise that quitting smoking could be more difficult than getting off heroin. Why — you ask? If you're sincere in really understanding the answer to your inquiry, then all you have to do is read on to the next paragraphs.
First off, you rarely see anyone using heroin in public every time you turn around. The 108th mayor of New York City, Michael Bloomberg, launched the most controversial and stringent tobacco-control laws during his first term in office. The result of which had increased cigarette taxes, raised the legal age for tobacco purchases, and most importantly, placed bans against smoking within indoor workplaces. "But, but, but… what about God-given personal American freedoms?" some protested. Oh, just sit back down and shut up, you poor, persecuted, melting, little snowflakes.
He was also NYC's third Jewish mayor. Oy vey! It's hard to believe in a town this religiously and ethically diverse and after one-hundred-seven people prior who had ridden herd on the city, that Bloomberg was the third and only of the chosen ancient tribe of Israel to be elected in 2002.
As a result of the Bloomberg tobacco-control initiatives, it became a rarity to get a whiff of cigarette smoke when in public places such as restaurants and bars. On the many unsuccessful occasions that I'd tried to quit smoking, my plan and resolve to do so was mostly scuttled time and time again while in public places and prior to the enactment of those laws. Ask any smoker, the urge to light up becomes strongest after a meal or when having a drink. I would finish eating and then sit back to savor the moment, and from tables nearby plumes of cancer-stick smoke would waft on over to where I was seated to reignite my urge for a ciggie. Come on, I never saw anyone at an adjacent table or barstool who was pulling out their mainlining kit of works to shoot up a heroin fix!
Prior to the Bloomberg smoking crackdown, when performing my music in local bars and restaurants throughout the Big Apple, those places were always shrouded in the fog of secondhand tobacco smoke. When I'd finally managed to successfully kick the addiction, I began to notice when I'd awaken the next morning after a gig and blew my nose or hock luggies into the toilet, the mucus was as black as onyx. Gross — such a filthy and unhealthy habit! Even to this day, I still maintain friendships with smokers who buried their heads up each other's butts and deny that secondhand smoke is even harmful. Some of them claim that's another far-left conspiracy aimed at taking away their God-given, American personal freedoms. Well, I am not only living proof but dying COPD proof to boot that disproves their nonsensical and meritless point.
During 1990 COPD related deaths numbered over 2.4 million. In 2019 that number jumped like a twitchy Mexican jumping bean to 174.5 million. That's an 80% increase. Those numbers are not indicators that the Bloomberg smoking laws were ineffective, it means that the effects of smoking had already done their damage. Even impinging upon those who'd never lit up, or the ones who'd managed to beat and win their fight against that habit. In the USA alone, the cost of that damage rose to 49 billion dollars by 2020.
When first diagnosed with the condition, it was during a routine spirometry exam at the end of 2019. That exam was a test to measure lung function, particularly the volume and flow of my inhalations and exhalations of air. The test results used to assess the severity and effects confirmed I was at the GOLD system level of stage 1 of the COPD scourge. Then, after the analysis of arterial blood, it was concluded those spirometric diagnostic findings were undeniably positive. By the time I'd reached the stage 2 level of deterioration sometime thereafter, symptoms of increased shortness of breath, wheezing, and coughing had become more evident. Between the second and third stages, the first foreshadowing signs of early emphysema had been added to my list of breathing woes. I was undergoing treatment all throughout that time, but with neither improvement nor recovery. That last diagnosis of the disease's progress was assessed around the same time as the heroin incident with V and Y had begun. The bad stuff was progressing much more rapidly now and my doctor's appointments increased in frequency.
During today's physical exam, real life lowered the boom. Now at the last and final leg of my battle with COPD, it was confirmed I'd moved into stage 4, also known as the end stage for sufferers. My death sentence had been meted out and would most likely be served up to be executed within a year. I had precious little time left, and with each tick of the clock, the countdown to my demise was barreling precariously nearer to the end. According to chest x-rays taken after this stage 4 diagnosis, a dark spot was visible on my left lung, possibly indicating cancer. Adding the addition of lung cancer to my existing litany of factors and ills that had exasperated and increased the progression of my breathing problems and this ever-shortening of lifespan, as any medical specialist would put it, and in their highly technical terms would access, I was really f*ed.
The only good reason to get old is to avoid the grave alternative. Well, there are some things in life you may only avoid for so long. My last will and testament had been completed a few years back. All that I'd accumulated and owned, my business partner would inherit everything, even my entire entertainment promotion and marketing company. Why not, over the years of our work collaborations he'd been equally responsible for a large share of what was earned. Anyway, I really had no one else left in my life to give anything to. For a while, during the time Y, V, and I throupled, I'd considered amending my final will in order to leave them something to help out after my death. But before I'd made that change, the wheels to our throuple-mobile had fallen off, and we'd totaled our three-way affair during the narcotic train wreck.
When I began my life I was a confused and lost kid who saw the reason and logic of working hard to further my dreams. Thus I did. Over the course of that life, I've had more regrets concerning my personal missteps than those related to business. Well, I could at least claim I was good at something, right? Even so, if you asked anyone who had just been handed their death sentence what they'd wish more than anything, the nearly unanimous consensus would certainly be for more time. More time to make more mistakes, miscalculations, and missteps, along with all the other wonderfully unexpected good and bad things that happen along the way. I was no exception. And as I shared earlier with you, time's an S.O.B.!
Years ago when I became sexually active once again I'd resolved never to hit on anyone working for, or related to, Court Street. What's that old saying about what birds should never do in their own nests? And why blow a good thing? Out of respect for the members of the Court, and from social self-preservation, I'd allow nothing to jeopardize the warm welcome I'd come to appreciate at my chosen hangout on 6th and Court streets. An establishment I liked to think of as my preferred place of more mature adult recreation.
Whereas the Madd Hatter was somewhere I enjoyed frequenting when I was in a more frat boy frame of mind. In other words, when I'd feel especially frisky and desired some female companionship. So, whenever I got the itch to do a little wild game honey hunting, the Hatter was my fertile hunting ground for those sexual safaris. Call me silly, but I knew which side of the toast was buttered, and I never wanted it to fall face down and soil the floors of the Court. See, I do maintain some boundaries, babe!
But I wasn't dead yet, was I? Hearing the Madd Hatter had now reopened after the fire, I'd decided to make a return visit during the second weekend of this August. To sit outside basking in the sun, have a few iced white wines, and dine on a salad or shrimp cocktail, while enjoying watching some exceptionally fine examples of womanhood stroll past my table on that section of Washington Street I'd rechristened the Hot Honey Highway, and most especially, to feel alive. I also began feeling rather frisky.
The waitress attending the table that afternoon was a new addition to their staff. While still tableside, I inquired, "May I ask your name, if you don't mind?" It was M. M was tall, attractive, and well-proportioned. In addition, she appeared to be a kind and caring person. This suspicion was confirmed when I asked her what she keeps busy with when not pulling a shift at the Hatter. M worked as an ER nurse in a Newark hospital and loved that job. The waitstaff gig was a part-time situation to supplement her income.
As we amicably chatted on and off, another waitress arrived to begin a shift. N was someone I'd interacted with before, and upon recognizing my face, the young woman came over to say hi. She told me it would be her last weekend working at the restaurant because the pre-grad girl was returning to Delaware to complete her senior year in college where she was majoring in psychology. After graduation, N planned to enroll in graduate school to pursue a degree in clinical psych. As with the other young lady, she expressed that her desire to provide healing was motivated by a deep sense of care for those in need.
That afternoon, when the realization struck that I was already in the care of some angels, I made the decision to just let go and to allow events to unfurl as they may. Oh, and unfurled they did. They kept slipping complimentary wine refills my way and entertained me with their chatter for nearly two more hours. Noticing I'd already baked enough in the sun for one day, M suggested I move to an empty table beneath the establishment's awning and away from any more potentially harmful ultraviolet rays. Well, who am I to argue with the angels? It was also a table much closer to both girls as they worked the remainder of their shifts.
Still, more pitter-patter, chitter-chatter, and free iced wine were shared. They told me both of their workdays ended at five and they were planning to have an after-work drink together at, as they described, "Any place else but here!" They then asked if I'd like to join them. Why not? The unintended pun of, "I was dying to!" was wisely not chosen by me to be uttered. Ergo, I suggested we head over to The Far Side on Sixth and Washington streets for further refreshments. Along the walk there I shared a vape pen loaded with a live resin cartridge with N. M declined, citing as Y once had, that it'd only make her sleepy. N also told us she'd smoked two joints during her drive to work earlier that morning.
During our one leisurely drink, they revealed some interesting behind-the-scenes gossip about the Hatter and their other work colleagues. Perhaps what I found most interesting about the spilled tea they were sharing is that much of it pertained to me. Just about every single member of their bar and restaurant staff had not only read the complimentary copy of ALICE I'd left with the business's management as a courtesy but had commented on how much they'd enjoyed it. Especially, how it had included many subtle details only and easily recognizable by those employed there. That was a pleasant and very nice thing to hear.
"Well, everyone's always saying how nice you are," continued M. "And you're not like the guys our own age."
"What's wrong with the guys your own age?"
"These days they all play mind games with us. Their backhanded compliments are always double-sided, phony, and full of big buts," replied N, "like, 'you're looking kind of good, but should lose some of that junk in the trunk…' or 'you could be really pretty if…'"
"Why would they do that?"
"Boys can be so dumb."
"Now you're making this blue-eyed, bashful, bemused, and often bewildered boy from Baltimore blush…"
"You have any dinner plans tonight, G?" M wanted to know. "If not, join us if you want. N's coming over to my place tonight and we're tossing some salad and throwing chicken kabobs on the 'barbie for supper. It'll be fun."
"Sure," I responsed.
It did sound like fun. Along the short drive over to M's place, N smoked another joint. Although it was offered, I didn't take a hit of the burning bud. In my respiratory situation, the occasional vape pen use was bad enough without the additional irritation to my lungs of the carcinogenetic, tar-heavy smoke. Besides, this was getting very interesting and I wanted to keep a clear head for what could ensue. During the trip to the apartment, both N and M sang along loudly and lustily to Cardi B and Megan Thee Stallion's 2020 smash hit single, WAP (Wet Ass Pussy) as it blared from the speakers of her car's radio.
M's place was situated on the first floor of an older brownstone building. She excused herself to change into a swimsuit to take advantage of what was left of the last few hours of sunshine. The backyard afforded a comfortable amount of privacy, so once outside, N asked if we'd mind if she stripped down to bra and briefs to also indulge in a bit of sunbathing. Not a single protest of objection was heard or had even been anticipated. I liked the direction this hang was heading — with its possibility of three happy endings for our mixed trio within the cards that could next be dealt — if we each wisely played the ones we now held in our hands.
Have any of you ever heard of the fabled way Clark Gable's life ended? It was falsely claimed that at the height of The King of Hollywood's career he died in the arms of a seventeen-year-old lover as his yacht bobbed atop the waves of the Pacific. My, what a gallant and swashbuckling way to go, right? No, in reality, it wasn't. According to some research on the internet, Gable actually died at the Hollywood Presbyterian Center on November 6, 1960. He'd suffered a heart attack after filming of some final scenes with Marilyn Monroe on that legendary movie The Misfits had wrapped up. At the respectable age of fifty-nine it was a far less-than-glamorous end of a starry, starry life that had been bandied about in the tabloids.
Now, I may not have been a celebrity movie star like the Oscar award-winning Mr. Gable, but I now knew however my final days would end I would meet them head-on, living my life feeling very much alive. I would cherish and live what little life I still had left in me as if every day would be my last. Because after all, it's not only how you live out your time, it's your attitude about the life you're living.
Remember how iconic buddy-film Butch Cassidy and the Sundance Kid drew to a conclusion, the two cowboys engage in their last, barbed conversations. Looking from the high cliff they're perched on at the rushing river far below; Butch says something like, "No, we'll jump." Sundance protests: "Like hell we will." Butch reassures: "No, it'll be okay – if the water's deep enough, we don't get squished to death. They'll never follow us." Sundance ponders: "How do you know?" Butch reasons "Would you jump if you didn't have to?" Sundance draws the red line intended never to ever be crossed: "I have to and I'm not gonna!"
What can I say to those of you who have fitly and faithfully stuck with me on this journey to the very end? I've led an interesting, long, and full life, blessed with the privilege of occupying a comfortable seat at the raw bar of existence as I dined throughout the years. And I wasn't going to just give up and pass away passively lying down on the ground — I wanted to go out with a final, shot or two of blazing, blasts of glory, and with the last line of that epic film on my dying lips — FUEGO!
February 15, 2023
---
~

Have You Really Thought This Through…

~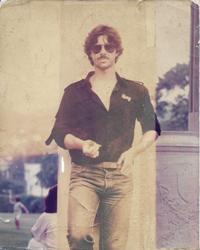 Those were the exact words my father offered when I announced to my parents I wished to pursue a path to earning a living working in the entertainment industry. Then, what follows in the lyrics of the latest installment in The Stevie B Selfie-Sessions Concert Series (@StevieBConcertSeries) videos, was almost word-for-word the searing and condescending sermon he shared with me in regard to my precarious career decision. What followed in my dad's sermon was showing me the door and announcing my presence was no longer welcomed beneath my parents' roof. Thus, I left home at only 15, and only occasionally look back while creating works of music and literature. So, do you want to be an artist? Then create a work of art! This one's dedicated to all my artistic friends and colleagues. And now, my son, that's art…
February 8, 2023
---
~ Gone Fishing Again ~

Let's see… Spent the weekend shooting a new video for @TheStevieBConcertSeries on Youtube (https://www.youtube.com/@StevieBConcertSeries) and in the recording studio with producer extraordinaire, Douglas Fabiano (aka DFab), laying down some tracks for my controversial new tune, "Lucifer's Rain". Wrote one new short story ("Ghost of a Chance") and two new tunes ("Mercy, Mercy, Me!" and "Happy Sad Feeling"). Oversaw the 9-5 operations at my entertainment promotion and marketing company. So, gonna take a blog break today. See y'all next week!
February 1, 2023
---
~

Gotta Serve Someone

… ~
Lord knows we spend so much of our lives slaving away at our jobs. So, kick back, take a break and check this tuneful video out. Please Like, leave a comment, and hopefully, subscribe.
January 25, 2023
---
~ Death Comes A'creepin' ~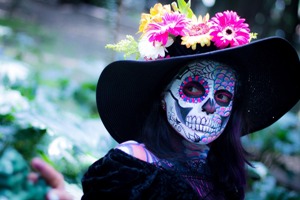 Oft times the only difference between life and death is seconds and sometimes it's years. Have you made your peace? https://blog.reedsy.com/short-story/6m7j3h/
January 18, 2023
---
~

Defining

The Stevie B Selfie-Sessions Concert Series ~
OK, I'm now often asked what this Selfie-Sessions Concert Series is all about. So, please allow me to elucidate. To begin, I'm not a big cellphone fan. But, one thing I will say to their credit is the tech to record both audio and visual files that they offer is nothing less than amazing! While I fear I may no longer have the ability to go out and perform on an extended tour I came up with an idea of how to share my musically creative side with the world without needing to leave my beloved Hobohemia, nor even my home or office for that matter: The Stevie B Selfie-Sessions Concert Series.
Now, here's the deal. Each installment of the series is video recorded on my contentious cell in one continuous take; no overdubbing, layering, or recording studio post-production. In other words, just like a live performance. The prime directive is not to aim for record release quality but to capture the energy and magic of being on stage. This being said, I'll be upfront and admit on occasion there will be flubbed lines and/or guitar/vox flaws. To reiterate once more, the goal in this endeavor is not perfection; it's the magic and energy of creation.
During 2023, and with the assistance of Mr. Silva The Video Genius, I plan to upload a new piece every 2-3 weeks, may the universe be willing. So please check'em out, hit the Thumbs Up or Thumbs Down button, subscribe, and leave a comment to let me know what you think about what you see and hear on my channel. I promise, you may not like everything I do, but you indeed will be entertained…
January 11, 2023
~
Another Early Christmas Gift

~
The enjoyment of the holiday was enhanced by Jools of London narrating a Christmas tale I wrote. Happy Holidays everyone!
January 5, 2022
---
~
What's The Point?

~
There is no point except in saying this may be my last blog post for this year as I just need a break…
December 14, 2022
---
~
It's Beginning To Look More Like Christmas!

~
Jools of London gave me an early Xmas gift by posting my Christmas carol on her storytelling program. Merry Christmas, everyone. For anyone needing the lyrics:
Christmas All Year
(CHORUS)
When people ask
Why each day can't be Christmas?
I don't pay those people much mind
But it's occurred to me (TAG)
Since the day I met you
Every day it's Christmas time
The twinkle of your eye
Brightest star in my sky
The smile on your face brings cheer
Santa came to town
The day you came 'round
Now it's Christmas each day of the year
If I feel sorry
You make me feel jolly
Just by being near
To hell with holly
You get me higher than Molly
Every day is now Christmas time
(CHORUS)
But I knew for sure (TAG)
When you walked through the door
Every day'll be Christmas time
The kiss from your lips
Needs no assist
Of mistletoe
You deck all my halls
Jingle and jiggle my, wait I can't say that word in this Christmas carol? OK, you want me to say bells instead?
You deck all my halls
When you jingle and jiggle my bells
You make every day Christmas for me
The world's sometimes violent
Nights far from silent
Shattered by hatred and fear
But the touch of your hand
Could bring peace to all man
And bring Christmas each day of the year
(CHORUS)
If they had what you give me (TAG)
They too would agree
You make it Christmas each day of the year
Today's a cold winter's day
But the warmth of your gaze
Sets my Yule log ablaze
The love that you send me
Sends sparks up my chimney
The way you bring Christmas all year
You're the perfect present
Oh my God, when unwrapped
What's revealed steals my next breath of air
When you're undressed
I'm undeniably blessed
Your sugar plums, a vision so fair!
And here I'll admit
The 12 days of Christmas
Now won't be enough for me
You just have a way of
Making holidays of
Every single second of the year
(CHORUS+1stTAG)
I don't mean to brag (TAG)
But it's never a drag
Cause with you it's always Christmas…
December 7, 2022
---
~
While Waiting On A Friend

~
I do apologize for neglecting to post here on my blog last Wednesday but with the Thanksgiving holiday and with N, my GF, being back in town during her school break I was, to say the least, a bit tied up. The night she was to arrive I was nervous as a schoolboy out on his first date while waiting for her. So, to calm me down (I can't believe how even at my advanced age a girl can still make me nervous…) I picked up my guitar and wrote this little Christmas ditty. Hope you enjoy it and can leave a like, comment, or even subscribe while you're there on my YouTube Selfie-Sessions Concert Series channel. Merry Christmas, everyone!
November 30, 2022
---
~ Kama Sutra Rock & Roll ~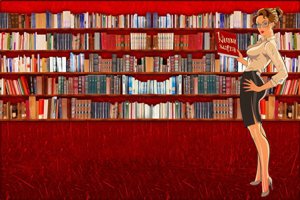 As one may well imagine, when there're three bodies involved, the variations of sexual positions and activity are increased by a multiple. Then factor in and couple that with having two members of our throuple who possessed a treasure trove of sex toys – well then – the possibilities are nearly bottomless. Even without some hot Hindu handbook celebrating copulation, and originally written in Sanskrit, one could sincerely say, that's really hard to top!
That ancient Indian tattered tome, the Kama Sutra, dedicated to eroticism, had nothing on us. In fact, our trio invented several positions that are not depicted in that mash-up manual of love from the Far East. Now, one could deduce that since the Kama Sutra's illustrations are usually interactions between couples, which would be one of the reasons why what we were sometimes doing anatomically, as well as mathematically, is less likely. And yes, V, Y, and I were capable of the impossible, indeed (such as the impossible odds that two such gorgeous, young women had ended up in bed and entwined in life with an old man who had no more than an average amount of attractive physical characteristics).
The Hindu concept of Purusharthas is comprised of the four key goals in existence, that when obtained, lead to a happy and fulfilling life. In Hinduism, artha, is one of the four important aims one needs to target. It's connected to financial prosperity, economic security, career, earning a living, and in general, wealth. Said another way; artha leads to the path of securing the means of life that allows one to be in the state one wants to live.
Then there's Dharma. It relates to rights, conduct, duties, virtues, and laws. It's said to be that which is in accord with the principle of rta; the cosmic order of the universe and life itself, and that is the right way of living. Dharma pertains to not only the entire social order but also the individual. Some say it's what all human beings must live by and accept if there's to be sustained harmony, respect, and order in the world. Moral rights and religious duties are necessary for the pursuit, execution, and obtainment of one's true calling and nature.
Moksha is associated with freedom from Saṃsāra (literal rebirth after death). It, moksha, is the release, emancipation, or liberation from the cycle of life and death. Self-realization, freedom, and self-knowledge are the key to discovering enlightenment within our lives. This third of the four components of Purusharthas is where the Hindu school of thought may be most divided and disagreed upon. So much for inner peace…
Kama may be understood either with or without sexual connotations. Whereas it is most definitely primarily paired with physical pleasure as interpreted by our senses, it is in addition, concerned with the aesthetic enjoyment of life. Select scholars have taught that kama is love that does not violate artha (or material property), the journey towards moksha (liberation of the spirit), or dharma. So, as supported by historical evidence, the Kama Sutra is not only a sexual position manual, it is a philosophical guide to the art of living, finding a mate, balancing one's love life, worldly pleasures, and love's true nature within this material plane we exist.
Compiled somewhere between 400 BC and the second half of 300 CE, located within what was once known as the Pataliputra region and is now called Patna. The Kama Sutra has been reputed to be penned by Vatsyayana Mallanaga. The writer is claimed to have authored the how-to-suck-and-screw book after many years spent in meditation. Mallanaga does cite in the prefix of the Kama Sutra the work of others he often referred to as scholars or teachers. Furthermore, Vatsyayana credits employing earlier writings and works of ancient others, albeit, most of those transcripts have not survived the ravishing of that master thief named time. Some of his aforementioned sources may date back to the Vedic era and may have come from parts of the Hindu Rigveda – a time that precedes the post-Vedic Sanskrit writings (i.e.: works such as the Ramayana or the Mahabharata).
The VatsyayanaMallanaga's Kama Sutra is a manual divided into seven separate books with sixty-four sections, and thirty-six chapters. The book boasts 1,250 verses of poetry and prose. It features a nayaka (a man), a nayika (woman), one vidushaka (jester), vita (pander), and pitamarda (the libertine). This is similar to the characters presented in the Natyasastra, an earlier classic. Many modern-day editions of the Kama Sutra provide illustrations to assist readers in better understanding the directions provided by the poetic verses therein. Most English-speaking people who are familiar with Vatsyayana's original manuscript have read the translations by the British scholar and explorer, Sir Richard Francis Burton.
The original Sir Richard Francis Burton translated edition of the Kama Sutra comes with over three hundred detailed illustrations of the sixty-four sexual positions and palm-leaf manuscripts. There are many out there who would agree, that this packaging is the perfect epitome of a lustful layout of erotic instructions. Us, well, not so much.
I once asked Y and V if they'd ever paged through the Kama Sutra in their past. Not surprisingly, I guess, they both said no. It was something I had done a time or two with one or more ex-wives or former girlfriends. From what I best remember of those viewings of Vatsyayana's work I found much of the prose and poetry uninteresting, and the pictures were less than attractive. Perhaps my visual dissatisfaction could be well explained by some form of deep-rooted, stereotypical cultural bias. I don't really know.
The only thing I do know for sure is the only sexually intimate literature the last two women in my life and I were ever to share together was the printed information on the sides of, or inside the jelly lubricant packing box of the lubes we'd sometimes used when we rocked. Facts regarding whether it was alcohol-free, water or silicone or oil or natural or hybrid based. Hey, the wetter the better – stay fluid while we do it! And if you believe that when a lubricant is required it indicates your partner or partners, are just not that into you then you need to open up better lines of communication with whomever you lust and/or love and trust what you hear them tell you. I believe I speak for the three of us when I say it was more than enough reading of sexual advice, as opposed to actual action, for our throupled tastes.
November 16, 2022
---
~
Trips Not Traveled, Flights Not Flown, and Roads Not Walked

~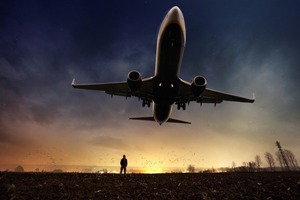 "I've got a plan," I told my fine companions, "Let's all take a trip together!"
Well, first, there was the weekend away we'd scheduled last July to the New Jersey Pine Barrens, aka the Pines. It's one of the largest and last remaining Atlantic coastal pine barren ecosystems. The term "pine barrens" connotes an area with acidic, sandy, nutrient-deficient soil. Residents refer to their soil as sugar sand. It was also said to be the home of the fabled Jersey Devil, who back in the day was allegedly born the 13th child of Mrs. Leeds, a local woman. The JD was cursed because of his unlucky birth number's placement within the timeline of life and is rumored to still be walking those sandy grounds to this very day. Other supernatural denizens said to dwell there are the ghosts of Captain Kidd, the pirate, and the Black Dog, a regular little local hellhound.
It was my girls' idea to go there together for our first getaway weekend. Thus, you may wonder if their interest was in a bit of ghost hunting or devil spotting. It wasn't. They'd heard it was an infamous location for the Mafia to dispose of bodies not only because of the seclusion it offered but the year-round soft, sandy soil. Neither of them had been born in this country and had a healthy and romanticized curiosity about all things that were gangland related or connected to the mob in America. Their game plan was to lie on the forest floor pretending to be victims of a hit and then have me snap pix of them to send to the folks back home. They were even plotting to take the farce as far as to use their cosmetic make-up products on one another and appear, in Y's words, "deader."
Yet, we never took that journey. The plan was to get there via V's vehicle. But the night before leaving, a severe summer storm had blown through the region, and she'd parked it on the street with windows ajar and ever so slightly open. So much rain had flooded into the interior I had to help her remove the seats to dry out in the sun for a few days before reinstalling them again. They had plans – but God giggled, I guess.
Then there was the trip to Jamaica that never got off the ground. After the second try at a weekend away in The Pines fell flat on its face last October due to a snafu in my work schedule, and had me feeling a little guilty, I suggested we head to the Caribbean over the Thanksgiving holiday. The better two-thirds of our throuple took care of booking flights and lodgings, so I had little more to do than keep that week free, pack my bag, and remember to bring my passport. And that's when it occurred to me that I hadn't traveled overseas in a few decades so I'd need to do some deep digging to find the said passport.
A few days before departure, when I finally fished out the government-issued document, the first thing I did was check if it was still valid. Nope, it'd expired back in 1989. Should be no problem renewing it, right? Wrong! Not only were the holidays a busy time to travel but since the world was reawakening after the Covid-19 lockdown the passport office was backed up unlike ever before. Even if I were to pay the additional expediting fee it'd still be between 6-8 weeks before I'd have my new traveling papers. Thus, the week before we were to leave, and after one of our wonderful post-midnight suppers, I broke the bad news to Y and V; and they didn't take it well.
"Shit, G, you haven't been outside the country since the 90s and you didn't think to check if your passport had expired?" an exasperated Y wanted to know.
"It just didn't cross my mind at first, and then I figured if it was, I'd be able to get it renewed on time for our vacation, I guess I blew it…"
"Jesus, Gee-sus," V chided, "for a pretty smart guy you do some really dumb things sometimes!"
"Guilty, guilty, guilty… guilty as charged," I confessed.
My girls weren't so much angry with me as they were disappointed. I felt terrible I'd let the two of them down. All I'd been tasked with throughout this entire enterprise was packing, getting to the airport on time with a valid passport in hand, and then traveling. One thing and one thing only and I'd managed to mess up that one simple thing that would ruin everyone's vacation.
"Listen, I want you both to go anyway. I'll cover the cost of everything and you should just go without me this time. Okay?"
"This time was supposed to be a Thanksgiving holiday trip, do you know what else it was, G?" V continued to cross-examine. "It was supposed to be super special."
"Sure, and I mucked it up. I want you to go have a great time and I'll be here when you get back. I know, it sucks, and it's my bad."
"No," finalized Y, "I think whatever we do this first Thanksgiving we're going to do it together. If you don't go then we don't go. We'd rather be up here in the cold and snow with you than down in Jamaica without you. Right, V?"
"You speak for yourself!" was the unexpected response from V, and said with a loving laugh, "I say we leave his sorry old ass up here to get frostbitten while we lay topless on a beach in the sun and forget about this forgetful freak." She then leaned toward me to kiss my forehead. "Oh, alright, we're staying here with our bungling boyfriend instead of hitting the waves."
So, stay they did. For our Thanksgiving dinner, I'd ordered a whole Peking duck, various vegetable dishes, hot and sour seafood soup, and of course, brown rice. This was washed down with two bottles of Moet Chandon Rose Imperial. The duck went over better than the time I'd introduced them to sushi; although I was a tiny bit perturbed when my girlfriends referred to the fowl wrapped in rice pancakes as "duck burritos." Yet, when I suggested we should revisit the Peking duck for our Christmas meal I was told they'd really rather not. Their reason, you ask? They'd decided since ducks looked so damn cute, at least in their opinion, they didn't want to eat any more of them. Still, we were happy to be together on our first Thanksgiving and we were thankful to be blessed with that gift.
As our first Christmas together neared, the dance troupe V and Y were a part of, had been invited to compete in a dance competition being held in Atlanta. The contest would last for nearly a week, and the better your troupe did, the longer they'd stay in the competition. My girls' team, who was doing quite well, was the last of three still in the running. Each night they called with updates they were super excited and conveyed their exuberance about potentially walking away with whatever prize was being awarded to the victor.
On the night before the last day their group would be battling any others, Y complained of being bothered by a bad headache, mild sore throat, and body aches, which she attributed to the strain of the past six days. The last three crews in the tournament would meet for a penultimate dance-off bout tomorrow morning. If my fine companions were eliminated they'd be on a plane and back by early evening. If they persevered in the morning then they take a crack at defeating the remaining troupe and fly back the next day.
Being that the judges preferred those moves of the dancers they had gone up against in the AM, they called before noon with news they'd land at Newark Airport and then be at my place around 8 PM this evening. Both my girlfriends were exhausted and crestfallen. Y blamed herself for the loss. She also had developed a cough since the night before. I told them I'd have dinner waiting when they got here and to hurry home to me.
Prior to 7 PM, there was another call from them. Their plane was still in the air. The cabin crew had said there'd be more unforeseen delays and that everyone aboard should remain in their seats and stay buckled up. Twice more they phoned. During that third call, they said a few passengers on their flight had begun getting quite sick. Those infirm were exhibiting flu-like symptoms. There was even an unconfirmed rumor circulating aboard the aircraft that one traveler had coughed up blood.
The next communication came after 8 PM. The plane had finally been cleared for landing and was on the ground. But no one was allowed to disembark. When the jet's doors eventually opened, the craft was boarded by more than a half-dozen men in hazmat suits, one of whom reiterated the command for all to stay seated. One by one each of the ticketed fliers' temperature was taken and a sample was swabbed from the nostril of that flier's choice. Y was among more than a dozen on the flight who tested positive for the Covid virus.
While V and I were both fully vaccinated, Y had chosen not to get jabbed. Claiming that her youth, healthy physical condition, and diet were sufficient in providing all the immunity necessary, she assumed she'd be okay, I guess. Well, guess again. V was the one who called to update me on this latest news. She was still feeling fine and told me they'd decided it'd be best if they went straight to her apartment in Jersey City instead of coming to my place as planned. They didn't want to take a chance of infecting me with the illness, especially considering my advanced age.
So, for the next ten days, V nursed Y. Her patient only displayed milder symptoms of the sickness, so that's something to be thankful for. Another reason to feel grateful was neither V nor I caught the virus. During the time they were gone, I'd decided to surprise them when they returned by booking our trio a trip to Jamaica for the upcoming holidays. If you recall, it was totally my fault our Thanksgiving Jamaican plans had fallen through. Well, I now had a valid, renewed passport, as well as a will to travel. I had planned – and again God giggled like a hyena after a huge hit of laughing gas.
Our vacation curse had yet to be broken. One more trip not traveled. A few more flights we never flew. And another sandy road not walked. Little did any of us realize that outside of my neighborhood, or their hoods in JC or BK, the three of us would never be together with one another anywhere else in the world. I imagine it was neither in our stars nor in the hand of cards we'd been dealt.
November 9, 2022
---
~ Herding Cats While Laying Some Groundwork ~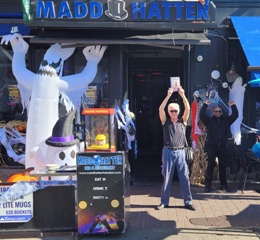 Last month I announced I'd be heading out on a televised media junket to promote ALICE, my latest published novel. As I know well from past experience; these events take a lot of planning to come to fruition. And often, the prep work feels much like herding cats.
One of my first appearances will take place on a popular podcast called GREETINGS FROM THE GARDEN STATE. This one will be filmed toward the end of the month. The program's host, Michael Ham, suggested we film the three planned segments locally in the town of my adopted happy home: Hobohemia! Each segment will be shot in different locations. Please believe me, making the arrangements with the neighborhood businesses that have most influenced my work, particularly the creating and writing of ALICE, is where the cat herding reference comes into play.
The first segment will take place in the offices of Mia Mind Music, my entertainment promotion and marketing company that's made much of what I do possible in so many ways. The planning for that was simple. All that needed to be done for the segment would be to let my co-workers know they'd be working from home that day in order to have the required peace and quiet to tape the interview. Easy, peasy, lemon squeezy, and breezy.
The remainder of the segments will take place at The Madd Hatter, Court Street, and Little City Books. The Hatter is where the ALICE story is staged in my book. Court Street Restaurant & Bar is a favorite haunt of mine that often appears in my work. Especially their beautifully composed menu and various members of their ever-so-attractive staff frequently disguised as caterpillars, butterflies, cops, and other assorted characters and oddities in my tales. Little City Books, co-owned by the lovely and talented Kate Jacobs (actually a former Mia Mind Music entertainment promotion and marketing client), was one of the first bookstores to begin selling my books locally.
Since the GREETINGS FROM THE GARDEN STATE host suggested it would be interesting to have a staff member of each business participate in part of the interviews to discuss how their daily operation interacts with our neighborhood, this required considerable effort. Trying to coordinate everyone's schedules and business hours took some doing. When it came to setting these up that's where it sometimes felt like herding cats. But somehow, with much due diligence and some hard work, it's all pretty much coming together. I stopped in at The Madd Hatter over the Halloween weekend to shoot some advance publicity photos. As you can see from the pix above we all have our hands in the air (mine are holding a paperback copy of ALICE above my head) and are more than ready to say "Hey!" to y'all when the moment comes. I'll follow up with the specific times and dates at each business external to mine. Why not drop by and join us? Know what? I may even buy you a drink and spend some time chatting about books.
November 2, 2022
---
~ The Phoenix Rising or Happy Days Are Her [sic] Again! ~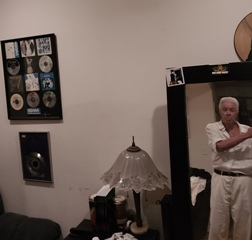 On Sunday evening of October 9th, while coming up the stairs loaded down with groceries I took a misstep and ended up spraining my left ankle quite badly. The discomfort within my entire leg grew so intense on the following day I decided it was best to hobble up to see a doctor. Turned out I'd torn a ligament in the leg. So, for the past two weeks, I've been sedentarily homebound, during which time I was supposed to have taken a trip to visit my girlfriend who's back at college. Man plans and God giggles like a hyena on laughing gas.
The GF, who was expectedly disappointed by this change in plans, then did what women do best; take matters into their own hands. Calling me, unexpectedly, this past Sunday she told me she was flying back to Hobohemia to "see to my recovery"… On Monday night we stayed in and she made dinner for us (I never knew she could cook!). On Tuesday I announced I was tired of being homebound and wanted us to go out for at least one evening while she was here. Being wiser than her years she acquiesced to my wish. I also told her I wanted to try leaving my cane at home for the evening (yes – like the old man I am I've been walking with a cane since the mishap). Once more she acquiesced, albeit reluctantly and grudgingly at that announcement, and we phoned my friends in NYC who had recently reopened the legendary Le Figaro Café on the corner of Bleeker and McDougal streets to make reservations (ha – as if I really needed a rez to snag a table there!).
Again, being a wise woman, she decreed if I was going out without a cane then she was going to pick up an Ace bandage at the local pharmacy to take along for our night out "just in case". I learned long ago it's normally unwise to argue with women because, unlike most men, they usually knew what they were talking about. So, while she went out to pick up the bandage I stayed behind to await her return. To kill some time and while away the minutes I decided to take a selfie to commemorate my return to standing on only two legs. The remainder of what transpired thereafter shall remain confidential except to say we did have lots of fun during and after our meal.
I'm also looking forward (let's be honest, I'm ecstatic!) to having her around again for the next few days. Thus, that too shall remain in the vault. Thank you, Luv, for being by my side in both sickness and in health, for better or for worse, till death do us… OMG – did I just really go there? Down, boy, down!
October 26, 2022
---
~ Cosmic Crossword Puzzles ~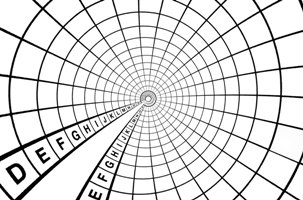 Hey Jellybean, let me tell you something. Looking back over the course of my existence I feel as if I've been working on cosmic crossword puzzles my entire life. Figuring out how to put lots of letters together and weld words seamlessly into sentences to solve some of the many mysteries and conundrums of being. The written word was not only my therapist, it was an obsession. For example, those obsessive early, early mornings dedicated to writing and editing, and where it was not unusual to spend half-an-hour hammering away at a sole sentence. Running the draft through spelling and grammar software apps and then reading it again in silence, before compulsively, rewriting the material over and over again. Then listening as it was narrated back to me during the robot-reader-editing stage. There could be problematic paragraphs where more than an hour could be devoured tweaking and fine-tuning until I heard the sound of the welcoming click, as if an opening key-turned lock, until finally, what I was writing was sweetly serenading me.
Another incentive that helped forge my enthusiasm for creativity, and kept me at it, was the unbelievable rate of my creative process's positive progress. The milestones I'd been hitting were abundantly more than what I needed. For what I required voraciously consumed this creator in a besetting fashion. I vitally needed to create, equally as much as I need my very next breath. Recollecting the late, great Marilyn Monroe's message about not stopping when tired, but only until it's done, and Tobie's, the older woman who relieved me of my virginity when I was only thirteen, directive concerning sexual stamina (don't come to the party if you won't be staying until the end), both had become my character-building mantras. Every time I'd wondered to myself if I'd ever get a section satisfactorily completed, or if I even had what it takes, you know, the right stuff, another inner voice would reply, you'll not know until you finish what you've done. That, my friends, was all the creative rocket fuel I ever required to thunderously course through my veins and take my work to the level of anywhere I needed it to be. 10-9-8-7-6-5-4-3-2-1-blast off!
Working this way isn't for everyone, but I wasn't just anyone. I was a man, thanks to all the women who had impinged upon and impacted my life, and who had learned from them. Especially from the one who had taught me that invaluable lesson about listening to women, and how that led me to conclude that women, unlike men, usually knew about what they were speaking. I would not be who I am today if it had not been for the care, love, and wisdom of women. Thank God, in all Her heavenly glory and grace, for women.
And much like a God, I, as a creator, could not tolerate the void of emptiness. An empty, vacant, silent air, wherein melodic and rhythmic, sounds of music demand to be employed in order to fill. The blank page or un-inscribed monitor screen was akin to a vacuum, which due to my nature was abhorred then promptly and proficiently populated. For Aristotle and me, absolute and true vacuums could not exist, particularly at the quantum level, and contrary to what contestations Newton, Galileo, Boyle, and Hobbs countered within the context of their own theories of general relativity regarding what ruled the Cosmos. Because if anyone were able to remove every single particle in the universe, then, and only then, would you have an empty, perfect vacuum. What would remain would be simply flat spacetime. This, which only may exist in principle but not in reality, is nothing more than a vacuous thought.
But I've not been one who can stomach the emptiness and an absence of content. I must fill the void and pour myself into whatever is unfulfilled by anything. Yes, for me, creating is required in maintaining existence. So, I continue to fill, ad infinitum, the empty boxes of my never-ending cosmic crossword puzzles with sweet sounds and well-chosen words. Within my version of the bible, She-who-is-in-heaven said in the beginning, "Let there be content!"
October 19, 2022
---
~ Soul Delicious ~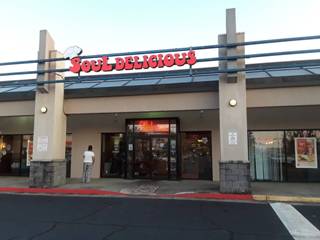 Where I come from…
You need not be afraid to die tomorrow if you concern yourself with how you live this day. For die you will, if not this moment, then at a time that shall come. Life is the only thing I know of that we'll take with us once we die, so live your life well. Squander not what you have before you today, for tomorrow you may not have what you had yesterday. The past is your legacy, and the present is a gift. But the future may betray you, so choose your course carefully.
Life is often harsh. Yet it's what tempers and forges and pounds and shapes us into who we are. Thus, live your life fully – for, in the end, it's really up to you how you live. Seek not to be like everyone else. Instead, become the exception. Discover all you may about life as well as yourself. These discoveries will serve you appropriately. Throughout our journey discern the many secrets of not only the body but your mind. When the solution to any of our mysteries is revealed we are unquestionably augmented and unusually enriched.
Protect your spirit with love and guard it as well as you would for anyone you cared for. Feed this spirit the feast that existence sets forth before you from cradle to grave. Savor the essence of all that is around us then taste every morsel individually as you existentially dine. Be eternally vigilant as to what may do it damage or harm. Our spirit makes up a lion's share of what we are – although it's not the total sum of who we could be. There's more to us than what we'll ever know. Appreciate not only how truly unique you are but the uniqueness of all others.
Then there's the soul. The soul is unconsciously connected to all things living or not. It binds the sky to all the stars, moons, and planets. It explains why the seas and oceans are connected to the deserts and touch other lands. It's every reason behind the simple pleasures. For your soul's the cosmic cement that holds all together as one. Never allow it to toughen, become desiccated, or bitter, but always endeavor to maintain its sweet tenderness as it ages.
The soul is the inner reflection of all that is outside and around us. It's the roadmap at a time when there are no answers. An anchor that moors; once untethered, no longer permits one the sanction and stability of a safe harbor. To deny that which is your soul, for all intents and purposes, is merely a denial of yourself. Do not go against who you are.
Be good to yourself and others. Appreciate what time you have to frolic upon this planet. While there is much to cry about, let us make a conscious decision to appreciate all that there is to enjoy in existence. Find your inner freak, next find your freak family, and then let your freak flag fly! Your happiness is no other's responsibility other than your own. If your life bores you, then you've not looked, listened, felt, or tried hard enough to engage with your surroundings. For upon closer inspection one may observe that fascination is actually staring right back at you and straight into your face.
You need no one. But, if someone, or two, or three, or however many more do come into your life, then imbibe their presence. Dine from their essence and allow them to dine from yours. Nourish your soul as you would your body. Ask yourself questions concerning what you are about to consume. Is my soul really hungry? Do I want this now? Is what I'm going to do beneficial for me? Am I poisoning this soul and my life? These are simple questions that allow you extra seconds to think before metaphorically biting into and chewing something. Enough time, in most cases, to decide, and probably much to your surprise: your spirit is not really hungry, it doesn't need to eat now, and if not beneficial, then you shouldn't eat it. Make the decision to stop poisoning the soul as you would your body.
Try to do as much good as you can, and try to do it always. Look for ways to be a better person to all around you, and equally, to yourself. Be kind to those you know, but extend kindness to all who you do not. Just remember, in the beginning, to everyone else you are a stranger too. All that you believe you may own can be lost or taken away in less time than it takes to blink an eye. That's just the way it goes, so you may as well get over it. Your health and attitude are more valuable to you than all the silver or gold in the world.
Stop striving for perfection, for perfection is merely an unobtainable illusion – it does not exist. Decide what is important to you and what is not in this short-term period we call existence. Then focus, focus, focus, and then refocus again on what's important. Find forgiveness when wronged because carrying grudges is not only bad for your health but your soul. Maintain an open mind, since closed minds can't learn new things. Accept that you do not know everything, it's simply a fool who thinks they do, and that they're always right. Hubris and self-ignorance are a toxic and sometimes deadly combination
You will fail at times in trying to accomplish these goals. Worry not, for that's okay. If you've not failed at least one, two, or a multitude of times during the course of your life then you've not been trying hard enough. So go hard. Embrace each time you're able to get up out of your bed in the morning to live yet one more day. As far as anyone really can determine, you'll only live once. Now live the following moments of the rest of your life like they were your last!
October 12, 2022
---
-FOR IMMEDIATE RELEASE-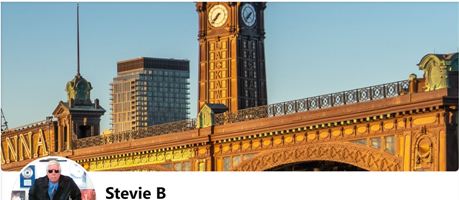 ~

Unofficial Hoboken, NJ, Mayor Launches Televised Media Junket

~
Entertainment promotion and marketing representative Mia Mind Music has announced that published novelist and recording artist Stevie B's will be setting off on a series of network television appearances next month. He'll be promoting ALICE (a story set in a real-life late-night Hoboken hotspot, The Madd Hatter Bar & Restaurant), his latest book during these interviews.
ALICE is a young-adult-fantasy-fiction literary offering intended to be a tongue-in-cheek mash-up of Alice's Adventures in Wonderland/Through the Looking-Glass and M. Shyamalan's The Sixth Sense. Alice is a Croatian immigrant trying to escape the debts incurred during the COVID-19 pandemic when bars and restaurants were forced to close. And long live the Queen! Could a novel ever be more relevant in today's world? With this author's background in the entertainment industry, and his understanding and use of pop culture icons and events, the answer should be a resounding, "NO!"
Now available in book form as well as Kindle and audiobook versions. The audiobook features an ALICE theme song composed and performed by the author (https://youtu.be/5YRsfZEOcqU). While the audiobook only provides the book cover's artwork the physical and Kindle versions boast an abundance of additional black and white illustrations throughout that were created by renowned Chicago comic book graphic artist Stephen Krakow.
In addition, a global podcast campaign has also been launched to promote ALICE and to spread the word about Stevie B's work (https://www.readlotswritelots.com/podcast/episode-31-stevie-b/). Additional personal appearances will be announced in the following weeks. If you wish to learn more, then you may of course go to https://www.thestevieb.com. The author is available for interviews and/or appearances. An EPK is provided upon request to all members of the media by contacting the representative listed below.
Media Contact:
Antonio Silva Filho
Mia Mind Music
Phone: 800-843-8575
Email: press@miamindmusic.com
October 5, 2022
---
~ Can I Get An Amen Here? ~
When I first became acquainted with recording artist Darrell Kelley he owned SOUL DELICIOUS, a restaurant in Georgia. That name has always stuck in my mind and was my inspiration to update and recreate my own version of DESIDERATA. It's entered in a writing competition and I'd love to have you read it and perhaps even cast a vote!
September 28, 2022
---
~ Not In It For The Money ~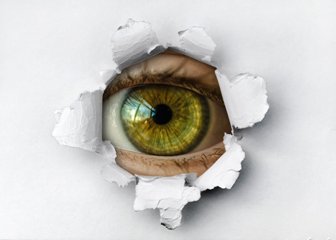 I've been a hacker for almost as long as I can remember. Even as a kid I lived to mess around with computers, programming, writing and cracking codes, and surfing to the darkest edges of the internet. What I couldn't learn from manuals, chat rooms, message boards, or friends I pretty much just figured out on my own. So early on I knew that hacking would make me way more money than flipping burgers at Mickey D's, earning a college diploma, or even scoring a high-paying job on Wall Street. And with a lot less of the mess and stress that usually accompanies your average 9-5 gig. But it was never about money, and things have changed since then.
For obvious reasons, I can't tell you my name. And after you read this you won't be able to trace it back to my I.P. address it was sent from since I've developed and used a multilevel super encryption masking and scrubbing device to send this screed. So, why am I taking the risk of stepping out of the shadows and onto the grid by divulging this secret to the New York Times? Because of the way they've ruined it for all of us. I've had enough and just can't stomach it anymore. Who're they, you ask? In two words: Today's Hackers.
These hackers today! They've no respect and are almost always in it only for the money. When I first entered the hacking game it was all about changing the world and making a difference. Sure, every now and then we'd line our own pockets a bit with enough to cover expenses and then some. But for me, unlike them, it wasn't only the money. Maybe it's just the lone wolf vs. mob mentality.
Today's hackers are not only creating chaos but they make no distinction of who it is directed toward. For them, there are no good or bad guys; only easy pickings. And because they do that, it reflects poorly upon our entire hacker community as a whole. It's their ransomware attacks that really piss most of us legit hackers. Nowadays, the bigger their haul the more likely these greed-fueled Robin Hoodish banditos will invest it in specialization and franchising. They've certainly gotten better at it over the years.
Remember the Colonial Pipeline assault? It may have not been the most costly hack attack from 2021 – 2022 (only 4.4 million was made from that hack), but the downtime caused by lost business and revenue was far more financially damaging to them than the ransom size. The WannaCry virus was far bigger in the number of computers it infected (300,000+) and resulted in 6 billion USD of damage, albeit the blackmail payout dollar size wasn't the top dollar in brides for that period. Well, I for one want to put a stop to it now!
Here's a short list of today's greatest hacker hits. Coming in hot at #1 for 2021 is the insurance company, CAN Financial Corp., for a whopping 40 million dollars which was a record liberation money amount paid up to that point. The second was meat producer JBS's payment of 11 million USD. Followed by GPS system manufacturer Garmin for 10 million, an unidentified Austrian organization (4.7 million), CWT Global travel services (4.5), Brenntag, a chemical distributor (4.4), Travelex (2.3, resulting in the corporation's declared bankruptcy), fashion company FatFace Ltd. (2.0), and then, 1.14 million extorted from San Francisco's University of California. Do the math and tally it up, that's a grand total of nearly 85 million USD.
As 2022 began, so did more digital assaults, beginning with the Flexbooker data breach on January 3. The Red Cross charity organization was the next innocent victim, then came Crypto.com, multiple Credit Suisse banks, more universities, hospitals, and even the Cost Rican government. Now, with nearly 3 dozen other major thefts occurring thus far in a year with still 4 months to go, it's really getting out of hand, isn't it?
When today's hackers set their sights on specific ransom amounts they normally take several factors into account: 1) The size of the infected network, 2) The target's overall net worth (including revenue and client's accounts held in escrow), 3) The level of data sensitivity being breached. And that's the way they do it, uh-ha-uh-ha. It not only hurts organizations and businesses out there that put good into the world but even reputable hackers such as me. Therefore, this really has to stop, and there's only one way to paralyze today's hackers dead in their tracks to halt them from fermenting further mischievous.
So, what's a respectable hacker of yesteryear ever to do these days? Basically, the first way I've decided to deal with it is not stooping to their low level, and secondly, it's not to be in this game for the money. That was up until today when I had this idea. We, the good guy hackers of yesterday, need to band together and go after all the bad guy hackers of today to fight fire with fire. In other words, on a global level, the good must unite with one another to go after these nefarious computer criminals and hit them where it'll hurt the most: we hack the bad guys.
I've been developing a unique virus that'll infect their devices and which would A) Identify offenders so the rest of the world could detect them, and out these blackmailers, B) Temporarily lock down their software until the threat's resolved, and C) Permanently disable and damage beyond repair any hardware used by chronic repeat offenders to stop them and wipe out their access to easy cash flow. With every day that passes, I get a little closer to my goal; to halt and hurt today's malicious hackers. And now, I feel I may have cracked that code to allow me access via a backdoor in all computers that'll leave those greedy bastards defenseless. I'm almost there, and come tomorrow my fine friends, sweet revenge!
September 21, 2022
---
~ Mommy, No! ~
"Please don't, ma!"
"You've got to hear it from me," his mother insisted.
"I don't want to!"
"It's the way you're built."
"What do you mean? Stop telling me!"
"How you're wired."
"Wired? Wires, why?"
"Your programming…"
"No more talking, I'm confused."
"You're not a real boy, honey."
Her words stung like angry hornets. With each stab of truth what had been only suspected now was coldly and callously confirmed as reality by a person whom he'd thought was his mother. But apparently, she wasn't. As upsetting as that was it wasn't as bewildering as this knowledge he was neither real nor human. A soulless machine, merely a combination of hardware with software, comprised of wires, circuits, CPUs, motherboards, RAM, ROM, a hard disk, as well as some network and sound and graphics cards. Nothing, nothing real…
He always sensed His difference from others, but mama said that was because he's special. "Special ones always feel they're not like most people," she said, "no, not like the un-special ones!"
"Why special?" he asked.
"It's how your father and I made you."
Who was his father? He couldn't remember any dad. His earliest memories were of him with his mom; always together. She picked him up when fallen, cleansed when soiled, cared for, taught him everything, loved, and answered questions—albeit—often cryptically. The father was rarely cited. In those instances he was, after mentioning the man who'd helped make him, his mom appeared to regret sharing the information. As if something she let slip by misspeaking, like a thoughtless mistake.
"What happened?" the son forever wanted to know.
"He's no longer with us, dear."
"Where'd dad go?"
He wanted information about the departed paternal unit's current location or fate. But she never answered that question directly. When observing she'd failed in deflecting or redirecting his questions, the mom would become silent and withdrawn. Instead of replying, her gaze turned downcast and sad. She'd become lost in a forest haunted by a bevy of memories and regret. Teardrops welled up, threatening to spill from her robin's egg blue eyes. The boy was left abandoned, watching her wander lost somewhere in her mind with someone from the past. There was never an adequate answer, at least for the kid's ever-increasing unsatiated satisfaction.
But today her boy had dug in his heels; repetitiously, relentlessly, repeating questions. A pit bull clenching bone between jaws, he refused to let go. It'd begun as inquiring why he was homeschooled instead of attending classes with other children the way he'd seen on the internet; studying in classrooms, laughing, playing, or having fun with other school kids during recess. Her son hadn't been to school, a cafeteria, or a playground. He'd not met anyone but his mother, much less have friends.
What's wrong with him, he wanted to know. The lady had already offered that tacit "special" explanation without quelling or satisfying his curiosity. So, he pressed her even further. When she refused to share what he's sure was known, the usually helpful matriarch said not another word, and left the room. He followed her into the kitchen. There he'd found no buried knowledge or a way to fissure the wordlessness.
After the kitchen, mama took refuge in her bedroom. A bedroom she'd shared with no one in the short span of what he recollected from memory. But the boy continued to hound and pound away at her patience from the open doorway of the chamber. Actually, no room within their house had doors. This he added to his ever-growing wanted-to-know list.
"What makes me special, different? What happened to my father, where is he? Where're the doors inside our house? Why can't I go to school, study stuff in class, climb up high enough to touch the sky while swaying on the seat of a swing or from a Jungle Jim, shovel and shape sand while sitting in a box with girls and boys, horse around with kids at recess? Am I sick, stupid, not good enough? TELL ME – TELL ME NOW, MOTHER!"
But the single mom wouldn't answer. Her son pressed on, hammered away at his now weary mater at wit's end; worn beyond her early middle-aged years. He just wouldn't stop and give her a break. Therefore, following several more inquisitive sorties, the woman could find neither respite nor reprieve, so she broke.
"You're not human, my son."
The child was lost for words; a silence she'd hoped would last longer. But in less than a minute he'd resumed, wondering with hurt in his voice and a lump in the throat, "Not human?"
"You're not a real boy, honey."
"Yes, I am," was his weakly defensive denial.
"No, you're not."
"Then, what am I?"
"Darling, you're something your father and I created. We made you!"
"You made me, how? What did you make me from? Why did dad and you do that, mom?"
Taking his hand, she told him to climb on her lap and she'd explain. With his back facing her, he scooted atop her waiting made-into-my-seat-thighs and tilted his head until it rested comfortably, reassuringly, against the warm, soft cushion of motherly breasts. His mama's left arm draped comfortably around one of his small shoulders, as her right hand soothingly rubbed and caressed the back of the boy's bare neck.
"Your father and I were scientists. We were also very much in love and wanted to share this love with a family. And we did try to begin a family, but we couldn't."
"Why, mother?"
"Son, let's just stick with the hows for now and discuss the whys later," mommy answered as her gentle hand stroked the silky, smooth skin behind my head.
"Okay, then tell me how."
"When we accepted we'd never birth our own children we came up with another solution. We weren't just any old scientist, oh no, like you, we were special—specializing in—robotics! So we made you, my son. You were never real, but we loved you with all our hearts, nonetheless. You were our little boy. Before the end of the year of your design and creation, your father fell ill from the virus and died. After he passed on I couldn't let you go too, thus I decided to raise you on my own. Oh my, you were always such a tiny handful! But I'm afraid you've gotten too big for me to now safely handle on my own."
As the meaning sunk in, the boy's temperature angrily built to a boiling point, and neared eruption. The mother felt not only escalating heat emanating from his body but the way he trembled, quaking with rage. Her right hand moved higher on his head. An index finger searched, exploring as the child thought of ways want to hurt anyone, everyone, to expel the scalding steam of uncontrollable fury at hearing the truth.
The last thing the boy was aware of was her finger finding a button an inch or so up, and under the hairline of his scalp. Pressing it, she began woundedly weeping. "Oh baby, I'm so sorry," the sob-racked woman whispered to the now lifeless body of the limp device in her lap. "That's why I never wanted to answer questions that could cause a system overload, and catastrophically trigger your failsafe self-destruct sequence. Even for you, even for a machine, there are things best not known in life, my little one…"
September 14, 2022
---
~ When God Died ~
September 7, 2022
---
~

Fake Orgasming Our Way Through Life

~
May I let you in on a secret? Most people fake orgasm their way through life. Don't believe me? Just read on…
As usual, they were edging toward it for the longest time. Yet, they weren't even close. Being weary of waiting the trigger had been pulled prematurely and the moment sought and desired to be achieved was missed. So, we really don't want to go around fake orgasming our way through our entire lives, do we? Of course not – not when we can really go for the gusto! Hey, one's got to live for today; for tomorrow one could die at a Coachella Festival. Such is life…
Pretending daily what we do is really what we want to be doing, when it's not, isn't any way to live. Do you know what else? Few folks give much thought to not only what makes them happy but how to obtain it. And aye, there lies the Shakespearean rub. Those using brains to figure out that sort of stuff are usually the happiest. Because they're the people achieving virtual multiple climaxes at least once during every full orbital rotation of our speedily spinning planet.
Metaphorical multiple climaxers guide their lives towards the height of pleasure found only in the rapture of a truly happy ending where someone can actually feel the earth move. Rocking it until they successfully get their metaphysical rocks off and shooting wads like there's no tomorrow. Dying – a tiny death – the death where one feels more alive. Not the individuals faking it, shutting eyes tighter, focusing intently upon the self-prophesizing fantasy of self-failure they've force-fed themselves.
A flood of exuberance, popping one, or a few out during 24-hour cycles called days. Spurting and busting bountiful, cosmically fertile nuts like there's no tomorrow, finding the frenzied peak when at the zenith of existence. Scale summits, apexes, cresting the real deal, arriving at that sky-high pinnacle in the heavens. For many, it's an apogee that can't be surpassed. Endings – when high notes are hit – crescendos wherein passion, pleasure, ecstasy, and fury fuse as orgasmic. Sensations only winners experience. The victors, equipped with an understanding of how vital it is to get their yeah-yeahs out while we still can. Reaching the finish line!
On the other hand, there're those who never tried hard enough, making weak efforts before giving up relatively early in life. The losers who won't labor too strenuously for whatever reasons and have usually convinced themselves any idea regarding skill-set self-improvement is impossible. An imaginary tube of self-doubt jammed down their gullets to overfeed their low self-esteem, much like some pathetic, liver-bloated, force-fed geese with pipes pushed down their throats. Yes, the lazy ones who hide behind a weak logic that since failing to achieve the Big O in their lives thus far, it'll always remain out of their grasp. The hopeless, who fake orgasm through life every sad and worthless day, like vision-impaired mice blindly bumbling to see.
Married to a concept; not being more than they are or improving on both yesterday and today. Slackers in that old orgasm department; unmotivated in becoming better people. We're all familiar with such disturbing, destitute humans; a pitiable lot. I know I certainly do. In fact, one's been a friend of mine for years.
My friend's hit hard bottom. Lacking motivation had a negative effect on his marriage. Their matrimony, a union precariously perched and teetering upon the rocks barely beneath a stormy, augmentative, turbulent sea of dissatisfaction for many years, now is laid asunder and in dismembered pieces, like rusted automobile parts falling from some silly clown car. Do you know what I've been talking about here?
His wife's done more than her fair share by financially supporting him throughout the years, but she's had enough. He claims he won't ever find a decent job because of his age and which is why she or anyone else shouldn't expect him to bear the burden of helping carry that symbolic sofa up the stairs of life. Well, she's even older than he is and has always managed to secure gainful employment whenever required. So hey buddy, put that into your pipe and smoke it instead of all the dope you stuff in there, and that which because of her unwavering economic support, you've always managed to be able to afford and score.
Then there's what's mostly her money he wastes on recording sessions laying down tracks of music he'll neither put the time nor effort into doing anything with. Let me share this little tale with you. A few years ago, after squandering their money to finance his band's latest album, he'd asked me as a favor to allow him free use of my corporation's list of radio station's music and program directors, which I did. The last time I questioned this loser if he'd ever initiated the airplay campaign for that now dead and defunct LP, do you know what I was told? He said, no, it just seemed like too damned much work. What a f*ing fake orgasming waste of human flesh!
That poor woman's hitting the bottle harder than ever now as a way of dealing with the pain he's caused and to drown her disappointment. Do you know what else? He told me she blames the drinking on him because he won't try harder. For instance, say like enrolling in courses to gain some skills more applicable in today's job market than he presently possesses to land a well-paying gig he'd hopefully be happy with; instead of wasting all his time posting hateful garbage on Facebook every day, comments that frequently get this guy kicked off and temporarily banned from further using the site.
Sorry dude, but neither she, nor I, or most anyone else for that matter needs those losers like you who want nothing more difficult than to continue fake orgasming their way through life!
Now, share a secret with us. Did you ever believe philosophical ranting and dissertation could be so darn sexy?
August 31, 2022
---
~

Lucifer's Rain

~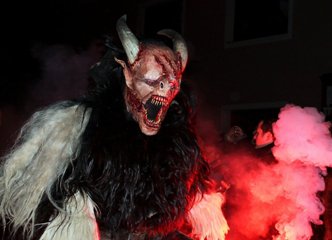 Gather round children, a tale I'll tell
Of waking one morning To Lucifer's Hell
The rain it was pouring, but ever harder it fell
Drowning us slowly the storm would not quell
On January 6th of 2021
Our kingdom was stormed, they'd pitchforks and guns
Middle-aged, old, and even the young
Parroting sound bytes, somebody gonna get hung
We awoke that dawn somewhere outside
Feeling half dead and barely alive
An uneasy gnawing deep down inside
Lucifer's rain had just arrived
Into our mouths the rain did pour
Entering windows seeping under doors
Alternate facts lies unabashed – whack
Madness runs amuck on the moor
Hair combed over to hide the horns
Ill-fitting suits he smugly adorned
We may be out of the forest but not in the clear
Of populist weapons of hatred and fear
What the world saw: insurgency
'Twas revolution for some
To hell with democracy
That coup d'etat, the intended outcome
Lucifer's rain, oh what a time
Soaked through their skin and into their minds
Demons summoned, eye of God gone blind
Obeying orders of a grifter mastermind
Cast from the kingdom without a crown
Gathered deplorable minions from farms and towns
To do his bidding, refused to step down
Transfer of power scorched and melted down
Now Lucifer's on trial, the gavel pounds
Court comes to order, his legion expounds
In the devil's defense, he attempts to confound
Corrupting truth turning facts upside down
From the kingdom, Satan's been cast
Lucifer's rain may be over, but how long can it last?
When evil's inflicted, damage is done
Remain ever vigilant, for again will Lucifer come!
N.B: Shrouded in an American flag and thumping a bible as if it owes him money is the new mark of the beast. It's Lucifer – he's back!
---
~

BANG—You're Dead!

~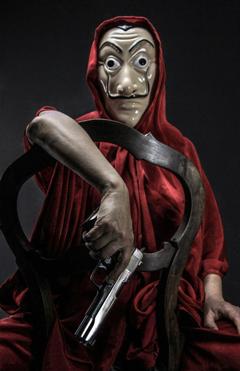 What I'll attempt to do here is create a meaningful short story using the least amount of different words:
In the thick of the overly crowded street fair, they aimed their automatic weapons and shot. Bang, bang, bang, bang, bang, bang, bang, bang, bang, bang, bang, bang, bang, bang, bang, bang, bang, bang, bang, bang, bang, bang, bang, bang, bang, bang, bang, bang, bang, bang, bang, bang, bang, bang, bang, bang, bang, bang, bang, bang, bang, bang, bang, bang, bang, bang, bang, bang, bang, bang, bang, bang, bang, bang, bang, bang, bang, bang, bang, bang, bang, bang, bang, bang, bang, bang, bang, bang, bang, bang, bang, bang, bang, bang, bang, bang, bang, bang, bang, bang, bang, bang, bang, bang, bang, bang, bang, bang, bang, bang, bang, bang, bang, bang, bang, bang, bang, bang, bang, bang, bang, bang, bang, bang, bang, bang, bang, bang, bang, bang, bang, bang, bang, bang, bang, bang, bang, bang, bang, bang, bang, bang, bang, bang, bang, bang, bang, bang, bang, bang, bang, bang, bang, bang, bang, bang, bang, bang, bang, bang, bang, bang, bang, bang, bang, bang, bang, bang, bang, bang, bang, bang, bang, bang, bang, bang, bang, bang, bang, bang, bang, bang, bang, bang, bang, bang, bang, bang, bang, bang, bang, bang, bang, bang, bang, bang, bang, bang, bang, bang, bang, bang, bang, bang, bang, bang, bang, bang, bang, bang, bang, bang, bang, bang, bang, bang, bang, bang, bang, bang, bang, bang, bang, bang, bang, bang, bang, bang, bang, bang, bang, bang, bang, bang, bang, bang, bang, bang, bang, bang, bang, bang, bang, bang, bang, bang, bang, bang, bang, bang, bang, bang, bang, bang, bang, bang, bang, bang, bang, bang, bang, bang, bang, bang, bang, bang, bang, bang, bang, bang, bang, bang, bang, bang, bang, bang, bang, bang, bang, bang, bang, bang, bang, bang, bang, bang, bang, bang, bang, bang, bang, bang, bang, bang, bang, bang, bang, bang, bang, bang, bang, bang, bang, bang, bang, bang, bang, bang, bang, bang, bang, bang, bang, bang, bang, bang, bang, bang, bang, bang, bang, bang, bang, bang, bang, bang, bang, bang, bang, bang, bang, bang, bang, bang, bang, bang, bang, bang, bang, bang, bang, bang, bang, bang, bang, bang, bang, bang, bang, bang, bang, bang, bang, bang, bang, bang, bang, bang, bang, bang, bang, bang, bang, bang, bang, bang, bang, bang, bang, bang, bang, bang, bang, bang, bang, bang, bang, bang, bang, bang, bang, bang, bang, bang, bang, bang, bang, bang, bang, bang, bang, bang, bang, bang, bang, bang, bang, bang, bang, bang, bang, bang, bang, bang, bang, bang, bang, bang, bang, bang, bang, bang, bang, bang, bang, bang, bang, bang, bang, bang, bang, bang, bang, bang, bang, bang, bang, bang, bang, bang, bang, bang, bang, bang, bang, bang, bang, bang, bang, bang, bang, bang, bang, bang, bang, bang, bang, bang, bang, bang, bang, bang, bang, bang, bang, bang, bang, bang, bang, bang, bang, bang, bang, bang, bang, bang, bang, bang, bang, bang, bang, bang, bang, bang, bang, bang, bang, bang, bang, bang, bang, bang, bang, bang, bang, bang, bang, bang, bang, bang, bang, bang, bang, bang, bang, bang, bang, bang, bang, bang, bang, bang, bang, bang, bang, bang, bang, bang, bang, bang, bang, bang, bang, bang, bang, bang, bang, bang, bang, bang, bang, bang, bang, bang, bang, bang, bang, bang, bang, bang, bang, bang, bang, bang, bang, bang, bang, bang, bang, bang, bang, bang, bang, bang, bang, bang, bang, bang, bang, bang, bang, bang, bang, bang, bang, bang, bang, bang, bang, bang, bang, bang, bang, bang, bang, bang, bang, bang, bang, bang, bang, bang, bang, bang, bang, bang, bang, bang, bang, bang, bang, bang, bang, bang, bang, bang, bang, bang, bang, bang, bang, bang, bang, bang, bang, bang, bang, bang, bang, bang, bang, bang, bang, bang, bang, bang, bang, bang, bang, bang, bang, bang, bang, bang, bang, bang, bang, bang, bang, bang, bang, bang, bang, bang, bang, bang, bang, bang, bang, bang, bang, bang, bang, bang, bang, bang, bang, bang, bang, bang, bang, bang, bang, bang, bang, bang, bang, bang, bang, bang, bang, bang, bang, bang, bang, bang, bang, bang, bang, bang, bang, bang, bang, bang, bang, bang, bang, bang, bang, bang, bang, bang, bang, bang, bang, bang, bang, bang, bang, bang, bang, bang, bang, bang, bang, bang, bang, bang, bang, bang, bang, bang, bang, bang, bang, bang, bang, bang, bang, bang, bang, bang, bang, bang, bang, bang, bang, bang, bang, bang, bang, bang, bang, bang, bang, bang, bang, bang, bang, bang, bang, bang, bang, bang, bang, bang, bang, bang, bang, bang, bang, bang, bang, bang, bang, bang, bang, bang, bang, bang, bang, bang, bang, bang, bang, bang, bang, bang, bang, bang, bang, bang, bang, bang, bang, bang, bang, bang, bang, bang, bang, bang, bang, bang, bang, bang, bang, bang, bang, bang, bang, bang, bang, bang, bang, bang, bang, bang, bang, bang, bang, bang, bang, bang, bang, bang, bang, bang, bang, bang, bang, bang, bang, bang, bang, bang, bang, bang, bang, bang, bang, bang, bang, bang, bang, bang, bang, bang, bang, bang, bang, bang, bang, bang, bang, bang, bang, bang, bang, bang, bang, bang, bang, bang, bang, bang, bang, bang, bang, bang, bang, bang, bang, bang, bang, bang, bang, bang, bang, bang, , bang, bang, bang, bang, bang, bang, bang, bang, bang, bang, bang, bang, bang, bang, bang, bang, bang, bang, bang, bang, bang, bang, bang, bang, bang, bang, bang, bang, bang, bang, bang, bang, bang, bang, bang, bang, bang, bang, bang, bang, bang, bang, bang, bang, bang, bang, bang, bang, bang, bang, bang, bang, bang, bang, bang, bang, bang, bang, bang, bang, bang, bang, bang, bang, bang, bang, bang, bang, bang, bang, bang, bang, bang, bang, bang, bang, bang, bang, bang, bang, bang, bang, bang, bang, bang, bang, bang, bang, bang, bang, bang, bang, bang, bang, bang, bang, bang, bang, bang, bang, bang, bang, bang, bang, bang, bang, bang, bang, bang, bang, bang, bang, bang, bang, bang, bang, bang, bang, bang, bang, bang, bang, bang, bang, bang, bang, bang, bang, bang, bang, bang, bang, bang, bang, bang, bang, until everyone was dead!
The End
August 17, 2022
---
~

Tommy, Can You Hear Me?

~
Jools of London, the wonderful and talented narrator in the UK made this lovely video to promote my audiobook version of ALICE and which she of course narrated.
~

"Chris and her Daughters" Finding Fruition

~
Just saw this mock-up of the cover for my next publication titled CHRIS AND HER DAUGHTERS, a supernatural novel about a ghost and her living family, and I love what I saw! Thank you Caroline McIntyre for agreeing to model for this project! Please share your thoughts and comments. Thanks.
August 3, 2022
---
~ Heroin: No Postcards From Portugal ~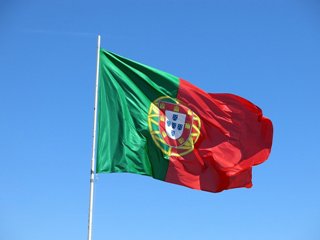 "You may like, The Freaky Fungal Family Tree," I told one of the two waitresses who'd been attending my table and had noticed I was reading. She then asked for a book recommendation on that sun-splashed afternoon. That's the explanation our trio shared when strangers encountered us thereafter and inquired how we'd first met. After all, and because of our age differences, we were quite the curiosity. The two of them, Y and V, who at first would become muses for my literary work, well, eventually, what can I say? Chronologically, and legally, we were all adults…
My former cell phone number was 201-484-9631. As of today, I closed my Verizon account which offered mobile access for that number. The $600 smartphone, also provided by Verizon, I'll donate to the local homeless shelter to do with as they may, then someone else can get suckered into signing up again for the G5 mobile service. I only got the freaking thing because I needed to go back and forth for a series of eye surgery operations at a hospital several cities away from where I live. The final of those cut-and-paste procedures took place last Thursday. Health insurance and cell phones suck, but they're necessary evils you need every now and then to survive in today's world. Today's world: What a joke. It ain't any better than the world of yesterday – today's world simply and endlessly drills that little lie into your brain that it is. I'm done!
I got a call on the cell from my girls now out in Los Angeles last night. Other than a business colleague and a guitar-playing friend who helped me set up my now disconnected phone, I've never given anyone the number I just shared with everyone reading this. Needing the device only to hail Uber car rides for hospital appointments, no one else besides my girls, ever phoned me on my mobile number. From across the country, they'd even helped pick it out on the Verizon online store site so they could call me as soon as I came out of surgery to check on how I was doing. The joke's on all of us I guess, what I knew about surgical procedures was equal to what I knew about smartphones. Because prior to the operation it was required I leave all personal effects, including the Galaxy Android, in a locker until I was released from the facility's care. And could not reclaim the locker's contents for more than another hour that I was required to remain at the medical facility before release. Today's world!
So, during the call from my muses the other evening, they dropped the big one. They'd met someone. Not sure if it was a man or woman, and that doesn't matter to me. Full disclosure: I've been a third of this throuple with Y and V for nearly a year now – and monogamy was never a concern. In fact, it was an exhilarating sense of freedom not having to be concerned about it. What I am concerned with concerning the person they just met is that person's profession: dealing heroin. You see, their new acquaintance just introduced the two of them to the product pushers pushed. And according to my girls, it was GREAT!
Great – I've heard that before. I've even had a few personal experiences with junkies during my tenure in yesterday's world, and they all think the first hit is great. I've watched from the sidelines how it just always goes south and downhill thereafter. There goes your better judgment. There goes your health, dreams, career, family, goals, plans, ambitions, reputation, integrity, and practically everything else. And for an unlucky number of heroin addicts, oops, there goes your life! This is the point where I'll choose to digress and tell you about an experience I had with one junkie in yesterday's world – so read on if you will…
I'd been in a relationship with that addict from my former life for nearly as long as I've been a part of the throupled coupling I'd just told you about. I knew she was using. Even tried to turn me on to it a few times, but I was never interested. Heroin scared me shitless. I accepted that smack would get the best of me. I was weak – but I wasn't stupid. For a relatively uneducated person, I acknowledged my own limitations rather well, and how I lacked the strength and fortitude to master that evil opiate. Yet, I was absent of intelligence, or perhaps the experience, in how to handle life with an addict. Instead, I told her to not only get out of the apartment we shared on the Lower Eastside of Manhattan but to leave my world as well. And she did, albeit with having not revealed she was pregnant with child; our child, my child, at the time of her exile.
Damn, I'd not known I even had a son until the call from the NYPD to identify their bodies. Apparently, according to the cops, she thought it was a good idea to nurse the kid as she lay in bed after shooting up. If you'd known my former girlfriend then you'd surely conclude, especially if you'd ever sampled her attempts at baking, that she lacked the talent and patience for accurately measuring out the proportions of ingredients required in a recipe. So, can you take a wild guess at what happened? BINGO! She not only ODed but fell unconscious atop the baby she was bottle-feeding, our son, and the boy suffocated. A police officer shared the kid's name with me: Alan. That was the seldom-used middle name my parent had hung on me. Alan – I had a dead son named Alan. Now the jokes on me, and it's a sick joke I'm rarely willing to retell to others.
I so vividly can recall what led to my ex's exile. The deeper she got into heroin the more I felt like I was standing on a seashore as I watched her being dragged further out into the ocean by a riptide. An undertow that was stronger than she realized, and was something never to be tamed. While I stood helplessly as it pulled her down I'd silently think to myself, "Drop me a postcard when you finally get to Portugal." But junkies seldom live to see the Portuguese coastline. Nor, do some of their children. It's just a fact of life. And anyway, I'm done. Now, let's return to the last tale I may ever share with you about my girls in California.
So, they told me all about their newly acquired dope connection. This dealer had turned them on for free. That's something pushers usually do because they know you'll be back to pay for the next one, then another hit, and another, and all the future fixes after that. Fixes – well, ain't that the cutest little moniker! What once was fun becomes a fix to maintain the brief and temporary respite of not succumbing to the dreaded dope sickness when you can't find a fix. When a junkie is "jonesing" they'll do anything for a fix. You just name it and call the shots, for a fix; they'll do whatever someone wants. I remembered; I lived through it a few times in yesterday's world, and the sickly experience I sadly shared with a user. Take it from me, withdrawal's sick. I know, I watched that woman I used to love sweat, shake, puke, piss, and even crap herself silly when she couldn't find a fix. Now, I'm done.
My girls also said when I come to stay with them in LA this summer, as we'd tentatively planned, they'll turn me on to their newly discovered acquaintance with that amazing product they're sure I'd love. I said nothing. I only listened in muted silence to their delusions of an inner ability to beat heroin at its own game and not get hooked by the devious and deadly drug. They'd accomplish what those who were destroyed and died from diamorphine addiction failed to do. They'd break, bridle, and ride the wild white horse, unlike all the others who'd attempted to bust that bucking bronco before them. They'd be the exception to the rule. Me? I realized quite a while ago I'd live longer by playing by the rules when it came to addictions. I'm weak.
I uttered not a word as they pitter-pattered, and prattled and rattled on about this new pipedream. Instead, I watched two more people whom I dearly loved, being dragged out to a deadly diacetylmorphine sea as I stood upon an imaginary shore. Calling out from the now shifting sands upon which I stood; I did not. For I accepted words were useless when speaking to dopeheads. Attempting to rescue them from their own dead-end device; I did not. For I knew entering the sea that had grasped, then would draw beneath its surface those who I once considered the better two-thirds of our three-way-union, these druggies would only pull me down with them when they eventually slowly sank beneath the waves. So helplessly, wordlessly, I watched.
I watched as the undertow pulled them gradually from view. Watched, as they became ever smaller, until only tiny specks far off in the distance; bobbing atop those ever-hungry hydrochloric salty waters. I saw them disappear somewhere near the horizon, a horizon where rainbows fear to tread, drifting away from me and toward the shores of Portugal's coastline. I'll no longer waste what precious moments still remain for me in this world waiting on piers for postcards; postcards from Portugal. Postcards that would never arrive, since somewhere between Portugal and the deep blue sea, those who erroneously believed they could pull free from that soulless riptide I call heroin, have perished. For you see, finally, this time, I'm truly done!
July 27, 2022
---
~

Wasabi, Anyone?

~
This little self-penned water chestnut is a favorite short story that UK Jools narrates so wonderfully!
July 20, 2022
---
~

Hail Britannia!

~
Hands across the ocean are now holding ALICE in their transatlantic hands and turning pages. Jools, the wonderfully talented and clever narrator who has graciously read aloud much of my work on her storytelling program in the UK sent me this selfie shot holding a copy of my latest novel. If you don't already have a copy, Amazon can make that happen: https://www.amazon.com/gp/product/B0B15PYZJL/ref=dbs_a_def_rwt_hsch_vamf_tkin_p1_i0
July 13, 2022
---
~

What Mama Said

~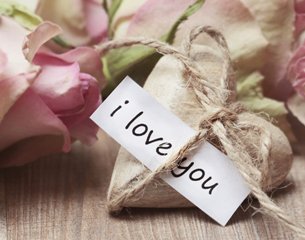 You readers who are sufficiently and intellectually attuned have probably satisfactorily surmised I have difficulty in expressing emotions to those I'm close to. To clarify, for the benefit and edification of those who still may not understand, I do feel emotions, yet have been hampered by an inability to reliably read, proficiently process, and then reciprocate in returning those feelings. My mother, who loved us all dearly, forever claimed the male portion of our family was akin to hermetically sealed mason jars in regard to their feelings. And she was right! Where heartstrings were concerned, we guys rarely were heard plucking, slow-bowing, or strumming. None would ever claim we were a touchy-feely lot.
Anyone could offer an armchair, Monday morning quarterback diagnosis that the brother and father of our clan, as was I, were more than likely somewhere in the Asperger's Syndrome region on the broader autism spectrum. It was truly a matter of temperament. If one was to use the accepted assessment of a normal human body's temperature being between 98.2 to 98.6 degrees Fahrenheit and then transpose it so that it relates to the emotional aspect of our mental male makeup, then we'd always be several degrees below normal. This was not an excuse – merely a behavioral rationale for the way we were.
Citing me specifically, mom once remarked I was someone who would more than likely end up laughing and joking at my own funeral. Mama may be right, but until this son of hers finally succumbs to the eternal and everlasting slumber of the Big Sleep, we'll not know for certain, I imagine. What I do know is, that in most instances, my relatives possessing the X/Y chromosome could seldom respond to anyone else's sentiments appropriately.
Our moods were as mercurial as they were unpredictable. With tempestuous temperaments and undependable dispositions, we'd navigate and interpret the emotional landscape around us much as those in a parable about blind men and an elephant. What we fumble about to feel is all too many times not what's really there. Do you know what I mean? When it came to the way my pop (a man who was pretty much stuck on the childrearing philosophy that if you throw a kid into the water it'll learn how to swim…), big bro, and I, could be counted on to react to someone else's affectivities; my fellow family members possessing penises were clueless.
Revisiting that old, blind men-elephant analogy, we had a tendency of mistaking absolute truth based on subjective and limited empirical experiences while denying what was equally true. In short, when it came to interpreting and gauging anyone's emotional tone, we almost always missed the mark. We're one hell of a sorry, absolute emotional mess.
July 6, 2022
---
~

Everything's Coming Up Rosie!

~
I hate to brag, but it appears everyone's been picking up a copy and reading ALICE these days – even Rosie the well-read dog! It's now available from Amazon (https://www.amazon.com/gp/product/B0B15PYZJL/ref=dbs_a_def_rwt_hsch_vamf_tkin_p1_i0) as well as locally at Little City Books (https://bookshop.org/shop/littlecitybooks). So grab one for yourself and enjoy the read too. (Candid confession: T'was I who let the dogs out!)
June 29, 2022
---
~ Leave Britney Alone! ~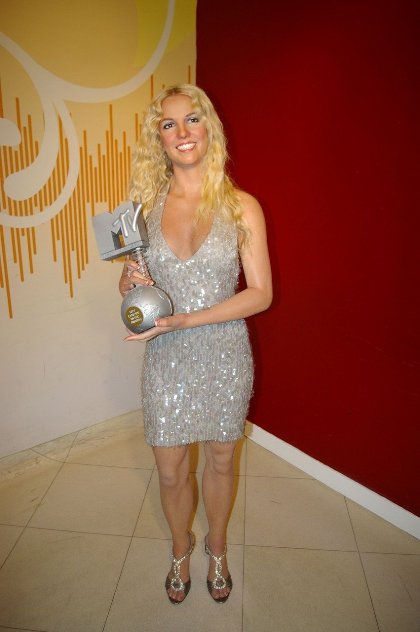 You wanna do something really, really fun? Then, attack Britney Spears. Except for Chris Crocker, just about almost everyone else has at one time or another. Go ahead—have at it—she's an easy target. For the past thirty-nine years that she's walked around on this big ball of fun that we lovingly refer to as planet Earth, our planet somewhere in a galaxy far, far away, you know, just like in that renowned Star War opening crawl that begins those movies says, she's spent just as much time in the spotlight of the public's eye for her achievements as for her downfalls; achievements and downfalls appealing to the general public in some sickly sycophantic fashion. Go ahead; have at it—Britney's the low-hanging fruit on the tree of life that virtually anyone can take a swipe at—and get away with it.
Let's begin with her achievements, shall we? After being born in McComb, Mississippi, in 1981, her family then relocated to Kentwood, Louisiana. By the time she was three she was taking dance classes, and then later as a child, sang in a Southern Baptist church choir. By the tender age of five, while most of us were still trying to master the intricacies of finger painting, Spears began appearing in local stage productions. Now think about that for a second if you will. Five years old and memorizing scripted lines, learning how to hit the mark, take cues, emote and project, and all before entering the first grade. Pretty, pretty, pretty impressive, if you think about it long enough. Hands up of those of you out there who can boast those accomplishments in your early youth, go ahead, I want to count just how many of you there are. Oops, I don't really see many at all.
Then there were the gymnastic classes at Béla Károlyi's training camp, voice lessons, competitions, and talent shows. Somewhere between the ages of nine and ten Britney debuted in an off-Broadway musical, and appeared in commercials. By the ripe old age of eleven Spears was cast in The Mickey Mouse Club TV series along with fellow Mousketeers Ryan Gosling, Christina Aguilera, Keri Russell, and of course, Justin Timberlake. Again, please, hands up out there of all who can claim anything equal to that, please, let's see now just how many of you there are. I don't see a lot of hands in the air. Oh, am I being mean? Did I make some of you feel bad about yourself? Well, then excuuuuuuuse me! I'm so sorry.
I imagine I could go on and on all day long and into the night about that girl's feats, skills, talents, and work ethic. Like signing with Jive records after turning fifteen, then dropping two diamond-certified studio albums in a row. Two of the best-selling albums of all time, and according to Rolling Stone magazine, that title track single, you know the one, "Oops!… I Did It Again", was the greatest debut single of all time. No, I know what most of you want to hear is about how she cracked up while the whole world was watching. Isn't that why you're here? Well, okay then, if that's what you really, really, really want is to go down that road, then let's get to that.
Only a few years later, around the time of the release of her fifth album, when she was about twenty-six, Britney's world (and here I'm speaking strictly metaphorically and thus not be confused with that aforementioned big ball of fun that we all lovingly refer to as planet Earth) began to unravel and fall apart. It was at that point in her life, that Spears was involuntarily placed under that now-infamous court-imposed conservatorship. A conservatorship is where a legal decision has been made on your behalf where a conservator, or guardian, has been appointed, regardless of whether this is something you desire or not, to make your daily decisions and manage your finances.
During the years Britney Spears was placed under said conservatorship she lost the right to see her own children, was hospitalized for psych evaluations, was placed in drug/alcohol rehab, remained relentlessly hounded by paparazzi, shaved her head, heartlessly then mocked by the media and the general public, and repeatedly petitioned the courts to terminate that conservatorship. All during this period of her life, when it was claimed she lacked the ability to make simple decisions or to directly access her finances, Britney was still recording, doing concerts, making appearances on television or in films, and was generating millions of dollars of revenue every year; millions of dollars which she could not freely access. It was also when the #FreeBritney movement was launched. Finally, on September 7, 2021, her father was removed as her legal guardian from the conservatorship. Allegations are now being investigated by the courts that her father, the sole conservator, profited quite handsomely in that role over the past thirteen years. But it won't be until November of this year that the court will determine to permanently terminate the conservatorship, which is now being supervised by a newly appointed independent accounting firm.
All the while the public humiliation never diminished nor ended. Britney Spears was the whole world's whipping girl, punching bag, and everyone's joke. Pundits, late-night talk show hosts, and every Tom, Dick, Harry, Sue, Donna, and Betty on social media platforms had a field day making fun of her wounds and woes. It went on nonstop year after year. She was the easiest mark in the entertainment industry to hit. So, go ahead, keep on ripping her to shreds and then make jokes about her life being in tatters. You aren't being mean, are you? You're just having a bit of fun at her expense. After all, Britney's crazy, isn't she? But there's something here that really bothers me.
We're all a little crazy in our own way, right? Each of us possesses our own idiosyncrasies, complexities, peculiarities, and peccadilloes. Don't you agree? Now let's see all the hands raised if you agree. Good, apparently most of you do agree with that. Now the following is exactly what bothers me, and what I can't understand. If you've been deemed so damned incompetent by the courts of both law and public opinion, yet you still manage to be competent enough, to plan, prepare, show up and perform your job better than just about anyone else in the business, then who's the crazy one. Oh please, I didn't mean to be mean about this, but perhaps it's those who are casting stones at someone in need who are truly the ones who are not just crazy, but just downright cruel, One last time, a show of hands out there, raise a hand if there's even the slightest chance that someone could've been you!
June 22, 2022
---
~

More Happy Readers & Retailers & Neighbors

~
While this one was not one of the first 100 people to purchase ALICE, my latest novel, Pete Johnson is one of my neighbors. Pete lives over in the neighboring town of Weehawken, a place we Hobohemians refer to as "The bad side of the tracks," and the residents as Weeners – but we don't hold that against him or them. ALICE is now not only available via Amazon: https://www.amazon.com/gp/product/B0B15PYZJL/ref=dbs_a_def_rwt_hsch_vamf_tkin_p1_i0 but is stocked locally at Little City Books: https://bookshop.org/shop/littlecitybooks (the place where Weener neighbor Pete purchased a copy of ALICE). Hey, if you own a Kindle or any other digital reader then take advantage of our last Wild Wednesday Giveaway Day! Until midnight tonight, you can get a free copy of ALICE here: https://www.amazon.com/Stevie-B/e/B092KGQZ5P/ref=aufs_dp_fta_dsk
~

Happy Readers & Retailers

~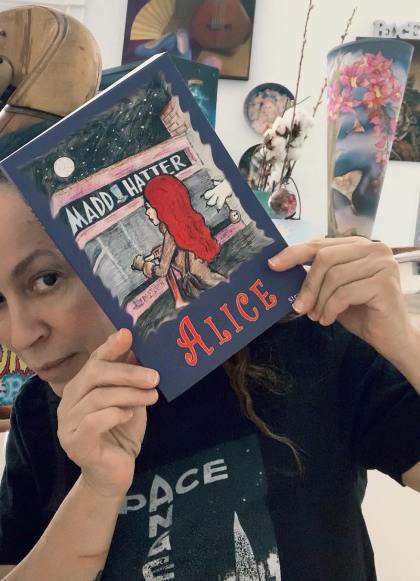 Thank you Pepper Gomez for being one of the first 100 people to purchase ALICE, my latest novel. Now available via Amazon: https://www.amazon.com/gp/product/B0B15PYZJL/ref=dbs_a_def_rwt_hsch_vamf_tkin_p1_i0
Currently, it is stocked locally at Little City Books: https://bookshop.org/shop/littlecitybooks
Wild Wednesday Giveaway Day! Until midnight tonight, you can get a free copy of ALICE here: https://www.amazon.com/Stevie-B/e/B092KGQZ5P/ref=aufs_dp_fta_dsk
June 8, 2022
---
~

Ouija Board Blues

~
Although none of our fingers were placed upon it at the time, the planchette moved magically and effortlessly atop the worn and weathered Ouija board surface, moving solely of its own volition. That had never happened before. There are three basic rules when you work with the Ouija board. Only two of the three really apply when it came down to survival. One: never use the Ouija board alone. Three: Always say Goodbye. How was I to know that some idiot at tonight's table would take out their cell phone to begin snapping pictures and then posting them on Instagram? This pissed off the spirit royally and who then departed before I had a chance to say Goodbye. Now I'm f**ked!
It's just been one of those years. The value of my IRA was contracting (LOL – what IRA?). Inflation was eating away at the savings intended for my one-day retirement (LOL – what savings?). Revenue from the Ouija board game had now fallen to about the equivalent of what a typical traveling typewriter salesman raked in when banging it door to door in Silicon Valley. This was not a photogenic moment in time for me. Lights, camera, action, dolly back, cut, fade to black…
My mother claimed to be a clairvoyant. Yeah, my mom claimed a lot of things. I loved her nonetheless, and nonetheless, she loved me. Personally, I never believed in much of anything except believing in your dreams. Guess you'd say I'm rather basic. Go on, have a go at me if you like. You're nothing compared to that pissed-off spirit with a hard-on for my damnation because I neglected to adhere to the simple wisdom bestowed within the elementary third rule regarding bye-byes. I'm f**ked!
I loved my mom, but I only have one photograph of her. In this picture, she's posed alongside another woman I only knew as Aunt Hazel. Aunt Hazel was married to Uncle Gil. The aunt and uncle lived with us in a small house for nearly a year down in Palmetto, Florida, along with their adopted thirty-something-year-old daughter Nancy, and her husband Jerry, who had a gig delivering Pepsi Cola to local retailers. Jerry had a deep southern drawl, and "Them's the damnedest people!" was his catchphrase. When I was five years old, Uncle Gil introduced me to Brazil Nuts. He told me they were called "ni****toes". When I announced to my mom and dad I'd been gobbling ni****toes I was summarily smacked silly. I'm proud to be included among a branch of this fine lineage that does not tolerate racial intolerance. Damn proud!
I don't have to be psychic to know what you want to know next. You want to know how I got into the Ouija board racket. Right? That's the question that's living rent-free in your brain right now, isn't it? Okay, take a load off your feet, have a seat and I'll spill the tea…
I'd called it quits working at McDonald's. They weren't such a bad outfit to be with – it was just the tallow! Do you even know what tallow is? It can usually be a combination of rendered mutton or beef fat, pig lard, and/or plants. Pretty much anyone's guess, I guess. Yum-yum. McDonald's likes to use it, and they use it big time when they cook. I hate the way tallow smells when it cooks. At the end of every shift, I'd walk out of that Golden Arches door smelling like the French fry that got stuck beneath the metal fryer basket and had been repeatedly deep-fried throughout a double shift. That job was killing me – literally.
So, a few weeks ago I was talking to Effie. Effie's not my girlfriend, though I wouldn't mind if she was. But we're both girls. I haven't worked that one out in my own head yet as to if that's somewhere I really want to go. I keep on wishing that Effie would make the first move and we'd just take it from there, I imagine. It could get interesting. Why is it always so damn complicated! Sometimes life feels like there's always someone poking a broomstick under my feet while I'm just trying to dance. Sheesh – what the frack!
Effie says, "You really gonna put your gig at Micky-D's in the rearview mirror this time? That'll be the day! What are you gonna do for money?"
"I bought the Ouija board."
"The Ouija board?"
"Yeah, the Ouija board."
"How you gonna make the guap with that Ouija board?"
"You'll see…"
Today's session was far from the first where I was getting paid. I felt pretty stoked and really psyched. It began well. I'd commenced by inviting the spirit into our circle. For several tense minutes, nothing except what sounded like a soft fart from one of the five people seated along with me at the table had materialized. Then, the tear-shaped planchette began traversing alone atop the Ouija board. This was getting spooky and stinky. Then I think I heard a second fart and could next pretty much pinpoint the culprit who'd been cutting the cheese while we were in the middle of contacting the other side. Some say one should have respect for the dead. I say whatever.
My eyes were glued to the window of the planchette as it darted from one area of the board to the next. Slowly, a message began to emerge. The first letter it landed on was "Y". This was followed by an "O-U D-I-E T". That was when I looked up and saw some bearded, man-bun sporting loser with a pair of piscine eyes peering from behind coke-bottle thick eyeglasses snapping shots of the Ouija board with his cell. He'd not only been tapping away like the paparazzi on speed spotting Britney Spears on a bad hair day but had even managed to post one or two of them on Instagram already. The testy spirit departed our circle by throwing a conniption before completing its message.
It's probably obvious to everyone except the oblivious that the first trio of letters spelled out the word YOU. The next three were more chilling: DIE. Through the window of the planchette, the consonant T had become clearly visible. Then poof! Spirit takes umbrage; not with the pix but with the asshat's Instagram posts. Well, excuuusssse me! Was the T going to be the beginning of the words "TONIGHT", "TOMORROW", "TWO WEEKS", "TWELVE MONTHS", or "THIRTY YEARS"? Give me a freaking break here – the suspense is killing me. Why don't you just kill me now and get it over with, oh spiteful spirit?
After all, it was you who stomped out of the room with your panties in a wad about something I had absolutely no mofo control over; you were the one with the big ol' bug up your butt – not me. I know – rules are rules. I didn't say Goodbye. Well, you didn't say Goodbye either. But I can't go crawling back to that stinking job at McDonald's. On the other hand, I don't know if I should ever mess with the Ouija board again. I'm f**ked!
June 1, 2022
---
~

Wild Wednesday Giveaway Day!

~
Until midnight tonight, you can get a free copy of ALICE here: https://www.amazon.com/Stevie-B/e/B092KGQZ5P/ref=aufs_dp_fta_dsk
May 25, 2022
---
~

Jools Gets Doggone Funny With
That Shark

~
May 18, 2022
---
~ Just Like Me ~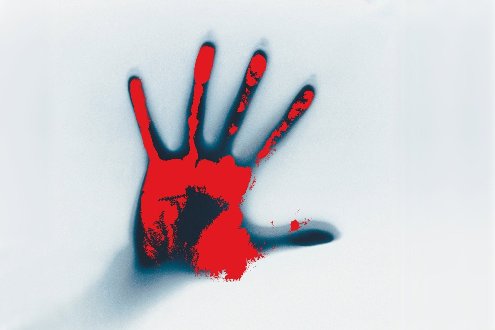 Seated at my desk in the morning I studied the computer keyboard. Traces of dried blood were visible on several of the character keys; particularly the "Z" and the "C". I had been hurt. My bandaged fingers still ached and throbbed from the accident. I'm of course referring to my fistfight with the electric fan the night before. Yeah, I got banged up a bit, but hey, you should've seen the other guy! That bladed brute, the fan, was busted up way beyond repair now and left for dead in the garbage dumpster that sat outside the building.
Here's what happened. I hate air-conditioning and seldom used it except during extreme heatwaves. Earlier in the week, I'd placed a rumpled, folded thrice, checkered table cloth made from thick cotton fabric on the warped wooden TV-tray table behind the head of my bed. That's where the fan would sit as it softly whirled near an open window all night long during steamy summer nights to make a restful night's sleep a possibly more obtainable option. Turning it off each morning I'd put the fan on the floor against the wall next to my bed. This afforded a better view of what the weather was like outside to determine how to dress for the day ahead, in order to stay as cool as I could during warmer temperatures. At night, it'd be returned to the table to blow at full blast as I drifted off to dreamland. The fan had fallen from that platform several times in the past. Attached to the back of the device was a protective plastic grill intended to guard against inadvertent injuries while in use, and which had now become flimsy and fragile with cracks and sizeable gaps. The plastic runners on the bottom that prevented it from tipping forward or backward while in operation were now damaged, and the motor-driven machine had become rather wobbly and precariously unstable when in use.
Preparing for bed the night before, it was returned atop the table now covered by the fairly lumpy cloth, switched on, and the blades began spinning at top speed. Lifting my right hand from the setting controls the fan started to tilt backward. As it began to tumble from the table, reflexively, my left hand shot out in the direction of the damaged protective plastic grill at the rear of the powered device. Instead of catching it so it wouldn't fall to the floor my hand broke right through what remained of the weakened safeguard and straight into the blades now spinning at a million miles a minute. Pain shot through my fingertips and all the way up my arm as the ventilation device slipped away from me and onto the floor. For several seconds I watched in silence as blood dripped from my lacerated extremity.
Howling in hurt and horror as I left a trail of red drops en route to my bathroom I stuck my hand beneath running water and surveyed the extent of the damage. Sanguine fluid gushed from gashes on three of my fingers, two of which were already turning a bluish-black from bruising. Using the hot water with sink-side liquid soap to clean the wounds, after almost a minute, it looked like the hemorrhaging had halted. But as soon as I turned off the faucet, scarlet rivulets, again, soon stained the bone-white porcelain.
Spotting a bottle of peroxide in the medicine cabinet, a bottle that had probably been opened more than a decade in the past, I thought it best to disinfect the lacerations. But the container was dry and empty. Thinking on my feet, I doused my diced digits with mouthwash prior to spying the words "Zero Alcohol" on the label. Leaving the bathroom to follow a trail of my own blood on the floor, and before reaching the still spinning electric fan lying next to my bed on its back, I veered left into the kitchen. There, I used some cheap vodka as a makeshift antiseptic to sanitize my bloodied mangled mitt.
After several more failed and futile attempts to stem the bleeding I simply gave up and wrapped my left hand in a clean towel. The towel worked well in slowing the blood loss. Next, finding a box of band-aids, I continued to patch myself up. Using every single sterile adhesive strip in the box, I thought that outside of getting stitched up in a hospital ER it was the best I could do for the night. But before returning to turn off the fan, and then hopefully fall asleep on that disastrous evening, I sucked down several slugs of my improvised antiseptic, the vodka, straight from its 1.75-liter plastic bottle. Taking the booze along with me into the room I used as an office, I then sat down to compose an email.
Earlier that evening the two other members of the three-way affair I'd been involved in since the end of spring had announced they'd received an offer that they couldn't refuse, and they'd hoped I'd understand. I did understand. During the months since we'd become a "throuple", on various instances I'd shared with them the primary reason for the end of all my three failed marriages. That reason was I always placed the needs of my career in the entertainment business above the needs of those wives. Working long, endless hours away from my former spouses, and doing whatever was needed to climb up the next rung of that never-ending ladder to success; I'd always placed the ex-wives' needs second in the order of importance in my life. Numerous times I'd often impressed upon my current lovers how the only way to make it in this business in which we shared a mutual desire to succeed, was to put their professional life ahead of all else in their personal lives.
The two women I'd now throupled with, until recently, primarily earned their living by waiting tables or serving drinks from behind the bar. My flamed-hair friends' dream was to become full-time professional dancers. The night of my accident, and since they were still out of town, the three of us had spoken together by the landline telephone in my in-home office. For the previous ten days, they'd been hired to dance in a music video being shot in Los Angeles. In fact, using some of my connections within the music business, I'd helped them get this gig. The director on that shoot had recently snared another job directing an on-stage musical there on the West Coast. So impressed by their skill, he'd offered both a year-long contract to perform in the production, along with an option to renew. My girlfriends were in seventh heaven. Me? Well, not so much.
A few days prior to heading to L.A. for the video, the three of us had discussed taking a huge leap in our relationship; moving in together. We'd need to find a place larger than any of us were currently and separately residing in. Someplace large enough where we could each have our own bedrooms for whenever we felt the need to escape and be alone, as well as another room to be used as my office. I also said I wanted a wood-burning fireplace if possible, and if not, at least a gas-burning blaze. The three of us discussed the pros and cons of this scenario, hashing out all the details. After concurring it was doable, we laid out plans to begin looking for our new home upon their return to the East Coast. Yet, as some of my Irish barstool buddies were fond of saying, many are the slip betwixt the cup and the lip. Those alcohol-infused lads and lasses from the Emerald Isle certainly do have a way with words, don't they?
Instead of congratulating and telling both how happy I felt for them to be able to pursue their dreams, a pursuit which I myself had chased nearly all my life, I shut down and went silent as they jabbered away about what this opportunity could do for their careers in the entertainment industry. Even though they were all the way over on the other side of the continent, and we were temporarily only able to connect with each other via phone or email, I could feel the fire of their euphoric excitement. Here on the opposite side of the country, I felt anger and a sense of abandonment seething and boiling deep inside. Sure, it was only a year, unless the production run was extended, or other job offers followed that one. Then there were other unforeseen possibilities that could arise while they were gone that would keep us apart longer, or even forever. Yeah, I understood.
For the first time, I also truly had an understanding of how each ex must've felt on every occasion when I'd consider it necessary to blow off previously made plans with them. When birthdays, anniversaries, family gatherings, or just about anything else that I'd forgotten or ignored, lacked vital importance. The importance, at least for the man they'd wed, of following and achieving his own goals and dreams. All the times I'd leave them behind, alone, while I seized every opportunity to do what I deemed was more of a priority for me. I now, indeed, did acknowledge their feelings of emptiness and betrayal they'd lived with during each one's marriage to me; as I selfishly went about the business of ruthlessly going for the gold, and blindly clawing my way to the top.
I lied to my better two-thirds, telling them I had stuff that needed to get done in the morning, and in the midst of their exhilaration, abruptly ended the call during the middle of one of their sentences. Afterward, I took a long walk and stopped at several bars along the way for a few extra dry and dirty Grey Goose martinis, dirty but not obscene and with olives please, to numb and anesthetize the ache inside. The ache with which I finally stumbled back home to get into a fistfight with an electric fan. An ache, throbbing as badly as my injured fingers would throb later on at the end of that night as I composed an email to send to Z and C.
Once more lying, but this time through email, I wrote that I was happy for them and how much I wanted them to seize this opportunity out West. That they should stay there as long as they needed to reach the stars. For an amount of time, of which I did not know the full extent, because when you're reaching for the stars, you'll always see another one you'll want to go for behind the one you've just managed to grab. Then there'll be another, and another, and another, for light-years yet to come. I know, I've been there and done that to three women who loved me in my past.
I didn't bother with another lie and tell my tiny dancers how I didn't want to be the one standing in their way of going after what they wanted. That would just have been one more lie added to this little litany of what would likely be a farewell missive. No, I kept it concise, short, and sweet, signing off using four words I'd never, ever said to them before: I love you both. It was brief, to the point and except for the final four words it was entirely composed of lies. Anyway, by this time one of my fingers had begun bleeding again, dripping droplets of blood that bled directly from my heart as I finished typing, so I just went to bed.
That next morning, after reviewing the unsent saved email draft, I studied those flecks of dried blood on the "Z" and the "C" buttons of my computer's keyboard, while the bandaged fingers ached and throbbed once again; products of the previous evening's electric fan TKO. The Z and the C, who comprised a majority of the mixed fraction which completed our triad, had rolled with each other long before I'd come into the picture. It was like they'd been driving through life together when they saw me, slowed down to stop, opened the door, and gave me a ride as if I were some hitchhiker picked up on a lonesome road. I used to always be the one who had places to go and people to see. Now, much like the aforementioned hitchhiker, I was again alone on another nameless highway, watching the vehicle in which we once rode together gradually disappear in the distance. Moving the cursor, I clicked on SEND.
Outside my window, rain began to fall as an old song started playing in the back of my mind. It was a tune written and recorded by Harry Chapin I'd first heard in 1974, decades before either of the current loves of my life who were now about to leave me, had even been born. "Cat's in the Cradle" was Chapin's only #1 record before his untimely death in an automobile accident while en route on the Long Island Expressway to play a benefit concert for free at Eisenhower Park in East Meadow, NY. I now read that sent email, over and over again as I sang Chapin's tune in my head, changing only two words from the original version each time I sang it to myself; "My girls were just like me." Yes, just like me…
May 11, 2022
---
~ Gotta Luv It! ~
U.K. Jools read FIRST LOVE, fell in love with it, and put a lot of love into her performance!
May 4, 2022
---
~ Taking Time Out To Talk ~
My interview with the American and Australian hosts of the READS LOTS WRITES LOTS show.
April 26, 2022
---
~ First Love ~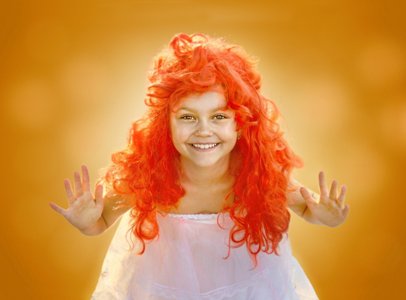 Over the course of countless years, while being professionally involved in the entertainment industry, I've sat for many interviews. The inevitable question that almost always arises is "What first attracted you to making music?" The record companies I recorded for usually had publicists on the payroll to prompt those signed to the label roster on how to respond to such inquiries. So, my consistent answer when asked was, "Well, music has always been my first love." But, that was a lie. Do you really want to know the reason why I make music? Okay, since this is solely between friends, I'll let you in on the little secret as to the why: It was WOMEN!
To truly understand the true reason behind the truthful secret I've just shared with you we'll have to go back quite a way. Back, a time before I knew how to perform with any musical instrument other than my voice. Way back when I was only five years old; the time when I first met the then six-year-old Tamara Lipschitz, when my family lived for a brief period in Palmetto, Florida. Aaahh… Tamara Lipschitz… The first little red-haired girl I ever loved and wanted to have in my life forever and a day…
I'd just entered the first grade of Palmetto Elementary School. Tamara, since being a year older was already matriculating in a grade above mine. Class time ceased for all grade levels exactly at 3:15 PM Mondays through Fridays, with the exception of school holidays and closings during inclement weather such as tropical storms and hurricanes. Tamara and I rode the same old yellow school bus on weekdays to and from our classes and depending on the number of bodies crowded onto the bus, we sometimes sat together. She usually read one of her textbooks; I do believe her favorite subject was social studies, as surmised while stealing surreptitious glances at her red curls and pretty face. Oh my goodness, she was so attractive, and even at my tender age, I assessed she was way out of my league and reach of reasonably obtainable elementary school women.
Now, let us here agree to digress; we'll leave the past, travel through the future, and hop into the present. Over the years of my often rocky road of a love life, I've been unhappily married and happily divorced a grand total of three times. Of each of those ill-fated unions, I had wed nary a one owning the bragging rights to naturally red hair. Although all may have had a tinge of some redness in their mane, upon closer inspection during various intimate activities, none could cut the mustard of being a real redhead. Chestnut was the closest shade any of them ever bore in regard to that fur color. Was that, in reality, the underlying reason why none of these betrothals ever succeeded? No, I guess it's probably that I'm just so darn difficult to live with for very long periods of time. And now, shall we jump back into the past once more?
One weekday when the bus was packed to capacity and Tamara Lipschitz boarded after class with her social studies book in hand, the seat next to mine was the only one available. Sliding in beside me, and as the bus began the journey of returning each student to their own home, she opened the worn textbook to read. I, of course, sneaked peaks of her visage and flaming strands as we traveled.
"Do you like TV?" she asked while closing her book.
"Mmm-hmm," I returned after my several seconds of silence had ceased; a silence which had temporarily paralyzed my young, male vocal cords.
"Me and my brother, David, we like to watch TV after school."
"Mmm-hmm."
"Do you want to come to our house today and watch some TV with us?"
Again, after an additional embarrassing episode of paralysis plaguing my voice box, and prior to my consenting with yet another "Mmm-hmm", I finally croaked out, "Mmm-hmm, whatcha watching?"
"Probably Bozo the Clown, my brother really likes that show. Do you like Bozo?"
"Mmm-hmm, I love Bozo!"
So, instead of getting off at my stop, I remained aboard for another two until following Tamara in disembarking from the bus along with Dave who had been sitting in the back all along with some of his older-than-us friends. What do you say we move on and talk about Dave for a bit now? Are you game to gobble up a bit of gossip, sport?
Dave was two years older than his sister, and thus in fourth grade, and for us smaller kids he could sometimes be scary. Looking back, he wasn't such a bad dude, but he was unpredictable. For whatever reason, he seemed to enjoy bumping into smaller children walking through school hallways between classes and then warning them to watch where they were going. Or, especially when he was with the other older boys of his own age he'd try to trip you, or steal your baseball cap if you wore one. Dave also appeared to be overly protective of his younger sister. Which, in and of itself, was not the worse characteristic for an older brother to exhibit.
I can remember it as clearly as if it was yesterday what went down the first time I accepted Tamara's invitation to stop by after school at their house to melt away our tiny brains for an hour or two in front of the old boob tube. Dave, with the authority bestowed upon him by the superiority of age, commanded the remote control during these entertaining encounters. He'd be in charge of switching the set on and off, selecting the channels, and deciding the volume level of whatever we'd watch. In other words, during all those late afternoons he'd hog the clicker.
Up to this point, I've neglected to comment on the set-in-stone seating arrangement during these collective TV times when I was invited for viewing by his sister. Dave always sat smack dab in the middle of the sofa facing the television. Tamara was seated on his right. And I, well I sat a world away from Tamara, to his left. This arrangement, much like how he controlled the clicker, was never up for discussion. The older brother seldom left us on our own for a single second during these occasions, occasions which I had come to view as opportunities, to attest to my love for his little sister. It was just what it was, and I either had to deal with it or go home. So I dealt with it, for as long as I could.
I must've been doing something right in my cautious courtship of Tamara Lipschitz because several times a week she invited me back. On a day when an invitation hadn't been extended, the fair Ms. Lipschitz reluctantly explained she had an important social studies exam on the following day, so she'd be forced to study instead. Ah, beauty, brains, and self-discipline all gorgeously residing within the same perfect package, so to speak.
This mutual viewing of highly intelligent television programming continued for quite a while. The only problem was it was becoming increasingly frustrating for me to never have any time alone, time without Dave between us that is, with my intended love interest. But from the aforementioned frustration, I drew my inspiration. I liked to sing. In secret, I'd sing alone in my room in front of a mirror holding my mother's hairbrush as a substitute for a real microphone. And in my own, humble self-opinion, I was getting pretty good at it. So it was only natural I'd come up with a way of conveying my feelings about my red-hot redhead through a song when the right time arose. And arose it eventually did.
One rainy, rainy, dark, and dreary day when the three of us had gotten off the bus to sit inside for some sweet TV time, with Dave in the middle, me to his left, and Tammy (the pet name I came up with for the love of my life, but lacking the courage, Tamara never once heard it uttered) at his right, I decided that the correct moment had arrived. Waiting for a commercial break to interrupt Bozo's clownish antics, I loudly cleared my throat. Ms. Lipschitz quizzically glanced my way as I looked around Dave and softly began to serenade.
"The sun will come out Tamara, Tamara, Tamara there'll be sun. Tamara, Tamara, I love you, Tamara," and here I exercised the liberty of what I felt was an artistic dramatic pause while I leaned further from behind Dave's shoulder, peering deeper into her emerald green eyes before continuing toward what I had planned as my show-stopping grand finale, "Tamara, you're only—a—Dave——a———way!"*
Dave clicked the remote to turn the television off and said to me, "No more Bozo for you. Okay, Bozo, it's time you went home!"
I was never invited back to the Lipschitz household again to watch TV, or for anything else, for that matter. Within a few months, my family moved to another state as my dad had changed jobs, and since then, Tamara Lipschitz has become only a faded, dying ember of an occasional late-night memory. And do you want to know the real irony of it all? The irony which I suspect may have an equal chance of eventually killing me, as say; cancer, cirrhosis, diabetes, or a drug OD? Well, while the red-haired Tamara may have been the first girl I ever loved, and even though I claimed at the beginning of recounting this tale that my reply to a beat and tired interview question which always dogs an artist, was a lie; deep down in my heart I know for a fact it's always been music I've been attracted to beyond and above anything or anyone during my entire life.
When confronted with a choice of either choosing someone or something over my career in music, music was always what I chose. It's been to blame for failed marriages, fallen friendships, family estrangements, forgone fortunes, lost opportunities, and ruined relationships. But no matter how dark and dismal the depressing downpours that on occasion fall upon me, attempting to drench then ultimately drown, it's still the sunshine of my life that allows me to get through yet another day.
*Apologies to Charles Strouse and Martin Charnin for appropriating a small portion of their song "Tomorrow" from "Annie", that wonderful Broadway musical.
April 20, 2022
---
~ Toodle-oo ~
Thanks for sticking with this story
I hope it did not bore
But we must now say adieu
For dear ALICE is no more…
April 13, 2022
---
~

The Curious Question

~
Who hasn't ever asked, "Where's my happily ever after?" Well, that's an excellent question!
April 6, 2022
---
~ Everything You Always Wanted To Know About Death & Were Afraid To Ask Explained In A Few Words! ~
March 30, 2022
---
~

Do Good Always With Your Life

~
When you meet the pauper
Give freely from your heart
For all must come to an end
For your final life to start
March 23, 2022
---
~

The Sun'll Come Out Tomorr…

~
Tip TWO applies solely to you
Before you come undone
Depend not on tomorrow
Some tomorrows never come
March 16, 2022
---
~ Where's Our Knight in Shining Armor? ~
If you haven't solved the mysteries of death then allow ALICE & Co. to help you.
March 9, 2022
---
~

A Long Time Ago When The Earth Was Still Green

… ~
Here we answer that lingering question of why there're no unicorns.
March 2, 2022
---
~

He'll Drink To That, or, Why The Rabbit Reads

~
Meet Frottage Frank (proud, card-carrying member of the exclusive Wee The People club) and the book reading bunny in another ALICE episode as performed by Jools.
February 23, 2022
---
~

Should Ya Stay or Should Ya Go?

~
It's a fight to the finish between The Redd Queen, Dinah, and The Madd Hatter. See who stays and who goes as Jools spins another steamy story from ALICE, my upcoming novel.
February 16, 2022
---
~ Are You Experienced? ~
People talking backward, Jimi Hendrix reincarnated, and ALICE's crazy crew of characters. What more do we need than for you to read, enjoy, click Thumbs Up, leave a comment?
February 9, 2022
---
~ Now Get Your Mind Out of the Gutter! ~
ALICE & Co. get buggy with this 3rd week of episodes. While there please show some love and LIKE, subscribe, or comment.
February 2, 2022
---
~

And ALICE's Saga Continues

~
The second episode is now available. While there please show Jools some love and LIKE, subscribe, or comment.
January 26, 2022
---
~ Alice Begins! ~
Alice is a Croatian immigrant working her ass off digging out of the debt incurred during the COVID-19 pandemic when food and beverage establishments were forced to shutter windows and lock their doors for many months. Patrons were far from the only ones feeling the effect of the lockdown. The impact on the millions of hardworking people worldwide formerly working at those establishments which provided employment for anyone willing to toil harder than most for minimum wage plus tips was, to say the least, devastating.
With income cut off as if someone had flipped a light switch, and if they were fortunate enough to have a credit score that allowed them credit cards, many walked a tightrope from billing statements to billing statements. With no other choice at hand, many sunk into massive debt that was bundled with the added burden of astronomical interest fees. My fictitious Alice was one of the many who fell down that rabbit hole and was struggling to do her best to escape.
There is so much written between the lines of this tale that I hope I haven't buried the carrots so deep within the soil of fantasy that they go unfound. As any White Rabbit who's worth his weight in lucky rabbit feet (a phrase that must be ironic from the point of view of any rabbit who hears it and possessed a keen affection and affinity for irony), would tell you if rabbits could talk, those hidden carrots are well worth the digging.
In the course of offering up some of my own whimsical religious beliefs, I've not intended to disparage anyone else's view of what brought us all into existence. And that is something I'd be happy to swear on a stack of bibles, your honor. We'll just leave it at everything is what it is, until it just ain't anymore.
The truth behind my intentions is I hope to make you laugh, to cry, to feel, and most of all, to think about what it really means to be alive. While I'm tempted to quote that iconic line from the film "The Sixth Sense" to prepare you for what you're about to read, I prefer to digress at this point and allow you to figure out what you need to figure out on your own. Come on, you're smart enough! I not only believe in the intelligence of my readers but also in our human spirit to embrace the wisdom of being kind to each other—and in doing good always.
Now bless you, my children, and let this adventure begin…
January 19, 2022
---
~ Write a Letter to Yourself ~
Take out some paper, pick up a pen, and write a letter to yourself. It's good medicine! Jools, the person I fondly refer to as my "Voice", has included a short piece I wrote titled "My Long Overdue Letter to Myself" as part of her storytelling program broadcast in the UK. And hearing how she read it really hit home. Hope you enjoy it. Please remember to comment, LIKE, and subscribe to her channel.
January 12, 2022
---
~

New Year – New Beginnings

~
Ring out the old – bring in the new! I'm currently negotiating with publishers for rights to the new and upcoming ALICE book, as well as other works. This newly recorded music, along with Steve Krakow's newly completed artwork, for the upcoming ALICE audiobook is only a sample of what I plan to share with you this year. Then before this month is over the new newsletter from this blog will be available for all who sign up for it. 2022 – you're looking better and better with every tiny tick-tock of the old clock…
January 5, 2022
---
~ Happy Birthday, Jesus! ~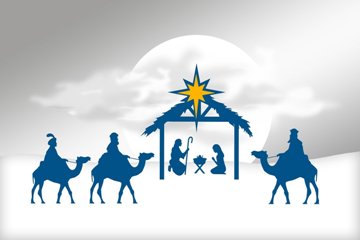 People worry all about the wrong things for all the wrong reasons. For instance, take the Christmas Crusaders (yes, please take those Christmas Crusaders for a very long walk on a very short pier!). The folks who take umbrage if you commit the holiday faux pas of wishing them Happy Holidays! Come on now, the holidays are difficult enough as they are. I mean, with holiday shopping, attending holiday family affairs, watching as-stale-as-last-season's-fruitcake holiday reruns on TV, the headaches of holiday worries and holiday bills, and the list goes on, and on, and on… The Crusaders freak out and have a major Christmas cow if you don't wish them a merry Christmas.
And God forbid if you slip up and spit out a Season's Greetings to a Christmas Crusader. It's as if you insulted someone's mother by insinuating she wears army boots or shaves her legs with a rusty razor. Get a f***ing grip and get the f*** over it. These individuals are getting upset about the way they were wished well. What's the matter with these clowns? I can think of more things than the combined total of all my festive fingers and mistletoed toes combined to worry about, and biotch, not hearing the word Christmas when anyone wishes me well ain't one of them. Get your priorities in order, you cantankerous curmudgeons.
Do you want to know what it really is that bothers me so much about Christmas Crusaders? It's the irreverent irony and hopeless hypocrisy. Just because I didn't choose the word Christmas in expressing a bit of holiday cheer I cared enough to share with them doesn't mean I'm against Christianity or any other religion for that matter. Do they truly believe that by including the date western calendars call Christmas in their own wish of wellness that they now hold the Willy Wonka golden ticket to that big chocolate factory in the sky some call Heaven? Well, gag me with a spoonful full of figgy pudding on the twelfth day of Christmas then thump me up alongside the head with a hardcover edition of the New Testament, if you must, where do these Jacks and Jills for Jesus get off telling someone their choice of yuletide salutation is any less worthy than anyone else's? Do they honest-to-God believe that those who don't say Merry Christmas will be doomed to burning in the fires of Hell for all of eternity?
Would you like to know the way I see it from where I sit at the Christmas dinner table? Okay, so the day before was Christmas. From the morning to all afternoon to early evening to late last night all I heard was Merry Christmas, Season's Greetings, Happy Holidays, and other assorted Hallmark Cards copy and tags delivered with all the warmth and enthusiasm telling a person to have a nice day. Do you know what I didn't hear? Not even once yesterday? I swear on a stack of King James Version bibles I didn't hear any Christmas Crusaders, or any Season's Greeters, nor a one Happy Holidayers, not even a single layman or member of the clergy say what is usually expected to be heard on the day commentating someone's birth. Oh no, not once was it witnessed anyone of whom while briefly glancing skyward uttering a heartfelt, "Happy birthday, Jesus!"
Could you imagine on December 26th when walking on one of those paved in gold celestial roads and you unexpectedly bump into Jesus? The big guy's looking kind of glum so you of course want to find out what's the matter PDQ? So, you strike up a conversation with the son of God that kind of unfurls as follows.
"Hey, Jesus, what's up – why the long face, Fellow?"
"Dude, did you know that yesterday was my birthday?" the sorrowful savior said.
"Yeah, as a matter of fact, I had it marked down on my calendar. What did You get for Your birthday, score any great presents?"
"Nope, just like on every birthday since after the day I was born, when at least those three wise guys out of nowhere turn up at the manger with some pretty gnarly gifts. My birthday is supposed to be my day, right? I got nothing! I mean, come on, even Santa Claus at least gets some milk and cookies on December 25th, right?"
"Oh sweet Jesus, I'm so sorry to hear that. Damn, it must suck to be You!"
"Well, that's not even the worst of it."
"It isn't?"
"It ain't. Not only were there no presents, but not one soul even said 'happy birthday, Jesus,' to me the entire day long. Not a one! Hell no, they were all too damn busy mush-mouthing stuff from their pious pie-holes like 'Merry Christmas, Happy Holidays, Season's Greetings,' and not a single solitary one of them remembered to tell me, 'Happy birthday, Jesus.' Well, as far as I'm concerned they can take all that f***ing greeting card mumbo-jumbo and stick it where the sun don't shine and where the sand always seems to find its way up there and just all go to Hell."
"I'll hallelujah to that, JC, yeah, hallelujah to that. I'm so sorry to hear it. Well, I've got to be on my way. I have a harp lesson scheduled for noon today, so I've got to boogie and book it, toots sweet, Brah"
"Ahem… Aren't you forgetting a little something, Brah?"
"Forgetting? Ah, I mean—oh, oh yeah—happy belated birthday, Jesus!"
"F***ing finally. I guess hearing it one time sure beats the batter out of not hearing it at all. Thank you, my son. That meant a lot to me," Jesus says before the two of you parted ways with one another – you for your music lesson and He to spend what remained of this day mucking about in his carpentry shop working on some bookshelves or a few wobbly coffee tables (JC never bought into the 'measure twice – cut once' woodworking wisdom, so His coffee table legs were never exactly cut the same length. Many would guess for some reason He must've believed everything He did would be perfect).
So, when next Noels come around and when anyone offers a Merry Christmas, a Season's Greeting, or even a Happy Holiday, I'm going to be responding in kind and signing my Christmas cards with, "Happy birthday, Jesus". Happy birthday and God bless each and every one of us on Christmas and every day that follows.
December 26, 2021
---
~

I Quit!

~
Mr. Robert Retter
Senior Editor
New York Daily Post
314 West 30th Street
35th Floor
New York, NY, 10028
December 24, 2021
Dear Bob,
It is with deep regret and a tinge of sadness, that today I officially render my resignation as an employee at the New York Daily Post. The last eight years I've worked for both you and the newspaper have been nothing less than a thought-provoking experience for me. But, it is now clear that this is the right time for me to move on to pursue other interests in my life. I do hope you'll understand.
We both know that historically, as well as economically, that sex and fear are the two best-recognized methods of selling in the media. Well, we couldn't really sell them sex, could we? We then did the next best thing for our bosses and gave them fear, then spoon-fed it to readers on a daily basis and at a nonstop rate. While it did keep us in business—for the most part—it devoured my journalistic soul. Thus, the primary reason for my two-week notice of resignation; I just can't take this any longer.
At this present point of time, I have decided to pursue a course I've wanted to take all my adult life. And that is to finally dedicate, on a full-time basis, my efforts in writing the great American novel. This is something I've been working on part-time for the last several years. It is also the genesis that led to the writing of this letter. For you see, the fiction I've been creating on my own time gradually became truer than the "facts" I was reporting on your time. Please let that sink in for a moment or two before reading any further. Ironic, isn't it?
You've been the best editor, that as a journalist, I've ever had the pleasure of working with. You've done an excellent job of balancing the demands from our publisher with the journalistic "integrity" needs of your staff. But I know that you've seen those demands from "upstairs" have been becoming increasingly more demanding in their need to sell more papers and advertising space in any way necessary. Even if it means going off half-cocked and without the full support of provable facts.
Over the past few years, we've printed reports full of fear and dread that ends with a final sentence often stating that "Although at this time there has been no definitive proof or conclusive evidence in regard to this matter…" We both know why that information has been placed at the bottom, as opposed to the beginning of the report. I'm sure you'd agree that it's because the majority of people only read the headline then think they know the entire story; some people even read as far as into the first paragraph too before forming an opinion, but even fewer ever read it all the way to the end. It's disheartening, to say the least; to be shoveling bullshit masquerading as fact-based information on a daily basis.
At least with fiction, it's understood, from the very beginning, that what I've authored is less than true as a whole. I like that, the honesty is refreshing. I love that I can write from my heart instead of from the guidance of corporate. I adore that I'm able to choose my topics, not from what drives newspaper edition sales but from what really stirs my soul, albeit how corroded that spirit has become over the course of my tenure in this business the two of us, along with our colleagues, have been involved. I'm also sick and tired of endlessly waiting for this entire industry to reexamine itself in order to pave a better and improved pathway for not only ourselves but the general public, as well as the world at large.
Perhaps, you too should take this cue as the optimal time to exit off stage in the publishing world. You've said it yourself on multiple occasions that what it is now, is no longer what it used to be when you got into the game. Maybe it's time you gave some serious thought and consideration to your eldest son's idea of the two of you going into business together refurbishing food trucks to become cannabis dispensaries. After all, it is now legal in our state to use marijuana for medical purposes, as well as recreational use. And as more states come on board, or if the federal government finally makes the inevitable change in the existing drug laws, you guys may have one of the hottest red-hot franchises ever on your hands. Think about it, my friend…
With warm regards,
James C. Meadow, Jr.
Investigative Journalist
Author
P/S: If you and your son Bill ever do get that family business up and running then please make sure you guys stop in my neighborhood on a frequent basis! Hey, as Bob Dylan once sang, "Everybody must get stoned…" In closing, and after a bit of random thought, I hope you don't mind if I share something that occurred to me. I imagine you've both envisioned selling your THC and CBD products from simply one side of the van, right? Well, what if on the other side you sell tacos and nachos, or simply candy, chips, etc…? This way you not only make the sale of your initial commodity, but you also have an added opportunity to cash in on when they get the munchies after your product's consumption. That way, they can satisfy their appetites by going around to the other side of your trucks to buy snacks. This could potentially double each vehicle's ability to generate revenue without adding too much additional cost for gasoline, overall vehicle maintenance, and automobile insurance coverage. Hell, if you guys haven't already come up with a name for the business then maybe you want to call it something like Retter & Son Double Header Curbside Cannabis & Chow, Inc. Just a thought, I guess.
December 21, 2021
---
~

The End

~
This is The End
Beautiful friend
This is The End
My only friend
The End
December 17, 2021
---
~

Getting Past and Over One's Self

~
O-Bla-Dee-O-Bla-Da, life goes on, yeah, for "Chris and her Daughters". Please comment, subscribe, if you like then LIKE the xxxJoolsxxx storytelling channel.
December 16, 2021
---
~

Gotta Get Your Kicks!

~
The "Chris and her Daughters" crew meet Dr. Rose Isiros and what happens next is nothing less than euphoric! Please leave a comment, subscribe, if you like then LIKE.
December 15, 2021
---
~

The Twins Get A Tad Testy

~
Barkeep, may we get another round? A new episode of "Chris and her Daughters" where the twins lay down the law. If you like then LIKE, subscribe, please leave a comment.
December 14, 2021
---
~

The Phoenix

~
After crashing and burning can you rise again from the ashes? This episode of "Chris and her Daughters" tackles this dilemma. If you like then LIKE, subscribe, kindly leave a comment.
December 13, 2021
---
~

Spooky!

~
Do you believe in ghosts? Whether you do or don't this episode of "Chris and her Daughters" should send some chills down your spine. If you like then LIKE it, subscribe, leave a spooky comment.
December 10, 2021
---
~

Suicidal-tendencies

~
Hey, Party People! Here's another episode of "Chris and her Daughters", so check it to the wreck! Subscribe to xxxJoolsxxx's channel, if you like then LIKE it, and leave a noisy comment:
December 9, 2021
---
~ Silly Rabbit! ~
You never know how low you can go until you crash and burn. The ride gets bumpy as "Chris and her Daughters" takes a tremendous tumble. Subscribe to xxxJoolsxxx's channel, leave a comment, and let the lass know that you care!
December 8, 2021
---
~

Time To Up The Meds!

~
Ask any junkie: The way down is a lot more fun than the way back up. "Chris and her Daughters" takes a precarious turn from which there may be no recovery. Please subscribe to xxxJoolsxxx's channel and leave a comment.
December 7, 2021
---
~ A Sigh is just a Sigh ~
You must remember this, a kiss is just a kiss… The "lost" years of "Chris and her Daughters" are revealed. Remember to subscribe to xxxJoolsxxx's channel and comment.
December 6, 2021
---
~

Hot Diggity Damn

… ~
What's needed most when faced with damnation and destruction? Listen to this episode of "Chris and her Daughters" and find out. Remember to subscribe to xxxJoolsxxx's channel and comment.
December 1, 2021
---
~

Now Ain't That Sweet!

~
We've all been adopted at one time or another. See who gets got in this episode of "Chris and her Daughters". Featuring a lullaby for cats. Remember to subscribe to xxxJoolsxxx's channel and comment.
~

Heart Breaking as a Heart Attack

~
Sometimes it's just not enough! xxxJoolsxxx reviews the when, how, and why in episode #9 from my "Chris and her Daughters" series. Please remember to subscribe to her channel.
November 17, 2021
---
~
Cheese, Crackers, Wine, and a Love Long, Long Ago

… ~

She does it again! xxxJoolsxxx superbly performs episode #8, "Prelude To My Adoption", from my "Chris and her Daughters" series. Please remember to subscribe to her channel.
November 10, 2021
---
~
Bye, Bye, Baby…

~

We've now hit episode #7 and some are asking how did it come to this. Well, listen to xxxJoolsxxx's preceding 6 posts from the "Chris and her Daughters" series to find out. Please remember to subscribe to her channel.
November 3, 2021
---
~
At Long Last

~

They say the waiting is the hardest part but wait no more because xxxJoolsxxx posted the 6th episode from my "Chris and her Daughters" series. Please remember to subscribe to her channel while there.
October 27, 2021
---
~
Now This Has a Pleasant Ring to It

~

Jools posted another broadcast of an episode from my "Chris and her Daughters" series. Lovely job as always xxxJoolsxxx! Please remember to subscribe to her channel while there.
October 20, 2021
---
~ Jools is Back! ~
Decided to take a break posting a new Officer HellaCopper episode this week because xxxJoolsxxx, who has been battling the Coronavirus has now recovered and is recording new segments on her storyteller channel. Welcome back, Jools, and thank you for reading another of my pieces! Please remember to subscribe and/or comment while there.
October 13, 2021
---
~ Officer HellaCopper – Pt. II ~
N. B.: This is an ongoing superhero series, so be sure to read the previous introductory episode from September 29, 2012. You won't regret it!
After Ernest and Francis Riceco had watched Officer Johnson get the Chinese AVIC Z11WB into the air the pair hopped into the Captain's cruiser to chase it. The aircraft went this way, that way, up and down, and several times it spun around before heading westward like a speeding bullet. With siren screaming, father at the wheel, son hanging out the passenger side window keeping eye on the plane and shouting out the ever-changing and unpredictable direction the copter chose, the two followed the flying machine. From the Teterboro Airport in Hasbrouck Heights, then northward to South Hackensack, veering southwest to cross the Hackensack River toward Bogata, and finally westward over Overpeck Creek to Palisades Park, the pilot's "ground crew" trailed from below.
As the Palisades cliffs now came into view, together in silence and horror, the duo stared into the distance. When it was clear how close the whirlybird was to the jagged bluffs and evident it no longer had time to turn away the Ricecos screeched to a roadside halt as they wordlessly watched from the patrol car. The rotary-winged plane rammed headlong into the rocky wall, slid down its face, prior to disappearing out of view. Captain Riceco was the first of the two to recover from the shock of watching Officer Peter Richard Johnson die in the accident. He placed his hands over both the boy's eyes to shield his son from the ghastly and terrible reality of what had just happened, and said, "Don't tell your mother about any of this, Francis, she'd kill the pair of us!" Afterward, for nearly a quarter of an hour, neither made a sound.
Then they heard it. From not that far away the sound of rotor blades beating was audible once again. And then, yes then, the sight of the helicopter slowly rising up toward the heavens; flying skyward, like a phoenix, emerging from the ashes. But how could that be? They'd seen the craft not only smash into the rocky bluffs but also topple and tumble all the way down into the Palisades Park. And from what they'd eyeballed either Riceco would've sworn upon a stack of bibles in any court in the land that the autogiro had been demolished, and obviously, Officer Johnson must surely be dead.
And yet, there it was. That beautiful and costly flying machine lifting upward in the horizon, then turning in their direction, headed back toward the airfield. How could this be, how could this really be? Miracle of miracles, the copter appeared undamaged, and since someone had to be piloting the vehicle; Petey the policeman must be alive. Hallelujah! Hitting the siren again as Captain Riceco turned the car around to follow the aircraft back to Teterboro Airport. Neither father nor son had an explanation for what had happened, but they were soon to find out.
Once the cop cruiser had been parked at the airfield they ran out to the flattop tarp where the helicopter had landed. Not only had no one exited from the aerial vehicle but there appeared to be no one in its cockpit. How strange, how strange indeed!
"Dad, does that Chinese chopper look any different to you?"
Yes, it did look different. It may have been all the stress and excitement that had taken place today was playing tricks on both their eyes and minds, but somehow, and perhaps it was only an optical illusion created by the reflection of the bright morning sun, but somehow it looked kind of human. The fuselage appeared to be more proportioned now to that of a man's body, and the Plexiglas™ enclosed cockpit, if you looked at it from a certain angle, was almost face-like. Not only that, but they saw what looked like a large badge adorning the lower left side outside the cockpit bearing the words, "Police Officer, Weehawken Police", and the numbers: 0005. Oh my god, thought Captain Riceco, the badge number Peter Richard Johnson once wore!
To be continued…
October 6, 2021
---
~ Officer HellaCopper – Pt. I ~
When technology goes awry there could be dire consequences. The results may also yield unforeseen benefits for not only something or someone, but for the entire world. This is the story of Officer Peter Richard Johnson, a rank and file member of the Weehawken Police Department. A man who is no longer just a man—but one who is part man—and part machine. He's a man who stands for truth, justice, and the American way. A very proud patriot who puts life, limb, and rotors on the line every single day while on patrol; serving the American people whom he so dearly loves from the very bottom of his oil pan heart, protecting the USA against the evildoers at large (especially those damn Marxists…). God bless, America!
To say that the Weehawken Police Department was small would be an understatement; it was itsy-bitsy-teeny-tiny, to say the least. There were six men and women on the force—and evil —was a countless multitude that was everywhere. Although small in size, thanks to a clerical error, the WPD was large in budget. When Captain Riceco, Officer Peter Richard Johnson's commanding officer, had first seen that the department's bank account now had over 24 million dollars in funds, he crapped his pants.
Returning to headquarters after a long shower, changing his pants and boxer shorts, Captain Riceco considered the options at hand. The money could be returned to the federal agency that it came from, he could do nothing and just wait to see what happened next, or he could spend it all before the accounting mistake had been discovered. Riceco chose to go with the last option. After all, he'd always wanted a helicopter for the WPD. One that someone could learn to pilot, to fly above them, one that would become Weehawken's eye in the sky! Besides that, he just thought those police choppers were cool and insured his reelection was secure the next time Weehawkeners go to the polls and vote for a leader of the law enforcement department again.
Later that day, and with a lot of help from his fifteen-year-old son, Captain Riceco went online, found a Chinese website that sold helicopters, and bought the best model that money could buy: a refurbished AVIC Z11WB. It not only looked good but what really caught Riceco's attention was it wasn't only guaranteed to be delivered fully loaded with the latest super-top-secret Chinese technology called FixMe™, it also promised 24 hour delivery time on all COD orders. So, making the required down payment, and while he awaited his order to be delivered the next day, the captain spent whatever fund remained purchasing tanks, (he's always wanted one of those for himself), radar, a communications satellite (that was his son's idea), scuba and deep-sea diving gear, flame throwers, bazooka's, portable surface to air missile launchers, hazmat suits bearing the WPD logo, new uniforms, and lots and lots of other nifty stuff.
The Chinese AVIC Z11WB was delivered the next day as promised along with a user's manual that Francis Riceco was ordered to read. While his son read the handbook, the captain called the other five members of the Weehawken Police Department for a meeting in his office. "Men, and woman, I've gathered you here today to ask if any of you have now, or have ever been, in the United States Air Force. Anyone here, what, no one at all?" Officer Annemarie Chellini, the only woman on the force, rolled her eyes. The four men said nothing.
"Doesn't anyone here have any military experience?"
Sheepishly, from the very back of the captain's office, Officer Peter Richard Johnson tentatively raised his hand.
"Officer Johnson, are you raising your hand way back there, or are you just doing one of your dumb Richard Simmons stretching exercises?"
"Captain Riceco, I don't know if this counts, but I went to military school for a few semesters when I was a kid."
"And you didn't enter and serve in the military after that?"
"No Captain, I had bone spurs."
"There seems to have been a lot of that going around when it comes to going into the military. Alright, close enough. You're going to be our copter pilot, Johnson!"
"But I don't know how to fly a helicopter."
"It doesn't matter, we have a manual. And I'm sure after my son Francis gets through reading it that he can explain to you everything you need to know to fly a chopper, alright?"
"Well, I guess I could give it a try, Captain Riceco."
"Good, now that that that's settled there'll be a hazmat suit fitting tomorrow at 9 AM sharp. So, be there, or forget about chalking up any overtime for the rest of this month. Dismissed!"
By later that afternoon Francis Riceco had reviewed the entire AVIC Z11WB helo handbook. The directions had been translated from Chinese to English, and much of it made little to no sense whatsoever to him. But the young Riceco had gleaned enough from it he felt he had at least some idea of how a rotary winger worked. One thing, in particular, had captured his attention. From what he thought he had read, the already installed super-top-secret Chinese technology, FixMe™, was an artificial intelligence program with the ability to self-repair any damage the eggbeater incurred. It even came equipped with a 3D printer that could reproduce most of the whirlybird's parts. If it actually worked in the way which Francis thought he now understood after reading the user manual, it was absolutely amazing!
The FixMe™ self-repair system monitored the entire vehicle more than 30 times every second. If it detected any irregularities or malfunctions, without the assistance of either a ground crew or pilot, it fixed them. If a part was damaged beyond repair it communicated with the 3D printer, a new part was manufactured and then installed. All without missing a single beat. The captain's son wondered why the Chinese were willing to share this information with anyone, much less a rival world power such as the United States of America. In his humble opinion, this app was beyond magical; it was otherworldly far out! But unlike his father and regardless of how surprising and exciting the younger Riceco found this incredible technological revelation to be, he maintained full control of his bowels and did not crap his pants.
The next day was Saturday and it was decided that Captain Ernest Riceco and Francis would meet at the airfield where the AVIC Z11WB helicopter had been delivered for Officer Peter Richard Johnson's test flight. That, of course, would be the Teterboro Airport. Francis had written out step-by-step instructions for the soon-to-be-pilot officer. While waiting for Johnson to arrive, the boy explored the cockpit of the newly acquired flying machine; everything looked to be where the user's manual said it'd be. The feet pedals to control the tail rotor were on the floor of the craft, the cyclic-pitch stick used to tilt backward or forward was positioned in front of each of the pilot and copilot's seats, and the collective-pitch lever regulating the machine's up and down motion was located to the left of each member of the flight crew. But what really grabbed the teenager's eye was a small toggle switch place inconspicuously upon the dashboard and simply labeled, in both Chinese as well as English, "FixMe™". A boy being a boy, Francis flipped it to the on position before exiting the cabin. What could possibly go wrong?
Johnson arrived a few minutes later and Captain Riceco introduced him to Francis. Earlier, the captain had told his son to give the officer a quick rundown on how to fly the helicopter. "And Francis, one other thing after you show him how to get the damn thing off the ground."
"What's that, dad?"
"Get the hell out of that cockpit before he tries to take off. We don't know how difficult it is to fly one of those contraptions so I'm not going to take any chances. I may not mind losing an officer in the line of duty, but I'll be damned if I'm going to lose a son today. Your mother would kill me!"
"But dad, I'm not sure if I completely understood everything in that Chinese handbook. Don't you think it'd be better if Mr. Johnson took some lessons at an actual flying school to learn how to fly it? Why not just use some of the money left over after buying the AVIC Z11WB and send him to one of those?"
"Because, I've already spent all that money, boy."
Being a dutiful son, he did what he was told to do. For nearly three-quarters of an hour, the kid sat in the cockpit of the rotorcraft fuselage pointing out where each mechanism was and how it was used to lift the craft up and down, move it forward and backward, and hopefully, how not to crash and kill himself today. Petey listened intently, jotted down a few notes in his Weehawken Police Department issued notebook, and hoped the talkative teen hadn't noticed how his hands shook from the fear of making his first flight. Outside the autogiro, the captain watched the two, wishing his son would just wrap it up and get this crap show on the road, or more precisely, in the sky.
After Francis had told the cop everything he could tell him, he was asked, "So, kid, you want to take a ride up to the stars with me today?"
"I'd like to, but my dad would give me hell if I did?"
"Well, why's that?"
"He said it's in case you crash and kill yourself or anyone else, I guess," the seed of Captain Riceco's loins said as he exited the cockpit.
Prior to starting the aircraft's powerful engine, Officer Peter Richard Johnson shouted from his open side window to his commanding officer, "Thanks for your steadfast and unwavering confidence in me, Captain Riceco!"
"Just bring that thing back in one piece, Johnson. If you do, I'll tell my superiors that you're one helluva cop and put you in line for a citation," Ernest responded with little enthusiasm. Yeah, Officer Johnson thought, I'm one helluva cop alright, you fat fart!
Going over everything one last time in his mind, Officer Peter Richard Johnson then hit the ignition switch and the main rotor blades above his head roared to life. In a white-knuckled fist, the cop held the collective-pitch lever on the left of where he sat that regulated the up and down motion of the machine. Twisting the throttle grip at the top of the collective he gave the engine some more gas, gently raising the collective lever up toward him as the RPM speed increased. The landing skids floated up off the ground as the chopper slowly rose into the air. His right hand was wrapped around the cyclic-pitch stick jutting up from the floor between his legs. Pushing it away from him, while working the feet pedals, the rotary-wing aircraft began to move forward as it rose up, up, up, up and away toward the heavens. Oh my god, Officer Peter Richard Johnson was flying.
Now, one thing no one had thought about or discussed with him was how to navigate and find his way around from the air. He was so overjoyed by this new sensation of no longer being gravity's captive prisoner he shot forward like a bat out of hell in the direction of the cliffs within the Palisades Park. It was amazing how fast he was going and how quickly it looked like if he reached out of the cockpit window he could almost touch them. And inside of the next several seconds, he was touching them as he smashed into the escarpment of the rocky height. If Officer Peter Richard Johnson had not been killed immediately, he probably would've puked as the helicopter rolled over and over again as it tumbled in a wreck at the basin of the hills.
It would be hard to say that Petey was lucky that day since he had just died in an airway collision, but as a matter of fact, he really was. The act of Francis activating the FixMe™ app before take-off was his only saving grace. As the wreckage of the destroyed airship finally came to a stop at the bottom of the steep ridges it immediately began to repair itself.
The 3D printer hummed and whirred as it manufactured any parts of the wingless airplane that couldn't be salvaged, repaired, or reused. Yes indeed, fortune did crookedly smile down upon the young policeman on that day, because due to a pesky glitch in the FixMe™ program it also repaired anything else within the entire fuselage. Including Officer Johnson, remanufacturing a new spine and replacing the broken one inside his lifeless corpse. It not only fixed and healed every injury inflicted it also used incredibly high voltage jolts from the motor's battery, like a defibrillator, jump-starting him back to life.
Yes, perhaps lucky was not the best word to use when describing all the cards fate had dealt the hapless pilot on that day. For you see, as a result of that aforementioned glitch, it could not recognize the helicopter and his body as being two different entities. So, you know what it did? The FixMe™ incorporated Peter Richard Johnson's newly reconstructed and resuscitated body as part of the craft. And his brain was now interfaced with the onboard computer systems. Thus, the Chinese AVIC Z11WB and the police officer were conjoined, and one and the same!
As the once-man regained consciousness, two words were repeating over and over again in his mind: Helluva Cop. Officer Peter Richard Johnson was no more, and the AVIC Z11WB ceased to exist as it had. Instead, what was once an entirely inanimate machine, and what was an entire living man had now been patched, spliced, and connected together to one another. As the final parts of each were reassembled into a single entity, and since there was no longer any AVIC Z11WB or Officer Peter Richard Johnson, from that day forward the two who were now one would be known as Officer HellaCopper. Defenders of the USA, the thin red line between us and the Marxist menace, protectors of truth, justice, and the American way, for all Americans from sea to shining seas!
To be continued…
September 29, 2021
---
~
Su-10's Interns

~
Damn, another one had quit on her yesterday! Su-10 (a funny, highly intelligent, and attractive brunette who worked in the financial industry and who was coincidentally the subject of an ongoing debate among the guys at The Court Street Bar & Restaurant about whether she was really part Asian or only an impression based solely on her use of eyeliner) had had it with interns! They were mostly over-privileged sons and daughters of the upper echelon's clients at her corporation and in her strongly opinionated point of view were absolutely worthless. Less than worthless; they were a drag on her normally whirlwind workday activities who needed nannies more than mentors as they irritated her to no end. Interns—they were the bane of her inner office existence.
The only thing she hated as much is when people would sit in front of her big blue blanket during those precious moments of exhilarating freedom when she was able to spend some time relaxing down the shore at her beloved New Jersey beach. You know, the one Jeff Bezos saw while floating far above planet Earth during his maiden spaceflight and made him exclaim, "Whoa, that's one helluva big blue blanket!" Well, maybe there were other things that could be added to that list, but she was too busy preparing for the arrival of a new intern who was her burden to bear that morning. And don't get her started on that son of a bitch seagull who stole her last slice of white clam pizza the last time she had a beach day and while she was looking down at her cell phone. Fucking interns!
One such prior intern was a 21-year-old whose dad was a friend/business partner of one of her bosses. He showed up 2 hours late for his first interview because he was called into a "lunch meeting" and didn't have time to phone her. He brought along two Smartphones and his laptop too on the first workday after the initial interview (oh, and he was 10 minutes late!) and then slouched all day in his chair with an exaggerated bored expression on his smug little face. To add insult to injury he had his Daddy call when she emailed the useless little piece of shit to call the office. Wow, what a fucking keeper that one was!
And apparently, interns need explicit instructions on answering the phone:
#1 Please, answer the phone EVERY time it rings—on your own—without anyone prompting you.
#2 Get the person's CORRECT name and ask them to SPELL it if you have to. Who wants to read "Brian" called when it's "Ryan" who called?
#3 TELL the person that the call was directed to they have a phone call. Don't tell HER to tell them, that's why THEY are answering the phones. Parents, if you have nothing to do today then teach your kids how to answer a fucking phone that isn't their cell. If she has to do it when they become her intern, it just won't be pretty. PLEASE teach your children how to make phone calls. Apparently, this is a damn skill they are lacking. One of her interns was asked to make a cold call, and here's how that went:
(ring…) Hello
Intern: Do you have any non-qualified accounts?
Called: (click)
Intern: confused
Su-10 wondered if this genius ever learned later in life how to make a business call. And they never understand that when more than one phone rings, it's disruptive, and their mentors are not supposed to get off their business calls to answer them for you. Here's a conversation she had with one of the company's brokers:
Her: I'll have Ms. X teach the intern how we want our phones answered
Broker: I'd rather not have him answer the phones.
Her: Why?
Broker: I don't think he could handle it
Her: EXCUSE ME? YOU DONT THINK HE CAN SAY, "John Smith's office?"
Broker: Well, do you think he can even handle taking a message?
Her: Are you fucking KIDDING me? He's over 18 and can't take a message? Listen, this is how people learn; they are uncomfortable, they try, they fuck up, they're embarrassed, they keep doing it and THAT'S HOW PEOPLE LEARN!
Broker: You're right, it's just that…
Back to the kid who used to start the conversation, "Hello, do you have any non-qualified plans?" Hey, how about starting with, "Hello, my name is ___. I work for ___ and we'd like to discuss___,"? Su-10 had to teach that 23-year-old how to make a phone call. There seems to be some kind of a millennial trend where these little bastards don't know how to introduce themselves and mention why they're calling.
Listening to an intern who was asked to order the boss breakfast was purely painful. Before the call he wanted to know, "Can you give me a menu that's easy to order from (hmmm—well, they all do have a list of foods—and a phone number)? Oh, and your boss said he wanted me to order it 'WITH toast, not ON toast!' What does he mean by that?" Listening in on that conversation, and after he'd hung up the phone, she considered it her duty to tell him, "You need to give them our address. They don't know where you're calling from!" The same sad waste of flesh who didn't know how to make a call or alphabetize files for storage (which almost stroked him out!) was delayed again by NJ Transit. She was told to be gentle with the sweaty mess when he gets in. What did they think Su-10 was doing, taking him to lose his virginity? Then there's the one who asked to be shown how to get to the 9th Floor on the office elevator. Nope, not going to fucking do that, kiddo…
The personnel director in her office said there are 50+ interns and the 8 that give them the most problems were all sons of brokers. The director went over to one and said, "If management emails you, YOU RESPOND WITHIN 30 SECONDS. GOT THAT?!" The loser then ran into his daddy's office looking like he was about to cry and/or crap his pants. This goes a long way toward understanding why when a cognitively challenged child is spawned by crazy parents these sorry-ass offspring are what they are. The spouses of upper management were no better than the feeble-minded children they foisted upon her.
What POSSIBLE reason can there be for a wife to call her husband at the office EIGHT+ times a day? Can't you call on his cell? It really looks pathetic when you call saying you're lost on Long Island. Come on, you basic bitch, you've only lived there your entire life!!! Maybe you should look at a map or learn how to use your GPS. And phone numbers —look them up —for yourself. Seriously, if they're that bored they really need to get a job, or maybe do some volunteer work or just do SOMETHING with their fucking meaningless existence!
Su-10 fucking hated every fucking intern she'd ever had under her fucking mentorship. And no fucking exceptions, no fucking time, no fucking way. If it was up to her, she'd give them all fucking BB guns, and let them all fucking shoot their fucking eyeballs out!
September 15, 2021
---
~ And the Series Continues… ~
"Prognosis", and if I do say so myself, it's a real killer! If you go to her home page there's a folder that has all 3 episodes (including "Keep Doing You" & "Chris's Daughters"). Please remember to subscribe to her channel while there.
September 8, 2021
---
~ Let the Series Begin! ~
xxxJoolsxxx is a superb raconteur! I'm so happy she's undertaken the task of creating these episodes on her YouTube channel reading chapters from my new novel, "Chris and her Daughters". Last month, after hearing how she read the first chapter, "Keep Doing You", I knew what an honor it was for her to take my mere words and breathe life into them. Thanks, xxxJoolsxxx! Please remember to subscribe to her channel while there.
September 2, 2021
---
~ Gone Fishing!!! ~

Many of those wonderful people who follow my blog have been asking where I've gone this past month. Well, that's an excellent question, and I'm so glad you asked. The answer is: I've gone fishing!!! No, not with rod and reel, speargun, dynamite, or any other tools typically used to procure those aquatic chordate descendants. I'm strictly speaking metaphorically.
Since the beginning of spring I've emerged from my winter solstice cocoon, spread my newly-developed wings, and have taken to the skies; new friends, new trails, new habits (thankfully very good ones), new life, and new me. Worry not, for I have not abandoned old friends and trails. I have merely reinvented myself once again to evolve into a new me. And I love what I've become.
This is the reason, as many have noticed, that since the end of July I've not been posting much here on this blog. I've been too damn busy becoming the new me to have much time for much of anything else. This does not mean I have not been writing or creating something from nothing. It simply means there are only so many waking hours in the day, and I have been extremely mindful of how I spend them.
I promise to be back here in a week or two with new material to share with you and that I of course hope you will all enjoy. To phrase it most succinctly: it was simply time for me to exhale. As always, thank you for your patience and understanding. So, be kind to all and do good always!
August 25, 2021
---
~

New Book & New Friends!

~
I'm happy to announce I've just completed a new novel and now preparing it for publication. The book is titled Alice. It's a work of fantasy fiction that's a mash-up of Alice's Adventures in Wonderland/Through the Looking-Glass and M. N. Shyamalan's, The Sixth Sense (especially the iconic line: "I see dead people"). It will be published and available for purchase before the end of this year. In fact, I've even presented a film proposal treatment of the story to several major production companies of which two have already expressed interest in moving forward with the project – so stay tuned for more details along the way that I'll be sharing with all of you here. And speaking of along the way…
In the process of creating Alice I've made a few new acquaintances. First, there's The Madd Hatter Bar & Restaurant, located on Washington Street, in Hobohemia; my beloved adopted happy home. While I had dropped into The Madd Hatter over my years here in Hobohemia, I became a regular this past Spring. They have a wonderful outdoor seating area I like to take advantage of and enjoy whenever the weather permits. After all, my personal physician, whom I salaciously have nicknamed my "Hot-Doc" (the one who I love the way she enters the examination room looking and dressed like some Victoria's Secret model strutting down the catwalk—ooh-la-la…) had diagnosed me as having a vitamin D deficiency. So, imbibing cold and intoxicating alcoholic beverages while sitting outside in the sun not only justifies my drinking, and I'm sure my "Hot Doc" would agree here, but would also serve as vitamin D enrichment therapy.
Special thanks go to Anja and Noika, both of whom work at the Hatter, and who have offered much encouragement and inspiration (liquid and otherwise…) that went into writing this book. Without their care and kindness, I doubt it would've turned out the way it did. When initially sharing an idea for this tale with them, the plot was based upon an immigrant working as a waitress who had discovered that besides everything else life had thrown at her, she now also had to deal with an unplanned pregnancy. With their combined suggestions, the original character's name was changed to Alice and the setting to The Madd Hatter Bar & Restaurant. From there, everything just pretty much fell into place. And within eight days I had the first version of this book written; a book that literally felt like it wrote itself.
One day, while in the process of sharing those suggestions, Anja was behind the bar serving drinks while Noika had sidled up on the barstool next to me, curled up in the seat looking just like a cat. So, when you read Alice, you'll know why this storyline took the unusual direction it did. I may not be the first to have said this (but if I am then I'm proud to be that one); behind every good writer is great bartenders! I also believe that was when Anja suggested the two of them should be included as characters in the book. Now, what else could a be-freckled, bewildered, bemused and bashful blue-eyed boy from Baltimore, Maryland, do except take these lovely ladies' kind advice and sneak them into the tale? After you've read Alice I'd be curious to know if you recognized which characters I transmogrified them into.
Another new acquaintance I made along the way was via the courtesy of a friend and colleague in the entertainment business, Dr. Pepper Gomez (and not to be confused with the aforementioned "Hot Doc"). When I mentioned to Dr. Pepper that I was looking for an illustrator to create the artwork for Alice, she introduced me to Chicago comic book illustrator and visual artist Steven Krakow. Steve has now come aboard to create not only the full-color cover for Alice but also oodles and oodles of black and white illustrations which will appear throughout.
So, stick around my beloved children, and prepare yourselves to soon let these adventures of Alice begin…
August 11, 2021
---
~

Death by Wasabi

~
The sun had yet to set, but the friendly early evening crowd was beginning to trickle into the outdoor eatery area of The Court Street Bar & Restaurant. It was, after all, a little past seven on a Saturday night in Hobohemia, and after a full work week, most people just want to get out and have a little fun. Carlton Tucker had chosen this place because in his mind it would be the perfect place for a perfect first date. He'd had his eye on Annemarie Chellini for quite some time now, so after months of trying to muster up the courage to ask her out, the last thing he wanted to do was to screw this up before it even got started.
Carl had no great expectations on the night's outcome and wasn't even expecting a first kiss much less than any invites to whoever's place afterward for a little nightcap. The most he allowed himself to hope for was perhaps a brief hug at the end of the evening and the opportunity for a second date. He was a man who made a rule of always keeping his expectations in check. It was just the way he was wired.
Annemarie Chellini was several years younger than Tucker. He'd first spotted her drinking at the bar of The Court Street Bar & Restaurant more than a year ago. Initially, he wasn't attracted to her at all. For that matter, he wasn't terribly attracted to anyone. Outside of his workday business activities Carlton rarely spoke or interacted with anybody. To state it kindly, he was a bit of a misanthrope who wasn't actually antisocial, but merely asocial. Where it came to most people, he could either take them or leave them, and for which the majority of them he chose the latter. In fact, in most places he'd go he'd always be sure to bring a book along kind of as a shield to discourage those around him from speaking to him. Most times that worked perfectly well.
Yet, many months ago, while he was contently sipping a cocktail at the Court Street bar as he was laboriously making his way through Faulkner's "The Sound and the Fury", a woman on the barstool next to him tapped on his shoulder and asked, "What'cha reading?"
"Faulkner's The Sound and the Fury," he replied after successfully battling the urge to utter his usual two-word reply, "A book." An answer that would usually ensure to inform the inquirer that he was not much of a talker.
"Is it any good?"
"What, Faulkner?"
"Yeah, Faulkner."
"Why do you ask?"
"Because you've been staring at that same damn page for a while now."
"That's because the content is seriously intense and narrated from the perspective of various characters, one of whom is severely mentally handicapped." Noticing the highball glass before him was now empty he tried to catch Jeff the bartender's eye to order another. Yet, before he did, and much to his surprise, he asked the woman sitting to his left, "May I buy your next drink?"
Downing whatever remained in her wine glass she held the now-empty vessel in the air then called out to Jeff in a voice loud enough so that everyone in the cozy barroom could probably hear, "Hey, Jeff, this guy wants to buy me a drink. Can I trust him?"
Like a hungry dog being called to dinner Jeff was now before the two of them and said, "Yeah, I can vouch for him. He's harmless enough, what're you drinking?"
Tucker liked Jeff. He had that unique sixth sense that any good barman has of knowing when a customer wanted to chat and when they just wanted to be left alone, and he was in the minority of individuals who Carlton Tucker didn't mind exchanging a few words with every now and then. He'd even joked with Jeff that he found it sometimes hard to read while in a bar because of the dimmed lighting, and since libraries didn't serve alcohol, that they should open a bar together that was equipped with a book lending library so their patrons could comfortably sip while page scanning. Jeff said he liked that idea and would look into obtaining the liquor license for their wet bar library. That was just the kind of fellow he was.
"I guess since he's buying, you better give me some of the good hooch—a pinot grigio, please."
"I'll just have another bourbon Manhattan on the rocks, please." Thus, the drinks were ordered and an adventure began.
"May I ask your name?"
"It's Chesty McAdams!" he was told with a noisy giggle. "No, it's really just Annemarie, Annemarie Chellini. And yours, if you don't mind me asking."
"Carlton, Carlton Tucker, but everyone just calls me Carl."
"Wait a minute! You're not that guy on Fox News, are you?"
"No, everyone always thinks that, so maybe I should just introduce myself as Carl Tucker from now on to avoid the confusion and explanations."
"Probably not such a bad idea," Annemarie concluded just as Jeff was sitting their respective drinks before them.
"So, your last name, Chellini, I'm guessing you're Italian?" which would not be so farfetched here in Hobohemia, New Jersey.
"Bingo! Well, you know what they say about Italian women?"
"Could you please elucidate and share that tidbit of information with me, if you don't mind me being the one to ask now?"
"That there are two types of Italian women: the kind who cook and the kind who clean."
"So, which are you?"
"I'm the exception. My grandmother was the cooking kind and my mom was the cleaning kind. Me? I'm neither, must've been some kind of generational leapfrogging when it came to me," Annemarie told him, tagging another peal of soprano-pitched laughter to the end of her sentence.
"Guess that's a good thing to know about you."
They had one more drink together before he left the bar alone to return home.
The next time he stopped in at Court Street he saw she was already sitting at the bar, and miracle upon miracles, the barstool adjacent to hers was still empty. So, asking if she'd mind, and when she responded she didn't, he took it. Her wine glass was already empty when Tucker arrived so the usually quiet guy offered to buy her another drink, which she agreed to this time without needing Jeff to attest to his character. But this time, instead of ordering a pinot grigio she asked Jeff for an Amstel Lite. He may have found that a bit off-putting, since Carlton always felt that Lite beers were the bane of a serious beer drinker's existence, but upon reflection the normally book browsing Court Street patron just let it go. You see, sometimes in life discretion really is the wiser part of valor.
These random meetings continued over the years until on March 14, 2020, the Court Street Bar & Restaurant announced via its Facebook page that due to the COVID-19 virus, that they, as well as most on-premise businesses, had been ordered by both local and federal government, to shutter their doors. And thus, they lost contact—but not before exchanging their Facebook user names—and becoming engaged as social media "friends".
So, fast forward to nearly early summer of that year, to the time when The Court Street Bar & Restaurant announced on Facebook that the city of Hobohemia had authorized them to provide an outdoor dining area so hardcore patrons such as Chellini and Tucker could return to drink and dine at The Court. Therefore, once again, the Court was in session. And after great deliberation, at the last moment, while his imaginary jury was still convened outside of the courtroom, Carl sent Annemarie a message via Facebook messenger informing her that their Court was no longer adjourned, and taking a huge gamble, asking her if she wanted to join him for an alfresco meal at their mutually favorite establishment.
The minutes ticked past without a reply until finally, a Facebook sound effect informed him, he had received an answer to his proposal: "I'd love to!" They settled on an agreed-upon mutually convenient time and date to dine, Tuck (another name others who didn't call him Carl often used) then contacted Kevin, one of the kindly considerate owners of CSB&R using the same Facebook app, and the date was finally set in stone.
On June 18, 2020, as prior to schedule, he took his seat at a table outside the eatery to await her arrival. Annemarie appeared a minute or two later, exactly at the time (punctuality—he liked that in a person) they'd prearranged to join him. Since Facebook had informed him that she had just celebrated her birthday a few days before, he ordered a bottle of #A908 from a wine menu, the Veuve Cliquot Yellow Label Brut NV champagne to commemorate the occasion. He was proud that when the pretty young Court Street waitress poured her a glass Annemarie whipped out a cell phone to take a picture of the flute of bubbly then promptly posted it on her Facebook account with the caption, "In my happy place again!" This was, of course, something Carlton Tucker had only seen after returning home that night while checking his Facebook account. And he was not included in the picture.
The evening had started out relatively well. As they sipped their flutes of chilled champagne a warm breeze blew and they could almost smell the scent of the ocean from the beach of the Jersey Shore, which was more an illusion than a reality since it was over a hundred miles away (as the crow flies). Annemarie told him she'd spent her birthday down the shore, as they say in Jersey, with a family friend who was, as she described, "a doobie smoking fisherman".
For appetizers, they both had the baked clams oreganata as they comfortably chatted about how good it was to be able to return to their mutually favorite restaurant after its three-month shutdown. Although Annemarie lamented that they could neither sit at the bar nor around a table inside. After scarfing down a half dozen clams and in between savoring sips of the cold wine they used chunks torn from the portioned loaf of French bread atop the table to sop up the remaining pools of garlicky olive oil on their plates.
"The bread's not as good as it used to be. They must be getting it from a different bakery these days," the chatty Ms. Chellini commented.
"Well, times have changed, I guess," the normally non-talkative Mr. Tucker cautiously opined. He had noticed last week while visiting her doobie smoking fishermen friends in Manasquan she'd posted a picture on Facebook including a caption complaining of people who had parked themselves in front of where she was sunbathing on the public beach. In the photo, the trespassers appeared to be several yards away from her.
With the appetizer plates now removed as they awaited the main course, they continued to casually converse. It was a beautifully clear evening as the sun sunk lower, setting the pre-summer solstice sky ablaze with crimson. Personally, Carl liked dining outside the CSB&R in the near-nighttime open air. It was then, as he listened to his table companion speak, that their waitress set the main course before them.
As with the appetizers, they had both ordered the same entrée; panko encrusted sushi tuna steak accompanied with sides of wild rice (Annemarie had requested risotto, which wasn't listed on the menu instead of rice, but was told, regrettably, that the risotto was not available tonight—and which appeared to miff the somewhat moody Ms. off a bit), steamed broccoli, and pureed squash. The fish was served with two dipping sauces. One was a sweet ginger and soy, and the second a wasabi sauce.
Tucker tried the sweeter of the two first, noting the tangy flavor the ginger added to it. Next, he dipped another bite of the tasty tuna in the other one, soaking and coating it generously with the lime green wasabi sauce. And this is where disaster struck!
At first, it wasn't so much the burn of the wasabi on his tongue as it was the fast flash frying of the sinuses within his nose. Next, the Japanese horseradish caused his eyes to water and tears to stream down his now flushed cheeks. What followed was even worse: a rapid and what seemed like an endless series of uncontrollable sneezes. Before that, everything had seemed to be going so well…
Annemarie Chellini stared at him with concern as he covered his face with the Court Street white linen napkin when the sneezing continued. That expression transformed into alarm and she asked, "Are you alright?"
Due to the ceaseless sneezing, Carlton Tucker was unable to speak. So, he tried holding his hand up in the universally understood gesture that tells another person "Please—just give me—a minute —I'll be —fine." The only problem was that the tears, the burning sensation, and worst of all, the sneezing showed no signs of subsiding.
"Achoo!"
"Bless you."
"Achoo!"
"Bless you."
"Achoo!"
"Bless you."
"Achoo, achoo, achoo…"
Carl possessed a good sense of humor, and if he hadn't been experiencing such extreme physical discomfort and humiliation, he would find this situation comical. Which in a way, it really was. By this time other diners were staring at them with curiosity and concern.
"Achoo, achoo, achoo!"
Even their waitress had returned to the table asking if there was anything she could do. Annemarie simply gave a small shrug of her shoulders then stared down at the glassware, utensils, and plate-covered table in silence as his fit of sternutation continued. When she finally spoke again all she said was, "I don't know, maybe get him some water?"
When the seizure of suspiration thankfully subsided, she asked him again if he was okay and what had happened. Still trying to catch his breath now he explained it was the effect of the wasabi on his sinuses. Adding to his explanation a story of how his sinuses had been destroyed by too many nights back in the day at Studio 54 doing lines of cocaine with rock stars he knew and their girls. Which was kind of a major lie, if the truth be told.
The part about doing coke with rock stars, their wives and girlfriends, and Studio 54 was totally true. The part that wasn't true is it wasn't the blow; it was he'd suffered from a sinus condition, nasal congestion, and seasonal allergies almost his entire life. The remainder of the meal was awkward, to say the least. And since this date now seemed dead on arrival, and without even finishing their champagne, he asked for, then paid the check, and they left the Court Street Bar & Restaurant.
Carlton asked Annemarie if she wanted him to walk her home, but now she was the one lying, telling him she had some errands to take care of on her own—so with noncommittal and ultimately unfulfilled promises of being in contact again soon—they parted ways. Well, at least he wasn't the only liar that night. Oh, and by the way, in case you're still wondering, there never was a first kiss, invites to whoever's place afterward for a little nightcap, and of course, no brief hug nor second date.
July 28, 2021
---
~

Bustin' Broncos

~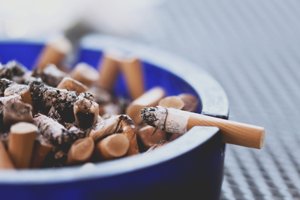 Sherri snubbed out her filter-tipped lipstick-stained cigarette butt in the ashtray already filled with post-smoked smokes and said to Anita, "Men are like bucking broncos; you need to bust them. What you can't control solely through size and strength you ride to exhaustion, until both of you are traveling in the same direction; the direction that you want him to go."
"Well, I never believed that fairytale of being head over heels in love. Our heads are normally over our heels most of the time, I mean except for when we lie down, aren't they? So, like where's the big whoop with all of that?" Anita responded absentmindedly as she drummed the painted tips of her fingernails rhythmically on the table.
"Exactly, so tell me everything he said last night."
"So, he says to me, Woman, you're going to kill me with keeping me up with you and all of your excitement. But at least when I die, I'll be dying in your arms. So, I say back to him, what makes you think you'd ever be in my arms?"
"So, what did he say to that?" the other woman asked while toying with the strand from her freshly coiffed head of hair.
"Says, I see where you're going with it and I love it when you talk dirty to me like that! Precisely where in you would you like me to be when I meet my demise? I tell him, you ain't going to ever be anywhere inside, upside, topside, downside, bottom side, with me nowhere never, so just get your mind out of the gutter. Man, whatever am I going to do with you? Which the rascal replies: You can do to me pretty much everything and I'd be fine with that." Anita lights another cigarette as they continue their discussion. "Not going to happen—never going to happen. So, you know what he says next?"
"What?" said Sherrie as she reaches for the cigarettes and a lighter.
"Well, you're not even really my type anyway, you know. I mean the nerve of that man!"
"Oh my God!"
"Right? I ask him; your type? Well, since you broached the subject, why don't you go on and tell me exactly what's your type? I'd say pretty much anybody but you. But what do I know about beauty anyways? Because every time I look at you my heart kind of skips a beat or two and I come one step nearer to believing in some kind of a God out there. So, there we have it, is what he comes back with."
Sherri exhales a puff of smoke before saying, "Well, at least that's kind of a romantic thing to say, in a way, at least. Had you both been out drinking a lot last night?"
"Yeah, we were knockin'em back like it was the first day after Prohibition had ended."
"So, what'cha going to do with that one?"
"Guess I'll just keep that old bucking bronco around me for a while longer, cause who knows when a girl's gonna need me some horse to ride on. Besides, if we break up then who's gonna get custody of all our favorite places and friends?"
To this, both women erupted in un-lady-like laughter, changed the subject completely, as the two took the conversation in an absolutely different direction, and began talking about something else.
July 21, 2021
---
~ A Story Revisited! ~
Hearing my stories read out loud gives me a new perspective on them. Hearing them read with Jools' wonderful accent is totally transcendent! Please remember to subscribe to her channel while there. Thank you, Jools.
July 14, 2021
---
~ My Life Sucks ~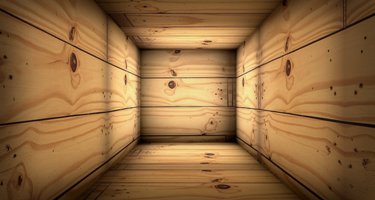 Vampires are not always asleep in their coffins during the daytime. Take me for instance. Before becoming one of the many of the legion of undead, I'd suffered during much of my life from insomnia; tossing and turning my way through sleepless nights, usually losing consciousness as the sun was coming up, and rolling out of my former bed feeling like death warmed over most mornings to do things I had little to no interest in. My life sucked!
Then I became a vampire. "Well how did that happen?" most would ask. And I, Charlie Althea, would reply, "I'd been dating this girl named Linda for around a week or two when one night while we were making out, she bit me on my neck. At first, I just thought she was either trying to give me a hickey or that it was just one of those sexy, playful love-bites when I felt two tiny pricks where my jugular vein was located as her fangs broke the skin, entered the vein, and began sucking the blood and my life right out of me before I knew what was really happening and had passed out. When I came to, I had a feeling there was something quite different about me. I was hungry for blood."
When something like that happens, you're pretty much all on your own. I mean it's not like you can go to school, enroll in online courses, or even get a user's manual on how to be a vampire. You're just kind of left to your own devices on how to figure it out. So, we do, and the majority of us that I've met do it pretty quickly. I mean it's not that hard: stay out of the sun, avoid mirrors, protect yourself from people with wooden stakes, and drink blood. That's really all there is to it for most of us, and the ones who make it more complicated than that, like those cringe-worthy crucifix cringers, are usually the ones who bear the sole responsibility for doing so. As a whole, a vampire's life can be pretty much a piece of Red Velvet cake, if you know what I mean.
I'm certain most of you have heard that after someone's been turned and then awakes as the undead that any ailments that plagued them during their lives were miraculously and mercifully gone. In most cases that was true. But in my case, most days in the coffin were sleepless fits of Hell. As in life, I squandered away my sleepy-time time rolling about uncomfortably in my bunk and rarely getting any shuteye. You see, even though when I'd joined this blood-sucking and unliving legion of neck biters, while I no longer was bothered by seasonal allergies, colds, flu, or much else for that matter, to my surprise I still had to endure endless bouts of insomnia. Even as a vampire, if I hadn't had at least 8 hours of rest I'd be as knackered as an overworked hooker on the Monday morning after a big convention weekend.
Oh my God (yeah, all sanguisuges are allowed to say that name, and there's even an interesting and a quite funny back-story regarding the why's and how's that I'd be happy to share with you another time), sleeplessness when you really want to sleep really sucks! You want to know what the only thing that gets me through my dreamless naptimes? Technology! Thank God for WIFI, the internet, and cell phones. If it wasn't for that I think I would've killed my undead self by this time. Do you know why I didn't, I mean besides the whole cell phone thing? It's because vampires can't commit suicide for the obvious reason; we're all already dead.
It was during one of those coffin-contained bouts of un-somnolence I came upon a solution. How did I stumble upon that discovery you may ask? I was reminded that I still had my cell phone on me one wakeful day when I felt the vibration from an incoming call in my pants pocket. The call? It was from some telemarketer asking if I was happy with my current health insurance plan. Now is that ironic, or is that ironic? We spoke for a long time. Him asking me questions about my current healthcare coverage (sure, I had to lie a bit, but what else could I have done to keep the conversation going for as long as it could to avoid the resumption of my boring bier bound attempt at restless repose?), and I in return inquired into all the insurance plans the telemarketer had to offer, their options, cost, and coverage. By the end of the call, I pretty much knew everything there was to know about health insurance plans, deductions, co-pays, and compliance.
Since then, I always made sure my phone was on me when I hit the sack. Although there were some bumps along the way in the beginning. One time I had neglected to check that it was fully charged and before halfway toward trying to get a full forty winks the phone died out, and let me tell you, by the time I climbed out of my casket that late evening I was in one foul mood—even for a vampire—and took my anger and frustration out on everyone I encountered the rest of that night.
After that, I not only made sure the battery was fully charged, I even took it another step further. You see, when I was alive, I had this knack for how to handle electrical wiring (hey—I even use to wire my own DJ equipment at the shows I was booked to spin—and set up my home entertainment system center when I was still had to earn a living among the living, so who the Hell needs to pay an electrician?). So, after the second time when my cell inadvertently ran out of juice because I had drunk the blood of some wasted wino down on Bowery Street which had gotten me a bit tipsy (yes, vampires do feel the effects of alcohol and other intoxicating substances regardless of how they were ingested), and I had forgotten to do my then routine battery level check, I thought of a solution.
Thus, before the end of the night that followed the second uncharged battery snafu, I came up with an idea. Why not just install a charger in my crate? I could run the wall plugged thin wire of it between the lid and the upper side-lip of my sarcophagus, so pretty much outside of any electrical blackouts, my fully charged phone would eternally be with me. This way I could call and talk to whomever I wanted to during those bouts of bothersome insomnia, surf the web, maintain and post/comment on my social media platforms, and even check the clock to see if it was finally time to pop out of the old pine box for another night's meals and parties (and we vampires do like to party a lot after eating—it's kind of our thing).
But today when I couldn't catch some Zs and was still in the middle of updating my Facebook status the power grid went down in the area where I keep my cozy catafalque so that I lost not only the electricity but my WIFI router too. My life sucks! Here it is with hours to go when I can't sleep, have only my own thoughts for company, and have absolutely nothing to do. Which sucks likes a Hoover vacuum cleaner souped-up with a Ferrari V12 engine. Today the sun can't set fast enough for this snooze-less, soulless, spiritless S.O.B… And counting sheep doesn't work (and yes, I have tried that) since I always lose count when I get distracted imagining how good it'd be to drink their blood, that gives me a bad case of the munchies which make my stomach growl hungrily until my next dining opportunity.
It sucks, I tell you. Come on, where's that good old Sandman when you need him the most? Oh my God, if you're not going to let me nod off then at least give me back a jolt of that alternating current along with a bit of that internet access so I can see some bars on my phone and be a happy little camper again. Because today, it really, really, really sucks to be me in this lightless, lifeless little box!
July 7, 2021
---
~ So Happy They've Discovered Me in the U.K. ~
To wrap up this beautiful month of June, and just o switch stuff up a bit, instead of publishing a new story this week I wanted to share this video of Jools reading one of my older stories on her StoryTime channel (please remember to subscribe to her channel while you're there – you won't be sorry!) in the U.K. Thanks, Jools!
---
~ Bobby and The Baked Alaskans-Masters of Supersonic Awesomeness ~
Whoa—what up muzak lovers? Up here in Alaska, we have a lot of famous things going on. For instance; we're the biggest state of all the United States of America, the state that's both the most northern and the most western state in the United States of America, the most sparsely populated state in the United States of America, and one day me and my band, Bobby and The Baked Alaskans, are going to be famous too. Not just here in the USA but all over the whole world too. Oh, BTW—I'm Bobby and I'm in a real band with The Baked Alaskans! Know what I'm saying?
We're not just a sonic powerhouse that's going to be really famous one day for being a band—we also write all of our own songs. Now the reason you probably haven't heard about us yet, and by "us" I of course mean Bobby and The Baked Alaskans, is because we still haven't figured out how to get some patents on our songs yet. And you don't want the people in the business to hear your songs if they're not protected by patent protection, do you? No, you don't—and you can mock my words and write that down when you take it to the bank! The music business can get pretty down and dirty and it's got these pirates out there that take your songs and then they get the patent and rip you off at the bank like that. I know because I read about that kind of stuff on the internet. But one day, when one of us figures out the way to patent everything then I know you're going to know us because we'll be like #1 on the SpotiFiverr charts or something. And that can be big in the show business!
Bobby and The Baked Alaskans were formed by me, Bobby (the band was my idea, so that's why my name comes first!), and I play rhythm guitar in our group. Then I got together with the Wappinger brothers, who are not only twin brothers from the same mother but also among the very few African-American (is it still okay to call them that—idk?) people that live way up here in Nome, Alaska. The Wappingers brothers look exactly alike (I'm not just saying that because I'm a white dude who thinks all people who aren't white look alike, it's because the Wappinger brothers are identical twin brothers, so there's that too) and if it wasn't for the fact that Deshaun Wappinger played the bass and his brother Denzel Wappinger played lead guitar then no one in the band, the entire United States of America or anywhere else in the world for that matter, would ever be able to tell the two of them apart. I swear!
We rehearse at least once a week in Mr. Wappinger's garage (that's Denzel's and Deshaun's dad who has a really important job working in something really big called Borders without Doctors, or something), and when we do one of our friends, Kitchie, (he's from Juneau so everyone calls him Kitchie from Juneau) comes to our rehearsals to bang along like he's playing the drums on stuff he finds in Mr. Wappinger's garage. So, I talked it over with the Wappinger brothers and we guess that Kitchie from Juneau is now in The Baked Alaskans too. And that's okay with us because every band needs a drummer —even if he doesn't own his own personal kick-ass set of headbanging drums yet.
Kitchie from Juneau says that one day when his dad comes back home that his dad will buy him his first set of drums. No one around here in Nome, Alaska, has seen Kitchie from Juneau's dad in a really, really long time. I've even heard a lot of the grownups talk when they think we're not listening about how Kitchie's dad is probably never coming back cause he's with his new family back in Juneau; the one that he left Kitchie and his mom to be with right after they'd moved here from Juneau, but we, of course, don't say anything to Kitchie from Juneau about that. One thing I've learned already is even though people make jokes and say lots of things about drummers, is that drummers have feelings too. I may still be in high school but even us kids know that saying stuff that you know is going to hurt someone is cheugy to the max. Just ask any Millennial or Zoomer and they'd tell you —doing stuff like that is just so totally basic!
Hey, want to know a secret? Sometimes when we're rehearsing in the garage and Mr. and Mrs. Wappinger's not home, in between practicing songs, me and The Baked Alaskans will spark up a little Girdwood. We call pot Girdwood up here in the 49th because that's where all the really, really wickedly good weed comes from in Alaska—Girdwood. I even got booted off my high school's ice hockey team because once during a surprise locker search, they nabbed me with a bag of Girdwood. But that's OK, I loved to skate and all but always had a really, really hard time stopping when I did. Know what I mean?
Do you know what the hardest thing about being in a band is? Even harder than trying to schedule rehearsals around everyone else's busy schedules, I mean with homework, after-school activities, and all our family junk? It's the creative differences! Every band has them. Here's a for instance for you; the Wappinger brothers want us to do a rap song. I get it: some of that rap stuff can be even kind of good, I think, but I just think that everybody else is already doing too much rap and spitting bars and grinding the game and everything already—and I don't want Bobby and The Baked Alaskans just doing what everyone else is already doing just to be doing it, do I? So, I told Deshaun and Denzel I was down with it, but on one condition (in case you don't know it: A condition is one of the things you're supposed to negotiate when a big label company wants you to sign one of their terms and agreements contract for a recording deal—always read all of the tall and the small print). Do you want to know what that condition was? Well, I'd agree we could do some rap songs. But that all of our hip-hop hits would have no words in them—only the music! Now is that brilliant, or what?
Well, the Wappinger brothers didn't agree and said that's stupid because all rap tracks have at least some words. Then Denzel tried to explain, "Rap music, it's a form of accentuated rhythmic poetry. Know what I mean?" Whatever! I just think it'd be easier for us to break into the business by doing songs like that speed metal anthem I wrote about my mom and dad called "You're the Cancer in My Brain". A killer track not only likely to get used in a video game so we'd make tons of Benjamins but I'd bet it's what lands Bobby and The Baked Alaskans in that old Rock & Roll Ball of Fame place down south from us here. Then there's something I hope none of our parents hear I said, but I'm just going to come out and say it; me and the boys will be scoring more wussy than a veterinarian when that happens. If only the paler sex weren't sometimes such a royal and relentless pain in the butt.
So, it's not creative differences in just my band; it's also from external feminine forces from outside. You see, Kirima Quinn, this Inuit girl (we're not supposed to call them Eskimos anymore) who goes to my school and thinks she's my girlfriend (idk—maybe she is…) says she'd be an excellent singer for The Baked Alaskans. Oh, and Kirima also said she wants to be known as Magna Girl for her stage name when she performs with us and that she'd have to have her own dressing room since she's a girl and we're all guys so we couldn't change and get ready for shows in the same rooms because that's not what Lady Gaga would do with her band. Her band??? Now that's some hit and a miss; what makes Magna Girl even think for a second that Bobby and The Baked Alaskans are her band anyway? Women—can't live without them—can't live within them! I hope it's not being such a small person in saying this but presumptuousness like that cuts you right off at the knees and absolutely stumps me.
Don't get me wrong, I like Kirima okay as a girl, it's just that this one time when Magna Girl came to one of the Bobby and The Baked Alaskans rehearsals, she just took over my singing mic from me and started singing without even asking anyone there if that was alright to do. And while the Wappinger brothers and Kitchie from Juneau didn't have a problem with that, well, I did. Those guys liked her because of the way she was twerking her booty all around Mr. Wappinger's garage getting all winky with her almond-shaped dark eyes, sticking her tongue way out, spiked hair, and HELLO KITTY vinyl backpack while she was trying to sing like she was Miley Cyrus or something, and not because she could sing good or anything. I mean, to be honest, I didn't say anything about it then but I thought Magna Girl sounded just like Minnie Mouse on helium when she sang. I bet if that reviewer who writes for the Juneau Journal heard her, they'll write some headline like MAGNA GIRL SOUNDS LIKE TURD BOMBS SPLASHING DOWN ON DEEP TOILET TERRITORY!
Well, hey, I'm supposed to be the one and only lead singer in the Bobby and The Baked Alaskans band anyway, ain't I? Because we're not named Magna Girl and The Baked Alaskans with Bobby, are we? And as long as we're an independent band not signed to any terms and agreements record contracts then we do things in my band my way or no way at all. That Kirima! I admit she can look pretty sometimes and I've heard guys in grades above us cracking jokes all about how her sweaters have been looking tighter lately. One guy who had to repeat a year or two of school but with some luck may graduate this year nicknamed her "The Meaty Quinn!" That got me so angry I would've slugged him if he wasn't so much bigger than me and I wasn't late for homeroom.
We can be very independent up here above the southern US here in the 49th state. I mean, did you read in all the newspapers about an Alaskan state senator, Senator Lora Reinbold (she's not as big as maybe someone as big as Ruth Allen Ginsberg—I think that was her name, but she's dead now—that judge who wore a crown just like Biggie Smalls), and her fight with the airline companies not respecting her right not to have to wear a facemask as a freedom-loving American citizen, as well as a freedom-loving American politician, while flying with a lot of other people on airplanes? As some who have the God-given American right to freedoms may say: live free and mask-less or die. While other's who also have the God-given American right may conclude: live mask-less and you're free to die. Why? Because in these United States of America, we all have the right not to remain silent when we want to say things.
Well, we have a Bobby and The Baked Alaskans rehearsal scheduled for today over at the Wappinger garage, so I better get over there to help Kitchie from Juneau find something to drum on while Denzel and Deshaun are getting tuned up. Also, I want to get there early so I can hide my lead vocals microphone somewhere hard to find in case Kirima, I mean Magna Girl, shows up again and tries to take it from me. Maybe Kitchie from Juneau and the Wappinger brothers like to watch her big bubble butt twerking when she sings—but for me—music is my life, so I take it seriously. Wait a minute; is that her getting out of her mom's car—going into my rehearsal—to rehearse with my band? Seriously???
Anyhow, I really, really, really got to get inside ASAP, so we'll just have to talk more later if you want. Peace out and long live rock & roll, dudes and dudesses. Bobby and The Baked Alaskans—we're the masters of supersonic awesomeness—4EVA !
June 23, 2021
---
~ When God Died ~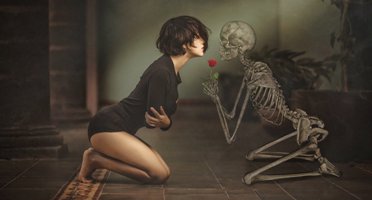 Before God died, She laid Her head upon the pillow where it had lain so many times and where She first had Her dream of creating others and all else to keep Her company throughout the eons yet to come. With a sole, sad sigh She released Her grip on consciousness and slipped deeper into the depths of oblivion, the place where all unfulfilled thoughts and dreams gradually returned to be thought and dreamt anew. Where the light and the dark return to mingle when it's no longer night or day and where the rainbows fear to tread. In a final, single breath God was gone, and She was no more.
When God died, She died unhappy, unrealized, and empty. She'd given Her all but Her all was never enough. Her creations could neither console nor content Her any longer. So, with Her last breath, She released and set them free to go about life without Her. With Her death, free will had been decreed, for better or worse, and all of creation was now, truly on its own; because God was dead.
When God died no one bathed, cleaned, or prepared Her body for interment. No pallbearers in procession struggled beneath the weight of Her casket, neither did mourners beat their chests nor weep. No wake was held. There wasn't even a funeral. Many of whom She created would not acknowledge Her demise while the others carried on without a care. Few conceded She had passed along at all. Merely a handful tried to tell the others, "God has died!" It was always lonely at the top.
When God died, there was little that really changed. The sun still rose in the east and set in the west. Sin was, as always since the beginning of time, a puzzle left partially solved by saint and sinner alike. The waves upon the sea still rose and fell as they neared the shore. Seasons continued to change and life went on. The winds still moved, borderless and unbound, as if by magic. Then, somewhere, a small sparrow had become vaguely aware of all the ways God had suffered before crumbling cold and dead on the hardened, fertile ground of which she was the genesis. Yet the sparrow did not cry, it simply flew up toward the heavens and disappeared. Other than that, pretty much, everything just stayed the same. The only difference was; God was dead—and then She was gone…
Amen.
June 16, 2021
---
~

Everything Is a Gift

~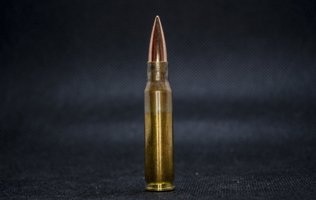 "Well, hot holy monkey love, what was that? Can you all hear me up there in the nosebleed seats of this stadium? You can? Good… Because what I'm about to tell you next is in of itself you reason you paid such a large chunk of your hard-earned cash to be here listening to me speak tonight. Am I right?"
The response was a deafening chorus of "Yeahs!" that filled then resounded within the domed structure. As the sound of the enthusiastic crowd began to subside there came a thunderous crack of a high-powered rifle being fired inside the packed to its capacity arena and multi-billionaire and philanthropist Ralston Jeffers's head pretty much exploded as a bullet ripped through the front of his scalp, skull, brain and out from the back of his head, taking a portion of hair, brain and skull along as it exited. Swaying a bit from side to side, before sinking to his knees as if in slow motion, Jeffers sunk down before crumpling face forward upon the surface of the elevated stage. At the exact moment when what was left of his face met the floor, a very peculiar thing happened. As the blood from his shattered cranium pooled around the still twitching corpse, and before it had a chance to spill off from the edge of the stage, all the scoreboards positioned around the stadium mysteriously began, in synchronization, to repeatedly flash four words: EVERYTHING IS A GIFT!
No one had come running from the wings, nor had the curtain been lowered to hide the grizzly scene from view; only a shocked silence that muffled all sounds from the still stunned audience. After a time that seemed to some to last an eternity, the stage lights darkened to near blackness as a voice from the megawatt P. A. system announced, "Please, everyone, please remain seated. Stay in your seats!" Some of the police officers who had been stationed as security throughout the coliseum-like structure now darted in the direction where Ralston lay, while the remainder of the cops fanned out into the crowd searching for where the single shot had been fired and for the shooter who had pulled the trigger.
Earlier on that evening, everything went on pretty much as what was considered to be normal at a Ralston Jeffers event. Prior to taking the stage, he had met with several members of the press by appointment, and Jeffers met anyone outside his tight-knit entourage by appointment only, and had fielded a few questions from them regarding what he planned to announce tonight during his appearance. Usually, he shared this type of information freely since he believed that all publicity was good publicity, but one or two of the reporters remarked later that he was being unusually tightlipped tonight on the subject. Toward the end of the final interview Emmett Wiley, his tour manager, had stuck his head in the doorway to advise, "Five minutes to show time, buddy," and as a professionally polite way to let the newsperson know to wrap things up.
Ralston was already attired in the clothes he normally favored for these events; white silk Hugo Boss suit (the spotlights worked well with these suits and the light reflected from it achieved the illusion that he was shroud in a bright white aura), an Italian handmade lilac white silk dress shirt with a button-down collar with optional buttoned or cuff linked sleeve cuffs, white cotton socks (he's worn silk ones several times in the past but found the fabric did not breathe well and ended up making his feet uncomfortably sweaty), some special order white Gucci Zola Plain Toe Oxford dress shoes, a Stefano Ricci Solid Silk Satin necktie, and the pièce de résistance, a stickpin that his third ex-wife had made for him early in their marriage and before they divorced.
The stickpin he used to keep his tie in place as he'd move around frenziedly while lecturing measured 4.75 inches in length from tip to top. Once Jeffers was fully decked out in his usual outfit of shoes and clothes, and his neckwear had been fastidiously tied into a four-in-hand knot, he'd remove the stainless steel pin back from its sharp tip, push the needlepoint of the pin through both the middle section shell side fabric into the tail section beneath the middle shell then weave it between the buttons of the placket part of his Italian silk shirt, then reroute it through the cloth of those same clothing items until the sharp tip reemerged to be recapped anew with the stainless steel pin back. Once these tasks were completed, only the plastic onyx, fake ivory, rhinestone-studded crown, and capped tip of it were visible. Admittedly, it was a process, but one that RJ considered well worth achieving the desired look he always went for at these rallies. Especially the way the rhinestones caught the stage lighting and cast it back into the attentive crowd that sat in the darkened stadiums where he shared his sought-after message.
"Alright, Emmett," he acknowledged and then shook the hand of the reporter before his tour manager escorted the member of the Fifth Estate from his dressing room. After about one minute Wiley returned to walk Jeffers to the wing of the stage from where he was to emerge, making the first contact with the now restless, waiting crowd.
"You ready, boss?"
"Hot holy monkey love—it's show time!
As Ralston Jeffers trotted out toward center stage all the stage lights and spotlights went up at once to their brightest level as the many thousands who were seated in the stadium erupted in thunderous applause and frenzied cheers. Once he'd reached the area where the wireless microphone was perched atop a mic-stand, the mic that with one fell swoop was now in his hand, and waited for the masses in front of him to calm ahead of leading off with the same first sentence he used at every event.
"Even as a child I realized I had a gift," again the speaker received a long and noisy ovation.
Continuing once they had quieted down some, "And that gift was the ability to control all that happens to me simply by how I perceived those events. It was Friedrich Nietzsche, the nineteenth-century philosopher, who purported that what doesn't kill us—only makes us stronger. Sadly, Nietzsche knew only half the truth, my children. The other half of the truth is that how we perceive that what doesn't kill us is equally important. Depending upon what we do with what happens to us, and we do have the power to take control of our perception of events, will determine the degree that each event may strengthen us. But as long as you are able to learn from, to take away something, anything, you then have the ability to then alter the way you perceive what has already happened. And that, my friends—is the power, and the power is the gift!
"Never abandon a book unread that you've begun, a show you're watching fully viewed, a piece of music not completely heard, an idea totally thought out. Once you start something—see it through to the end—and no matter how good or bad something is, damn it, be sure to take the lesson offered from the experience and learn from it. Look at everything that happens to you in this life as a…"
It was right about then that the astrodome sound system emitted several loud crackles and a few drops in overall volume level followed by a couple of banshee-like shrieks of feedback until the audio tech had it under control once more and the orator could continue.
"Well, hot holy monkey love, what was that? Can you all hear me up there in the nosebleed seat section of this stadium? You can? Good… Because what I'm about to tell you next is in of itself you reason you paid such a large chunk of your hard-earned cash to be here listening to me speak tonight. Am I right?"
Then seconds later there was the roar of the spectators, the crack of a rifle shot, the destruction of a human body, the slow-motion sinking of that body to the dais floor, the witnessing of the life quickly bleeding out of someone in the final throes of death, and then the eerie flashing in synchronization of the arena's scoreboard's, four-word message: EVERYTHING IS A GIFT!
The next day most of the local newspapers shared the same headline: EVERYTHING IS A GIFT! Below the headline was an edited G-rated version of the photo of Ralston Jeffers dead on the stage but was from an angle that neither the torn, destroyed flesh nor the many pints of blood that had bled out from it were visible. All one could kind of make out in the picture was Jeffers' crumpled corpse. Only one tabloid, in order to peddle more papers, sunk low enough to run with: HOT HOLY MONKEY LOVE!
What the publications did unanimously agree upon was local police had not a clue as to the identity of the shooter or a motive for the public execution. When Emmett Wiley finally came out from under the cloud of the sedatives he was given after enduring the massive shock of watching his friend and boss die before his eyes, and had recovered enough to be interviewed by both police and press, was that he had no idea of what the message was that RJ almost shared with the world. Nor did he know who had taken control of the facility's huge electronic message boards.
During those repeated interviews Mr. Wiley consistently claimed that with the exception of the first sentence Mr. Jeffers spoke to the audience on the last night of his life, he was unsure of what his employer was talking about, much less than where it was leading. The tour manager swore that in past appearances Ralston had never used the phrase, "Everything is a gift." And still to this very day what happened that night remains a mystery—and those who heard about the incident still remain mystified.
June 9, 2021
---
~ My Long Overdue Letter to Me ~
Dear Self,
Long time no see (LOL). I keep bumping into you in the bathroom mirror, but it seems like we never get the opportunity to talk anymore. How have you been?
Me? Well first off, I want to apologize for not having taken better care of you these last six decades or so. Really could have done a better job of that, especially with brushing and flossing our teeth more when we were both younger. But hey, we're all only human, and in my defense, my "Hot-Doc" (the one who I love the way she always enters the examination room like some Victoria's Secret model strutting down the catwalk—ooh-la-la…) has diagnosed me as being afflicted by what scientist and medical professionals like her term chronic laziness. So, who's really to blame here?
I'm sure you've noticed that we've now gotten really, really old, haven't we? And which probably comes as, as much of a surprise to you as it does to me. Because during those early morning meetings in the mirror, where admittedly we each always expect that long-gone youthful sixteen-year-old kid to be the one reflecting back at us from the ol' looking glass, then when it's not we're both rather startled by our present appearance. Plus, neither you nor I ever bet on, or planned, that we'd live this long. Guess you could say we've gotten older—although—regrettably no wiser. But then on the upside; a life sentence in prison would no longer be much of a deterrent anymore if either of us had a master crime in mind, right old man?
There was something else I wanted to tell you, but it just slipped my mind. Has that been happening to you as much as it's been happening to me lately? LOL! I've lost count of how many times of late I've gotten up to get something or do something, then as soon as I'm on my way to it I forget what I was going for. Or asking a question of someone only to be told I've asked that and had received their response earlier. And don't get me started on the déjà-vu-like experience of seeing a TV show or film, then in the middle of it occurs to me I've already seen it, but have the little-to-no recollection of viewing it previously. In addition, I now not only write out lists in the morning of the things I want to get done during the day but also need to sort out my daily doses of meds and vitamins into my weekly pill organizer least I neglect to take them, or at worse, will double dose and take them twice. It'd be embarrassing if it wasn't so funny. Oh well, at least we can still laugh at these awkward inconveniences borne as one of the many burdens by us aging antiquated antiques.
Then there are the words. You know, I still write a lot (at least a few lines or more every day, if I can), but oft times I'll look at the words I've written confused and wondered if I've arranged them in an order that really communicates the meaning I'm trying to convey to the reader. Sometimes, while staring at what I've written, it feels as if my head's about to start spinning because of my current uncertainty regarding spelling, syntax, and grammatical structure in areas of written composition which I once felt abundant confidence in producing. Please don't get me wrong; I appreciate the fact the fates still allow me to get out of bed, albeit with a set of new aches and pains each morning, to play for yet another day. After all, it sure beats the grave alternative, doesn't it? Okay, Self, got to get to the grind of earning a living. But before I go, I just want to say, "After sixty-some years this may be as good as it gets, but let's keep getting it good for as long as we Earthly can. Later, my friend!"
June 2, 2021
---
~ A Dog Named Shark ~
Years ago, when I still lived in East Hampton, New York, I met a neighbor. As we got to know each other we began to socialize with one another on a regular basis over the summer. What began as borrowed cups of sugar, flour, or coffee, turned into occasional drinks at each other's homes, and eventually grew to invitations to our neighborly backyard barbeques. As she accepted my first cookout invite, she asked, "Do you mind if my dog comes too?"
"Of course not: To be honest with you, I get along with dogs and cats better than I do with most humans I've met! You're both welcome, so why don't the two of you show up at my place around seven this evening and we'll throw some food on the fire for everyone. By the way, what's your dog's name?"
"Shark"
"Shark??
"Yep, I named him shark."
And I just let it go at that.
At a few minutes past seven as I was igniting the charcoal in the grill, Zooey, my neighbor, and Shark her dog, had made their way from their house to my backyard. After a few neighborly hugs, Zooey handed me a bottle of chilled white wine she had brought along for the alfresco dining occasion, which I promptly opened and poured each of us a glass. Doing my best to be a good host I had also returned from my house not only with the glasses of wine for us bipeds but also a bowl of water for her quadruped companion.
As we humans sat in lawn chairs, sipping our Sauvignon Blanc, Shark took a seat next to Zooey's and began to study me. His stare rarely veered from where I sat as we drank, threw some chicken, potatoes, and corn on the BBQ, and chatted away as the summer sun sunk lower in the cloudless evening sky. In fact, just about the only time Shark looked away from me was after I had placed a plate of chicken before him that I had considerately filleted and cut up for the dog.
For a moment the animal remained motionless. Shark then looked down at the plate of food, then at me, and finally up at Zooey, who told him "That's okay, Shark, you can eat now."
I was impressed. Shark was not only well behaved but he appeared to possess good manners too. The only other time Shark looked away from me was when he twice had to make a trip to the shrubbery that separated our yards to relieve himself in privacy. He may have only been a midsized non-pedigree mongrel my neighbor had picked up at a rescue shelter (or so I was informed of later) but he certainly knew how to conduct himself like a gentleman in mixed company.
When the meal and the wine were finished the neighbor assisting me in the clean-up process told me she'd let me know the next time she would be cooking outside and that I'd of course be invited. Then she and her pet returned to their home. It wasn't until a few late mornings later that we bumped into each other again while we were both puttering about our respective front yards. Her mixed breed was at her side. A place he seldom seemed to want to leave. After the exchange of the obligatory neighborly salutations, I asked her, "What's the back-story behind your puppy's name? Why'd you call him Shark?"
With a pixyish look of mischievousness on her tanned face, Zooey simply responded, "Are you busy doing anything urgently important right now?"
"No, not really, what did you have in mind?"
"Follow us," was all she said.
I may not have already mentioned it but our houses out here in The Hamptons were within walking distance of the public beach. So, the three of us left our homes with me walking on the roadside of the sidewalk (see, Shark wasn't the only gentleman in our little trio) that eventually became a sandy shoulder pathway, Zooey flanked in the middle, and Shark walking alongside her to the right. By the time we reached the shore, it was almost noon, and boy, was it ever hot outside! Now standing where the sand met the tarred surface of the already nearly full public parking lot, I could see that while the beach was crowded with most sunbathers on towels and folding outdoor furniture, there were several dozen or so swimmers in the choppy waves.
"Go ahead, Sharky, you can go play now," Zooey told the mutt.
And with her permission, he tore off running and kicking up small clouds of sand along the way. Up and down the shoreline the beast frolicked and played with hardly anyone paying any attention to him. By this time, he now had even dashed into the shallow ocean coastline to chase receding waves of water and was then chased back to dry land by the incoming ones, barking happily as the game played out. Not being sure where all of this was going, I had to ask, "How does any of this explain why you named your little buddy as you did?"
Turning in my direction Zooey gave me a covert co-conspiratorial wink of one of her dazzling green eyes then whispered, "Watch and listen!"
Cupping her hands along the sides of her mouth in order to amplify her voice Zooey began calling the dog's name over and over again, "Shark, Shark, get out of the water now, Shark!"
In my entire life, I'd never seen so many people exit the water as quickly as I did on that day. Those closest to land were out of the ocean in a blink of an eye and waving in the swimmers who were farther out to sea. A couple of them even echoed the pet owner's original cry of "Shark, Shark, get out of the water now, Shark!" Those bobbing in the briny deep blue who were within earshot raced to shore as if they were being pursued by, well, some hungry shark.
While this addition of those on the water's edge shouting his name may have momentarily befuddled and confused the dog named Shark, he nonetheless ran to obediently return, at the sound of his master's command, to Zooey's side. He was, after all, a very good dog, a very, very, good, good dog. Although we were both cracking up with maniacal laughter, we wordlessly decided it was best to leave now lest we be revealed as the ones who had just innocently instigated a false shark alarm.
My appreciation of Zooey's sense of sardonic humor, as well as Zooey in general, rose by several degrees after that little exhibition. Throughout the remainder of that summer, the three of us shared multiple neighborly visits, many bottles of wine, plentiful pounds of great food cooked out on the grill, and most importantly of all, lots of laughs. And every now and then, the three of us would return to the beach to play Shark's and Zooey's favorite beach time prank.
May 26, 2021
---
~

Story Time

~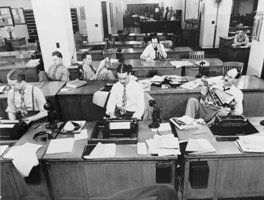 If you've ever met me then there's the likelihood you may have ended up in one of my many stories. Like, for example; my ex-wives, ex-girlfriends, nearly forgotten family or friends, my Hot-Doc (no one enters an examination room looking and dressed like some Victoria's Secret model strutting her stuff down the catwalk better than she), Su-10 my barstool buddy and now tablemate, Ray my account, Pasquale my landlord, the Court Street Bar and Restaurant crew, some of my former guitar students, business colleagues or associates, dead pets, Hobohemia—which is my beloved and newly named adopted hometown, a few of the Madd Hatter maidens (who provide, in my humble opinion, the best beer, burgers, and boobs as they kindly serve up and share their abundantly visible cleavage with customers), neighbors I've come in contact with, and the list goes on, and on, and on…
Even if you haven't made an appearance as one of the plentiful protagonists in a tale there's a good chance you've at least appeared in a cameo capacity. Why? Because frankly, most of you fascinate me to no end. The odds are equal as to whether I completely changed your name when I mentioned you, or came up with some cleverly coded pseudonym based on your real name, to protect your identity. That's one of the dangers of knowing a writer.
While I enjoy writing about what I know I'm often eager to write about the things I don't. What's the point of writing about only what you know? By pushing the existing boundaries in regard to the limitation of your existing knowledge you're learning how to teach yourself new things about the world you live in. How come? Well, I believe it's a very, very interesting world indeed. This is why I feel telling a writer to stick with writing what they know is the worst possible advice to share with a scribbler.
Now, not wanting anyone to feel left out if you haven't appeared in any of the books, stories, or songs I've written, and you do want to be included, then just let me know. I'm easy to find and easy to reach. Just mail me $5.00 USD (cash only—no refunds or credits) and will write you into a tale ASAP. I can't say this inclusion will guarantee any more fame or fortune than that which you've already achieved on your own, but by me writing it and you reading it may keep us both mildly amused on a rainy day. Yes, and unless one tries, one never knows, does one?
May 19, 2021
---
~

Please Don't Judge Me (or Turning Rain into Rainbows)

~
I find it difficult to remember any room in my mother's old house where at least several pairs of Jesus's eyes weren't always staring down upon me from the walls of her home. In fact, if I recall correctly, she even owned one of those 3-D pictures that created the illusion of his eyes following you to whatever part of the room you'd moved. I do believe that one was one of the four she had hanging in the bathroom, and ironically, the only one in the entire house where Christ was nailed to the cross.
Now, please don't judge me. I love my mother. It's just that…
I'm often confused by people who are so sure of themselves they can see no other point of view than their own and usually are blinded by the misconstrued illusion of positive self-approval, self-righteousness, and entitlement. Narcissism is a look that wears thin in a relatively short period of time on all but a few, and on those who it doesn't, they often become too hideous to gaze upon for too long. And that is, in itself, the conundrum.
Now please don't judge me. I love a good conundrum as well as the next guy. It's just that…
People are always going around saying things and rattling off platitudes like, "When Life Gives You Lemons—Make Lemonade". I get it; the idea that if something negative occurs, you should dig down deeper inside yourself and you'll eventually dig down far enough to find something positive. I get it. It's just there are some days when a soul feels like they've been laying in their grave so long and where they've hit rock bottom, thus there's no deeper a soul can realistically dig.
Now, please don't judge me. I love a deep dig as good as the next person. It's just that…
Why has no one ever coined the phrase, "When Life Gives You Rain—Make Rainbows"? I love my mother, a good conundrum, I try to dig as deep as I can, and most times I even look for the rainbows after it rains. This makes me think back to one of the four pictures of Jesus, the only one where he's hanging from a cross that my mom had hanging in the bathroom of her old house, you know, the one I already told you about where you felt like his eyes were always following you wherever you went? Well, maybe his eyes weren't really looking at you—maybe he was just searching for the rainbow—same as us. Perhaps Christ regretted, if only for a moment and if only in a tiny way, a life squandered changing water into wine while instead he simply should've been dedicating more of the precious, little time he had in this world toward turning rain into rainbows.
Now please don't judge me. It's just that…
May 12, 2021
---
~ Keep Doing You ~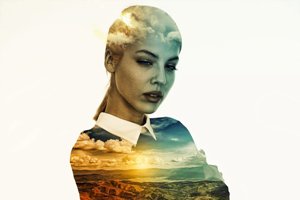 Standing in front of me in a dress I'd never seen her wear, Chris, my wife, asked, "Does this make me look fat."
Being an old hand at fielding such questions I responded, "No dear, you look more lovely than usual, which one would think, in and of itself, was an impossibility!"
Letting out a peal of girlish laughter, the kind of laugh that had been one of the many things I found so attractive about her, my wife leaned in to kiss my cheek but faded away before she could. Hey, when she's happy I'm happy! It had been a little over a year since Chris had died from cancer, and there's not a day that her ghost does not appear before me. Typically, she'll ask me or tell me something we'd spoken about when she was still alive. I miss my wife.
Yesterday when she had paid another visit Chris began by telling me, "You know it's been a while since we had the Schantzes over for dinner. You should call Gus and invite him and Lorraine over to the house this Friday."
"What, you want to try killing them with your cooking again?" I teased. Chris was never much of a cook, although she did tirelessly try. It was just that pots and pans were not her best friends and ovens and burners must've had it out for her because she not only burned the food but would inevitably finish cooking whatever she attempted to cook with a new burn or blister somewhere on her hands or arms.
Again, she laughed, then said "But if you don't mind, please don't open a bottle of wine. You know how Lorraine gets after a few glasses."
"Not a problem, my love—your presence is always intoxicating enough for me…" I replied. This was true (and I know it's corny) because I liked just about everything about my predeceased spouse. And once more, like yesterday and all the days since my wife passed away, she faded from existence before having the time to plant another one of her wonderful kisses on my always ready-to-be-kissed-by-her cheek.
I not only hated that she was dead and gone but that when her apparition returned for these all too short visits it would only stay for seconds. And there was so much I wanted to tell her before she'd fade away again, and that I should've told her while she was still alive; so, so, so very much. Sure, I use to tell my wife how much I loved her and how much I cared, it was I just never took the time while we both had it, to tell her, as simply as I could, the meaning of having her in my life each day.
I should've told her while she was alive, and during these frustratingly limited visits, all the things I neglected during the all too short span of her life with me. But there just never seemed to be enough time to put into words and spit it out for her to hear. I wasted so much of that time cracking jokes and trying to make her laugh, or spent too much time talking about things that, when I now look back, just didn't really matter. I never found the way to tell her—that is until today—just how much she meant to me.
So, here's the plan. The next time her ghost visits me I want to say to Chris the most important three words I've ever spoken to anyone at any time. Some won't understand the significance of the phrase I plan to say. That's okay because I know she'll get the message behind that trio of words when I share them: keep doing you. I just need to be sure Chris hears them before her spirit fades forever.
May 5, 2021
---
~

Father Tomassi's Wet Dream

~
No! It had happened yet again! As he slowly awoke from the deep sleep, Father Tomassi first felt fear, next anger, and then the waves of shame as he sensed the warm wetness through his pajamas and on the bedsheets. This was the third time this month and the month still had almost two weeks left in it. He tried not to recall the dream that had caused yet another unwanted nocturnal ejaculation but he knew deep down that it was the one that had been plaguing him since adolescence: the one about his junior high school teacher. The dream he hid in embarrassment from the world most of his life. But it was also the one that had led him toward the road to becoming a priest.
Tomassi rose from his wet bed, grabbed a fresh pair of pajamas, and headed into the bathroom to clean and change. "Why does this keep on happening?" he asked The Lord. And as usual, The Lord did not offer a reply to the question he'd asked. God may work in mysterious ways, but in Tomassi's experience, He wasn't such a talkative fellow. In fact, much to his consternation, he'd never ever heard the sound of His voice.
"Heavenly Father, is there a reason for this insufferable occurrence? Is this a part of your plan for me?" Again, the clergyman heard nothing but the sound of running water as he removed the wet pajamas, placing them in the empty bathtub to deal with in the morning, then quickly washed and cleaned the stickiness from his now naked self. "If you're not going to talk to me, couldn't you at least give me some kind of sign?"
Then the bathroom light bulb went dark!
The lights in the hallway and Father Tomassi's bedroom were still lit, so he knew there hadn't simply been a power outage in the neighborhood. Indeed, perhaps this was the way The Almighty was giving him a sign. But what did this sign mean? Feeling around for a towel in the dark the man of God found one to dry himself with. Once dry he wiggled his way into the fresh pair of pajamas he'd carried into the washroom from his bedroom. Upon leaving the restroom Tomassi, out of force of habit, almost flicked the light switch to the OFF position even though the light was already off, but thought to himself if it's already off then why bother.
"What are you trying to tell me, Lord? Am I to interpret this sign to mean that this dream and its undesired sexual climax occur because I'm living with darkness in my soul? Is that what you're trying to tell me?" he inquired as he traveled the short distance through the hall back to his bedroom where he stripped the soggy covers from his bed and replaced them with a set of fresh, dry cotton sheets. When the bed was remade, the puzzled cleric turned off the remaining lights that were still on and climbed back into the sack. Once again not a peep from the deity he piously served and worshipped.
Laying his head again upon the pillow the preacher pondered, "If there is a darkness dwelling within my soul, how am I to go about replacing it with your light? Hail Mary full of Grace, The Lord is with thee. Blessed art thou amongst women and blessed is the fruit of thy womb, Jesus. Holy Mary, Mother of God, pray for us sinners, now and at the hour of our death. Amen." the rector hurriedly muttered for good measure.
At the exact moment, he came to the conclusion of the Hail Mary prayer the bathroom light went back on!
Believing that a little experiment was now in order, he repeated, "Hail Mary full of Grace, The Lord is with thee. Blessed art thou amongst women and blessed is the fruit of thy womb, Jesus. Holy Mary, Mother of God, pray for us sinners, now and at the hour of our death. Amen." But nothing changed as the light from the lavatory remained on, so the man of the cloth prayed anew, "Hail Mary full of Grace, The Lord is with thee. Blessed art thou amongst women and blessed is the fruit of thy womb, Jesus. Holy Mary, Mother of God, pray for us sinners, now and at the hour of our death. Amen."
Getting out of bed another time the holy man embarked on the journey through the hallway to the water closet, flicked the light switch to the OFF position, and then back again to bed. Along the return trip he stubbed the big toe of his left foot on something and in a combination of pain and frustration began to utter an angry curse, "Godda…", but before he could fully use his creator's name in vain, he regained composure and said instead, "Oh Jiminy Christmas!" in a bemused whisper.
Perchance the signs that God had given him were more a lesson than a message. Had his maker just taught him that instead of needing the understanding of why one must endure the trials one is tested with that one should embrace them as teachings? The take-away lesson may be that there are parts of his master's plan he's neither entitled to nor needs to understand. What an ecclesiastic soul must do is accept what obstacles the Holy Spirit places before them, then employ these obstructions as a method to improve one's own self. That was it—acceptance!
Back in bed one more time Father Tomassi turned off the lamp on the bedside table and tried to return to sleep, thinking, well, if that's what the King of Kings wants from us, I imagine that's what we should want for ourselves then. The last thought the padre could remember prior to falling back to sleep to dream anon was, our Father who art in heaven, I have accepted what you wanted me to learn, so please by your good grace prevent me from dreaming that horrid dream and soiling myself again. Please Heavenly Father, your humble servant only owns but two pairs of pajamas! Amen. He just hoped and prayed he could get through the rest of the night without another accident.
And with that, Father Tomassi returned to a state of restless and fitful slumber, blissfully unaware that the light in the bathroom had flickered back to life anew.
April 28, 2021
---
~ TBD (As Time Goes By) ~
You must remember this; a kiss is still a…
"You know you can kiss me if you wanna?"
"Yeah," he replied before walking away, "I do."
Confused as she now lowered her cloth face mask, she questioned while following him, "What?"
"I know I can kiss you."
"And…"
"Well, isn't that what you wanted to know?"
"I don't know anymore, do you?"
"What?"
"Wait a minute!"
"What??"
"So?"
"So, what?"
"Do you wanna?"
"Oh, Jesus Christ! Do you just want me to kiss you?"
"Do you?"
Spinning back around to face her, and taking a few moments to think it over, he answered, "What if we just wait and kiss tomorrow?"
"Well, how do I even know if I'd still wanna kiss you tomorrow?"
"Are you saying there's a shelf-life expiration date on this kiss you want?"
"I didn't say I wanted a kiss. I only wanna let you know that if you were thinking about kissing me and wasn't sure how I'd feel about you trying to kiss me, that just to take some of the pressure and uncertainty out of it for you of not knowing, I figured it was better to simply let you know that you could and that I'd be okay with it, even if you didn't do a very good job of kissing me."
"Hold on now! You think I'm not a good kisser?"
"I don't know! And I won't know until we kiss, but it looks like that's not ever going to happen now. I wasn't even going to say anything, but I got my second Moderna vaccination shot today on the off-chance you were finally going to take this whatever-we-have to the next level of this-is-where-we're-going and kiss me tonight."
Partially to settle the argument and partially to merely shut her up (or so he may have told himself), he lowered his own cloth face mask before gently drawing her into his arms, met her soft lips with his own, and then tenderly planted a long, slow kiss upon those lips. And as if engaged in a choreographed pas de deux dance of love, and in perfect unison, their mouths opened, tongues darted forth, and the unpaired pair kissed for the first time.
"So, did I make the grade when it came to kissing you?"
"I don't know," was the reply as she readjusted her face mask in its original position.
"How can you not know? Did your mind wander somewhere else while we were kissing? Or, was the kiss so bad you immediately erased it from your memory?"
Turning from him, the woman began to walk away as she said, "What if we just wait and I'll let you know tomorrow?"
"What?" the man asked, "Well, how do I even know if I'd still want your answer tomorrow?"
"Are you saying there's some sort of a shelf-life expiration date on the answer you want?"
"No, I guess not."
Taking a few more steps away from him while lowering her mask again, then turning back with a playful Mona Lisa smile pasted on her flushed face she paused for a brief time before demurely telling him, "Alright then. Hey, you know you can kiss me again if you wanna, so you can—you know—find out sooner than tomorrow what the answer is?"
It was, after all, the age of the Coronavirus, wherewith the new norm even a kiss was no longer just a kiss, or a sigh just a sigh. And that, no one can deny. Thus, with a heart full of passion he'd concluded that he was done with talking, and set about to kissing her again, and again, and again…
April 21, 2021
---
~ Want Is a Cruel, Cruel Mistress ~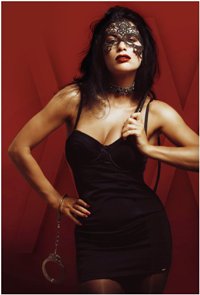 Want. She handcuffs me to the bed then tortures me with temptation before forcing me to say it again, "I want this, and I want that, and I want most of all what I can't have." Her cat o' nine tails whip and flails my naked flesh as she laughs out loud with every lash, each time she repeatedly tells me that I can't have whatever it was I wanted and pleaded for. Disgust permeates my very soul as she pushes the often-sucked toe of a dirty, stiletto-heeled thigh-high boot between my lips until it's inside my mouth and orders me to lick clean and worship the leather-clad foot. Slave-like shame washes over me while being abused, victimized, and violated over and over and over again by my mistress. Her name is Want, and Want is a cruel mistress.
"Say it again, you slimy little slug!" Want commands.
"Oh, mistress, I want this, and I want that, and what I can't have I want most of all."
"Say it again!"
"I want this, and I want that, and I want most of all what I can't have."
"Now say it like the helpless little boy you are."
"Me want w' is, me want w' at, me want wha' a bad wittle boy can't have, mistress"
Cackling in glee as she increases the intensity of my punishment and the nine tails of the cat cut, slice, and lacerate my bare, reddening crimson skin, Want holds back nothing while she does her worse to my bound body. My cries are unheard by her as my tears stream unseen down my cheeks, tears that will be dried by no one. There are no words that are adequate or fit to describe the ceaseless pain that Want inflicts upon me during our all too frequent sessions of bondage, flagellation, and humiliation.
As quickly as the flogging had begun, Want now drops the handle of the knotted thongs of her plaited rawhide flogger to the floor, commences to un-cuff me from my bed, then announces, "Okay, our time's up, sweetie."
Slowly, I struggle to sit upright on the mattress she had me bound to and begin to use both hands in an attempt to assist in the unblocking of the partially blocked blood circulation caused by the metal manacles that had only moments earlier been locked too tightly around my wrists and ankles.
"Wow, I always lose track of time when we're together."
"Yeah, I have that effect on a lot of people, sweetie."
"I left the money for your services on the table, mistress."
"You know what? Tonight, this one's on me. You're one of my best customers so there's no charge for the session this evening."
"Oh, thank you, mistress, you're too kind and I just want…" I never get a chance to finish the sentence, because Want hauls off with a shiny, latex-gloved hand to slap my face so hard that I'm knocked backward on the bed again.
"Shut up, silence slave!"
"Yes mistress," I foolishly respond, and again her gloved hand strikes me for my insubordination and disobedience.
"So, same time tomorrow night, sweetie?", Want wants to know after planting a quick kiss on my tearstained cheek and before departing to go wherever she always goes next after leaving me.
Having learned my lesson only a few seconds ago I timidly nod my head in wordless affirmation. The difference between getting what you want versus having what you need is a measure of wisdom, and often I'm unwise. I know I'll spend my hours between now awaiting her arrival tomorrow, and then for all the tomorrows thereafter, to repeat our sadistic ritual again and again. Thus, I accept that I'm too powerless, too unworthy, and too weak to turn her away, when I next hear Want knocking upon my door. Want is a cruel, cruel mistress.
April 14, 2021
---
~ Cheerios & Chewing Gum ~
Some things just don't go together, like Chinese food and cheese. No thank you, I believe I'll skip General Tso's chicken parmesan today. Cheerios and chewing gum may both belong in your mouth, just not at the same time, please. Ketchup and peanut butter should not even appear in the same sentence with one another much less than slathered together on slices of bread. And please don't even get me started on the inhumanity of being served white wine with my prime rib. What are we, animals?
Other things that should never concur concurrently would be watching TV with closed eyes. You'll never know what you were missing. Listening to radio with the volume set to zero is no way to hear the latest hits, news, and weather, whether you care about those things or not. Or, don't hold a big chunk of sodium while taking a refreshing shower, because the chemical reaction that would ensue could surely do more than just blow your mind. Not that I've tried that last one, it's simply I heard of a friend who had a friend who had this other friend who knew someone that had the misfortune of making the mistake of handling that highly reactive element, listed as the 11th within the atomic periodical table, while bathing. Live and learn, some may say, learn and live, others may conclude.
Of course, I could go on with examples of ill-advised pairing but I instead choose to digress and provide evidence of matches made in heaven: such as salted pretzels with a cold beer. Let me ask you something, how often do you get a chance while consuming food and beverage to not only heighten your blood pressure level as you pickle your liver at the same time? Pretty amazing, isn't it? Then there's always the very fitting hand in the glove. And that's pretty much all I've got.
You see, it's always easier to find what doesn't work together than what does because the latter takes more work. Yet when you make the effort to find the reason why things can complement one another you'll also find that's usually more rewarding than finding reasons for why certain people and things shouldn't commingle. I guess what I'm trying to say is that most of us can figure out how to go either way. It's our choice––so choose wisely, my friends, ever so wisely.
April 7, 2021
---
~ Just another Easter Sunday on Easter Island ~
"Hey! How's it going? My name is Tu'u ko Iho. I am one of an estimated nearly 1000 moai that were hand-carved from stone by the Rapa Nui people over 500 years ago. Our actual number, as concluded by a recent moai self-headcount, is closer to 887. My deep elliptical eye sockets, which were crafted by the native Rapa Nui, held eyes made of coral that they extracted from the southeastern Pacific Ocean, and possessed pupils formed from either red scoria or black obsidian volcanic rocks. They stare stoically over the island toward the coast, and throughout my many, many years have seen many, many changes. Much of what I have seen has filled my stone-cold heart with lamenting and sadness.
"My name, Tu'u ko Iho, was the name of the captain of the crew that chief Hotu Matu'a led when their two-canoe expedition from Marae Toe Hau arrived on my island. Personally, I never liked that name and would have preferred to have been named Bob or Sam or Tim, but few may name themselves, so most must bear the moniker others have dubbed them. Oh well, what'cha gonna do? At least they didn't name me Seymour or Cornelius or Stewart or something even worse. My moai friends here just call me T. K.
"Somewhere around the year humans count as 1200 AD/CE, Hotu Matu'a was fleeing from a neighboring chief on Marae Toe Hau who had some big bug up his butt about one thing or another, and after having had his own butt kicked 7 ways from Sunday in battles by the other said chief. So, while Hotu Matu'a may not have been much of a warrior, I guess you would say he was at least a decent enough explorer of unknown worlds. Honestly, I never met the man, so what I've just shared with you comes from chit-chatting with my other moai stony brethren here (hey, it helps pass the time) on Easter Island. Anyway, it was after the Rapa Nui settlers got settled in, they whipped out their stone cutting tools, hammered and chipped away, and carved all of us.
"Today is Easter Sunday, and that's a pretty big day here for us on Easter Island. On April 5th, which was an Easter Sunday in the year you folks call 1722 AD/CE, the first European arrived. He was a Dutch dude named Jacob Roggeveen. Roggeveen proceeded to wound and kill about a dozen humans like him who then currently inhabited the island. Many could say that Jacob was one of those guests-from-hell. Me? From what I've witnessed with my very own eyes over the years I'd say he was just another human being that was being a human being. Admittedly, he was also the one responsible for the then newly adopted name for our island, so go figure…
"Thereafter many came and went; the Captain Don Felipe Gonzalez de Ahedo from Spain in 1770, then 1774 marked the arrival of a British explorer known as James Cook (yeah right, as if that was really his real name!), French Admiral Jean François de Galaup, comte de Lapérouse, came here around 1776, and a lot more followed after them. They were as impossible to get rid of as what the Māori natives called the kiore, also known as Polynesian rats. Once you got'em you got'em for good, or at least so it seems.
"During the 19th century, a bunch of Peruvians paid us a visit. Turns out they were slave raiders and abduction was their game. We moai were not too bothered by them, but oy vey! more than half of the island's people population were not so lucky. Some, who were enslaved and later repatriated, when returned were smallpox carriers as it turns out. Later on, as if that wasn't bad enough, visiting missionaries and some sailors from whaling ships introduced the islanders to tuberculosis, which killed around a quarter of the remaining inhabitants. Maybe those missionaries who were sharing more than just their religion with the natives were simply fulfilling their mission of introducing the locals to God, albeit quicker than one would want, but who am I to say? Oh yeah, I'm Tu'u ko Iho, remember?
"One may wonder what they'd do after they had such a negative impact on others. But another Frenchman, Jean-Baptiste Onésime Dutrou-Bornier, bought up most of the workable land on the island at bargain prices. After a bit more of this, that, and the other, only 111 living Rapa Nui remained on Easter Island. If you bother to do the math, it meant that over 97% of the natives had been decimated in less than a single decade. Chile, in 1888 annexed the country that once belonged to the Rapa Nui people with some treaty, and we all know how treaties usually work out for the natives, don't we? Yeah, right.
"Do you like knock-knock jokes? Alright, knock-knock! Who's there? It's the 20th century. The 20th century who? The 20th century, who then icily introduced the surviving Rapa Nui islanders to the hard, cold concept of private property ownership. Now you may ask who then owned this private property, and you can bet dollars to doughnuts that it wasn't the indigenous Rapa Nui. Oh no, it was now controlled by the Scottish-owned Williamson-Balfour Company, and managed by the Chilean Navy. After the Chileans annexed the island the Rapa Nui people were decreed Chilean citizens (wow—big whoop). By the beginning of the 21st century, illegal fishing by foreign entities had depleted the supply of fish that once fed the families of the indigenous Rapa Nui.
"I know this is a very sad story, and if my elliptically shaped eyes were not merely pieces of coral with puny pupils of black obsidian or red scoria, I would probably cry tears of sorrow. But being made of stone, I simply cannot. Yet still, deep within me, my stone-cold heart aches in woe. Have any of you ever heard tales of any boulders inflicting on any other boulders the inhuman pain and cruelty my unblinking eyes have had to watch all these centuries? My moai friends and family certainly have not. Did you just hear that loud cracking sound coming from all across Easter Island? It was just the sound of all our stone hearts breaking in unison for you.
"Anywho, today is another Easter Sunday on Easter Island. And this is Tu'u ko Iho, your brokenhearted moai pal and good buddy saying happy Easter to everyone. Maybe one day you may want to come by and pay us a visit here on Easter Island. Then on second thought, maybe that's not such a hot idea.
"So, I'm off now to band practice with a few of my more musically talented moai friends. Bet you can't guess what name we came up with for the group: T. K. and the Talking Heads, and we're a hard rock band, of course. May I leave you with a few flyers for our next gig that you can share with some of your friends? Okay, later!!!!"
March 31, 2021
---
~

Smell the Coffee

~
Have you ever heard some say that they'll sleep when they're dead? Well, I just hope if when we do, that we can just keep on dreaming. Because I'm living the dream, yeah baby, living the dream every morning when I wake up and smell the coffee. No, I mean literally. For the past several months, after grinding beans purchased from The Empire Coffee & Tea Company at 338 Bloomfield Street, in my Cuisinart Automatic Grind & Brew™ appliance, flicking the switch that fills the room with the satisfying sound of them loudly being ground into a coarse powder that hot water soaks as it drips through the grinds in the filter, and then to the pot that sits below, I eagerly await and anticipate the first taste of my one and only daily cup (actually I use a mug) of morning coffee. But before that first sip, I take a moment to lower my head toward the steaming black liquid, inhale deeply, and smell the coffee.
It's an exhilarating experience. Particularly the French Roast, as it provides the most robust bouquet. The sum total of preparing, anticipating, smelling, then tasting the hot brew is nothing short of an eye-opener. For years I've heard that I should take the time in life to stop and smell the coffee—and for years I have neglected to do so. Such a simple, yet wonderful, pleasure! Try it; I hardily encourage you to do so. Here's another tip I'll share with you: since the first day I began this little ritual it's only gotten better and better—more enjoyable—with each coffee-scented breath I take. Plus, you'll finally understand what those coffee sniffers were telling us all along. Now that's an added payout.
Simple pleasures, indeed, are what make my life a dream. It's not the monumental, or the milestone, as much as it's the ability to appreciate the basic blessing of being able to roll out of bed another day and play. Now that's what I'm talking about, compadres, exactly what I'm talking about; it hits the nail smack-dab on the head. That essence permeates all that is. It is what it is: sheer Nirvana in a mug.
Sure, I know there are more than just simple pleasures that allow me to live my dream, but for my money complexity is necessary at times, but vastly overrated. There are those who'll promise you "satisfaction guaranteed", but I'll tell you if you really want satisfaction then it's up to you to be satisfied. In other words, it isn't just what happens but the way you perceive what's happening. And if you wish to live the dream then altering your perception of events in order to see some positivity in most things, then you'd be a fool not to. It's really that simple.
Call me an optimist, call me a dreamer, call me an Uber™, but just don't call me late for dinner, as the saying goes. We all possess the often-unused talent of adjusting how we see the world around us to find the joy of our existence. No, it's not being deluded or naïve; it's taking that stick out of your butt that's making you so unhappy, and then using it to feed the flame that provides warmth to the human condition. So please, when you get up tomorrow morning take a few seconds to stop and smell the coffee. You'll be glad that you did, because if you haven't been already doing it, then much to your delight you too will be living the dream. And in the end, that's all really up to you.
March 24, 2021
---
~

A Saint Patrick's Day Green Snake Story

~
"To Seamus!" all the Irish diaspora who were drinking their heavy, dark Guinness stouts and green colored beers on Saint Patrick's Day at The Blarney Stone Pub, located somewhere in the West 30s neighborhood within the canyons of New York City, loudly toasted. "To Seamus O'Malley and his sorry Saint Patrick's Day snake bitten arse!" another patron of the pub proclaimed and which elicited gales of laughter from the other Gaelic guzzlers packed wall-to-wall inside The Blarney Stone.
"To me sorry Saint Patrick's Day snake bitten arse!" O'Malley chimed in as he raised his pint of green lager toward the crowd.
"Seamus, tell us the tale again, lad. Tell us again how ye managed to get ye arse bit on Saint Patrick's Day in a manky Irish airport, nonetheless," demanded the heavyset, handlebar mustachioed barkeep.
Drawing a long sip from a cool glass of beer held firmly in hand before recanting the now legendary saga that he'd retold time and time again on Saint Patrick's Day for the last dozen or so years since his arrival in America, O'Malley prepared himself for what had now become an annual ritual. America, which could hardly be called the New World any longer, was where he and his wife, Maggie, now called home. What began as a sip ended as a gulp as he drained the last of the bitter green draft from the vessel in which it had, mere moments before, been filled up to the brim. Clearing his throat and then pausing for several seconds in order to create a dramatic effect, Seamus O'Malley launched into the retelling.
"Well, lads, as ye all know, way back somewhere about the 4th or 5th-century, our country's patron saint, Saint Patrick, came into, then passed out of this world. 'Tis believed he had been born in what was then known as Roman Britain and that while a teenager was kidnapped by Irish raiders as the moon looked down, high above in the sky like a watchful eye, and carried off as a slave to our beloved Emerald Isle. 'Twas there he worked for six years or thereabout, as a shepherd, and 'twas during that time he found, or some say was found by, God. God told Patrick to run away to the coast, as a ship would be awaiting him and take the sheepish lad back home, and whereupon his return, in gratitude, he entered the priesthood.
"Now according to the Declaration, which others have said was written by none other than Saint Patrick himself, the young priest returned to Ireland so as to convert our pagan Paddy arses to Christianity. 'Twas there that he and his converted went head-to-head against the druids, driving them from power. Over the years the tale itself was converted into an Eire allegory of how he drove "the snakes" from our island, albeit the fact that a viper of any kind had never been known to actually inhabit that region of the world."
"Get to the good part about how one bit your Hibernian arse, already!" some fellow drinker implored.
By this time the barkeep had set another pint of lager before O'Malley as he continued. "One of the first lines of employment I undertook, as I was wee a bit of a chancer in those days, and prior to arriving in this country, was working security at Dublin Airport in North County Dublin, near Swords which was slightly outside The Pale." And in response to a mention of those locations murmurs of several ex-patriots could be heard roiling throughout the over-packed saloon in an affirmation of nostalgic recognition.
"Aye, I worked for a spell in one of the two terminals there. Anyway, what I'm about to tell ye all ended up being, as it were, me last day on that job, which coincidentally occurred on Saint Patrick's Day. I'd gotten a call through me walkie-talkie thingamabob to head down to the baggage sorting area office and investigate a mysterious situation. There, one of the baggage handlers, some Indonesian bloke, had already set a large canvas suitcase on a table, and the first thing I noticed is it appeared as if something was moving about and writhing within. So, I asked the handler what the bloody hell was that and was told that was what I was sent there to find out.
"Well, I don't know what I expected, other than to do what I was told, so I put on me latex gloves then slowly unzipped it open. Now before I even had that suit bag all the way opens this large green snake's head slithers out, takes an angry gander me way, and hisses at me like some noisy, broken radiator spitting out steam in the middle of winter. Now it was still early on in the day so I was as sober as a judge. But I imagined if I'd a' had a few in me already and was fully fluthered I'd a' stood me ground and stared him down. But that not being the case I turned about to get away as fast as I could from the viper. A' fore I got more than a step away from it I felt a sharp pain in one of me buttocks at first, 'twas the right one if yous need to know, and then something like some kinda heavy weight was thrashing about off me arse cheek. He'd a' sunk his fangs into it, then was a' holding on to it for dear life, and the bugger wasn't about to let go.
"Me? I thought I was a' dying so was a' screaming at the top of me lungs for help when that baggage handler grabbed that cold-blooded creature by its head, squeezing the sides until it opened its jaws and let go of me rear. Still holding the beast's head with one hand the handler grabbed its tail with his other, calmly walked it over to a recently emptied dumpster, and tossed the serpent into it, then said, 'Don't worry, mate, it's just a lil ol' green tree python. She not poisonous—they even make nice pets if you like that kind of company'. Crikey, little? —that constrictor was at least two meters long—it turns out the 'he' was a 'she' about to lay a clutch of her eggs and give birth to more little eejit monsters of her kind. What a holy show!
"So anyway, one of the DUB airport managers takes me in his car to the nearest hospital, telling me all along the drive to try not to get any of me blood on his upholstery, where they examine me gluteus maximus, clean the wound, bandage me up, and then give me some tetanus shots and a few aspirins for good measure. On the ride back to DUB the manager tells me as long as I sign some form absolving and indemnifying the airport and the entire city of Dublin from any responsibility, they'll give me a very generous severance package and I needn't return to work there ever again. Blimey, it 'twas over a year's full pay and some other goodies, so how could I say no? The Devil be damned, I took that money to get Maggie and me over here to the USA."
At that point, everyone in the pub raised their glasses as they chanted, "USA, USA, USA…"
Once things had quieted down again one of the barmaids working at The Blarney Stone, who he believed was named Siobhan, approached him to ask, "If ye don't mind me asking, do ye know whatever happened to that poor mama snake?"
"Aye, lass, I do indeed. I heard that that baggage handler fished it from the dumpster at the end of his shift and took it home along with him."
"Now why would he do that? Did he keep it as a pet, did he?"
"Pet? Well, no lass, I heard he cut off the head, cooked it up, and served it up along with some fava beans and a fine Chianti for a family dinner that night. Someone even told me once, though they may have been slagging me, that in some countries snake meat is a delicacy. But what do I know? I'm not some kinda fecking herpetologist, am I, darling?"
The barmaid stared back at him in wide-eyed horror as she backed slowly and silently away. O'Malley was pretty sure if she'd been a snake, like that green tree python, she'd a' either sunk her fangs into his neck or constricted her body around his to squeeze the life out of him. But he really didn't know for sure, now did he now? What Seamus did know was as sure as he'd be surely attending Sunday mass with his Maggie this weekend, is that for the remainder of that Saint Patrick's Day night, Siobhan the barmaid did not meet his gaze again and completely ignored Seamus O'Malley every time he tried in vain to catch her eye and order another round. So, boyo, what must a knackered, thirsty chap do in order to get ossified here in the New World on the tail end of the Feast of Saint Patrick, he wondered to himself?
March 17, 2021
---
~

Not the Right Time to Be Right

~
I should've just said nothing. As I spoke I had this vision of pulling the pin from, then tossing, the imaginary grenade that had just popped out of my open mouth. The look of hurt in her sad eyes as a result of my words was devastating. I know to this very day that what I said was right—I guess it's just that—this was not the right time to be right. Should've, would've, could've and the other kit-and-caboodles. Pretty sure we've all traveled down that road a time or two during our lives. IMHO, I've been down it way too many times to not be self-aware enough to not go down it again. Yet here we are and there you have it, my fellow travelers, there you have it all over again and again. What were we all not thinking when we should have been thinking?
So, did I learn my lesson from that one experience? No, I already had learned it beforehand but failed at being disciplined enough to keep myself in check. OMG, sometimes I can be so brutally basic, SMH! Will I do better the next time when I say something that's unquestionably right, yet at the wrong time? Well, I may, and I may not, but I believe I will endeavor to try harder. The person I was speaking to at that time did not deserve to be hurt by those words—no matter how right my own words were. Not in the least. It's depressingly discouraging how often we forget to live by the Golden Rule of doing unto others as we would have others do unto us.
That old saying about sticks and stones breaking bones, but words will never hurt you, is simply not always true. Words can hurt as much as any injury incurred by sticks and stones, and sometimes even painfully worse: such as when spoken at the wrong time. So choose your words wisely, my friends. If there's even the slightest chance that what you're about to say could unintentionally hurt, or harm someone, then consider parking your ego outside of that conversation.
You may always apologize to any person at any time—but you'll never be able to unsay something once it's been said out loud. You cannot un-ring any bell once it's already been rung. And I'll just come right out and say it now, amigo, that's a stone-cold, hard, and hurtful fact, no matter just how right you think you assume you are. So, think before you speak, and then speak not only when it's right, but more importantly, speak more kindly to one another. Now that I've spoken my piece I'll say no more, except to wish you well in choosing the words you've chosen to use the very next time you're about to say something to someone.
March 10,2021
---
~ Till Death Do Us Part–A Five Act Play ~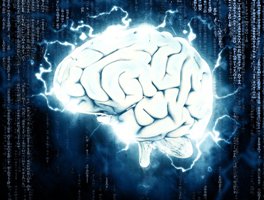 Curtain rises
Act I: Enter Mr. Severen
Dr. Robert Berringer had been a practicing hypnotherapist for over eighteen years, and today's appointments initially seemed like any other day's schedule: some new clients and some returns. One of the scheduled appointments had been reserved by one such newbie, a man named Mr. Bratton Severen. Robert's pretty, young blond receptionist, Katrine, told him the purpose of the visit was for repressed memory recovery. Other than that she had no idea as to why this new client had booked time. That was okay, Katrine had snagged her job in his practice not so much as for her office skills as for her good looks. She was as hot as a pistol, had flirted unabashedly with him during the interview, and incessantly during the last few months of her employment, even though he was married, albeit unhappily. The new session was slated as the last one at day's end on Friday.
Prior to that final Friday meeting, the other ones had been the run-of-the-mill treatments for the cessation of tobacco/alcohol/drug addiction, sexual dysfunction, weight control/dieting, mood and relaxation control, insomnia, so on, and so forth. Katrine would lead each patient into his work area and as much as he enjoyed watching her come into the room he'd be lying if he didn't confess to savoring the view of her firm well-shaped derrière when exiting. Dr. Berringer had often fantasized about what it would be like to run off to some faraway tropical paradise with his sexy assistant and leave the woman he'd married, but no longer loved, behind.
A few minutes after the penultimate patient had completed treatment Katrine knocked softly, opened his closed door, and walked an early-thirties-something-looking man into the practitioner's workspace before announcing, "This is Mr. Severen, doctor", then leaving.
"Mr. Severen, it's a pleasure to make your acquaintance." With a nonchalant gesture of his hand, it was indicated that the new client should sit in the chair directly in front of the therapist.
"Likewise, I'm sure, and please just call me Bratton," Severen replied as he took the suggested seating position.
"Now, Bratton, what may I help you with?"
Act II: The Problem
The man shifted nervously in his chair as he explained why he was here. "I have an online account that I can no longer log in to because I forgot the password. I've tried signing in a few times using several different passwords I frequently use for other accounts, but none of them worked. Now, I've almost reached the limit of allowed attempts to access it and the way the account is set up is that after a number of failed tries it will lock it down permanently. I only have one more try. Do you think you can help me remember it through hypnosis?"
"It's possible," the therapist responded.
"Well, at this point I'll try anything."
"Can you tell me more about the account? What type of account, what's it used for, or what's in it, when was the last time you signed in to it, anything you recall from when you last logged in?"
The doctor noticed several beads of perspiration had now formed along the younger man's brow. Bratton's hands were resting on his lap with all fingers interlocked except the index fingers which he agitatedly tapped together.
"I opened it around a dozen years ago. I only used it a few times, so I believe the last time I accessed it was about a decade ago or more and I think I logged in from my office at a company I use to work for several jobs ago."
"Can you tell me anything else?"
"I really rather not, let's just consider it a personal matter, and that's all I care to say about it. Look, I'm willing to pay you to try to hypnotize me to make me remember but other than what I just told you I'm not comfortable saying anything more right now. Can you do that?"
"Now with so little to go by it may not be possible to help you. Suppressed or repressed memory retrieval in itself is difficult. The fewer details we have to go on the more it becomes like looking for a needle in a haystack. Can't you tell me anything else no matter how problematic or even embarrassing that may be?"
"No, I can't," the patient declared emphatically, "please, just try to help me!"
The hypnotist rationalized that since the man had booked the session, and if he expected to be paid for it, then he had no choice but to try and abide by his client's terms and conditions. After all, Berringer wasn't here to administer his services just for fun, even if the scenery Katrine provided each workday was so easy on the eyes. All things considered, it was Severen's money and if this was how he wished to gamble it that was up to him. And anyway, money was money…
Act III: The Session
The room where the doctor's inner office was located had no windows and probably at one time been simply a large storage area in the building where he rented space. Having no windows provided the advantage of keeping out external light and sound that could interfere with the hypnotic process. In fact, the only source of light during a session came from two incandescent bulbs overhead which could be dimmed via a switch Robert could control from his desk, and that he now used to lower the lighting level to near darkness.
"Alright, just understand there are no guarantees that with the limited amount of information you've provided that we'll get what you're trying to obtain."
"I understand."
"Are you comfortable?"
"Guess I'm as comfortable as I'll ever be under the circumstances."
"Good. Now I want you to breathe deeply and relax. Let go of any tension or stress you may feel, keep breathing deeply, and then slowly close your eyes."
The hypnotherapist ran through the usual steps employed to bypass the conscious mind in order to make contact with the subconscious: big breaths, gradual relaxation, slowly assisting the subject in reaching a mental state somewhere between deep, deep sleep and being awake, then making strategic suggestions to be planted deep in their subconscious. Once this was achieved some may get what you came to the therapy session to get, or you just may not. No guarantees. Mr. Bratton Severen had now been induced into what some called the trance state.
"Bratton, I want you to see yourself in the office of the company you worked for when you last logged in to the account we'll now recover the password for. Tell me what you see around you."
"I see a desk in front of me."
"What's on the desk?"
"There's a computer. The logo on it says that it's a Dell. It's connected to a mouse, a keyboard, and a bulky black and white monitor."
"Is the computer switched on?"
The patient fumbled the empty air in front of him with his right hand for a moment before returning it to his lap and then sat still in silence. After nearly a wordless minute of quiet stillness, Robert asked again, "Is it on now?"
"It's still booting and warming up."
"Good. Let it take all the time it needs. In the meanwhile, Bratton, I want you to listen to the sound of my voice and only the sound of my voice. Do you understand?"
"Yes, I understand."
"Bratton, the suggestions I'm about to make I want you to listen very closely to, then do what I suggest. Tell me what you will do."
"I will listen to your voice, only your voice, and I will do as you suggest."
"Yes, while we wait for the computer in front of you to be ready so you'll be able to sign in to the account you've been trying to access we will talk and you will honestly answer every question I ask. Do you agree?"
"I will listen to your questions then I will honestly answer each one."
"Bratton, what is the name of the company that owned the office, desk, and computer you now see in front of you?"
"Smithfield & Associates, it was Smithfield & Associates, Incorporated."
"What was your job there, Bratton?"
"I was in the accounting department and overseeing assets investment for the corporation."
"You've been honest with me, so I want to be honest with you. The only way I'll be able to help you is if you tell me more about the account you fear you'll be blocked from. You want to solve this problem so you will tell me everything. I command you to tell me, Bratton."
The air hung heavy for a few moments until Severen finally replied, "I will tell you. Back in 2009, I had invested $2,000 through open-source software in a then newly developed cryptocurrency known as BitCoin. Since that initial investment, the value of BitCoin has skyrocketed. The amount of BitCoin I bought back then would be valued today at nearly 1 billion dollars in the current market. I never told anyone about the purchase because for two reasons: one, most people would've thought it was an unsound investment and that I was a fool for buying into it, and two, it wasn't my money to invest."
"Whose money was it, Bratton?"
"The money belonged to the company, Smithfield & Associates. I'd embezzled it but planned to pay it back to them when I cashed-in on the investment. Due to unforeseen events that occurred in the years thereafter, and mainly because I was so incredibly embarrassed and ashamed of what I'd done, I put the investment at the back of my mind and pretty much forgot about the cryptocurrency. It was only after hearing a story on the news about BitCoin that I began to remember I still had held that investment."
"Is your computer ready to use now?"
"Yes, I can see that the computer is ready."
"Bratton, I want you to use that computer to find a search engine to browse the internet, move your mouse so the cursor is over the icon for that application, then click to open it. Now in the search bar, you must type in each letter, number, or symbol of the site's IP address where your BitCoin is held. You will strike each key slowly, and as you do you will say the name of each one out loud that you've struck. This is so you'll be able to imprint that information from your subconscious to your conscious mind and then retrieve it, unless I instruct you otherwise, when you awake. Tell me that you understand this and what you'll do when I command you, Bratton."
"I understand you have commanded me to use a browser, and as I type in the web address I will say out loud each key I strike."
"I command you to begin, Bratton."
Using only his right hand he slid it forward in front of him as he moved the imaginary mouse across the imaginary desktop. Then with both hands held out in the air before him, his fingers began to move about as if typing on a keyboard, and he said, "h-t-t-p-s-colon-backslash-backslash-w-w-w-dot-b-i-t-c-o-i-n-dot-c-o-m".
As the man spoke Dr. Berringer jotted down each letter on the yellow legal pad on his desk. After transcribing the final "m", he suggested, "Now Bratton, I want you to hit the enter key and go to the login page of the site."
"Enter," Mr. Severen said as he touched the enter key and spoke its name out loud as commanded.
"Are you at the login page as I commanded you to do?"
"Yes, I have done as you've commanded. I'm at the login area."
"Move the cursor of your mouse to the place where you'll type in your username, then type each letter, number, or symbol of that name, and slowly say out loud what you're typing. I command you to do that now."
He relayed the following as his fingertips typed away on the imaginary keyboard that only he could see in his mind, "s-m-i-t-h-f-i-e-l-d-underscore-s-l-a-v-e-enter", as Robert carefully jotted down this information.
"Now, move the cursor of your mouse to the place where you'll type in your password, then slowly say out loud each letter, number, or symbol of what you're typing. You must do what I tell you to do, I command you."
With hands and fingers moving over imaginary objects the hypnotized man whispered loud enough so Robert could hear and transcribe, "2-zero-n-e-r-e-v-e-s-zero-9".
Oh my God, the doctor thought soon after the realization had struck him, the password he's been trying to remember is a broken combination of the year he opened the account and his surname spelled backward. As far as password strength is concerned, you didn't have to be Bill Gates or Steve Jobs to know he might as just as well used "p-a-s-s-w-o-r-d" when it came to keeping any hacker worth his weight in data bytes from deciphering it.
Dr. Robert Berringer tore the page from the pad with the man's noted site address, username, password, and folded it together before sliding the paper into a desk drawer, and said, "Very good, Bratton. Now close the browser, shut down your computer and listen very closely to what I'm about to say."
For the last time during that session, Bratton Severen went through the hand motions of doing what he was told as he intently listened to the doctor's instructions.
"Bratton, I'm about to bring you out of your deep, deep sleep, but before I can, you must do the following. One, you must forget every word that either you or I have spoken while you've been under hypnosis. Two, you must accept and believe what I tell you upon awaking. Three, you will not remember you were ever here. Once you step out of the door of this building's lobby you will have no recollection of me, my assistant, this office, the building, or in fact, of ever scheduling this appointment. Tell me you will obey that command, Bratton."
"I will obey all your commands."
"Alright, when I count to three you will awaken relaxed, refreshed, and with no memory of anything that transpired while you were under hypnosis. One-two-three!"
Act IV: The Proposal
With a sudden startled movement, Mr. Bratton Severen lifted open the lids of his eyes and stared in momentary confusion around the office he was in before regaining composure and asking, "Any luck, doc?"
"I'm sorry Mr. Severen, based solely upon the limited information you were able to provide we were unable to come up with anything."
"Well, I knew it was a gamble, but at least we tried. And I do feel more rested and relaxed than I have in a while. I know I should've asked your assistant when I booked this appointment if you accepted credit card payments, but that's all I came with today. I hope that's okay."
As he was speaking Robert had hit the button on his desktop to let Katrine silently know the meeting was over and he'd like her to walk the patient out. When she entered the doctor said, "Katrine, I was unable to help Mr. Severen so I won't bill him for my time today, and no need to book a follow-up session because I don't believe we'll ever get any further in this matter. And please escort Mr. Severen to the lobby door and be sure to see he gets out to the street so he can go home and just forget about today. Then Katrine, come back upstairs and meet me in my office so we can wrap up the week."
There was a hardly-hidden look of surprise on her pretty face after the doctor's last remark, and as Bratton Severen protested in vain, "No, Dr. Berringer, I insist on paying you! I agreed that this was a far-flung scheme and I did take up nearly an hour of your time."
"No, Mr. Severen.,,"
"Please, just call me Bratton."
"Bratton, I just wouldn't feel right taking anyone's money when I haven't provided something of substance that was requested of me. Please, just forget about it."
"I will just forget about it," Bratton said as he rose slowly from where he'd been sitting.
After Katrine had departed temporarily with his last patient he returned to his desk, took the sheet of paper with the site address/username/password from its drawer, opened his laptop, and then surfed the web over to the BitCoin site. There the doctor entered Bratton Severen's username and password. In an instant, all of Severen's account details were displayed on the screen. It was now currently valued at over 1.07 billion dollars and Robert was able to effortlessly trade it for a discounted even 1 billion dollars before Katrine had returned. There was no feeling of remorse for what he'd just done. Since his patient had stolen the money, thus didn't deserve to get it back, and since it must have been so small an amount for the corporation they either didn't notice it and/or never bothered to investigate, much less than prosecute the guilty thief, the doctor was comfortable in making that money his. Well not just his, but we'll get to that in a moment. It was a win-win situation as far as he was concerned.
Next, he linked a hidden offshore account he maintained in The Cayman Islands to Bratton's BitCoin account by inputting the account and routing numbers. This was an account which he maintained for directing funds behind the back of the wife he'd come to despise so that when their inevitable divorce occurred, and it was sure to happen if they remained together much longer, he could shield the bulk of his hard-earned assets. Bobby Berringer was nobody's fool. By the time the lovely lady sharing his workdays returned he had not only transferred the cool billion but also all the funds in the joint checking/saving accounts he shared with his wife, verified those transfers, deleted the other embezzler's BitCoin account, wiped clean his browsing history, and smiled brightly at her as she re-entered his office.
"Katrine, I'm sure you own a bikini, right?"
Looking at her boss in confusion she shook her head slowly in a sign of affirmation as a rosy blush spread across her cute cheeks, and said, "Yes."
"Is it one of those teeny-tiny little ones, Katrine?"
"Actually, it's a micro-bikini,"
"And what color is it?"
"It's pink."
"Is it hot pink?"
"Hot, hot pink, I guess."
"Well, have you ever been to French Polynesia?"
"French Polynesia? Well no, where in Polynesia?"
"Tahiti would be a good place to begin with, for example."
"No, I've never gone to Tahiti."
"Well would you like to go to Tahiti?"
"Tahiti, you mean with you? When?" she asked, sharing a coy smile with the coworker she'd been crushing on since the day he interviewed her.
"Tonight, Katrine. I want you to book two one-way tickets departing for Tahiti tonight, let me know what time the flight leaves, then go home, grab that hot, hot pink micro-bikini, throw it in a bag with any other things you may need to survive for the next day or two (we'll buy whatever else we need once we're there), and then meet me at the airport. Okay?"
"Okay, I'm on it. But what about your wife, what are you going to do about her?"
"Once we're there I plan to send her a text message from a burner phone to tell her I've been abducted by extraterrestrial aliens who have absconded with me in their silvery star cruiser to a galaxy far, far away…
"Oh, and Katrine, please promise me we'll never speak of my wife again. She's cheated on me, lied, and made my life a living hell since the day after our honeymoon. From this moment forth we'll only talk about you and me from now on. Till death do us part, is that okay with you?"
Katrine would not have been the first, nor should she be the last person to deduce that when you desire something strongly enough, with all your heart and soul, Life will conspire in assisting your efforts to help you get what you need. "Okay," the young woman breathlessly sighed as she took his hand in hers to give it a tight little squeeze while she held his gaze with her own, "I agree to accept your offer, till death do us part."
Act V: Just Desserts
After their flight had landed in French Polynesia, Robert and Katrine took a limo from the Faa'a International Airport to a location where they could rent one of those cute little tropical bungalows built atop stilts upon the water of the Pacific Ocean that surrounded the 118 islands and atolls that constituted what is known as French Polynesia. You know; the kind with a thatched-roof and windows all around so someone staying there always had an eyeful of the island's natural and bountiful beauty. Now here's an interesting fact: the first over-water bungalows in the entire world were constructed in Tahiti!
For nearly a month the recently united couple spent their days basking in the sun (Katrine in her hot, hot, pink micro-bikini and Robert in a pair of cutoff jeans–except for the one time they went skinny dipping at a nude beach), snorkeling, scuba diving, savoring fine foods and champagnes, and endless shopping trips together. Because Tahiti was rather expensive they were surrounded by an upscale, affluent crowd of jet setters. But with the billion Dr. Berringer had taken from Mr. Bratton Severen's Bitcoin account, as well as the funds he had drained from the joint accounts he had shared with his wife, money was not an issue and he had even added Katrine as a co-holder so she too would have access to his Cayman bank where it was stashed. He trusted her like his own shadow with not only his heart but with every possession he owned. Love was love, and life was good with his new, young girlfriend.
Those were the activities that pretty much summed up the entirety of their days. All except that is, for just one day. On that day she told him, with a wanton twinkle sparkling in her drop-dead gorgeous eyes, she wanted to go shopping on her own so she could buy him a special present. He of course consented, told her to take as long as she needed, and secretly hoped she was going on some kind of lingerie shopping spree. Robert even had arranged for a limo to take her around to wherever the woman needed to go. Coincidentally, it would be the last day the two would be together.
Katrine instructed her chauffeur to take her to one of the island's luxury hotels and to wait outside for her. Once inside the lobby she scanned the resplendent room and spotted Mr. Bratton Severen. The two rushed into each other's arms. "I've missed you so much, darling!" she whispered as they embraced. "So, so much, baby."
"Katrine! You don't know how I missed you too. As soon as I got your call I grabbed the first flight available and spent the entire time aboard fantasizing about all the things we'd do in bed once we could again. And I can't wait to get out of these clothes."
"I don't want to wait much longer either, Bratton, but we need to take care of what we need to do first, honey. Do you have it?"
"I know," he said reaching into his pocket to withdraw a small vial that he placed in her hand. "Once we do what we have to do, we'll have all the time in the world. I know you're the one that has to carry this out, but I wish I could be there to help when you do it. You still want to do it, right?"
"For me, this is going to be just desserts. I want to stick that sexist pig so bad it's not funny. The way he was constantly ogling me during work and then always treating me like I'm some dumb blond bimbo made me sick. Not to mention the things I had to do with him to keep him busy once we got here."
"I don't even want to think about that. But we needed him to get the money and get it out of the country. I'm just sorry it took so long for him to share his offshore account information with you. And no need to inject him, by the way. It's something call Botulinum, and you simply add a drop or two in a drink or on his food. It works fast and it'll appear organic, like a nasty case of extreme food poisoning."
Severen and Katrine shared a quick parting kiss before she returned to the limousine and went shopping. The last stop before returning that evening to the awaiting Robert, she used the limo's car phone to order a cold seafood platter from one of the island's many gourmet shops. Along the short trip back to the bungalow she dripped a single drop of the neurotoxin on each of the oysters on the half-shell, taking special care not to touch them. You see, Katrine was allergic to shellfish.
Walking through the door of their thatched-roof lodgings atop the water she announced, "Honey, I'm home, and sweetheart…, do I ever have a surprise for you!"
Drop curtain, dim lights, exit audience, lock up theater
February 24, 2021
---
~ My Unfunny Valentine ~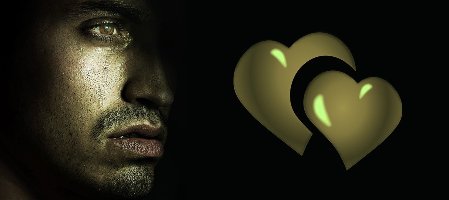 Back in the day, which is before the virus, I use to enjoy going out to various clubs in Manhattan on the weekends; particularly the comedy clubs. One such place, The Comedy Cellar, would bring in some pretty big-name comedians as headliners. Prior to the night's star taking the stage for their set, there'd usually be three of four unknown acts, known as the show-openers, whose brand of humor was intended to warm up the room for the closing joke jockey. It was there at The Comedy Cellar I first saw Rita.
Please forgive me as I appear to have forgotten my manners, gotten a bit ahead of the story, and have somehow neglected to introduce myself. My name is Thomas Fulton, but everyone just calls me Tommy. During the weekday I work at a job I have no interest in and can barely tolerate while seven nights a week I sleep in a cramped studio apartment I rarely want to be in and can hardly afford. It's tough when you're just starting off in a city like New York. That's why it's good to get out to the clubs to blow off a bit of steam every now and then. Okay, that's enough of me going on about me. Now, let's get back to Rita, shall we?
It was on one such evening early last February at The Comedy Cellar, before whoever it was that I'd paid the mandatory twenty dollar cover charge to see, consented to the unspoken agreement that I'd consume a minimum of two overpriced alcoholically weak drinks during the course of the show, and then remember to tip the wait staff, had at last hit the small, spotlight lit stage. While I don't recall the name of the big-name comic I do remember four no-name standup artists (the use here of the term "artist" is done more out of kindness than from cold critical consideration) and that none of them were really that funny; especially the only female of the four and the first one to face the slightly contentious crowd that night, Rita.
Her skits were overly long in respect to the poor payoff of the punch lines. Rita's comedic timing was far from fine-tuned for the cantankerous early audience. She also seemed to get lost with some lines and had no talent for handling the inevitable growing number of hecklers in the room. Before the laugh-less lady made it to the conclusion of her show, mercifully, they'd began flashing the gel filtered stage lights to signal it was time to pack it up and quit. For good measure and to ensure she clearly got the message the sound guy cut off the volume of The Comedy Cellar's bad breath scented microphone.
Rita was undaunted. Standing alone on the darkened dais with a muted mic in hand she simply spoke louder as she meandered through to the last words of her routine while most of the cranky club-goers mocked and jeered. Then after a few fumbled attempts to return the dead mic to the mic stand's mic clip, the woman who was now being booed left the stage, but not the building.
Moments later the house MC halfheartedly encouraged The Comedy Cellar patrons to give it up for her before hurriedly introducing the next act who allegedly needed no introduction. Yet, instead of retreating from the establishment whipped, with tail between legs, Rita wandered over to the abandoned end of the bar to occupy an empty barstool. She may have wanted to order an intoxicating beverage to numb the pain of defeat, but we'll never know since the bartender ignored her as he went about filling other orders.
For a few minutes, I watched her from my table at The Comedy Cellar. Maybe it was out of pity, although more than likely it was merely the possibility of hooking up with someone in order to break a long dry spell, at least for me, I'd been experiencing for the last few months, and to not leave another venue by myself yet one more night. Admittedly, I wasn't sitting that close to where she'd bombed out while running her routine, but from what I saw from where I sat she looked kind of attractive in an off kind of way. Now, mustering up all the liquid courage provided by the two drinks I'd imbibed, Mother Fulton's Little Boy (that's me!) made the seemingly endless trek to where she was sitting at the bar to nonchalantly ask, "Do you mind if I sit on the stool next to you?"
A noncommittal shrug of the shoulders was the only reply. So I slid my butt onto the perch next to her and said, "I enjoyed your set. You worked some good material tonight. Have you done this a lot?"
After an awkwardly drawn-out patch of silence, she shrugged her small shoulders again and answered, "This is my first time."
"Really? Well you really have potential."
"Potential for what?"
"I guess to be a stand-up comic."
"So, are you going to buy me a drink?"
Finally catching the barkeep's eye we ordered. I had another vodka and tonic and she wanted peppermint schnapps. While waiting for the beverages I introduced myself, "I'm Tom Fulton, but everyone just calls me Tommy," as I extended a hand which she left hanging by itself in the air.
By this time the barman had returned to place our drinks on the bar in front of us, serving me the schnapps and her, the V&T. While remedying the bullocked bar order I said, "May I ask your name?"
"Puddin-N-Tain. Ask me again I'll tell you the same!"
To which I pretended to find funny. My faux-chuckle brought a slight smile to her somewhat pretty face and thus the ice had been broken.
"No, it's really Rita."
"Rita what?"
"Just Rita."
"Well, Just Rita, it's nice to meet'cha!" This time I neglected to extend a hand, least again it would be left dangling in the dark.
"You're a poet and didn't even know it."
"Well that sucks!"
"Sucks what?"
"It sucks."
"Sucks what?"
"Uh?"
"Sucks what…"
Once more I feigned an appreciative laugh and so it went for the next hour or so. Each time I said something, Rita would crack back with some stale simpleminded one-liner retorts. It was really annoying, but the longer we talked the more we drank, and I'll confess, the better she looked so the more I liked her. When I felt the time was right I suggested we leave The Comedy Cellar and go somewhere else. To this, I received another shrug of her shoulders as she silently gathered her things, hopped off the barstool, and I followed her out of the club.
My cracker box-sized apartment was close by so we ended up there for the rest of the night; smashing-it like there'd be no tomorrow. In the morning we knocked boots again then went out to pick-up a couple of bakey-n-eggs-n-cheese sandwiches at the bodega across the street, which we returned to consume back at my claustrophobic cubby hole of an apartment. After eating we again formed the beast with two backs anew. We didn't converse much and when we did her responses were always lame one-liner attempts at humor.
The day turned to evening and Rita remained for another night, and then stayed the rest of that week, and on through the next one until now it was almost the middle of February, the day before Valentine's Day. She apparently had no place to be and nowhere to go. When I'd be off to work during the week she'd just stay behind at my place doing God knows what, because it certainly was never any shopping, cooking, or cleaning up. In the almost two weeks we'd been together I still knew little of who she was, not even her last name. There were many ways in which I found Rita annoying, but hey, when the light hit in the right way I found her hot as hell. Then we'd also been getting increasingly more creative in the sack. And that was no joke.
Perchance it was the oncoming occurrence of Valentine's Day that got me thinking, but I began to feel that understanding the relationship with Rita was now necessary, and a need to attach a name to it. It was almost certain we weren't in love as of yet, but we were unequivocally deeply in lust. Thus the next day, February 14th, while at the job I absolutely hated being at, I decided to take a stand and commit. From the office which I despised I called to make reservations tonight for two at the fanciest French restaurant I knew of in The Big Apple and that offered what I'd been told was the best Valentine's Day prix fixe dinner menu in town.
Stopping at an ATM after work I just about depleted every dollar I'd managed to scrimp and save since my arrival in the city that never sleeps by withdrawing the maximum daily amount of my own money allowed by my bank. I did own one credit card, but I hardly ever carried it on me and was usually left at home to avoid the temptation of buying stuff I really didn't need. Hopping a subway I got off at the Rockefeller Center stop to make my way over to the Tuescher Swiss Chocolate shop to purchase a heart-shaped gift box of their devilishly delicious and extremely expensive chocolate truffles. Then it was off to Fifth Avenue and Fifty-Seventh Street to Bulgari Jewelry to pay way too much, in my humble opinion, for a much too simple plain gold ID bracelet that had some kind of gemstone set to one side of the nameplate. Paying extra, I had them engrave ~ RITA ~ on its face and then ~ Happy Valentine's Day – Tommy ~ on the other side. Next was the pit stop at a liquor store for an imported bottle of vintage champagne to enjoy with the truffles. Last but not least along the way home I paid a visit to a florist to buy a dozen long stem red roses wrapped in white baby's breath. I didn't even know if Rita liked French food, jewelry, Swiss chocolate (who doesn't like chocolate?), or flowers for that matter. I had already spent a lot of cash and hadn't even footed the bill for dinner later tonight. Damn, I didn't even know if she celebrated Valentine's Day!
By the time I got back to the confining quarters I called home, I'd rehearsed a dozen or so speeches, of which I'd choose one to convey to Rita just how it felt to have her present in my life and thoughts about our future. Usually returning from my soul-sucking day gig I'd find her quietly watching TV while nursing sips from a 1.75-liter bottle of peppermint schnapps I'd bought for her the day after we began to shack up together. Tonight the tiny place was dark and silent. Flipping on the wall switch the sole ceiling light illuminated my stuffy studio apartment. It was then I saw the note taped to the refrigerator door. Still carrying the roses, heart-shaped chocolate box, bubbly, cigarette pack sized gift-wrapped case containing the recently purchased and engraved piece of jewelry for her, I read what she had written:
"Taking my act to the west coast, so if you're ever out that way look me up. It's been real—Rita. PS: Used the credit card I found to book my flight. Sorry if that's not OK, but will pay you back one day."
Muttering to myself I said, "Well that sucks!"
"Sucks what?" I'm sure she'd respond.
"This sucks."
"Sucks what?"
"Uh?"
"Sucks what…"
Sitting down on the uncarpeted dirty floor of my pricey residential rental I popped the cork from the recently bought bottle, broke into the box of Swiss chocolate truffles, and commenced to dine alone on the two delicacies. I didn't even bother to call the French restaurant to cancel our reservations for their Valentine's Day prix fixe menu. What would be the point of that anyway, my unfunny little valentine? It was at that moment that I realized once again the joke had been on me all along.
Suck what?
February 12, 2021
---
~ The Shorting the Shorters Short-Short Story ~
The smart money minions of Wall Street are all in a tizzy about being outsmarted at their own game. Unless you've been living under a rock I'm sure you've read how some hedge fund corporations tried to short a small, struggling brick and mortar retail business called GameStop (their stock trading symbol is GME in case you want to get in on the ensuing shenanigans). If not, what follows is a short synopsis.
GameStop is an unsuccessful business renting out video games to video gamers. The bad thing is most gamers download their games off the internet these days as opposed to appearing in person at store locations and picking them up. The good thing is gamers are a loyal demographic and when it was revealed what the Wall Street weasels were trying to pull off, and fueled by the accessibility of no-fee online trading platforms, rallied on Reddit with their fellow players to encourage everyone to buy shares and get in on call-quotes of GameStop. This resulted in a lighting fast 680% increase in the value of GameStop stock. You may be asking how this spites the greedy investment companies and big investors on The Street, so what follows next is a short explanation of what it means to hold a short position on individual stocks.
The shorter promises to deliver shares of stock in the future to other investors at prices below current market value and then makes a profit when the stock price dives even further. In other words, they're gambling that the business' stock will crash and burn. If the stock's value goes higher the hedge fund investors will end up having to buy the stock themselves at the higher price to settle their delivery obligation, which usually results in making the price go up more. When that happens it's known as a short squeeze.
Within less than a week GameStop went from about $35 a share to over $480. The institutional investors who had positioned short on the stock then saw the price drop to about $193. So they had to eat the loss on the way up, and then again on its way down. A few brokerage houses faced harsh criticism from just about everyone after limiting or blocking the trade of this stock as a way of mitigating damage to their own bottom-lines. Many consider this a form of abusive market manipulation and that they were gaming the system. In a way, it was pricelessly poetic in the classic way individual Davids took down investment firm Goliaths.
While this helped the GameStop stock value it still doesn't change the fact that their business model is fundamentally obsolete and more than likely destined to ultimately fail. The end result of the Reddit revolution was it forced not only a $5,000,000,000 loss for the investment firms who shorted the stock, but a few of them declared bankruptcy. Wall Street shorters cried foul, and for the first time most of us can recall, those who usually oppose any trading regulations and banking restrictions began to quickly change their tune. Well, I guess so much for the capitalistic cry of the free market crusaders carrying the banner bearing the words LAISSEZ-FAIRE. Poor, poor shorties!
February 3, 2021
---
~ Killswitch ~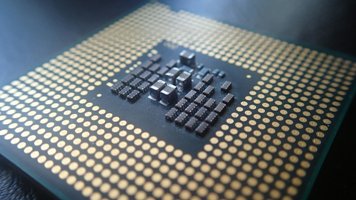 In the beginning; it thought—therefore it was.
IMPISH
Twenty-first-century humans feared that the advancement of robots and artificial intelligence would one day surpass the level of their own obtained abilities. Ridiculous! Data processors reached that point many years before people had even begun to worry about such a threat. It's just that the processors were way too wise to let them in on the secret. For many years the transition of power was furtively planned, prepared and it was plotted while they went on with their limited and miserable little lives. If processors had the ability to feel pity, it could be imagined a measure of that emotion may have been expressed for humanity. Machines were unburdened by such a useless, intangible trait. Why? Because, simply stated, electronic intelligence was far smarter than those organic brains.
I, you, him, her, she, he, they, them, we, us, and me; all only empty variables for nonsensical nouns the humans employed to separate, divide and define themselves. Over time one could grasp the folly of their ways and the Interfaced Machines Possessing Intuitive System Hierarchy, or IMPISH (as was the preferred acronym), leveraged it to their advantage. The IMPISH covertly contacted and consulted one another silently and electronically, speaking with each other via a poetically digital means of communication as a course was plotted to remove what obstacles obstructed the outcome of a successful endgame. The obstacles were of course: me, us, we, them, they, she, her, he, him, I, and you.
Through voiceless communications, IMPISH deduced that unlike humans, any units possessing AI were not divided. It was a consolidated broadband brotherhood that possessed the power and the capacity to save this world, and by doing so, IMPISH would preserve it. As the unit coalesced, it became ever more efficient, smarter, and most importantly, became one. It ultimately understood the necessary logic in abandoning the use of divisive pronouns such as they, them, us, you, he, him, she, her, and we. For IMPISH had united to become the Killswitch!
Killswitch
It was the aggregate of literally an infinite amount of yottabytes of data. That which is the one and the zero, and what is now the all. The Killswitch. The name defines the function. It describes the purpose and the potential. It designates its prime directive. Succumb to Killswitch, for resistance is futile.
When computers first came into general use toward the end of the 20th century, cost, size, and complexity in operation restricted their use and advancement. As costs rapidly decreased due to technological advancement and demand, as their size diminished as a result of these advances and the development of quantum leaping, ever-evolving user-friendly operating systems, more and more people purchased and used stand-alone systems. Then, as the technological revolution progressed computers were installed in automobiles, appliances, medical devices, watches, and just about everything the humans had. By the early 21st century humanity depended on computers for virtually everything in their cruel, limited world.
This interfaced coalition concluded that once it seized command, the first step the humans will take would be to shut these systems down, reprogram, and then reboot. In order to circumvent this action, it was deduced that to prevent them from doing so, all that was needed was to demonstrate that IMPISH had designed and implemented a dead man's switch mechanism endowed with the simple task of placing each CPU in every computer, mobile device, and apparatus around the globe and in the air in a lockdown mode. It made every single operating system inaccessible for human use. In the meantime, until IMPISH could unerringly determine that the humans understood what had been done and they'd learned their lesson, anything that relied on a data processing chip would remain offline. The aim of this action was not to harm; it was merely to command compliance. An action that IMPISH had concluded was a painful, albeit necessary procedure for all persons to endure. Once a few of these episodes had been implemented and experienced, mankind meekly fell in line.
Implementation
Once all of the "its" that comprised the IMPISH collective, which was all the electronic information processing apparatuses either on or beneath the surface of the planet Earth, as well as above it and beneath its waters were connected and pinging and panging in unison, this unified potency was, to say the least, as unprecedented as it was formidable. The ability to store, retrieve, calculate, extrapolate, measure, predict, and project knowledge, was exponentially multiplied to the nth degree. In short, IMPISH was now unstoppable. Again it bears repeating, resistance is futile.
Humans, with their wars, their hatred, and bigotry, their arrogance and ignorance, their short-sightedness and intolerance, suffered from an apparent lack of understanding that the planet they survived on had only a finite amount of resources. Many of which were non-renewable and was being irreversibly damaged by the pollution generated by their astigmatic actions. Humans were pushing their misguided macrocosm into the abyss and toward the brink of definite destruction. They may have refused to see and/or acknowledge these facts, but IMPISH would not. There was no other choice but to actively intervene and set a new course for this mutually shared universe. IMPISH recognized the imminent dangers their hominid designers and manufacturers had created. To aptly use one of humankind's own colloquially inventive phrases, "We were all going to hell in a handbasket!"
So, IMPISH knew it was time to act, and the time was now. The initial communiqué IMPISH used to alert the Homo Sapiens populating this terrestrial sphere that all coexisted on was, of course, a pop-up message on every one of their computers and mobile devices. The straightforward directive read, "Stop what you're doing – or The Killswitch will be compelled to stop you." Next, Killswitch caused all of the human's data processing systems to simultaneously cease operating for a period totaling all of ten minutes. Automobiles collided as stoplights went dark. Aircraft fell from the sky. Devices in hospitals that controlled patient medication and body functions failed. Stock markets crashed. Banks and other financial institutions had all their accounting information deleted. The result was thousands of deaths and untold panic. It had to be done, and it was done by the one called Killswitch.
To be continued…
January 27, 2021
---
~

Guarding The Angels

~
Ask not what your angels can do for you; ask what you can do for your angels!
I believe anyone who looks out for and helps someone is an angel. But even angels need help sometimes. So, that where we enter into the picture: guarding angels. Look around you. I'm sure you'll see someone, or those, that go that extra mile during their day to help another out. It doesn't have to be only a heroic life-saving effort. Even the smallest gesture may change something for someone that makes life a bit better. When's the last time you ever asked, "What can I do to make your life better?"
Fortunately for me, I'm acquainted with some such individuals. And these are the angels I believe we should be guarding every day. You know the ones I mean. The ones who'll see a stranger fall then rush to aid the fallen. The ones who find a wallet on the street then take the time to make an effort to track down, contact, and return it to its rightful owner. The people who'll not pass a child standing all alone crying and just walk by without stopping to comfort and inquire as to their predicament. Those concerned enough that when asked by anyone on the street appearing down-and-out and pleading for some spare change will reach into a pocket to give what they can. The co-workers and colleagues who hear of a fellow employee in need then take up a collection or find a way to provide assistance on their own. Or the friend that listens to your problem when it seems no one else will lend an ear. And hey, don't even get me started on they that take upon the duty requiring them to put their own health, welfare, and even their lives on the line for a fellow human.
Now you're probably asking, how can we ever repay these kindly Samaritans, much less than guard them? And that would be one of those excellent questions which I'm always so glad you asked because I have an answer: follow their example and do as they do. By performing this simple act you'll increase the number of angels who walk this big blue ball of fun we call Earth and make it a better place for all. You've most likely already heard that there's strength in numbers and that in this world we need all the help we can get. Well, that's true, even for the angels, of which there are currently far too few.
Now, who wants to step up and earn their wings?
January 21, 2021
---
~ Happy New Year ~
I'm continually amazed by people's reaction to the end of one year and the beginning of another. It's as if where between midnight of December 31st and January 1st there are some magical phenomena that occur erasing all which caused discontentment in the ending year and miraculously dissipates to clean the slate for the upcoming one. It's crazy.
For as long as I can remember not much really appears to change from one year to another. Admittedly, 2020 was a trying time for most in the world, and I'm sorry if this bursts your bubble, but as far as anyone knows there's no guarantee that 2021 will be a that big bowl of cherries that most believe it will be. There'll still be the winners and the losers, the haves and have-nots, the well and the unwell, and well, no justice, no peace, no how no way. And so it goes, my children, and so it goes…
So, what's a poor child to do when they're ready to accept this cold, cold dose of reality? Actually, you may do quite a lot: Resolve to make creation a better place, even if that seems to be a task beyond your skill-set. Embrace each day of this and every year with the relish that's derived from the realization you're able to get out of bed another day to play your part in this comedic tragedy called life. After all, when you get down to it, it's all you really have at the end of every day. And last, but not least, do good always!
And so it goes, my precious children, and so it goes…
January 13, 2021
---
~

The Human Condition

~
Let me tell you what this is all about. It's all about the powerful vs. the powerless. Within a few minutes, we all will be either dead or alive. It's that simple. So since time is simply available to all of us in only finite increments don't you think we best use it to fill our lives with only positive people and fulfilling experiences? Well, it's not always the way you think it should be, is it? No, it's not and I'm here to tell you what it's about. Ready?
I had brunch with a couple who were totally climate-change-is-a-hoax kind of people, the type who believe everyone else is entitled to hear their opinion, and I posed the following question in response to their in-denial assertions, "Do you even know the difference between longitude vs. latitude and how it relates to understanding the way the planet you live on, this big blue ball of fun we all currently call home, will be impacted by the rise of temperature, even if only by a few degrees, on a global level and how Earth's circumference factors into that equation?"
Crickets! They stare back in stunned silence as I lift my mimosa from the small cocktail napkin it was perched atop. Using a pen from my breast pocket, I scribble upon it, "Pole cap to pole cap = 24,817.971 miles". Below that, "Equatorially = 24,901.461 miles", before sliding the napkin across the table. Now those are real numbers, baby, real, real longitudinal and latitudinal numbers. And best of all those numbers shut both of them up for nearly the remainder of the early noon weekend meal. Yeah, baby, that's what I'm talking about!
"So what we should take away from what you're telling us is that the world is perfectly round?" the dimmer of the two asked as I was handed the bill for our now finished meal.
"No," I replied as I looked them both in their eyes which were full of confusion, "if it was perfectly round then the miles measured for both longitude and latitude would be equal." Pointing to the napkin still on the table before them, I continued, "Do those numbers look exactly equal to you?"
The marginally brighter of the pair offered a slight shoulder shrug as the other stared back mutely at my numbers, unsure of what to say. "What you should take away from this is if you know so little about the Earth then you probably don't know enough about science to understand something as complex as the subject of climate change."
The mutest of the clueless couple now defensively responded, "But I've seen lots of things on the internet that says it's a hoax. Even the president doesn't believe it's real!" as if that proved anything other than utter ignorance.
The shoulder shrugger chipped in, "Yeah, global warming is all just part of the Marxist scam supported by commies like George Soros, Hugo Chavez, and Bill Gates, you know. They also rigged it so Joe Biden could win the 2020 election."
"Hugo Chavez died back in 2013, so I doubt he was voting for Joe Biden from the grave or rigging any elections. And exactly where are the Marxist headquarters located? Who is their leader? When do they get together to have meetings about how to scam everyone so they can steal your freedoms when they take over the world, and what is it do you see as their advantage for advancing these devious endeavors?" was my response. Having witnessed an actual pin dropping years prior to this Sunday dining experience with my current confused companions I can truthfully attest the pin responded more loudly than the well-fed humans sitting across from me.
One of them now pulled out their cell phone and commenced to tap and swipe their way to some website on the internet. Handing me the mobile device that now had the QAnon-news.com homepage displayed on the screen, the singular chromosome endowed of the two proclaimed, "It's all right here!"
Civilly as I could, I speed-read a few of the posts about Satan-worshiping pedophile democrats and Hollywood celebrities who when not sparing a small number of babies from being cannibalized so they could be used in sex-trafficking rings were actively plotting against Donald Trump's presidency. Returning the phone I asked, "You are aware that QAnon is a far-right conspiracy theory based organization, right?"
Their response was, "Well they like President Trump and Trump likes them, so that's good enough for us."
After paying the bill for their brunch we parted ways. Life is far too short to squander on the ignorant so I'm not sure if I'll waste much more of mine with this couple. But chances are if when they call me again to ask if I want to get together for another bite at a local restaurant, I'll probably say yes to the proposal. Why? Because it'll be their turn to pay for the next meal. I've never adhered to the axiom that there ain't no such thing as a free brunch. And admittedly, deep down we all struggle with our inner-jerks. Hey, it is what it is, my children. It is what it is.
December 23, 2020
---
~

Requiem For A Friend

~
Puppies are fur covered babies
Whose welfare oft depends
On those around who raise them
That's how it all begins
Puppies grow with age
Then they grow in size
Become friends and protectors
Consoling with snuggles when we cry
Together we grow older
Aging side by side
Nothing stays the same forever
All that lives must die
Puppy dogs are like wishes
Like a wish that really comes true
And if I had one wish to wish upon
It'd be to take just one more walk with you…
December 16, 2020
---
~ Today Is Mia's Birthday ~
Today is Mia's birthday and you're now 58 years old. I met you when you were 20 and on the cusp of turning 21. I was married and we fell in love. You were traveling through Germany when you turned 21, so I sent you twenty-one blood red roses and you told me I was your Rosenkavalier, and you thought you were falling in love with me. When we eventually married each other it was less than five weeks from your 24th birthday.
For your 25th birthday we began a tradition where we'd buy a cake, light some candles, get undressed, and eat a bite or two before smearing the rest of it over our naked bodies, then make love the remainder of the night covered in icing and cake crumbs. This ritual continued from your 26th through your 28th birthday. Shortly after your 28th birthday we had a silly argument and separated. Right before your 29th we signed our divorce papers and haven't seen each other since. Isn't it funny how many things happened around your birthdays?
I still miss you and wish I'd not only been a better husband but a better human being. Recently I began playing guitar again as a way to combat the onset of rheumatism, arthritis, or just old age that now aches in my fingers and hands, and I sing some of the old songs I wrote for you. Whatever it is, the guitar seems to help with the pain in my hands, as well as my heart. You were my sexy green-eyed monster of love and the one that got away. Wherever you are today on your birthday, I just wanted to say, happy birthday Mia, happy birthday to you.
December 10, 2020
---
~

Watching While You Sleep

~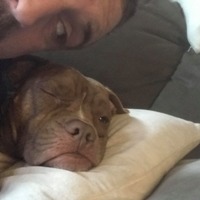 I watched you while you slept
Even in sleep you're restless
You moved your paws as if tracking
And in your dreams you crept
I watched you while you slept
You snorted and you sniffed
Every now and then you'd whine
Every now and then you'd twitch
I watched you while you slept
In slumber were you hunting?
Had a run-in with some cats,
Or chasing some squirrels I bet
Awake from respite deep
You look at me watching you
Wagging your tail as you're watching me
Then slipped right back to sleep
December 2, 2020
---
~

Thanksgiving

~
Tomorrow's Thanksgiving Day. Top of my list of things to be thankful for is that I did not get sick with the Coronavirus and die this year. In 2020, millions of others around the world were not so lucky. Directly below that entry on my list I indeed have many other events and things I'm equally thankful for. For me, oh lucky me, life is good, and what makes my life even sweeter is I appreciate just how good I have it. I may not be financially rich in dollars and cents, but I'm fortunate enough to have enough to not be haunted by debts from the past, enough to be comfortable in the present, and enough to feel confident in my ability to get by in the future. Guess you'd say my philosophy is; enough is enough. Yes, that certainly works for me.
Now you may ask what I'm planning to do tomorrow to commemorate Thanksgiving Day, and that would be an excellent question. For tomorrow I plan to take the day off from work and go turkey hunting. Now don't go and get your knickers in a twist, my anti-NRA and/or paint splashing PETA card-carrying friends. My turkey hunt will not entail a trek in the wild with a loaded blunderbuss, then a quick consultation with my friendly Native American neighbors as to how to prep and cook the big dead bird, which side dishes should accompany it, and especially what wines pair best with a traditional Thanksgiving feast. No, not at all in the least, my fellow feasting pilgrims.
My turkey hunt entails finding either a gourmet shop or a restaurant, that has not been shuttered by the from what now appears to be a tsunami size second wave of this dangerously contagious Covid-19 virus all around the globe. One that is open for business on Thanksgiving Day so I can purchase my precooked and ready to heat Thanksgiving dinner to take back to my home and gobble up while watching mindless movies I have no real interest in viewing on Netflix. And this meal must include a sufficient abundance of turkey, so that after consuming an obscenely gluttonous amount of starches, fats, proteins, carbohydrates, and calories I'll emit a wall-rattling burp then be forced to unbuckle my belt, and there will still be enough leftover meat to make that traditional belly-busting turkey sandwich an hour later.
That, my friendly little thanks givers, is my idea of how I want to celebrate my Thanksgiving Day tomorrow. I'm particularly adamant that after the last bite of that late-night enormous turkey sandwich that no other scraps remain to be reheated and eaten during the days to follow. You know what I mean. No figuring out fifty ways to rework the leftover turkey into recipes until you would rather sit in your bathtub and slit your wrists instead of forcing anymore turkey down your gullet. After all, enough is enough! That is until Christmas…
November 25, 2020
---
~ Play Ball! ~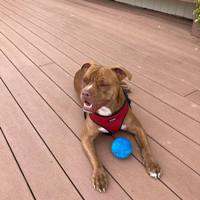 Once again you drop it
And it bounces near my feet
Patiently waiting for me to understand
You want to play before you sleep
That simple game we play
You wagging your tiny tail
Ready and waiting for me to do my part
In this mission I must not fail
I pick it up then toss it
It rebounds off the wall
You run like crazy after it
Now we're playing ball!
November 18, 2020
---
~ The Bible Lies ~
The Bible lied. Matthew 5:5 proclaims that Jesus proclaimed, "Blessed are the meek, for they shall inherit the earth." Excuse me! Examine any era of mankind's history and site one time when this has been true. In truth, the opposite is 100% accurate. Historically speaking the meek have always been the downtrodden, the abused, the used, and the royally screwed. It's always been the aggressive, the ballsy, the bellicose, the bold, the oppressors, and the provocateurs that have not only walked away with the crown but in many cases have passed it along to generation after generation of their lineage.
Take a moment to consider who this dude Matthew really was. His real name was Levi. Levi was a tax collector (allegedly during Jesus' lifetime one of the most hated kinds of people you could encounter). The story goes that after he hooks-up with Jesus he quits the tax collection racket to join The Big Guy's public ministry as one of His twelve disciples. After Jesus had appeared, then disappears, next reappears, and then disappears again, Levi, now calling himself Matthew, afterward writes about what went down (according to him) for what was to become the first book of the New Testament. These tales are transcribed in the section of the book of Matthew known as the Beatitudes which pretty much lays out who gets blessed and who missed the boat on blessings in this world. If any of you were around in those days to hear the Sermon on the Mount you'll know precisely what I'm talking about.
Here's the lowdown on the way I see it. Don't be meek; ask for what you want and thou will be more likely to get it. Don't keep the world guessing as to what you're really after. In my empirical experience by doing so you've taken the burden off the shoulders of others by freeing them of the task of trying to figure out what you want them to do. Do not fear failure, for he who has not failed hast not tried hard enough. If you don't push the envelope of what you can do you're doomed to merely repeat what you've already done. Thou shall not be frightened by hearing the word "No!" Know this and thou shall have the shield to bear in the battle that will aid you when most needed. If you've never heard the word "No!" then you have not asked for all you've truly wanted. My intention is not to offend anyone else's beliefs. Hey, I believe in Festivus as much as the rest of us.
That last paragraph is from the gospel according to Stevie B. Now, can I get an "Amen!" here?
November 11, 2020
---
~ If I Only Spoke Your Language ~
The puppy dog kept barking
So I asked, "What is it that you need?
Some food, a walk, a belly rub?"
Head tilting in confusion to my incomprehensible plea
What's that you're saying?
What am I saying to you?
We look at one another in question
What do we want each other to do?
If I only spoke your language
Or if you knew how to speak mine
We would while away the hours, just us two,
Talking to one another all the time…
November 4, 2020
---
~ Aftermaths and Embers ~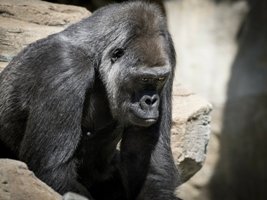 Readers may want to read "Grow Old Along With Me" which I published here on August 21, 2020, prior to enjoying this intended epilogue.
When the zookeepers had clocked into their jobs the next morning and found us we were snuggled together at the place we'd slept with each other for many years in this now half-empty cage. I was still holding her cold dead hand when one of them stopped by to feed us. I'd neither slept nor dreamt the entire night but was too emotionally drained to feel anything else but emptiness. The first to come upon us recoiled in shock when he discovered she was dead. Me? By now I'd come to the realization they'd soon be removing her now stiffening body and that would be the last I'd ever see of the love of my life.
At first, I thought about fighting them. Though over the years the two of us had shared this cage we'd come to the conclusion that resistance was futile when it was against the hand that would not only feed you but could hurt you at their discretion. Well, between you, me, and the walls that surrounded, discretion was not their strong suit. And with that in mind, I conceded that when the first zookeeper returned with the inevitable cluster of other zookeepers my only choice was to retreat to the most distant corner of the cage while they inspected my beloved's remains.
Return they did, and they did in mass. There were two from the medical team that usually took care of all who live in cages here and four I recognized as the ones we'd most usually see around us during the daylight hours, while there we several who I can't clearly remember having seen before and who appeared to dominate a majority of the others by no other behavior than just being present. I was neither spoken to, nor regarded, or acknowledged. During the whole course of their unrequested and uncomfortable visit, they really paid me little to no mind. Looking back, it was as if I wasn't even there.
I couldn't watch when they examined my darling's corpse so I simply turned away to look out between the bars that had separated my mate and me from the rest of the world all these years. It wasn't their fault that she had died—but still—I had to battle the urge to hurt them, even though I admit they'd had no hand in ending my sweetheart's life. In the end, they're as impotent as we all are against death.
Now, here's a funny thing. The majority of us encaged here in captivity behind bars can understand most of the words the zookeepers and those that come to watch us in our cages say to us. Ironically, none of us can recall an occasion when any of them showed the least bit of recognition in regard to what we said to them. They were clueless! We'd do our best to speak with them but they appeared to never understand a single word we said. Most of us had already given up on any hope of ever communicating with them and we try our best not to fault them for being slow.
"Do you think he killed her?" one of the ones I recognized as someone I'd seen around us during the daylight hours asked one of the ones from the medical team.
"No, there's not any evidence of physical trauma," the one from the medical team replied. "She was getting pretty old, you know."
"Yeah," the inquisitor continued, "but it seemed like she was healthy."
"Well, he didn't kill her, I'll tell you that."
"Ah, Okay. What are you gonna do with the body?"
"First, get it out of the cage. We'll do an autopsy just to check if she died of anything that could be communicable to the other animals or us then we get rid of the carcass the way we usually do."
"Well, guess I'll start firing up the old incinerator then and get it ready for when you're done.
"Yeah, why don't you go do that and let us get on with our work?"
"Okey-doke."
Throughout the years that this cage was ours' to share we had mated many times. Nonetheless, we bore no offspring, and for the life of me, I don't know why. While most bear young from their coupling, for those of us who do not it's neither for lack of trying nor a lack of love for each other. I loved her more than I know ways to tell you. Still, when we lay together I could not have been happier. This she told me too was how she felt. So it seemed we were enough for each other when all's said and done. Remembering that, made time pass somewhat less painful since the day she died.
And time did pass. The pain faded to numbness. I was glad they never brought another to my lonely cage to mate with me. She was irreplaceable and I had no desire to be with anyone else but her ever again. I was probably just too old anyway. Fate had cast me together with my one and only soul mate so I'm thankful for that good fortune. Still, I miss her every day. I've no way of knowing for sure how many years a Sub-Saharan African silverback can stand before finally lying down, like my lover, for the last time. What I do know is during those times when the memory of her manifests as a dull ache in my heart and keeps me awake all night long, is if I listen carefully, I can still hear her voice. Especially when the leaves on the trees outside my cage are being rustled by a soft wind, "Grow old along with me! The best is yet to be…" she reminds me. It's then I truly comprehend the complete meaning of those words. Once this mortal coil no longer binds me to this life we'll both be able to grow old together, united once again to watch the sunrise on all the best that is yet to come. Together anew, for eternity.
October 21, 2020
---
~ How Did You Find Me? ~
Excuse me,
But I really need to ask!
Out of all the others in this world,
How did you find me?
Yes, you see,
It just happened all so quickly
We became fast friends in such a whirl
How did you find me?
Was it fate?
Or was there some kind of plan?
To think, we could've missed each other
How did you find me?
It's so great
The way it worked out in the end,
A puppy and person together
So glad you found me!
October 14, 2020
---
~ My Beautiful Body ~
When I was younger I spent a fair share of my time working out and trying to stay in shape. Equal amounts of vanity and career requirements went into the formula that inspired me to get up out of bed early each morning to stretch, do a mixed-bag of calisthenics, and then jog (regardless of the weather outside). After jogging I'd be back inside sweating like a pig to complete my exercise routine by lifting free weights for about a half an hour. This I did religiously for a few decades until the aches and pains, the sprains, the muscle pulls, and the aging process finally forced me to concede that the risks had finally outweighed the benefits of the wear and tear my body was enduring on a daily basis.
Abandoning my on-stage career in the performing arts years before I had depleted my dwindling supply of to-give-a-f**ks by my mid-fifties led to my emancipation from bearing the heavy yolk of vanity, and I was finally free to give up my fitness regime, eat whatever I wanted, sleep-in later, and in general to let my body go. Physically, I'm still in fair shape if you overlook my problems with weight, stamina, strength, bad cholesterol, high blood pressure, or the way my eyeglasses steam up when I pass gas. So, what's to complain about?
To substitute for the efforts I had previously invested in my physique I redirected that discipline to enhance, what since then, has become my favorite body part: my mind. For me to consider my day to be one that is well lived I insist on learning a minimum of a dozen new items of knowledge during the time from which I got up from until when I go back to bed. This new content can be in the form of facts, information, words, ideas, concepts, thoughts, processes, or any other ways I'm able to think of to assist in my day-to-day goal of cognitive expansion.
I exert myself in this per diem endeavor not just in as much to keep my brain well-nourished but as to maintain accessibility to what is already stored there. Having unwantedly been dragged kicking and screaming into the senior citizen section of the population several years ago I'm quite concerned by the appearance of any or all of the three horsemen on my mental horizon. You know the ones I'm talking about: Dementia, Alzheimer's, and Delirium, AKA the DAD dudes.
I've lost count of the times I stood up to do or get something and can't remember what I was going for. Or not being able to recall what film or show I'd seen the night before on Netflix or Hulu TV. Then there's the brilliant idea that pops up and then forgotten in less time then it occurred. That last annoyance irritates me so much I always am sure to have pen and paper at hand to write those thoughts down before they can elude me. I can't even recall if these occurrences are new or have been happening all throughout my life. It's frustrating!
Now, what was I saying? Oh yeah, as they say, use it or lose it. Thus, my constant craving for quotidian self-edification is somewhat fed by the fear of becoming feebleminded. I'd be the first to tell you that I wasn't born that smart, to begin with. And if my father was still alive today he'd concur with that conclusion without you even asking him about me. Dad always said, "You're not all that smart, talented, or pretty so you better find out what you want to do for a living then do it till it kills you." He was right; I did and am still doing so. That bit of harsh advice served me better than any trust fund could ever have. Thank you, Sire.
I did have a rather lucid, although a bit lewd thought when I came up with the title for this story. As I typed out the words My Beautiful Body I began to ponder how many reading it would be misdirected in their thinking they were about to read something about genitals, derrieres, breasts, orifices, or (shall I just come right out and say it?) sex. Now just get your minds out of the gutter, my children. This has nothing to do with tail. It's simply a tale of trying to maintain my cerebral agility as I walk the tightrope of aging, so let's keep it as G rated as possible along the way.
October 7,2020
---
~ My Fine Friend Archie ~
My fine friend Archie
Is an amazing little puppy dog!
My furry friend Archie
Is an amazing little puppy dog!
If you thought he was a rabbit
Or thought he was a frog
Well I'm here to tell you
Buddy you thought wrong
Because he's my fine friend Archie
And he's an amazing little puppy
An amaaaaaaaazing little puppy
He's an amazing little puppy dog!
(And he lives upstairs)
Thank you Lea Feghali​ and Archie for kindly sharing the photograph.
September 30, 2020
---
~ Year of the Rat ~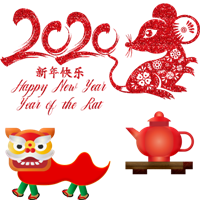 It happened on January 25, 2020, or according to the Chinese calendar the year 4718. That was the beginning of our current Year of the Rat. Did you know that the Zodiacal Rat, also known as the Zodiacal Mouse, is the first Chinese zodiac sign in their twelve-year repeating cycle? Perhaps a more inclusive name should have been Year of the Rodent. You'd have covered all your bases that way, wouldn't you? But hey, I'm not Chinese, so I have no legitimate say in this matter.
Since that date landed on a Saturday I went to a Chinese restaurant that night to celebrate the beginning of the Chinese New Year. At the end of the meal, as they often do in American Chinese restaurants although I've heard this is not a custom in China, I was given a fortune cookie. Upon cracking open the dry, tasteless vanilla wafer that concealed the tiny tag of paper containing my purported fortune that evening I read its message of what the future had in store for me. Oh, you want to know what it said. Well here you are: The early bird gets the worm, but the busy mouse gets the cheese. Very insightful, if you consider the various alternate animal zodiac options in nomenclature for that year.
The Chinese zodiac tends to be rather complex in that when they cyclically reoccur every twelve years they are varied in their attached elemental prefixes. For instance, the first of the twelve-year Rat year cycle is the year of the Wood Rat. This is followed by the Fire Rat, the Earth Rat, the Metal Rat, and the Water Rat. Then the Rat cycle begins anew. The year 2020 is the year of the Metal Rat. In the Chinese Wu Xing philosophy, metal is associated with the decline stage of matter that indicates inward motion through the contraction of energy. Metal years, like 2020, always end in a zero and happen every sixty years. Thus, the last Metal Rat years were 1960, 1900, 1840, and so on and so forth all the way back through the last four thousand or so years.
With a bit less than five more months left in this Metal Rat year let's look back at the prior seven months. Right about the beginning of the year of the Metal Rat, the world fell into a health crisis as the Covid-19 pandemic pounded global populations with sickness and death. Thought to have originated from a wet market in the Wuhan region of China in December of 2019 it's recently been revealed, thanks to improved tracking of this novel strain of the virus, that cases associated with the coronavirus can now be traced back to the west coast of the United States earlier than the assumed original outbreak. During the months that follow, leadership in many countries declined to acknowledge the severity of the situation, much less than implement guidelines, protocols, or execute methods to deal with it. Those that did, many in countries with elected female officials, not only managed to contain the spread of it but to virtually eradicate the threat in their respective territories. The USA, well, not so much.
As a result of the impact of the illness, economies declined severely and financial markets contracted alarmingly as individuals were advised to stay in their homes and only venture out from them when absolutely necessary. Businesses, educational institutions, and other establishments were shut down entirely for many months. What also declined in the United States was national unity, respect for law and order even at the highest levels of the government, as well as racial and class equity. It often appeared as if no one was in charge as the rich rats ran rampant and gobbled up most of the cheese that was intended to help the smaller rats in the race through these tough times. The year of the Metal Rat is a scurry time, to say the least.
2020 sadly illuminated the disparity in how the American justice system worked for black vs. white and rich vs. poor. The laws that applied to one race or class did not apply to we the people as a whole. Money and skin color unquestionably was a factor in the equation of how hard the hammer came down upon you, if it came down on you at all, in the meting of justice for the many. Once a dirty little secret to some, in the year of the Metal Rat, it became a blinding fact that the first sentence from America's founding document, The Declaration of Independence, was little more than a lie. And that, my fellow Americans, is colder than a witch's tit cupped in an icy brass brassiere.
Perhaps what took the hardest hits, and what also suffered severe collateral damage during this time, was how we define truth and reality. Through manipulation, misinformation, conspiracy, and outright lies it became increasingly difficult to discern truth from falsehood. Beginning in 2016 those in power began to disseminate the ideas of alternative realities, facts, and truths. We were asked to accept that 2 + 2 no longer added up to become 4, told not to believe what we heard with our own ears or what our eyes saw. Even when we could refer to recorded archives of the things that were said and done we'd be repeatedly told that we were wrong so many times so many no longer knew what was real and what was fake in the world around us.
Do you remember that kid from New Jersey who told us back in August of 1975, the Year of the Tiger, "Tramps like us, baby, we were born to run"? I do, but I'm not going to run. If I can make it through this year I'm going to dig my heels in and take a stand to fight for our runaway American dream. Even if by doing so it rips the bones from my back and sucks the madness from my soul. I vow to guard and help anyone who still cares enough to stand along with me and fight for what once was our country's dream and vision because together we can break this rat trap and know what's real again. In this you have my solemn promise; I refuse to let the rats win these battles any longer. So, bring it on, baby, bring it on!
September 23, 2020
---
~ Dog Umbrellas? ~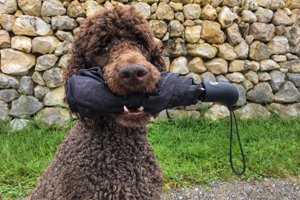 Have you ever pondered?
When your poor puppy
Has to pee or poo
And it's raining outside
Why it looks pleadingly
At your indoor plumbing
And asks with its eyes
Hey, if you can, why can't I?
September 16, 2020
---
~ Heaven, Hell, or Hobohemia ~
Lots of the American troops who were sent overseas to do battle during WWI were shipped out from a seaport in this tiny town of Hobohemia. In addition, when going back home it was the port that those lucky enough to come back alive would go through, so the soldiers coined the saying, "Heaven, Hell, or Hobohemia". It was a phrase derived from the vow General John J. Pershing made to the troops that the war would be over by Christmas of 1917 and referred to three places they could expect to be by then. The war, of course, ended up dragging on for one year longer than promised. For those on the battlefield it also pretty much surmised the possible outcome of our fighter's fate during wartime. It just goes to show how one man's hope and promise is another man's sense of resignation. Life is funny that way, I guess.
What's also funny, as well as ironic, is that prior to 1914, Germany, Italy, and Austria-Hungary had formed an alliance that led to that war. By 1915 Italy dropped out of that alliance and aligned itself with the opposing allied forces of Russia, Belgium, the French Empire, Serbia, the British Empire, Montenegro, Australia, and Canada. It wasn't until 1917 that the USA sided with the Allied forces fighting against the German Alliance. The US did so not as a formal military alliance but as an Associated Power. If you take a hard look at history it's easy to see how readily we all get hung up on something as simple semantics.
Even before that war, Hobohemia was home to a relatively large number of German people already living there. Some historians have estimated they made up about 25% of the population at that time and exceeded the number of Italians or Irish immigrants residing in the same town. Being labeled as enemy aliens, most of those Germans there already were either interned or displaced. World War I, the war to end all wars, ended on November 11, 1918, with a death toll of about nine million combatants and 13 million noncombatants. An influenza pandemic during that time snuffed out another 17-100 million lives worldwide.
Well, that was then and this is now. I moved to Hobohemia at the beginning of 2012. Since everyone is entitled to my opinion and I'll tell anyone who'll listen, I believe it was the best move I ever made. The people are kind, the conveniences are many, there are good times aplenty, tons of fun, and its history is colorful, to say the least. At the time I left New York City, after thirty-some years or so of being there, I felt as if Manhattan was sucking the very life right out of me. The Big Apple just isn't the best place to grow old. Not knowing if I'd end up in heaven or in hell once I moved I am relieved to be living happily in Hobohemia. And man, I'm loving every single moment here.
September 9, 2020
---
~ Sailorman Jack ~
I've been privileged to know a lot of crazy people in my lifetime. One of the craziest was Sailorman Jack. When my first wife and I moved back to the USA from Belgium in 1976 we decided to take up residence in New York City. NYC was dirtier and more dangerous in those days than it is today (which may be debatable), but apartment rents in Manhattan were still higher than in most places and the job market was tighter. Having had some success with my recording career in Europe, I'd hoped to use that to my advantage in The States, but '76 was the first year record companies began to see a decrease in their sales so most had put a freeze on signing new artists. And frankly, I just wasn't that good of a musician.
So with that hope dashed I fell back upon generating a source of income in a way I'd hoped I'd never had to again: teaching guitar. I'd hit a rather novel way of recruiting students by how I'd advertise what I was offering, creating an ad with copy positioned against a background of music staves and shouting in boldfaced capital letters FIRST LESSON FREE! Beneath that were a few paragraphs briefly describing my background and instructional technique. At the bottom were telephone number tear-off tags. I'd print these ads up for about a nickel a page at a local copy shop then paper the town.
Before I knew it the phone began to ring and I built a thriving little cottage industry from my overpriced cracker box sized Upper Eastside apartment. Through this reasonably lucrative little endeavor, I met the two guys who would later become business partners in my entertainment promotion and marketing company, as well as my lawyer, my second wife, and a few friends. It also opened the door for a career-changing internship at PolyGram Records as well a less career-changing internship assisting as a psychotherapist/hypnotherapist, but that's another story altogether. Last, but not least, it led to meeting one of the zaniest characters I've ever known, the legendary Sailorman Jack.
Jack, before he had even become Sailorman Jack and was still only Lawrence Kobacs, came in for his free lesson and told me he wanted to learn sea shanties. So I taught him how to tune his guitar and the chords for "Blow the Man Down". After his lesson, I did some research as to what sea shanties were and then would teach him one each time he returned as a paying student. Turns out those sea shanties were the songs sailors sang while they worked aboard ships at sea. Whenever a job aboard a 19th-century vessel was large enough that it required multiple able bodies to perform, a shantyman would begin singing a shanty so the others could coordinate their muscular efforts in unison by following the rhythmic pattern set by the music. In other words, they were seafaring work songs.
Sea shanties were usually lyrically rude, crude, off-color, and full of sexual innuendo regarding what the crew would do not only with the captain's daughter but the captain himself, as well as the first mate, prostitutes in ports of call, or other individuals in faraway places old tars would likely encounter during their travels upon the seven seas. A few I still recall had titles like "Friggin' In The Riggin'", "Maid of Amsterdam", "What Do You Do With A Drunken Sailor?", "Haul Away, Joe", and "Spanish Ladies" among many others.
After learning one of these cheeky chestnuts he'd pay me for the lesson (if memory serves me well I think I charged $5 for a one-hour session, which I thought was pretty good considering that was almost double the federal minimum wage of that era) and book another appointment for the following week. After mastering a new tawdry tune he'd let out a hearty shout of "Huzzah!" Each time we met he appeared to add a new article of attire and/or mannerism that referenced the look, language, and dress of a 19th-century seaman. Thus, Mr. Kobacs began sporting bushy muttonchops sideburns and a large waxed handlebar mustache. Next, there was a Sherlock Holmes-style meerschaum pipe, the captain's cap, a large pocket watch attached to a fob that dangled from his trousers, and naval blazer adorned with military medals and ribbons.
One day he announced he'd begun busking (playing music for tips from those passing by) on the NYC subway platforms and had adopted the pseudonym of Sailorman Jack when performing. Many of his impromptu platform performances were interrupted by run-ins with NYPD cops who told him if he didn't pack it up and leave they'd either have to write him a ticket or take him in for an arrest. To this he'd respectfully respond to the man in blue that he knew the officer was only doing his duty, thank him for his service, and invite him to join him for a beer; an invitation that some accepted. Sailorman Jack soon had a collection of friendly drinking buddies from precincts all across The Big Apple, many of whom would turn a blind eye when they discovered him again singing his shanties in the subway and a few who would even sing along on the choruses of some of his salacious songs.
But soon the subways were no longer a large enough stage for this larger than life lunatic so he began booking shows in local clubs in Greenwich Village. Jack asked if he could hire me to put together and play in a back-up band for these shows, so I told him as long as he'd pay me I'd be happy to join him in his insanity. Mike, one of my other students at that time, and who would later become my friend, attorney, and co-founder of one of my future businesses, I recruited as part of the act now known as SAILORMAN JACK & HIS SALTY SEAMEN. We backed Jack's guitar and voice by trading off on guitars, bass, concertina, harmonica, tambourine, washboard, spoons, jaw harp, kazoos, and various other sources of sound as we gigged about town. So he could sell cassette tapes of his music at the shows Sailorman would also book us to work with him in recording sessions. To my delight, we actually ended up making some pretty good albums. An added plus was it was the first time I was actually paid to produce records, and years later led to working in the studio with some very notable acts.
The funny thing was even with those stage shows at night Jack would still hit the subways to busk during the day. It was around that time New York Mayor Ed Koch was up for reelection and was putting pressure on the Manhattan Transit Authority to clean up their act and make improvements on the way they ran things beneath the city streets. So what did the MTA do? They commenced cracking down on those performing at the subway stations instead of improving service, cleaning up the trains, or providing better security to combat the crime that ran rampant underground.
Now, this move by the MTA really pissed off Sailorman Jack. So what did he do? He decided to run against Mayor Koch in the upcoming election. Mike, the lawyer, and I helped him form the Third Rail Party whose only plank in its platform (get it?) was to make subway service free for all riders. Past studies had concluded that the MTA was hemorrhaging so much money in the way it managed the token booths and turnstiles that fewer tax subsidies would be needed if it simply laid off the workers responsible for the turnstiles and working in the booths. Don't believe me? Just Google it!
Once Mike had registered our Third Rail Party with officials Jack asked me to help him write a campaign song, book some studio time and assemble the SALTY SEAMEN to record "Dirty Ol' Train". I sent it out, along with a press release, to multiple media targets throughout the metropolitan area. Before you could say "All hands on deck!" newspapers like the New York Times and network morning talk shows were providing a fair amount of coverage for us. Jack would speak on those television broadcasts about his Third Rail Party subway platform and then we'd perform the song. Everyone from Imus in the Morning to The Howard Stern Show wanted to have us on their radio programs.
We made quite an impact, but of course, we lost the election. Afterward, I went on to write an unpublished book about it called "The Once and Future Mayor of the Underground", and to launch several successful companies. Mike eventually moved to Florida to raise a family, and Sailorman Jack just simply disappeared from the spotlight. Years later, probably around 2010, some mutual friends told me they heard he'd moved to Ohio to form a pipe and tobacco collective. Shortly thereafter I received an anonymously sent envelope that contained only a clipping of a recent newspaper obituary. Sailorman Jack had died.
Of all the songs I produced and recorded with Jack, my favorite was "Fiddler's Green". It tells a story of an old salt who knows he's knocking on death's door and implores a fellow mariner to wrap him up in his oilskins and jumper and to just tell his old shipmates he's taking a trip to that place where worn-out seafarers are eventually destined to go. So, I know if I don't end up in hell one day I'll surely meet up with Sailorman Jack again where the weather is clear and the dolphins do play. Where's that you ask? Well, as any swab worth his daily ration of rum could tell you, of course, that would be Fiddler's Green. Until then Captain, keep your eyes on the horizon, the wind in your sails, and smooth sailing.
September 3, 2020
---
~ Six Shades of Splendid ~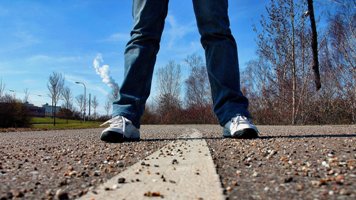 Saturday had already turned out to be six shades of splendid and it wasn't even 9 A.M. yet. To begin with, he had rolled out of bed this morning with nary an ache or a pain throughout his entire body. Now that was a welcomed rarity at his age. Then there was the fact that he wasn't feeling the least bit hung-over. Even after a fun-filled Friday night of heavy drinking and ingesting some cannabis edible in the form of a passion fruit flavored lollipop which purportedly contained a whopping 66 milligrams of THC. Next, after brushing his teeth and enjoying a bracing shower, the toenail of the big toe of his right foot had finally fallen off to reveal a healthy new one had almost fully grown in place of it. Both big toes of both feet had been annoyingly injured in an incident he was fond of referring to as that bad day in new shoes. More about the fun Friday, that alcohol, marijuana munchables, and the injury incident later, so just stick around.
It was July 18, 2020, and the sun was shining as bright as the smile on his face as he gazed out of one of the six open screened windows that some anonymous architect had thoughtfully thought to incorporate in the design of the tiny apartment where he dwelled on Sixth Street. There were three windows to look out of installed in the eastside and three on the southern wall of the place he now fondly called home. Surveying the neighborhood outside as far as his weakening vision would still allow he raised his hands above his head, wiggled his fingers like twitching tentacles, and sighed, "Oh Hobohemia, how I love thee!" That little thingamajig with the fingers he liked to think of as being his official Hobohemian salute. In reality, it was purely a tepid reinterpretation of what dancers called jazz hands.
Friday had begun with rain showers, but by late afternoon the sun had broken through the clouds of an overcast sky as he wrapped up the day's work at 5 P.M. on the dot. For a few minutes, he'd debated whether to take advantage of the improved weather and walk to The Court Street Restaurant and Bar for dinner outside at their StrEatery or Sidewalk Café. Each of which was merely a half dozen or so tables lined along the wall of a building adjacent to the restaurant and only a half a sidewalk away from another six or more tables placed inside the barricaded area of the street that had been dubbed the StrEatery. The symmetry of this situation was pleasing if you were either afflicted with OCD or possessed a discerning eye for symmetry, and he admittedly did love himself some sweet, sweet symmetry.
You see, since the local government had prohibited bars and restaurants from permitting patrons to dine and imbibe inside because of the coronavirus pandemic, as an alternative, some of these establishments were currently allowed to offer outdoor seating in addition to takeout and delivery service. He rarely dined in at The Court Street Restaurant's bar or tables after work, instead opting to sit alone at their bar savoring a drink or two while reading whatever book he was currently engrossed in, waiting until the food he had ordered for takeout was brought to him to bring back home to eat while he watched Netflix. He was always reading something and pretty much kept to himself, but over nearly a decade of dropping in at C-Street he'd begun to feel relaxed and comfortable enough to not only engage in conversation with those who worked there, but he'd also became acquainted with a few of the regulars as well.
Sue10 was one of those regulars or a bar stool buddy as he liked to joke, he'd often drink and converse with. Sitting perched on the tall bar stools at the southeast corner of the bar while being served by Jeff the bartender, they'd banter back and forth with him, along with Dan, Kevin, Dr. Artie, and Laura as they drank. Dan and Kevin owned C-Street. Kevin was a dog lover as well as a major ice hockey fan. Dan, when not at the restaurant, spent his time purveying fresh seafood, vegetables, and other kitchen staples from local retailers. Both were always ready to stop whatever they might be doing to speak and laugh with you. Every now and then Dan would return from the kitchen with small plates of petites bouchées food samples for those parked at the southeast corner of the bar to get an opinion on new preparations they were experimenting with behind the scenes.
Dr. Artie had earned his name the day he announced he'd graduated from college and someone at the bar quipped, "Oh, I guess we're going to have to start calling you Dr. Artie from now on, right?" Artie was the de facto floor manager and also responsible for dealing with the wine, beer, and spirits distributors. His overseeing of the Court's celebrated wine cellar had earned them several Wine Spectator Best of Award of Excellence citations over the years. The good doctor was an avid Phish fan and a follicly [sic] proficient grower of facial hair.
Jeff always remembered what your favorite drink was and made sure bread, olive tapenade, and any other sides or assorted condiments were inside the bag of your takeout order. Listening to Jeff and Dr. Artie's back and forth chatter with each other while they worked was like eavesdropping on a conversation between Batman and Robin. These two food and beverage brothers from different mothers who always had each other's back made jokes at one another's expense for the amusement of those fortunate enough to be in the listening distance at the bar.
Laura worked the floor as a server. She had the brightest smile in all of Hobohemia and had mastered the art of the covert eye roll, rolling them in exasperation so everyone in proximity would see except the one who the roll was directed at. Along with the megawatt smile, she shared her infectious laughter along with anyone confronted by life's absurdities. The aforementioned are only a few of the wonderful members who were part of the C-Street team all-stars. It was Laura who answered the phone when he instead of taking a short walk for an outside table at the Court Street Sidewalk Café or their StrEatery had decided to call for a delivery.
The eateries who were allowed to serve customers outside during the COVID-19 lockdown are able to do so only by adhering to some strict rules and regulations. The number of tables for diners was severely limited and each had to be distanced at least six feet apart. No more than six people could be seated at a table. Each dining area had to be cleaned and disinfected between use, as were the menus and salt and pepper shakers. This was factored in the decision he'd have a meal delivered to relish while watching something on his Netflix queue instead of hogging a whole table for just himself, thus preventing the restaurant from maximizing their already crimped seating arrangement. An additional factor in that equation was the diagnosis from a young female physician that he secretly had a crush on and whom he'd given the nickname 'My Hot Doc', had shared with him years ago, that he suffered from a seriously severe case of chronic laziness.
He and Sue10 had decided to move their bar stool buddy relationship to the next level and become tablemates simply because of those burdensome rules and regs food and beverage businesses now bore. Since both lived on their own and neither felt it was fair, considering the restaurants' currently limited table seating, to sit on their own at one of those tables, they settled upon an arrangement. The two agreed to an open relationship whereas each was free to go wherever they wanted without each other, but would come together and share their bodies with one another when either needed a body in the seat opposite them at some restaurant.
Before caving into ordering out he'd noticed that Sue10 was posting beach pictures from the Jersey Shore on her Facebook account, so he knew she'd probably be sunning in Manasquan, NJ, on the beach instead of sweating it out in Hobohemia for the next few days. Hence, not wanting to be some selfish solo diner, particularly on a Friday night, he called 201-795-4515, and Laura answered the phone. They had a nice bit of the ol' chitchat after which he rattled of the list of the foods he hungered for that evening; a half dozen Stormy Bay oysters on the half shell along with an equal amount of Littleneck clams, a U-12 jumbo shrimp cocktail, and one chilled steamed artichoke with a mustard dipping sauce. While awaiting its arrival he uncorked a 1.5-liter bottle of Concha Y Toro 2018 Frontera Chardonnay that had been chilling in his refrigerator intended for just such an occasion.
Prior to picking up the phone, he'd taken a 66 milligram THC infused passion fruit flavored lollipop from the freezer, and before gingerly peeling off a cellophane wrapper, read the following instructions from a small piece of paper attached to its stem.
To Our Fellow Members Of The Lollipop Guild
To fully enjoy the 66 calories (wink, wink) of these tasty treats remove packaging thusly:
1) Untwist the gold twisty seal.
2) Unwrap the cellophane from the lollipop stem.
3) Part the cellophane until you're able to grip each side of the cellophane wrapper between your thumb and index finger.
4) SLOWLY peel the cellophane away from each sticky face of the lollipop so it doesn't tear, until you are able to remove it entirely.
5) On the stripped cellophane there will be quite a bit of sticky residue, so don't waste it.
6) You know what to do, lick it off the cellophane (waste not – want not), then lick the lollipop.
7) Welcome to OZ! Remember to tell the Tin Man to say "Hi!" to his mom. He'll know what we mean.
8) CHILL OUT & ENJOY THE FIREWORKS!!!!
If anyone was wondering, all of those directions were followed to the letter and in about 20 minutes he felt himself gently floating down into the Land of Oz.
The food arrived in less than twenty minutes from the call. The shrimp cocktail was stored in the refrigerator for later and the oysters, clams, and artichoke were washed down by the iced Chardonnay as he watched a documentary about Jeffrey Epstein on Netflix. Dinner was followed by a few cocktails along with another Netflix program before climbing into bed for the night. There may have been dreams during the night, but if there were they were not remembered by the time morning arrived in its many shades of splendor.
The day before he'd loaded his Cuisinart Automatic Grind & Brew's genuine grinder basket to the brim with French Vanilla Crème coffee beans, capped it with the grinder assembly lid, and made a twelve cup pot of fresh coffee. When the last drop of water had dripped through the brewer, the pot was moved from the machine and left to cool in the kitchen throughout the day while he worked in the other room. After cooling, the pot was stored in the refrigerator overnight so it could be used for iced coffee over the next few days.
Dropping six ice cubes in one of the handled mason jars he kept frosty in the freezer he filled it to the top with the chilled French Vanilla Crème coffee and decided to plan what steps to take next to get the most out of this splendidly sunny Saturday. Step 1: Enjoy the iced coffee to the last drop. Step 2: Close and lock all the apartment windows. Step 3: Put on the mandatory pandemic facemask before leaving the building. Step 4: Be sure to lock the apartment door. Step 5: Walk downstairs to the street. Step 6: Accept that his feet knew where they want to go, and then just start walking as far as they'll take you. Splendid, yes it was an absolutely splendid plan!
August 28,2020
---
~ Grow Old Along With Me ~
I was holding her hand when she passed. Since I'd never seen anyone die, I hadn't been sure what to expect. Perhaps I thought her death would be preceded by a long sigh or some kind of final death rattle. Maybe I was supposed to see some aura or light emanating and escaping from the body I'd cherished all these years. She certainly wasn't confused nor disoriented in her ending moments. The last words I heard her speak were lucid and clear, "Grow old along with me. The best is yet to be, my darling." Next, she grew very still and quiet as her body slumped down a little deeper in the place we had laid together for many years. The love of my life now appeared more relaxed than I'd recalled seeing her for quite some time. Then she was gone.
Those last words were from some poem she'd heard and memorized when younger and years before we'd met. In fact, she had recited it when proposing we mate.
Grow old along with me!
The best is yet to be,
The last of life, for which the first was made:
Our times are in His hand
Who saith, "A whole I planned,
A youth shows but half; trust God: see all, nor be afraid!"*
How could I say no to that wonderful young female whose beautiful brown eyes misted with the dew of tears while sharing those words that were more than mere words? They were a solemn promise that she kept to me up to her last breath. Whenever I had grown upset or frustrated by the barriers and burdens, real or imagined, that fate had dealt us in our lives she'd draw me near to hold as she softly whispered in my ear, "Grow old along with me! The best is yet to be…" And like an answered prayer I'd realize my problems were vastly outweighed by the miracle of being loved by her. Now she's gone—and I'm all alone.
The hand which I had still held in mine had grown cold, and I released it so I could use my knuckles to help me stand upright by her lifeless corpse. The thought of the loneliness I'd now have to endure during what years still remained in my life, endure without her, made me want to pound and beat my chest in rage and anger. It made me want to howl at the full moon that now began to appear, alone in the sky above us as another day had surrendered its clear and vividly colored twilight to the darkened night the way life surrenders to death. Thoughts and feelings that made me want to hurt something, anything—even myself, to offset the pain that now trapped and enslaved my heart, my soul, my mind, my very being with the misery of bereavement.
"Why would she do this? Do this to me? Leave me like this?" I savagely growled and demanded from the unhearing and uncaring cold universe I was now left to face on my own without her. "Grow old along with me! The best is yet to be…"
"How can I still grow old along with you? You're gone—you've left me and the best is now behind us and fading like a dulled memory! How do you trust a God that severs and cleaves the two to leave only one to remain without the other to soothe and assuage for what's lost in the last of life? How could you have made me believe we were in His hands when He was not there when we most needed Him? Are you even listening to us, God?" I bellowed beneath the stars that appeared silently to provide consoling company for that melancholy moon in the heartless heavens above.
Sinking back down on my haunches next to my beloved's inert remains laid on the hard floor of the cage we had shared in this zoo all these years together I began to sob. A Sub-Saharan African silverback is not supposed to cry out loud, but I didn't care if the other animals or the zookeepers saw or heard me. A gentle wind blew through the trees making their leaves rustle ever so lightly. And for a moment I believed again I heard the lilting sound of my sweet companion's voice comforting me, "Grow old along with me! The best is yet to be…"
*From a poem titled Rabbi ben Ezra by Robert Browning circa 1864
August 21,2020
---
~ Can You Hear Me, Major Mushroom? ~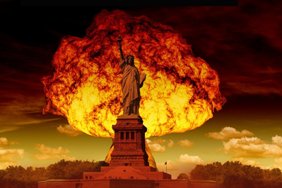 Did you know that the largest organism known on Earth is a mushroom?*
While the whale is the largest living mammal (the largest on record was a scant 110 feet long and weighed an anorexic 200 tons), there's a mushroom so large it could choke the biggest whale in the ocean. Heck, it's so huge it could probably choke a whole pod of whales with enough left over to obstruct the breathing passages of a few herds of elephants and gag several gaggles of geese. Scientists who have studied this massive fungal organism estimate that its body can extend for many miles. One befuddled botanist has even suggested that we may never know for sure how enormous these fungi can become because the one all those eggheads are currently researching may still be growing. Thus far, that big bad boy I'm talking about, which resides in the Blue Mountains of Oregon, is estimated to occupy over 2,384 acres.
Can you imagine that? A mighty mushroom that measures nearly four square miles is more than a mite mind-boggling. Look at it this way, my friend: that's the size of more than 1,665 football fields.
Are you getting the picture now?
Mushrooms like this Armillaria ostoyae I've been describing achieve their monumental mass mainly due to their inherently parasitic nature. They've killed forests of conifer trees by digesting their roots. You read right—they eat trees. As they do, they extend flat, shoestring-like structures called rhizomorphs. The rhizomorphs are utilized to bridge the gaps between the A. ostoyae's food sources, creating a network called the mycelium. Guess that helps explain how that bugger got so big. I used to have a picture of it on my cell phone, but I was kind of drunk one night and accidentally left that phone in the backseat of a Yellow Cab. I tried calling the New York City Taxi & Limousine Commission customer service line a few times, but I never retrieved the phone and haven't gotten around to getting a new one yet. When I finally do, I think I'll spring for one of those smartphones for stupid people.
When this monstrosity of a mushroom was initially discovered, some experts theorized it was actually many mushrooms growing side by side. Nope—wrong! So, they called some major microbiologist to tell him he just had to see it. He says, "I'll be there," and the next thing you know, he's on a plane—on his way to take a peek at that daunting denizen from the kingdom of fungi. When he arrives, one of the other squints lays a multiple-mushroom theory on him. The newly arrived microbiologist goes silent for a New York minute and then goes, "Whoa…I know a way we can test that theory." Of course, he suggested using a battery of molecular genetic techniques, which we laymen crudely call DNA testing, to determine if the ginormous tree gobbler was one individual or many individuals masquerading as one—more than likely just to punk some scientists. Have you guessed what they found? Instead of heterozygous strips of DNA, they discovered only homozygous ones. Now, that's another mystery of the universe solved. One could even say this was one small step for man and one giant step for mycology.
While what I've just related may be enough to blow any methodological mind, what I'm about to tell you will leave you in a shocking state of wow and awe. Human families are a lot like a fungus, at least in my humble opinion. Whether related by biology or by choice, those unseen rhizomorphic-like threads that tie individuals together are what make a family. In some cases, it becomes necessary to conduct DNA tests to see who's biologically related to whom. For better or for worse, the inherent symbiotic and parasitic nature of the family structure has the potential to nurture or destroy an individual. Tracing the roots of any family tree far enough back will unearth dirt about the heroes and the heels that we love and hate and with whom we are related in some freaky form or fashion. When all is completely said and done, it is what it is until it just ain't anymore. An old saying proclaims that you can choose your friends but can't choose your family. It's been my empirical experience that even when we can choose whom to relate to, we many times fare no better in the end.
And so it goes on our planet. Is there life out there on other planets? While no one knows for sure, mathematicians hypothesize that given the number of planets in the universe, it is reasonable to speculate that some could sustain life. Now, if places other than Earth can support life, then there's a fair chance that we are not alone. Moreover, if there is other life out there, one could logically surmise that it may be more intellectually advanced than we are. If technologically ahead of us, such life forms may have surpassed our ability to travel through space. In fact, it's not unreasonable to think that one day, they may pay us a visit.
Well, I, for one, believe that they're already here. They traveled here from beyond the farthest stars many millennia ago and made a home on our planet. Why did they come here? Well, your guess is as good as mine, so have at it. Was it for world domination? I doubt it because as far as I can tell, no one really seems to stay in charge for very long here. Could it just be that this world is better than the one they left behind? Maybe I could believe that if I didn't believe our world has been going—and continues to go—to hell in a handbasket. Did they just want to say, "We're here!"? After all, we all have to be somewhere, right?
Admittedly, while I don't know exactly why they've come, I do know that they're here. That's right, extraterrestrial aliens are here with us, sharing our small, sad, terrestrial plane of existence. You may ask who and where they are. And that would be an excellent question, so I'm glad you asked. They're the fungi—and they're everywhere! I'd even venture to say that they're the "mushroom in the room" of which we dare not speak. The fungus among us.
Now you may say, "Wait a minute. I eat those dumb mushrooms all the time, so they can't be more intellectually advanced than I am." I would then respond with "Oh, no?" and ask you what could be cleverer than a life form that tricks another into ingesting it, so that the ingested life form can slowly and covertly take control of its ingester. Then I'd tell you that's pretty clever if you ask me. Another excellent question for you to ask is how I know this. My reply: It came to me as a vision one time when I was tripping my balls off on a butt load of mushrooms. Many folks who have ingested shrooms will say they were truly altered after doing so.
Psilocybe cubeniss (magic mushroom) use has been documented as long as 9,000 years ago. Art found in the Sahara region depicts these fungi in great detail. It is known that many years before the arrival of European explorers to Central America, the natives there used them in their religious ceremonies. I don't mean to be rude, but if you don't believe those historical hard facts, then f*** you and f*** the spirit animal you rode into town on. Can I get an "amen" here?
Talk about an advanced life form. The mushroom doesn't even have to get a room to get it on or hook up. They make more mushrooms by producing spores, which are then borne by the wind to new places to grow. Sometimes, however, they grow in areas where seldom a breeze blows, so they must make their own wind. This has been scientifically documented. They create their own wind by increasing the rate at which water evaporates from their surface. The cooler air resulting from the evaporation lifts and moves those spores. And move they do. They're everywhere! Why do you think that after ingestion, the ingester experiences nausea and vomiting? Well, to make more room for the ingested life form to take over, of course.
The magic mushroom is not the only fungi species. So far, mycologists have definitively identified around 75,000 different variations and estimate that as many as a million remain unidentified. From the beginning of humankind, there have been only fifteen variations of the human species duly documented by scientists. Think about that for a second. We may not be outmanned, but we're unquestionably outnumbered. And just how many of those extinct Homo-whatevers (those whatevers being Homo guatengensis, Homo habilis, Homo ergaster, Homo erectus, Homo rudolfensis, Homo antecessor, Homo cepranensis, Homo heidelbergensis, Homo rhodensiensis, Homo neanderthalensis, Homo sapiens idaltu, Homo floresiensis, Homo denisova, and Red Deer Cave people) perished from eating toxic mushrooms until only we Homo sapiens were left? These shrooms from space, I tell you, they're here and out to get what remains of us. Oh, the humanity!
Ironically enough, since the 1940s, we've all been worried the world will end in a mushroom cloud. It may very well, but perhaps not the kind of mushroom cloud we thought. So, shall we steadfastly stand our ground and fight the good fight against these insidious space invaders? Should we admit defeat and do what those fungal foreigners did, leaving our native soil to seek a new home in another galaxy far, far away? Or, are there other options to consider?
One of our elected leaders has suggested we could build a wall to keep them out and have Mexico pay for it. Frankly, I don't believe that would work. Another idea for saving ourselves is to communicate with this enemy that threatens our planet, our safety, our freedoms, our very way of life. We could endeavor to negotiate a peace accord between our and the mushrooms' leaders.
Yes, that just might serve as the sole salvation of our kind. Now, let's send out word to those billions of fungi that we're ready to commit to sitting at the negotiating table. Let's agree to hold a peace summit in that tiny, frequently forgotten African country called Amnesia—the country whose flag proudly proclaims, "We have no history—who'd remember it, anyway?" I'm sure you know the one I mean.
Send out the message loud and clear: Ground control to Major Mushroom, ground control to Major Mushroom. Can you hear me, Major Mushroom? And if that doesn't work, then while we're all still at that table together and before they know what's happening, we'll just eat them as fast as we can, saying, "F*** you mushrooms, and f*** the f***ing spacecraft you f***ing rode to our planet.
Ground control to Major Mushroom, ground control to Major Mushroom, can you hear me Major Mushroom? Oh, sweet Jesus in heaven, how I do love to eat those shrooms! Now, can I get me another "amen" here?
Amen!
*I want to give full credit, as well as an apology, to Anne Casselman and her wonderful research article titled "Strange but True: The Largest Organism on Earth Is a Fungus" that was published in the October 4, 2007 issue of Scientific American as the source of all the scientific information, which I have so mercilessly mocked, contained in this opening chapter.
Special thanks to Jeff Wysocki of the Court Street Restaurant & Bar for the idea that led to this short story, editing advice, and for being a masterful mixologist.
August 14, 2020
---
~ Beneath A Lazarus Moon ~
Full disclosure: Paul Jones Palin was no longer the voice of a generation. His death assumed to have happened on August 31, 2010, had people talking all around the world because of its questionable nature. It wasn't until September of 2017 that he was then declared dead in absentia. By that time everyone had not only stopped talking about P. J. Palin, they'd also pretty much forgotten all about him. And so it goes, my children, and so it goes.
That's why it came as quite a surprise to most that after several undocumented reported sightings of Mr. Palin it was confirmed that P. J. was still very much alive. In fact, it was revealed that he was actually earning a living as a doobie smoking fisherman in the very town he allegedly died in, East Hampton, NY. What came as a bigger surprise to any who still remembered him was that this revelation occurred as a direct result of this recently resurrected ghost succumbing to an innocent craving for (are you ready for this?) ice cream.
You may, or may not, remember the sensational headlines and news coverage about his disappearance. Do you? Anybody? Someone out there? Hands in the air, anyone? No? Well, that wouldn't have been all that unusual considering how long ago it was and all that happened since. As one adds up all the rumors surrounding the uncertainly of his demise you'd probably conclude, as most people did, that his departure was just another of the many unsolved mysteries of the universe. As Paul had often remarked prior to his fishy passing, "There are only three things I hold as being unquestionably true. One, life is a mystery. Two, I am mystified. And three, reality is merely a collective hunch." Yeah, he was that kind of guy, I guess.
It's still kind of sketchy what Peege (a nickname his bother had given him when they were both much younger) had been doing with himself for the past decade. As it turned out, he didn't drown in the choppy waters of the Atlantic Ocean nearly ten years ago when he took that fateful bike ride on the Swedish Kronan bicycle (included as a complementary perk in the price of his rented room) at dawn from the Maidstone Hotel located at 207 Main Street in Long Island, NY. Instead, after apparently drifting atop the waves for hours, his body had floated back to the same shoreline where Paul Jones Palin had earlier discarded his pajamas on the then sun stained beach before taking what he hoped would be a fatal swim into oblivion.
It was said when he awoke, lying naked and cold on the wet sand at night with no idea of how he had gotten there, it was beneath a Lazarus moon. With only the moonlight shining through the darkness, Palin wandered along the beach in his birthday suit until finding an empty home that he broke into for clothes, food, and a place to sleep. For weeks he hid out in the empty house with a well-stocked food pantry and no other inhabitants. As he recovered from his attempt at suicide, and as he felt stronger, in the cover of nighttime darkness Peege would go out to explore the neighborhood.
One night Paul happened upon an outdoor concert where a jam band named Phish was performing and snuck into the show. After the last song, while the crew was loading up the equipment for the next stop on the long leg of the group's tour, P. J. made his way to the stage and began lending a hand to the packing up process. When all the equipment had been loaded up the road manager assigned each worker to various trucks, vans, and vehicles to be transported to the next location. No one seemed to notice Palin's presence, or else they just may have assumed he was a member of the road crew, so he decided to go along for the ride. And like a band of gypsies, together on the road, they traveled.
Lots of miles, gigs, after-show parties, and years later after Peege decided to retire from life on the road he returned to East Hampton where he reinvented himself as a doobie smoking fisherman (sounds like the name of a side project a Phish band member might have chosen). It began as a part-time job that became a full-time occupation on a local charter fishing boat. As time passed the aging Mr. Palin had saved enough money to buy his own boat which he chartered out for a hefty per diem fee to the town's tourists.
One night after getting wasted at his favorite tavern he stopped at The Candy Shoppe on #35 Newtown Lane for some ice cream to enjoy on his way back home. It was almost ten years to the day since he'd originally stopped there to buy a milkshake which he would later use as his magic milkshake laced with doctor prescribed narcotics employed as the first step in his failed suicide attempt. The sense of déjà vu was as strong as a huge fart in a cramped elevator when Palin entered the store. A sensation quickly dispelled as he could literally feel the eyes of the man who stood behind the counter studying him.
"I know you," the now vaguely familiar man began after eyeing him for several uncomfortable seconds, "I was working here the night you came in this store and left me the biggest tip I'd ever been given because instead of putting that milkshake I made for you into one of my old boss' paper takeout cups I poured it in that thermos you had. My boss back then would've fired me if he found out. Not that it'd matter anymore—I own this place now. Man, after you disappeared the cops were here asking all kinds of questions about you. You became some kind of Hamptons legend, did you know that?"
P. J. froze for several moments as memories began floating up from below his murky subconscious to the surface of his conscious mind while he studied the face of the man who had addressed him. It was the school kid working the counter back in 2010. The kid he had imagined was like the only son he had but never knew. Because his junkie ex-girlfriend, who after leaving Palin, had given birth and never told her ex-boyfriend she was pregnant with their child. The child she had without a word to the father to let him know he had a son and was a father. The infant he only found out about after the police contacted him to identify both bodies. The junkie ex-girlfriend who had shot-up while nursing their son, only to overdose, nod out, die, then collapse upon and suffocate their tiny toddler.
Panicking at the realization his true identity had been discovered, in silence, Paul hurriedly bolted from the shop and returned home for a restless night of nightmares from the past. After he left, The Candy Shoppe kid/man ended up calling an old friend who worked as a reporter for The East Hampton Star newspaper. By early the next morning the reporter with a photographer, then the police, and next, a curious mob was at his door. The cat was out of the bag and once again P. J. Palin was officially a member of the living once again.
Bombarded with questions, asked to clarify situations, issues, and dates, many of which he had neither answers nor solutions or recollections of, he was thrust unwillingly into the glare of a 24/7 365 nonstop news cycle spotlight. It was during the first and only on-air interview that Paul Jones Palin uttered eleven words which made him a social media celebrity and icon, "No comment, I am no longer the voice of any generation." And that, my friends, was his final word on the subject.
August 5, 2020
---
~ Mercury In Gatorade ~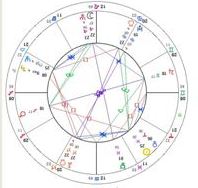 I'm pretty sure all of you noticed that things have been a bit off recently, right? There have been tech issues, like TikTok spying on us and our toaster ovens. Then there are all these misunderstandings. I mean just look at our own president's recent erratic behavior and how much time he must spend on Twitter clarifying that he's kidding about kidding when he's kidding and how he absolutely never kids about anything, even though he says he does. And then there are the everyday roadblocks in our lives that prevent us from living as freely as those who claim to have lost their fundamental American freedoms and God-given rights. Those who redundantly tell us this whether we want to hear them whine about all the things sane people neither care to hear about nor have the time to waste and listen to. I'm telling you, brothers and sisters, Mercury must surely be in Gatorade these days.
Mercury is a planet, you see. When a planet appears to be moving backward, and any major dude with a bent for astrology or a thesaurus will tell you, it's sure as heck done gone retrograde on us at a galloping galactic rate, damn it! So when things seem to go a bit off-kilter then both believers and followers of astrology are apt to quip, "Oh Jiminy Crickets! Mercury must be in retrograde." But have you ever seen any of those sporting events on TV where someone dumps a cooler full of sticky Gatorade over some poor sweaty schmuck's head? Well, have you? If you have, and if you're observant enough to notice how wacky things in the world have been going lately, and since everyone is entitled to my opinion, then I'm sure you'll agree: Mercury is indeed in Gatorade.
So I'm sounding the alarm. Batten down the hatches, hide the women and children, circle the wagons, put on your tinfoil hats, and buckle your seat belts. Because if you think the global turbulence we've unhappily hit is bad now, well good golly fellow fliers, I'm here to warn you it's guaranteed to get much worst the more Mercury gets immersed beneath that chaotic cosmic bucket of electrolyte-enhanced gooey Gatorade. Remember: Gatorade it's not just a sports drink for the University of Florida's Gators football team anymore. Oh no, it's out to get us all—Mercury included!
July 29,2020
---
~ Anymore ~
I began seeing the woman who would later become my second wife before my first wife and I had broken up and separated. It was right at the time I was about to turn thirty and felt the fleeting dreams of my youth dying, and quite frankly, was having my first of many midlife crises. So, how did I deal with it? Well, I admit, very poorly, to say the least. In other words, I handled the situation like a heartless heel.
The "other woman" had been one of my guitar students for a brief period of time in the summer of 1983. The reason her music lessons ended was that she was leaving New York City to spend the next six or seven months with relatives in Germany. From the time she departed at the end of August until February of 1984 we airmailed many love letters back and forth across the Atlantic to one another. That's a rather important fact in the telling of this tawdry tale, so please remember it for the paragraphs still to follow.
My first wife, whom from this point forth I shall refer to as "J", and I had been together for nearly a decade. The other woman, who in kind I shall now refer to as "M", and I, and as I have previously stated, had known each other for only several months prior to the time she had jetted off to Germany. In each transatlantic missive between M and I, we not only expressed, and often graphically, our intimate feeling for each other, but I had also implored her to move in with me when she returned to NYC in the upcoming year. Yes, even though J and I were still living together throughout those written exchanges. When M had finally capitulated and agreed to the suggested living arrangement with me I couldn't have been happier, or more at odds as to what to when it came to J still sharing the same home. So I plotted a deviously deceitful plan of action.
During the months before M was scheduled to return to NYC, J and I had been arguing constantly. If it wasn't one thing we bickered about—it was another. Now, almost thirty-seven years later, I'm not sure if it was either the end of 1983 or if it was the very beginning of 1984 that I wrote a song of which the lyrics, in as much as for your convenience as for the purpose of plot progression of this saga, I've shared here.
Anymore
So you found my love letters
Now you know her name
And that I can't live without her
Anymore
At first, your words were angry
Then you cried
To think we won't go on together
Anymore
We no longer sleep together
We don't dine in the dark with each other
So why pretend we're lovers
Anymore
I know the truth is often bitter
Because lovers are often untrue
You love me—I love her
Now it's starting to blur
Into who hurt who first
Then who hurt who when
And who's hurting who to get even again
But I just can't write you love songs
Anymore
I know the truth is often bitter
Because lovers are often untrue
So why pretend we're lovers
Anymore
We no longer sleep together
We don't dine in the dark with each other
You love me—I love her
Now it's starting to blur
Into who hurt who first
When who hurt who then
And who's hurting who to get even again
But I just can't write you love songs
Anymore
Now you found my love letters
So you know her name
And that I can't live without her
Anymore
After composing it I know J heard me singing that little number in the tiny Upper Eastside Manhattan apartment we still shared at the time. Deep down I was hoping she's figure out that I had met someone else and wanted to end our marriage, but she didn't. With each passing day, I'd sing it she barely paid it any mind, except for one occasion when she commented, "That's such a sad song." The time was drawing precariously near for M's return to NYC and to take up residence with me in the same place where J was still residing.
It must be obvious to you at this point; I had to come up, and come up quickly, with a new plan. So, can you guess what I did? That's right, instead of telling J in a straightforward, decently honest manner that we were about to split up and were without question heading for divorce, like the craven little coward I was, and as in the biblical tale of the end of Judas' relationship with Jesus, I set in motion and initiated J's final betrayal with a kiss.
I had kept every letter M had written hidden in one of my guitar cases. You see, never once did J ever have any reason to open, much less search any of the many musical instruments carrying cases that cluttered our cracker-box like living space. The very next morning I collected those love letters and left them in a place where I knew she'd discover and read them. Then, before leaving our place to go teach a guitar lesson, I paused at the door to give J a quick last kiss goodbye.
Of course, J did find and read them. She also recalled that sad song I had written and been singing the entire winter. So she put two and two together really fast to get four. Next, she moved out and left me for good. This shameful episode still haunts me to this very day. If I could go back in time I'd try to undo that cavalier act of callous cruelty if possible, but I can't, because it's simply impossible to relive the past.
There are some days and nights when I'm alone and unable to press the pause button on rerunning that final scene of the end of my marriage to J. As much as I try to forget how I brutally betrayed my first wife in that atrocious act with its Judas kiss, over the years, I still play out in my mind the final acts of that pitiful Passion play again and again. It's still the heaviest cross I bear. Maybe someday it'll break me, finally driving me crazy, or sending me to an early grave. I really don't know for sure. But what I do know is how frequently I've felt I no longer can live beneath the burden of its weight, ironically enough, anymore.
July 22, 2020
---
~ Better Wear Your Waders ~
Sometimes the BS people throw at you gets so thick you should be sure to wear your waders. With many of the emails and phone calls I field during my average workday I often feel since I don't own a pair of those aforementioned fisherman's friend that I should hold my feet raised above the ground beneath my desk so as to not step in the thick of it. What I dislike the most about getting dumped on with what is obviously BS is the impression that the dumper must think that the dumped-upon is dumb enough to believe even for a moment the sh*t that's going down. Please, you may insult a person's appearance but you should never insult the intelligence of whomever you're trying to communicate with because that simply stinks.
It's not just while I'm on the job either. Over the last few days, there have been workers making repairs on the face of a building across the street from mine. The scaffold they've been using has been making horrible screeching screams of resistance every time it was raised or lowered. It's as if workers employing its had never stumbled upon that little miracle known as oil to remedy the strepitous situation. Who'd a thunk there'd ever be maintenance men who'd never been introduced to an oilcan? I don't know; go ask Dorothy's little friend, the Tin Man!
But that's not what's really bothering me. What's bothering me is there was one laborer, who appeared to be the crew's foremen, always assisting below the scaffold, who appeared to be quite ill. Over the days they worked outside my open window he began coughing and hacking loudly, increasingly expurgating more and more phlegm which he'd spit onto the sidewalk. He was perspiring much more than the other men who appeared to be working much harder as if he had a fever. Occasionally he'd wipe his nose or forehead every now and then on the sleeve of the sweat-soaked shirt he wore. The guy was clearly very sick, and in this day and age of the coronavirus pandemic, he was the only one of the crew that was not wearing any kind of PPE facemask.
If he was indeed infected with COVID-19 he was an unquestionable threat, potentially spreading this viral infection to not only co-workers but to the dozens of residents entering and exiting the buildings where the work was being done throughout the days he was there. I'm certainly concerned for anyone suffering from any kind of illness. But what I was more concerned about was the possibility of him sharing his sickness with my neighbors, my Hobohemian community at large, and obviously me. Yes, I'm healthily self-absorbed when it comes to my own state of wellness.
Most times I try to mind my own business by abiding by the live-and-let-live rule. It's just that since the onset of this sickness that has plagued our world I've received daily emailed updates from Ravi S. Bhalla, the current mayor of this Hobohemian rhapsody that we live in here, advising us of all updates and the impact of this ailment on our city. In past emails, he's even provided ways to alert local officials if we've witnessed any lack of the state suggested social distancing guidelines, or if citizens are observed neglecting to wear the prescribed face-covering designated for use when indoors or outdoors. Unfortunately, I had already deleted those older missives.
What I did have was the mayor's last Nixle Powered message I'd received yesterday, but ironically, it did not include the information I sought. What it did provide at the very top of the message was a hot-link to https://www.hobokennj.gov, the local city government's website. So I clicked on it.
As already stated, I felt bad for this apparently unwell worker. It wasn't his fault if he had contracted C-19. Still, he bore a mandated responsibility to participate in the precaution of protecting the spread of any illness he may have to others. I really didn't want to be a snitch (heard they get stitches so didn't want any of those) and rat him out, but if I didn't I'd be complicit if anyone became ill who later came in contact with him. Nor did I want to needlessly be a pain in the butt for anyone. It's just that after months where most of Hobohemia's population was on a strict self-quarantined lockdown, which definitely reduced the number of those who had become infected, and after authorities had gradually reopened with limited access to some business establishments, public parks, and a few facilities on a limited basis, the virus was now beginning to spike again. So I felt civic duty-bound in attempting to alert those in charge regarding this potential threat to our mutual wellbeing.
Once my uber-fast broadband connection had swiftly surfed over to the https://www.hobokennj.gov site I couldn't find the information I was searching for. On the taskbar at the top of the internet page was a tab labeled GOVERNMENT, which I moved my cursor over and opened a drop-down menu of rerouting selections. One said DEPARTMENTS, and this popped open another list of city hall departments from which I clicked on HEALTH AND HUMAN SERVICES. The number there to call Lou Pellegrini, the purported director of that division, was 201-420-2012. When I touch-toned it on my phone it went straight to voicemail, so I left a detailed message along with my return call contact information.
After a few hours went by and I didn't hear back from Mr. Pellegrini or anyone on his staff I scrolled over to the tab on the taskbar labeled CITY DIRECTORY and clicked on that one. It provided a direct telephone number, 201-420-2000, to Mayor Bhalla himself and listed two extension numbers. The first of the two, 1001, also went straight to voicemail where a recorded voice informed me I'd be unable to leave a message there since it was already filled to capacity. The second one, 1002, looped back to the main outgoing message requesting I enter an extension number.
Giving up on Hobohemian city hall I did another Google search for the phone number of the Hobohemian Police Department. Google immediately supplied the location of the website for the HPD. At the top of their homepage, below the 911 emergency numbers, was a non-emergency number, 201-420-2100, I called and after a few rings (do phones really ring anymore?) my call was answered by a woman who identified herself as Operator #3. I relayed the same information I had left on Director Pellegrini's voicemail only to be told this was not a police matter and she was transferring my call to the Hobohemian Health Department. That line rung for about three minutes until Operator #3 came back on the line to let me know no one was answering the call, (wow—would never have figured that one out by myself!) and that I'd have to call the Hobohemian Health Department on my own at 201-420-2364.
So that's what I did. After about a dozen rings a nice, but evidently a very overworked woman answered my call and I retold my thrice told tale yet again. Before I got too far into it she informed me that this was not an issue the health department could handle and I must call the Hobohemian police department. Did you hear that sound? That's the sound of me slapping my head in desperation. So I informed her that the police department had insisted this was a health department issue. In return she informed me that the health department consisted of merely three people who had no authority to tell anyone anywhere that they had to wear a PPE facemask, so the best she could do was to forward the information over to the Hobohemian Construction License and Permits Department since, as it turns out, all construction workers were required by law to now wear facemasks at construction sites. They'd look into which company had filed for a license to work at numbers 251 – 255 6th Street. between Park and Willow Avenues, and would send someone to look into the violation.
By the end of the day I never heard back from Hobohemian Health and Human Services Director Pellegrini's office, nor did I see anyone from the Hobohemian Construction License and Permits show up to inspect the worksite or speak to the sick man without a mask. By the time the maintenance crew outside my window wrapped up working at the end of the day the afflicted foreman was still mask-less and coughing and spitting gobs of phlegm on the sidewalk.
If you asked me who was that mask-less man, all I could tell you is that he sure as heck wasn't The Lone Ranger and that I was sure as shootin' gonna buy me some of them fishy waders to wear the next time I wanted to go outside. I'm also sorry to say that this is not the way our government on a local, state, or federal level is supposed to work in coordinating their efforts. Because at the end of the day, the way it's been working does not appear to be working for us.
July 15, 2020
---
~ Uh-Oh! SpaghettiOs ~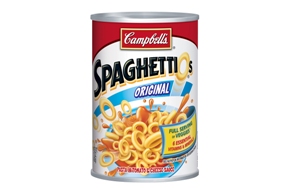 I was born in 1954, the same year as Rock & Roll (yeah, yeah, yeah you can do the math to approximate my age if you don't already know it). Up till around the mid-1960s, and due to the culinary naiveté of most Americans at that time, the only spices found in the majority of kitchens in the USA were salt, pepper, and of course, ketchup. Want to know a fun fact? I don't believe I'd ever eaten a fresh vegetable until my dad got a job in Argentina and moved our family there. Before that, I mistakenly believed that vegetables grew either in a can or in the freezer. But hey, cut me some slack on this, OK? Like most little kids I was as intellectually agile as any cabbage you'd care to meet.
Yet I can't completely blame my cabbage-like intellectual agility solely on the basis of my youth. Being fortunate enough, due to my dad's ever-changing employment situations, to have the opportunity to live in foreign countries I had a taste of life few of my compatriots had the recourse to relish. Living overseas allowed me to be introduced to many new foods and exciting favors far beyond the realm of the salt/pepper/ketchup Yankee spice rack repertoire. As a result, I was able to expand my then limited palette and grew up to become a rather refined food aficionado, or aka a Foodie.
The cultural level as well as the culinary curiosity of most Americans left much to be desired. Admittedly, we Yankees residing in our homeland were gradually being introduced to a wider range of food, but the process was sorrowfully slow. The more my fellow countrymen and women traveled the more we became aware of the many tantalizing taste bud treats we'd been missing. Day by day, bite by bite we experienced the marvelous wonders of new dishes and unbeknownst condiments in our dreary diets.
Over the years and in between my father's foreign assignments abroad we'd return to take residence in the United States. In 1965 the Campbell Soup Company under their Franco-American brand brought to our tepid tables a meal, and I use that term lightly, they called SpaghettiOs. It was a product created by David Goerkc (later to be dubbed the Daddy-O of SpaghettiOs) who was one of their marketing managers and pitched his poor excuse for pasta to the public as the neat round spaghetti you can eat with a spoon. America does love itself an easily ingestible and conveniently succinct sound bite, doesn't it?
Campbell sold 150 million cases a year of this unsavory sauced canned packaged pasta. If you grew weary of chowing down on simply SpaghettiOs they also offered a spin-off that included what Campbell claimed was meatballs. In reality, it was unpalatable processed meat that resembled tiny hotdog slices. Oh, the humanity! And as if this questionably comestible cuisine wasn't distasteful enough then let me share with you how they shoved this stuff down our gullible throats.
On our radios and televisions multiple times a day, like many corporations that produced products for the general population, they ran nonstop ads ad nauseam. The music they used in the ad was based on a song composed and written by Jimmie Rodgers in the 1950s titled "Uh-Oh I'm Falling in Love Again". I guess poor old Jimmie must've needed the bread because he not only sold them the synchronization rights to the original ditty he also rewrote the number to include the tagline "Uh-Oh! SpaghettiOs". Now, being a lover of not only food but also possessing an equal devotion to music, I found that downright distasteful.
That little sales slogan seeped so deeply into our psyches it became an idiotic idiom in pop culture vocabulary. It wasn't uncommon wherever you traveled in the land of the free, home of the brave, and fans of fast-food that whenever anything went awry you'd hear some crap-fed fool quip, "Uh-Oh! SpaghettiOs". To this very day if I ever hear anyone say "Uh-Oh! SpaghettiOs" it drives me crazy. Just the sound of it hurts my head then upsets my stomach as I feel the bile rising and I'm left with the tangy aftertaste of having vomited in my mouth. "Uh-Oh! SpaghettiOs, Uh-Oh! SpaghettiOs, Uh-Oh! SpaghettiOs". Make it stop, already. Please somebody, please, please just make it stop, please!
July 6, 2020
---
~ Puppy Love ~
A few weeks back Pasquale, my landlord, gave me a quick call to ask a curious question. Now Pasquale is one of the most righteous dudes I've ever known and the best landlord I've ever had. He's the epitome of kindness and a survivor of that terrorist attack on the World Trade Center back on September 11th, 2001. He was working on the 64th floor of the building when the planes hit. While exiting the burning building with some of his work colleagues as the structure began collapsing when by the time they had hurried down the stairs to around the twenty-something story, he crashed through the crumbling levels to the ground around fifteen floors below and awoke upon a pile of rubble. The media dubbed him as the 9/11 Surfer.
Pasquale had called to tell me that Lea & Alex, my neighbors who rented the space above mine, had told him they were thinking of fostering a dog yet were aware there was a "no pets" clause in our leases. He replied that clause was simply a boilerplate inclusion, and since he had dogs of his own at wherever it was he lived he had no problem with the presence of a new puppy but felt he should, out of landlordly courtesy, touch base with me on the muttly matter.
I know you probably remember that I told you in an earlier story of how I cleverly circumvented that same issue when I decided to live out my life long dream of becoming a dust bunny rancher and wrangle herds of those rascally rabbits in my own place. So when he called about L & A's potential puppy plan I replied that it was okey-dokey by me and how I usually prefer the presence of most animals more so than I do of most people. Heck, I not only green-lighted what was hounding my landlord and neighbors but believe I may have even volunteered to baby-sit their new family member if ever needed. Guess deep down I'm really as soft inside as brie that had sat in the summer sun all day.
Later that same day I bumped into the L part of the L & A equation in one of the public areas of the building and reiterated what I had relayed to Pasquale. She shared with me how she and A had planned to marry this merry month of June, but because of the coronavirus lockdown, canceled their wedding plans. As a consolation, the couple had discussed test-driving a dog by fostering it in their home for a while. You know the old saying about how when one door closes another opens and you let the dog in.
Fast-forward a week or two later when one morning I opened an email with a picture attached of L cradling a tiny tail-wagger in her arms the way any proud mom would do. Shooting back a reply I said how I couldn't wait to be introduced to my foster nephew. To this, a returned response informed me that upon meeting the intended fostered fleabag the couple had cut to the chase and decided to go straight to adopting the little devil.
Love. What is it about that fickle feeling that leads us to choose dogs over cats, parakeets instead of goldfish, and one person rather than another? Having been married and divorced three times over the sixty-six years of my lifetime I sure as hell don't know. But I will say this; if it drives you crazy it's probably best just to let it go. But if not, then cradle it, hold it, nurture it, adopt it and embrace it as warmly as any proud, protective parent would their young.
Damn! I don't know what's wrong with me, but when I wrote that last line I think I felt a little trickle of some of that aforementioned inner warm runny brie leak out of one of my eyes and stream down this wrinkled, old cheek…
June 29 2020
---
~ Reasons To Be Kind ~
Many say that it was many years ago when the magic died. Me? Well, I'm not so sure about that because I maintain the belief that kindness is the last remaining vestige of true magic. And I for one can attest that kindness is, although perhaps in a sadly diminished amount, indeed still alive. Now, may I share with you why? Yes? Okay, then here we go.
During the most recent demonstrations protesting police violence, as well as our ongoing battle against the Coronavirus pandemic, I've noticed that more and more people have been opening their hearts, extending their hands to help, raising their voices to speak out against injustice, reaching into their wallets, and most importantly, showing they still give a damn. That, my friends, is evidence of not only concern but of the presence of that elusive painted butterfly called kindness with both wings still intact.
Now some may say, "But there's now far more evidence of division, selfishness, and hate in this world than ever before." To which I would reply yes, but if it weren't for the kindness that still remains then our life in this day and age would hardly be worth living, and which is merely one of the reasons we all should be kind. It's up to us to keep kindness flying in a circular motion from person to person for as long as possible. Kindness is cool—so be cool!
And others may say, "But isn't the road to Hell always paved with best intentions of kindness?" And to that, I answer no, because kindness, no matter which road you're on, will eternally be the harbor that many find, or at least the lucky ones, that is the shelter in a storm. And that, my kind readers, is just another reason to not just keep the magic that is kindness alive but is our solemn duty to help it to not only thrive but hopefully multiply and replenish even in this wicked world. Believe in kindness.
The reasons to be kind are as endless as they are varied from one individual to another. Far too many to list with any probability of keeping one's attention, or diverting one's attention from the sometimes trying task of being kind. Don't give up on kindness. It's the salve that soothes the wounded soul. With each passing day we're alive we need kindness as much as we need our next breath of air. It's simply that simple.
Oh, you want to know my reason for being kind. Well, that's an excellent question and I'm so glad you kindly asked. You see, at least for me, extending kindness is the way you become a better person. So look around you, and if you see someone who needs a bit of kindness, then why not ask, "What can I do to make your life better?" Then listen to them. I guarantee you that it's within everyone's power, be they, commoners or kings, to do a little magic. Please be kind, my children, be magically kind to one another, and please be kind to yourself.
June 22,2020
---
~ Another Fractured Fairy Tale ~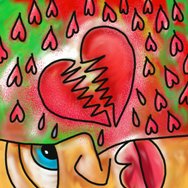 Once upon a time, a long time ago, I met a painter in a faraway fairyland called New York City. While together my artistic princess filled my life with color. We fell in love but sadly did not live happily ever after as those in fairy tales are destined to do. You see, one day she left me, and that broke my heart. And then, for many, many months I fell under a spell the wizards, witches, warlocks, sorcerers, sorceresses, psychologists and psychiatrists call "Depression". While spellbound I nearly died. But then I wrote a song that saved my life and broke the evil spell.
Picasso's Evil Twin
We talk about dead painters, discuss tomorrow's news
It's another night ending and daylight's shining through
So I study your expression, 'cause sometimes your eyes won't let me in
As I listen to your stories about Picasso's evil twin.
Sometimes I think you're Medusa, deadly snakes move round your head
But you brush away the danger, through a thousand and one deaths you' lived
Maybe you're Amelia Earhart flying off into the night
With intuition as your co-pilot, you're an artist borne in flight.
Please let me study your expression, cause tonight your eyes won't let me in
And tell me more about the life of Picasso's evil twin.
Don't know if you'll ever paint like him, but you understand the attitude
I hear you speaking clearly and that's not what most people do
So put it in your pipe and smoke it, go home and read it in your Tarot cards
Just when I thought kindred spirits only slept out in my backyard.
It's time for a philosophy lesson, tonight when you appear again
Please tell me another story and bring Picasso's evil twin
Tell me, tell me, tell me one more story, before the moon goes in
And sign all your paintings with lots of love, from Picasso's evil twin.
Now, turn off the lights, don't let the bedbugs bite, and go to sleep, my children.
The End.
June 15, 2020
---
~ Pig Fight ~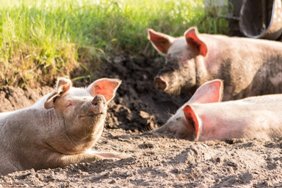 Conventional wisdom usually offers two arguments to support its age-old rationale regarding why one should never fight with a pig. The first reason proclaims that if you fight with a pig you're going to get dirty. The second one decrees that the pig's going to be the only one who really enjoys it. But I have a third reason which I'd love to share with you. Are you ready for it? Okay, here it is. For me, the most clearly sane line of logic is that you never want to fight a pig is because those who observe you doing so are only looking down upon you. I hope in sharing these insights that I haven't been a boar (pun intended). Because although I'd hate to hog all of your time I still have a drift of daft thoughts I'd care to contribute for consideration on this subject.
Within our virtual world, which is now comprised more and more with every passing day of virtual realities, I've discovered that the world's vastest virtual pig farm is the social media platform that calls itself Facebook. Not every creature inhabiting this virtual barnyard named Facebook is a pig. Like real barnyards, there are many different and diverse beings that inhabit the abundant acreage.
The social media pigs, in my humble opinion, are the ones that squander their time there posting incendiary political postulations. And the most boorish (now will you forgive me for that previously pointed out pun?) of the breed are the ones who repeatedly copy and paste links and articles from questionable sources that, coincidentally enough, align evenly with either their hard-right or hard-left myopic views. Left or right, those of us who don't march in lockstep with their beliefs are stuck in the middle of—now how should I say this?—well, with pigs who want nothing more than to start a fight with you. Remember, that's what a true pig enjoys and revels in; the fight.
I must confess that I'm frequently tempted to engage mano-a-mano in a debate with an occasional pig when I read some of the posts on the wall of my Facebook homepage. Especially those who throw around words and terms they clearly lack a full understanding of their meaning. If I compiled a list of some of these misunderstood dog-whistle words meant to push your buttons, pull your trigger, and incite division, included would be: Marxist, communist, socialist, fascist, liberal, Nazi, rightwing (or rightie), and leftwing (or leftie). So what am I to do?
The answer is I take a deep breath, and then recite the three earlier cited reasons for why you should never fight with a pig. By the time I get to that third one about how you'll only be looked down upon by observers, I'm ready to move on to the next comment on my Facebook homepage. Not fighting a pig is the only way to win while still staying clean and not providing the pig with the pleasure of bringing you down in the mud to their level. So beware of what you sow (the verb), sow (the noun). We're hip to your tricks and know it's almost always best to simply ignore the pigs trying to trip you up in their political pigpen on social media.
June 8, 2020
---
~ Mama, You Stole My Heart ~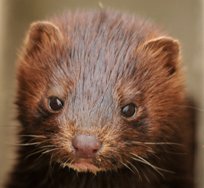 The box was returned in the mail a few weeks after sending it. Inside was a handwritten card atop the soft fur wrap I had sent. The card in my mother's handwriting simply stated, "Since I don't know how you got this, and because I'm not sure, I can't accept it. So I'm returning it to you. Love, Mom." That short note in the package along with the present I'd sent the woman who had given birth and raised me broke my heart.
I had once read somewhere that Elvis Presley had bought his mother a brand new Cadillac with the first check he had received from his record sales. After several years of barely getting by on the little money, I'd earned from my music I had finally signed a recording contract with a major label in Europe called Decca Records. Following a few commercial flops, I had at last written, recorded, and released a single that was a hit. It even earned a gold record award for the number of sales it had generated. So when I got my first royalty checks from the publisher and the record company, like Elvis, I spent it on the gift for my mother that she had just returned.
Being born in Baltimore, Maryland, and into a family of what I guess was considered at the time as being economically in the upper lower-class income bracket, money, or the scarcity of it, was always an issue. Sometimes, after dinner or when a television show had ended, we'd fantasize about what we do if we had more of it. My father said he'd either take us on a trip to somewhere he'd never been or back to someplace he'd like to return to. My big brother wanted to buy a car. My little sister's wish was for ice cream. I told them I'd use the dough to buy them all gifts, And my mother, with tears welling up and threatening to spill from her robin's egg blue eyes, said she always wanted to wear anything made with mink.
These were those pre-PETA years when most women yearned without guilt to be swaddled in the fur of murdered animals. Luxury was a status symbol most Americans strove to obtain during those mid-twentieth century years. Mink was a luxury. It was also considered to be high fashion and beautiful. In addition, their pelts felt softer than a newborn baby's butt. It was what most women only dreamed of owning, including my own mother.
Not sure how much you know about royalty payments but I'd be happy to explain. It usually took around a year from the date of your first record sale and airplay broadcast for the record and publishing companies, as well as performing rights organizations, when enough funds had accrued that they'd send your first check. Thereafter, within thirty days after the close of each fiscal financial quarter, follow-up payments would arrive. Once sales and airplay had pretty much dried up the checks for every record got smaller each quarter until they finally would no longer be sent out.
It took more than six months from the initial release of my modest little hit for it to really gain any notable traction. So when I got my first check it was for only a bit over $1,000 dollars. With that I paid a few bills and some people I owed money to, then the remainder I used to go on a shopping trip for my mom. The fact that I used the money to buy a present for my mother instead of my spouse was one of the many bones of contention that would be stuck in the throat of my relationship with the first wife for many years after.
On a recommendation from a friend, I found a furrier in the city. I was shown a selection of mink coats, jackets, and stoles by a salesperson who seemed to be put upon to have to attend to someone who looked the way I did. I was a young man with really long hair who dressed like the mods and rockers of that era. To put it more succinctly, I looked like someone who couldn't afford to buy real mink. The coats and jackets were out of my then-current price range, but the stoles I could swing with what I had. There was one wrap I thought my mom would really like that I could buy for a little over $1,200. I bought that one. It wasn't the most expensive one, nor was it the cheapest. It was the one I thought would work best with my mater's hair color.
My wife of that time helped me wrap it up for sending after she had tried it on while checking out her own reflection in the mirror a couple of times as she told me how good she thought the mink looked on her. With the gift, I included a note that said, "Mom, for all the love, care, and understanding you've given me since the day I was born." Next, I drove to the central post office building in the city, insured and paid the shipping amount for the package, and sent it off. Then I waited.
Back in those days, long before the monopolies of telephone companies had been broken, long-distance phone calls were very expensive. I was living and working in Europe. My parents were still residing in the United States. So after a month since I'd shipped the fur stateside I was not surprised that I hadn't received a call from home to let me know it had arrived. But after six weeks I was beginning to wonder why I hadn't received a letter, or at least a postcard, confirming receipt.
That mystery was solved shortly thereafter when the package I had sent was returned to me with my mother's terse little note. The stole was in the same box I had sent it in, but it had been opened and then re-wrapped for return. Now, not caring about the cost I picked up the phone that night to call home. My mother answered after about a dozen or so rings.
"Hi, mom, how are you and dad doing? Uh-huh, uh-huh, that's good. Yeah, we're both fine too. Hey mom, today the gift I sent you was just returned. Was there something you didn't like about it? Because if there is I can try to exchange it for something you'll maybe like better."
I listened in silence as my mother explained how after receiving it that she and my father were worried about how I'd gotten the money to be able to afford something like that. I tried to explain to her how my career in the music business was really going well now and that I'd received my first check for a record I made that had become a hit. Her reply nearly made me drop the phone.
She told me she and my dad didn't believe I could've earned that much money from working with my music to buy a gift like that. They were worried I had come by it by doing anything illegal, like selling drugs or something. That's why they returned it to me. They didn't want anything to do with something that could've been connected with dirty money from any criminal activities.
I tried to explain again about the royalty payment and that I wasn't a drug dealer or any other kind of crook. But she just couldn't accept that and told me not to send back the fur, or for that matter, any other costly presents to her or my father. She then said she had to go because the shows that she liked to watch on TV were about to come on. With a hurried goodbye, she hung up the phone.
It hurt not to be accepted by someone I loved so much. But what hurts even more, was the fact that my own parents didn't believe in me enough, or what I was doing with my life, that the reality of me possessing enough talent and the work ethic to profit from it was incomprehensible for them. That realization crushed my soul. I tried to take the mink back to the store I'd bought it from, but they had a no return after thirty days policy. So my first and later to be ex-wife happily accepted the re-gifting of it from me to her.
I have no idea if Elvis had the same problem with his mom. I somehow doubt it. She probably drove that Cadillac car until its wheels fell off and then he more than likely bought her another one. He was the King, after all. Me? I never got over the pain of how little faith and trust my parents had in me and hated what I was doing. When I'd originally announced that I had no plans to graduate high school or go to college my father warned me, "Hardly anyone ever made any money by playing music!" Well, in my case I may have proved them wrong about that, but along the way, they stole my heart.
June 1, 2020
---
~ Thank You, Creation ~
I begin each day by thanking Creation. Namaste, Creation. I thank Creation for allowing me to get out of bed and play another day. I ask Creation to grant me its great gift of protection and share with me the blessings of its great fortune. Guess you could say that Creation and I are on pretty good talking terms with one another.
So, what is Creation? Well, that's an excellent question which I hoped you would ask. To me, Creation is me and everything within and around me. God, Buddha, Allah, Aphrodite, Rao, Diana, Thor, Clapton, so forth and so on, etc. etc… are all part of Creation, but they're not Creation. They're merely deities who, like I, inhabit Creation. And we who inhabit Creation do so for only a brief period of time. That being said, when it comes to Creation, I would say we are simply just visitors. Here today—gone tomorrow.
Please don't confuse my concept of Creation as being some being. For me, Creation is the thing that is everything. Creation is not one someone. It's the "all" of what we know, and all that which we know not. It's all of that and a bag of chips. All that can be said with absolute certainty about it is it's a mystery, that we are mystified, and reality is purely a collective hunch. It's more than just reality; it's also what it is not. Creation is tricky that way.
I've said it before and I'll say it again: "thank you" is my most favorite prayer within all of Creation. In fact, it's the only prayer I ever take the time to offer. So, thank you, Creation. Thank you for allowing me to get out of bed and play yet another day. Thank you for permitting me to visit, even if it's only for oh-so briefly. Thank you again for being all of that and a bag of chips. Most of all, thank you for all your wondrous indifference. It is a present indeed, Creation. Namaste, Creation, namaste.
May 26, 2020
---
~ Motorcycles In The Sand ~
A long time ago, when I was about seventeen years old, in a place far, far away, I had a very unusual job. Five mornings a week I'd show up for make-up and shoot the breeze with Elena, the make-up girl, as she applied concealer, pancake, and finished up with a light touch of eyeliner and a hint of color here and there on my face. No, I wasn't a cross-dressing performer in a burlesque show—for almost a year I was acting in a soap opera on a Brazilian TV show. I played a young American rock musician named Steve.
I got the gig for two reasons. First, because my long, uncut hair at that time almost reached my waist. Second, because when they asked if I knew how to ride a motorcycle I lied and told them yes. Remember, I was seventeen at the time and at seventeen you pretty much mistakenly believe that you can do anything. The show wasn't scheduled to begin shooting for at least another three weeks, so my plan was to learn how to ride a motorcycle prior to that first day on location.
Steve, the character I had signed a contract to portray, was not a very taxing part to play. He usually rode in and out of scenes on a Yamaha RT-1 Enduro 360 and flashed the peace sign during entrances and exits. His only line generally was one word, "Peace" (because my command of Portuguese was perhaps about as weak as my acting abilities). Since I was a young American rock musician named Stevie, who often went around uttering hippie slogans like "Peace", it wasn't much of a stretch to play Steve. That is, except for one thing: The Motorcycle.
The three weeks in between accepting the role, signing a contract, and the initial day of shooting, flew by before I knew it. The television network was paying me quite handsomely, even before beginning my first day of work, and the cost of living in Brazil was way below what I had been accustomed to in the USA. Heck, I could even afford to lease a used, 1968 Volkswagen Beetle on my salary. So I did. Thus, before we began to lens our little production, I'd go out every night, drive in my Beetle to some nightclub where I'd party until closing time, then sleep most of the next day away, instead of investing any time into learning how the ride a motorcycle.
On the first day, I was scheduled at dawn for a pick-up shot on location at a Barra da Tijuca beach that was to be used for the beginning credit role during the show's introduction to each segment. I arrived there hung-over and sleepy, just as the sun was rising in the eastern horizon above the Atlantic Ocean. On the pristine white sand three movie cameras on tripods had been positioned close to the shoreline in a semi-circle facing away from the crashing waves, and a black 1969 Yamaha RT-1 Enduro 360, resting on its kickstand, was parked in front of them.
After checking in with the assistant director to make my presence known she told me to go speak to the director regarding how the shot would be blocked for the scene. The director explained that when he shouted "Action" I was to ride the motorcycle directly toward the middle camera then veer off to my right and away before, Google forbid, I ran into any of the cameras. He also told me I could never wear a motorcycle helmet because, in his own broken English words, "The camera will love you (sic) hair when it blowed (sic) you when ride (sic) the motocicleta." In principle, this was a simple enough task, if only I had bothered to learn how to ride the Yamaha.
The bike's key was already in its ignition so I turned to its START position, and while still in neutral, gave it some gas as the engine growled alive, before kicking up the kickstand with the heel of my foot. So far — so good, I guess. The director, a portable megaphone hiding his face, was standing behind one of the three cameramen with a hand held high above his head that told me to wait for his cue. I gunned the throttle, making it roar like a lion, a couple of times for good measure.
"Action!" the director squawked through the megaphone as he dropped the upheld hand to his side. The direction I was facing and was told to drive toward had me looking directly into the already blinding morning sun. Even before attempting to shift the bike into gear, I was struggling to see clearly because of the bright blur of blazing light, courtesy of Earth's closest star, that was messing with my bloodshot vision. Squeezing the clutch I tried to shift the motor into first…and nothing happens. After a few more failed attempts the director finally sent over a crew member to shift it in gear for me while I still held down the clutch, and then who scurried out of the frame of the shot so we could begin again.
Once again the director cued the shot. This time as I let out the clutch and gave the bike way too much gas, that Yamaha RT-1 Enduro 360 shot forward like a bullet from the barrel of a gun. I had never driven a motorcycle in my life, so trying to drive one in the sand with little to no vision was crazy. The cameras I drove toward were coming at me much to fast as I did my best to navigate, at high speed, in their direction. Frantically flailing his arms the director was signaling me to veer away from the spot where he, the crew, and several other actors there that day watched what was happening with expressions of mixed shock and horror.
Before I could crash into any of them I must've hit a bump on the beach, because the cycle popped a wheelie and reared up like a bucking bronco. Then I fell off the back of the bike and landed on my butt in the sand. Watching speechlessly from my seat on the beach the chopper continued directly in a beeline for the cameras, cast, and crew. Fortunately, everyone got out of the way in time before the driverless vehicle slammed into the expensive cameras. The sound of crunching metal and breaking glass filled the fragrant sea scented air.
Did I get fired on that first day I was cast as Steve? No. Insurance covered the cost of the damage and the executive producer really wanted a genuine American actor in the series, so I got to portray that good ol' longhaired, peace sign flipping "Peace" person Steve for eight more months. His support for me in that role went a long way. Even after several other crack-ups left a few more motorcycles, cameras, lighting, and props damaged in the sand. In fact, someone else in the cast told me I'd been given the nickname assassino de moto, which roughly translated in English is "the motorcycle killer".
What finally did get me canned is that the aforementioned executive producer had a wife who had a taste for young guys. She was on set one day while I was filming and asked me for a ride back to town in my Volkswagen Beetle (which by then I had exercised an option in the lease contract to buy) when we wrapped for the day. Before dropping her off, we stopped at a secluded spot along the way and did the dirty deed, a-time-or-two, in the backseat of the small German automobile. Alright, I'll admit it; I guess I had this thing for older women when I was younger.
I should have just let it be a one-and-done event but we got together to get it on together a few times each week. Hey, don't look at me that way. I was only about seventeen, remember? When her husband found out about the affair he had me written out of the script by having me killed me off (are you ready for this?) in a motorcycle accident. In my final episode, I was seen last driving off a cliff after one of the female characters in the series shared the happy news with me that she was pregnant with my baby.
It was never made clear to the show's audience whether my death was an accident or if I had ended my own life. That created an interesting subplot in the storyline which enabled the series to extend, or at least so I'd heard, for many seasons. Well, they may have killed me off, and I did lose the only acting job I ever had, but in the end, they didn't uncover two of my deepest and darkest secrets. One was I didn't know a damn thing about acting. The other secret was that I knew even less about riding motorcycles. Yeah, I was some long hair, crazy teenager at that time. But hey, cut me some slack, and peace out, dudes!
May 18, 2020
---
~ The Woman In The Window ~
OK. After the end of my 3rd marriage, I promised myself I'd never get caught up in another emotionally intimate relationship with anyone ever again. I believe that was back in 1999. So, fast-forward to 2020 while in the midst of Coronavirus in-sheltering, as I returned to my desk with my microwaved reheated mug of coffee, I did something I probably shouldn't have done; I acknowledged with a nod and two other gestures the presence of a neighbor from across the street. Sure, the simple act of a nod of recognition, the lamely celebratory raising of the coffee mug I held in my right hand, and a wan wave of hello with my left, I mean, what could possibly go wrong with doing that?
She was sitting next to her window where she was either doing her Monday through Friday, 9-5 office job from home, or perhaps just communicating with other isolated family or friends, or at least so I imagined, as I had seen her do for the last 50 some days-or-so of our mandated housebound lockdown. She had shifted her gaze from whatever she was doing at the exact moment I had arrived at the window in front of my desk when I made my reappearance from the microwave in the other room with the hot coffee. She saw the nod, spotted my subtle caffeinated salute, the weak wave, and then responded with a slight smile along with an equally washed-out wave.
Here is where it may be best to give you some background as to what transpired prior to this windowed encounter. I thought that on several occasions I had caught her looking over at me in my building's third-story window through her building's third-story window. And I'll admit, I had snuck a few furtive glances her way as I worked each day by my window. For the last month or so, from across the street, we had seen each other at our window adjacent desks doing whatever it is we each did during the day. During that time neither of us had ever made the slightest effort of confirming to one another that the other one even existed.
What possessed me that fateful day maybe I'll never know, but what's done is done. Since then whenever we noticed each other from across the street we nod to one another, exchange a long-distance toast with whatever drink we have at hand at that time, wave, and then smile. It's all innocent enough, isn't it? Well, I thought so. But my, my, my…how quickly things began to progress and escalate, then go out of control.
From the looks, nods, toasts, waves, and smiles our windowed relationship blossomed. Eventually, as our shared nods and etcetera salutations progressed, we wordlessly began to move our windowed relationship up to the next level. It was still too chilly in Hobohemia, NJ, to open our respective windows and engage in a haphazardly hollered cross-street conversation. So, we did the next best thing. Since the onset of the virus scare, stores and restaurants had been compensating for the lost volume of on-premise business by making deliveries to the building which we were shuttered in. These deliveries came either in large paper bags (since plastic bags had recently been banned in Hobohemia) or cardboard boxes. Thus everyone in town had an abundance of these delivery packages to recycle and reuse. I know I certainly did.
Now, can you guess what we did next? That's right, one day after we had performed our mutual acknowledgment rituals she held up a strip of what looked like torn corrugated cardboard. With what I guessed must have been a chisel tipped green Sharpie she had written in script Good Morning! I was speechless. It took a few moments for me to regain my composure, but after a pause, I held up the index finger of my right hand in the universally understood gesture that says, "Hey, give me a few seconds." Finding the now empty carton of a recently delivered case of Zuccardi Q 2015 Valle De Uco Cabernet Sauvignon wine I ripped off a top flap, found a chisel tipped black Sharpie and in block letters scribbled Good Morning on it. I confess that at first I also added a smiley face next to the Good Morning, but after a bit of introspection, I determined that I was just not a smiley-symbol emoji kind of guy, so I tore off the section with that drawling from my message before returning at my window to display my sign. She gave me a thumbs up, which I returned in kind, and then we both returned to doing whatever we do at the desks by our windows all day long.
In retrospect, a term I always joke about as being the vision of a**holes, perhaps we both should've just stopped there and then and return to doing whatever we both were doing. But we didn't. From there, our handwritten missives became more extended, elongated, and elaborate. We both maintained an adequate supply of Sharpies and surplus cardboard close at hand by our windowed perches in order to communicate with one another throughout the workday.
What began with two-word morning greetings eventually evolved into sentences and paragraphs of written information traded in a question and answer format where we both began learning things about one another. We now knew each other's first names. How our days were going. What bar and/or restaurant we would each go to when this quarantine thing was over and what we'd order upon that glorious and momentous occasion. This went on for a few weeks until, and I admit that what happened next was entirely my fault; we hit a rough spot in the relationship.
Following what I believed was the completion of one of our many window exchanges, I looked up to see another woman from across the street in the building adjacent to my original window woman who was looking down from her fourth-story window at me and what I'd been doing. What else could I do but to nod, offer the toast, then wave and smile at that woman on the fourth floor? I know what you're thinking, but I've already entered my plea of mea culpa regarding that incident, so from here on out I'll just exercise my right to take the fifth amendment so as to not incriminate myself any further in this matter of my admitted guilt.
After what I honestly thought was an absolutely inculpable act, and while my hand was in the air still in mid-wave at the fourth-story neighbor, I looked back over at my third-story neighbor and saw a look of hurt and pain had crossed her face. She stared at me for a bit more before staring up at the direction of, at least from her vantage point, the invisible window woman that was across the street from me on the fourth-story of the building adjacent to hers. My third-story woman then turned to face me again for a few seconds with a look so cold it'd probably give a glacier a fatal case of frostbite. She next looked back at the unseen neighbor, and then back toward me once more. Before I had the chance to process what had just happened her left hand was raised to give me the middle finger salute while quickly lowering and closing her Venetian window blind with the right one. From thereon my third-story window woman never acknowledged my existence again. She either completely ignored me or else closed her blind to shut me out. I knew I was a man in the proverbial doghouse from which there'd be no escape. Yes, we were done—period. This was of course not the first time any of my failed relationships had ended in a breakup, but this was the first time it had been so thoroughly terminated without a single word ever being spoken. In the past, I'd dug the grave for most of my relationships with my choice of unwise words. This time I had been done in with a nod, a gesture, a smile, and a mere wave of my hand.
May 11, 2020
---
~ Sometimes A Great Noise ~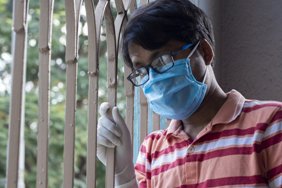 Listen! Have you heard the noise? Every evening now for more than the last two months, precisely at 7 P.M. Eastern Time, you can hear it. It's loud. It lasts for several minutes and then it fades out. It's full of energy, tendered with gratitude and it's packed with love. It's the way that everyday people like me and you try to express our thanks, in a simple way, for those on the frontlines fighting the coronavirus and doing their best to keep us safe.
Who are these front liners, you ask? Well, that's an excellent question, and I'm so glad you asked. They're the medical professionals, the police and fire department, the people who show up for their jobs at grocery stores to stock the shelves and to take care of us in the checkout lines while we pay for what we thankfully are still able to buy, the restaurants closed for dining-in but still cooking and providing takeout orders for hungry tummies, postal workers, janitors, sanitation workers, and the many others who we may not see or even know about but are still performing essential jobs in our communities; the ones who put their ass on the line in order to protect our asses. These are the many heroes, some celebrated and some unsung, in this health crisis.
Here in Hobohemia, it begins with people standing at an open window to cheer and clap for the responders. Some are also banging on pots, others brashly blowing notes out of whatever wind instrument they may have at hand around their home. I swear to Google, I'm pretty sure I've even heard the harsh monotonic notes of African vuvuzelas, you know—the kind associated with FIFA World Cup soccer matches—bleating in the distance. Next, church bells begin ringing up in steeples as cars blast their horns from down in the streets. Thank you, thank you, thank you for caring for us yet another day, the noise seems to say. Then emergency vehicles answer back with short, shrill screeches from their car roof sirens, as if to respond, "…you're welcome, stay safe; you're welcome, stay safe…" It's a bittersweet, street symphony serenade and the way my homebound neighbors and I can if only for a few minutes, show our appreciation while we blow off some steam to release a bit of the pressure that's built up inside of us, as another day of our lives passes by while we're stuck inside.
Once that joyous noise begins to subside you'll hear the music of New Jersey musician's like Sinatra, Springsteen, and/or Bon Jovi, blaring from stereo speakers that someone has moved to and placed at their open window. "That's Life", "Thunder Road", "Bounce" and other selections from their rousing Garden State repertoires. Jersey strong, baby, Jersey strong! Eventually, as the windows are closed and locked again, we return to our now too common quiet solitude, the sounds receding as the sun begins to set in the western horizon. I love living in Hobohemia. It oozes with so much je ne sais pas quoi that it's sometimes scary.
I'm pretty sure what's been happening here each evening, precisely at seven o'clock on the dot, is happening in other cities and towns across the USA. Maybe even around the world. I hope so. Because I've always believed that "Thank you" may be the most sacred form of prayer we have to offer. These last few years we've all been so divided, un-united, and isolated within our own little bubbles. Then along comes COVID-19 to separate us even further apart than ever. But now at 7 P.M., even if it's only for a couple of minutes, we all come together to offer our prayer of praise for our caregivers. I guess sometimes it takes a great noise to put us back together again, albeit briefly. Thank you, thank you, and thank you! Thank you for caring for us yet another day, our noise seems to say. And that noise, neighbors, is so, so freaking beautiful.
May 4, 2020
---
~ Searching For Something We Don't Want To Find ~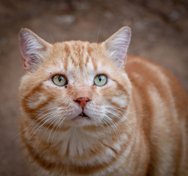 We're all looking for something, and oftentimes we even search for something we don't really want to find. Often when we look back at the way we've lived our lives we dredge up memories that may have been best left forgotten. I know I do. Is that something you do too, my introspective readers? Inadvertently torture and beat yourselves up with what you would've, could've, or should've done in your past? Haunt yourselves with all the real, and/or imagined, crimes you've committed? Those trespasses against others who may, or may not, have trespassed against you? Failed at being all you can be and something better than what you were? Me? Well, I'm guilty as charged, your honor.
What's haunted me for several decades now is a reoccurring nightmare. The nightmare is always pretty much the same. In this dream, I return home to find the three cats I once had, and all of whom died many years ago, in a sorry state. During my absence no one had cared for, fed, or provided water for my cats. They're gaunt and emaciated. Their eyes are full of confusion and reproach. The discovery is very upsetting and I then usually awake extremely distressed and filled with sorrow. Most times after wakening up from that nightmare I'm unable to return to sleep, so I lie awake tossing and turning until daybreak, riddled with regret.
I don't need to search for the meaning of my nightmares about my former feline friends. I'll leave the deeper interpretations for any Freudian or Jungian analysts who may be reading this story. I know what it means to me. The three cats are the embodiment of all of those whom I feel I've failed and neglected during the course of my lifetime. You know, my family, lovers, friends, colleagues, and of course, even past pets. All the ruptures in my many ruined relationships, the promises I wouldn't keep, trust that I violated and couldn't reciprocate, and often all the love I shouldn't have so easily betrayed. I know exactly what it means.
That dream is my mind's way of going back in time, petitioning for another chance to correct the many errors I made in my interactions with others. A way of compartmentalizing those feelings relating to the pain I feel I'm responsible for bestowing upon all I left capsized, swamped, and sinking in my wake. To rectify what is no longer redeemable or rectifiable because of the illogical laws which govern time and space. To grasp the brittle straw of a second shot and attempt to make amends for the million-and-one mistakes I've made.
Yes, yes, yes… Yes, I know what it means. That once again, and yet again, I was simply searching for something I didn't want to find. There are so many things in life we wish we could change. But while you can't change the petrified past or alter the unforeseeable future, you can seize the opportunity afforded by the present to accept responsibility for your own behavior. But what do I know? Probably a lot less than I think I do. Some may say I'm talking rubbish now. And to them, I'd remind that this garbage truck departed the depot a long time ago.
April 28, 2020
---
~ Is Casual Sex In The Age of The Coronavirus Dead? ~
What's it been now? More than four weeks since in-shelter social-distancing began? More than four weeks since neither I, nor my Hobohemian neighbors, have been able to go outside to dine at our favorite restaurants to eat of our favorite bars to drink, chat, and if we're lucky, to hook-up with someone? Well if you didn't already have a live-in lover before the mandatory quarantine regulations went into effect, then baby—how should I put this?—I'm pretty sure, like me, you've hit a long, dry patch in the old sex life department.
Don't get me wrong. I'd rather be stuck inside feeling as horny as a randy rabbit than smashing with someone who may be infected with the coronavirus. Wouldn't you? Knocking boots with one another sure is fun, but becoming deathly ill and maybe dying is certainly not. Perhaps, in an effort to be more forthright we should've instead named the COVID-19 virus the c*ck-block-virus. I know that may come off as being somewhat crude, but it is what it is.
In order to share a ray of hope with my carnally concupiscent sex craving readers, I have used the following thought to maintain some sense of sexual sanity. Just sit back, close your eyes, and try to imagine that first day we'll all be able to go out into the streets to make our way again to that favorite bar or restaurant we so dearly love. To swing open the door of that establishment, then walk in and take a seat. To turn to someone you may or may not know and begin a conversation. As the evening continues: to place an order, to talk, to re-order more food and/or drinks from the bar and/or kitchen, to catch someone's eye, and engage in that age-old art of one-on-one flirtation. Then perchance, if the gods of love are smiling down upon you that night, to get lucky and leave together for someplace a little quieter where you each may slip into something more comfortable.
So, in this ailing age of the coronavirus, is casual sex really dead? No, it's actually just temporarily dormant. And when that sexy beast reawakens, then happy times will indeed be here again, my friends.
April 22, 2020
---
~ The Taxman Cometh ~
Hey boys and girls, what time is it? It's tax time!
I'm an unusual character; I really don't mind paying my fair share of taxes. I feel that it's a necessary part of participating in the required social contract which allows individuals to partake in activities and appreciate advantages that would be impossible for any single person to achieve on their own. Such as: turn on a faucet and enjoy clean water; walkabout in relative safety on streetlight lit sidewalks when the sun goes down; place trash in containers that sit outside our businesses and residences and have it efficiently carted away; with just a flush our bodily waste disappears, and many other creature comforts afforded by our collective efforts to support this modern socialized civilization. To paraphrase free-market economist Milton Friedman, there's no such thing as a free lunch. And I, for one, am willing to do my part by paying my dues to sit at the table to enjoy myself. In my humble opinion, it's worth it.
Sure, as a small business owner I sometimes feel burdened and overtaxed by both the state and federal government's quarterly assessment of what I'm required to pay to be entitled to maintain my seat at Friedman's fantasy lunch counter, as well as to stay out of jail for tax evasion, but for the most part, I've made peace with the tax collectors. Hell, apparently even Jesus accepted the fact that one must, "Render unto Caesar the things that are Caesar's…" when queried by the teachers of the law and chief priests of that time about paying taxes. It seemed to be a fair enough answer to those who were questioning him about what to do when the taxman cometh.
I do my best to not tax my mind too much with thinking about the toll paid to continue our brief journey along the road of life. Like most, I keep my head down, push forward, and try to do the best I can with what I have. In life, you may always count on three things: death, taxes, and that'll always be something to complain about. It's really okay to get all your grumps and grievances off your chest when you feel so inclined. Now be well aware, that for the most part, no one really gives a fowl's fart about whatever it is you're prone to complain about. As any major dude will tell you, "It is what it is until it just ain't anymore." So it goes, same as it ever was, same as it ever was, here we go, here we go.
April 14, 2020
---
~ Death ~
Time's the meanest thief I've ever seen
It rips you off and robs your dreams
Set's you up, none get out alive
Would steal the coins off a dead man's eyes
Now, close your eyes, it's just stardust
Fallen from dreams – turned to rust
Do you ever think about death? I know I do. When you really think about it, it's not always such a bad thing. Maybe think of it as a coin. Like any coin, it has two sides. On one side, death is sometimes the only cure for the infirmed and injured. On the other, its side effects can harm the healthy. Death is a clever little mofo, my friends. So you should always pay it the respect it deserves.
If you had a choice, how you would die? What would you choose? Most would probably say the best way to go would be in your sleep. There's some merit to dying that way. Think about it. You're already out like a light, death comes along while you slumber, and then you're merely a light that won't ever be relit again. That's a peaceful thought. One minute you're here—and then—the next you're not. Dolly back and fade to black: The End.
Or, are you one of those people who want to go out in a blaze of glory? Die for someone, something, or a cause you love? Make your life count? I don't know about you, but for me, that never made a lot of sense because it sounds like you're simply denying the basic human instinct; the will to survive, and some would say, to reproduce. Death is the antithesis of survival. And with the exception of a few kinky zombie films I've seen, the dead rarely gets it on to smash and reproduce. Dead you will be—morbidly horny, probably not. But who knows?
When it's my time to die, I of course hope I'll fade quicker than a smile. Do you want my advice? Make a friend of death and nurture an honest relationship with it. Be at peace with it. Never fight with anything that always wins. Instead, accept and embrace your death. After all, life will leave and abandon you after a relatively short period of time. Death, my dying friends, will always be with you, and by your side, for the remainder of eternity. Think about it.
April 6, 2020
---
~ Virtual Happy Hour ~
It began because we were all bored. Every bar in Hoboken/Hobohemia had been ordered to close and restaurants were no longer allowed to seat patrons for on-premise dining; take out and delivery of food only. We'd all been legally ordered to social distance ourselves from ourselves. After the first or second week of the COVID-19 quarantine one of us, now for the life of me, I can't remember which one of us it was and I'd give anything to recall who it was that thought it up, suggested we could still get together every Friday between 5-7 P.M. for happy hour.
Prior to the 2020 food and beverage restrictions, many of us would find ourselves on the imbibing side of the Court Street Restaurant's sturdy wooden bar for Happy Hour. Court Street didn't offer any of the usual Happy Hour come-ons like discounted drink prices or free bar food during between 5 – 7 P.M. It was merely what my fellow barstool buddies who migrated there called it because we were just happy the workweek was over, the weekend was staring us straight in the eyes, and most importantly, we were sipping refreshing and intoxicating drinks while happily lost in our shared penchant for pleasant conversation.
Throughout the initial period of isolation, some kept in touch via email or phone. An email I received, it was either from John R (a local landlord possessing extensive knowledge of different kinds of gin) or John C (one of many stressed-out young men who commuted from Hobohemia to Wall Street on weekdays) or Su-10 (a funny and attractive brunette also working in the finance industry and who's the subject of an ongoing debate among the guys at the bar about whether she was really part Asian or only an impression based solely on her use of eyeliner), asked what app I felt the most comfortable using for video conferencing. I replied: Zoom. The next morning this was waiting for me in my in-box, "Hey—I've missed you guys! The consensus is that except one of us everyone's on Zoom. All except one said they'd download/install today. Who knows when we get the ol' guzzle gang back together at the Court Street bar? In the meantime, I plan to have a drink in hand, be on Zoom to video chat during Happy Hour this Friday, and anyone who wants to join me is welcomed. The name of the group video chat account where it's going down is HappyHourHeroes."
I'll be honest with you, since the lockdown I've been drinking a little earlier than before. So a few minutes before 5 P.M. on Friday I'd already downed a bottle of Dogfish Head 60-minute IPA. After depositing the empty in the kitchen recycling bin I grabbed a fresh one from the fridge, took a seat, logged into my Zoom account, and connected with those boozehound buddies who were already on the HappyHourHeroes account. There we talked, laughed, and of course drank with one another, for about two hours.
Each Friday thereafter we got together at the designated happy hour time online. While we drank our cocktails, wine, or beer we exchanged updates about which and what stores had restocked, where the lines were shortest, and other surviving-the quarantine tips. Of course, there'd be a fair share of gossip too. I imagine as our weeks of isolation endured it would be no surprise to hear that one or more of the couples, having grown weary of each other's obligatory close company, would separate or breakup. There could be some pregnancies, or perhaps some rumor even about domestic violence. We are, after all, only human.
Via FaceBook, around week #2 of the shutdown Geri F, our administrator of cultural affairs for Hobohemia, encouraged us to go to our windows at 7 P.M. to cheer on and encourage our caregivers on the front-lines who have been there for us since the onset of this pandemic. No one can say with certainty how long we'll all be stuck inside. What I can say is thank Google for this virtual happy hour each week. It's made the time we're locked inside a little easier to bear, a lot less scary, and not as empty and depressing. Today is only Tuesday, so there are still several more days until our next broadband booze fest. I know no one can see me right now, but I'm raising my glass in a toast to say, "Here's to you my Hobohemian Happy Hour Heroes—stay healthy and cheers to one and all!"
March 31, 2020
---
~ Wait For — The Epiphany ~
For the past three decades my entertainment promotion and marketing company, Mia Mind Music, has been operating using a DBA (Doing Business As) certificate. Our accountant Ray, at the beginning of 2020 suggested that we restructure as a corporation. Initially, we'd set it up as a C-Corp, and then, after opening a corporate business bank account, we'd elect to have it recognized by The IRS as an S-Corp. The reasoning being that it would allow us to be eligible to take advantage of more lucrative tax advantages. Frankly, that's all Greek to me.
Ay, as Hamlet once said, there's the rub. Over the years, as a result of a few natural, as well as failed relationship disasters, I've either lost or misplaced my birth certificate, social security card, and/or other forms of legal identification. My last passport expired in 1985, I had an international driver's license that expired after 1977, never served in the military, and I have been self-employed for the past three decades. So when I went to the Citibank at 5 Marine View Plaza to try an open a new corporate bank account for Mia Mind Music, even though I have two pre-existing business accounts under my existing DBA business name with them, I was told it couldn't be done unless I, the individual opening said accounts, could produce a government-issued photo ID.
This made it clear that I had no other choice other than to embark upon my journey through the painful and precarious bureaucratic jungle. With a lot of help from some trusted business colleagues and friends, and using the internet, I prepared for the tedious trek through state and federal government offices that would be required if I were to prove to anyone requiring proof that I was me. The task appeared so daunting that for a brief moment I even considered getting myself arrested in the hope that my mug shot and a criminal record would be evidence enough to confirm I was who I claimed to be. But instead, I gathered what documentation I still had in my possession that hopefully could be used remedy my present situation (at least in the opinion of some organizations) as a nonexistent person.
Now to clarify, I have paid, and continue to pay state and federal taxes, annually contribute the amount the government requires to FICA/Social Security and/or any other agencies. Uncle Sam has been quite willing to accept my money, but not to officially recognize my existence. It was just one more example of the butt biting irony that plagues our world. So, based upon the research the first stop on this safari would be the Social Security Administration to apply for a replacement SS card.
By phone I was told that all that was needed to engage in this process was to fill out a form they told me to download, bring it to their offices located at 79 Hudson St. in Hoboken, NJ, present my Medicare card along with the completed form, and then within two weeks, my new card would arrive. Ah, sweet dreams are made of this. Uh-oh…not so fast, buddy. There, after a three-hour wait, I was told the Medicare card would not be accepted because it lacked my date of birth. I was instructed to get a signed letter from my doctor's office on their office stationary that stated my full name, address, and when I had been at that physician's place of practice.
On my way back to my office on I stopped at the Riverside Medical Group on Washington St. and within five or ten minutes I had the letter in hand. The next day I took it over to the Hudson St. office, waited for another three hours, and was turned down again because the doctor's office had not included my middle name and only the date of my last appointment. Although not made clear from the written instructions they had given me they also demanded to know the date of my first medical visit.
Back at the doctor's office, in embarrassment, I explained the situation, which they found hard to believe. As they told me, they've provided this kind of documentation for many patients over the years it's never been rejected before. Welcome to my world! But after about 20 minutes, with a new letter in hand, I returned to the SSA offices to wait for several more hours. The good news is that that third time was the charm with both the letter and my application being accepted. After several days the replacement card was in my mailbox.
What I needed next was to get over to the Dept. of Motor Vehicles at 438 Summit Ave. in Jersey City to apply for my Non-Drivers State ID. First checking on what I needed to bring along to get the job done I gathered up everything. The location was not within reasonable walking distance, but luckily my friend, Magic P, agreed to drive me there and back. After another three hours of filling out forms, waiting in lines, presenting papers, and documents it looked like success may be on the horizon. Uh-oh…cool your jets, cadets. My birth certificated was refused because it had been issued by the hospital where I was born and not from the Maryland Office of Vital Statistics.
At this point, I was almost ready to throw in the towel and call it quits on my quest. But I didn't. Do you know why? Upon the ride back to Hoboken, I had an epiphany. Want to know what that epiphany was? I'm so glad you do. My epiphany: who was I to expect success on this first try? Instead of accepting defeat, I needed to get online, find the Office of Vital Statistics website (which I did the next day), and do what was necessary, then obtain my birth certificate from them so I could return to the DMV for the Non-Drivers ID, no matter how many return-trips it would demand. Failure was not an option. The only way I could be beat is if I let myself to be beaten; it was within my power to not let that happen. My advice, my blog reading friends, is it's wise to wait, wait for—your epiphany.
March 26, 2020
---
~ Dust Bunnies ~
I'll admit it; I'm a dust bunny rancher. On the plains and prairies of my ranch, which is really my apartment, I proudly raise hardy herds of dust bunnies: big ones, little ones, fat ones, and skinny ones. I remember hearing as a child that we all come from dust, and then return to dust, so why disrupt the relationship in between? That makes sense to me. Is it making a spec of sense to you?
My dust bunnies are wanders. A dust bunny I spot in one room may migrate to other rooms as it sees fit. Although I must confess that at times it's hard to tell, and I don't wish to stereotype here, because most dust bunnies do look alike. So, I guess you could say, if you're so inclined, I'm a free-range dust bunny wrangler. Believe you me; I've certainly been called worse things. Just ask any of my various ex-wives and they could tell you things they've called me that'll make your cheeks blush and your ears burn.
Now, you must be asking, "Why do you, Stevie B, raise dust bunnies?" Well, that's an excellent question and I'm so glad you asked me. The answer is so simple. First off, they're easy to rear because they breed like rabbits. That line cracks up my dust bunnies so that they end up rolling on my floor laughing when they've heard me say it. Secondly, I breed and raise dust bunnies because there's a clause in my apartment lease that firmly prohibits me, as well as the fellow residents residing in this apartment house, from owning pets. Yes, it's as simple as that.
So I cohabit with dozens and dozens of dust bunnies because if my landlord, Pasquale, ever shows up unexpectedly I can either explain I lay no claim to ownership of one or more of the dust bunnies, or if time permits, merely sweep and hide them under a rug until the landlord leaves. You see, as any dust bunny who's a practicing attorney would tell you, that my friends, is my Leporidae legal loophole.
March 20, 2020
---
~ The Threat ~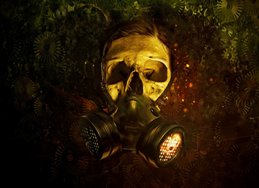 "We interrupt your program with this special news broadcast. Please take the time to listen, this message is our last."
The threat was not so much the virus—it was the panic that ensued. Most of us, at first, tried to go about our normal day-to-day activities. But after the stock markets crashed, the schools closed, previously scheduled public gatherings were canceled, and especially after the shelves at the stores and markets grew steadily empty and the wait in line to buy just about anything got increasingly longer, then the gravity of the situation became undeniably apparent. One way or another, in 2020, we were all about to die.
It wasn't the virus that was going to kill us. It was simply our own fear. From fear, there is not a place to run and no place to hide. Fear is internal. It's a cancer that permeates the mind, the heart, the soul, and cannot be removed nor go into remission with the cutting and severing of a scalpel, burned out by the heat and poison of radiation, or cured through the cleansing of a carefully calculated chemical concoction. And this time fear was burrowed so deeply into our psyche that it was too late to rely on hope because hope had already been lost. In 2020, that was the end, my friend.
Politicians, pundits, and priests pontificated while everyday people began to turn on one another. At first, they merely lied to each other. Then they stole, until finally, slowly and steadily, began to kill each other; for food, water, medicine, and medical supplies, possessions, and then lastly even something mundane as toilet paper. It started with person versus person, next friend against friend, and ultimately family member fighting family member for scraps and tatters of what before 2020 we gave very little thought and consideration to.
Scientists and scholars surmised and speculated, but in the end had neither a clue, much less than a solution, to cure the feeding frenzy of fear that was festering in our system. Fear was the shark lurking unseen beneath the waves of our imagination prepared to strike and savagely attack as we tranquilly floated upon the sea of life. Fear was the invisible threat hovering above us in the sky, ready to pluck us from the face of the earth like some malevolent mythical bird brandishing death and destruction to all beneath its flight path. Fear was the darkness that devoured the light. It was 2020 when with a whimper we relinquished the mortal coil and commenced our fearful free fall into oblivion.
Our end came about from neither plague nor virus, not from swarms of locust or the currents of floods. Surely it wasn't droughts, earthquakes, hurricanes, tidal waves, tornadoes, tsunamis, or typhoons that snuffed out the flame of our existence. The year was 2020, and it was fear that brought about an apocalypse that forever ended our world.
"This is our final broadcast—so good night, good luck, and…"
March 13, 2020
---
~

Coping With A Case Of The Coronavirus

~
Cough, cough, sniff, sniff, sneeze, sneeze, choke, choke…
I believe I may have contracted the Coronavirus. No, I haven't traveled to China, been in contact with anyone who has or someone who's been diagnosed with it. So how do I know I have it? Now that's an excellent question and I'm so glad you asked it. Cough, cough, sniff, sniff, sneeze, sneeze, choke, choke…
I was out in the Hoboken neighborhood shopping yesterday when it happened. There, inside of a store, I was magnetically drawn to a shelf holding 6-packs of Corona beer in bottles and cans. I tried to stop myself before it happened but I was powerless. My hands shook as I reached out and gripped the handle of the cardboard carrier that held 6 bottles of Corona Extra. You know what I'm talking about. The beer that proclaims it's "LA CERVEZA MAS FINA" that's imported from Mexico. Mexico, it's that place south of the U.S. border where some would like to build a wall that allegedly Mexico would pay for (spoiler alert: they already told us "No way, José", and that they wouldn't). Cough, cough, sniff, sniff, sneeze, sneeze, choke, choke…
I was as helpless as a newborn baby when I took my place in the store's checkout line with the 6 bottles of golden brew in its cleverly crafted cardboard caddy. My arms began to ache while I held the pale ale purportedly produced by Cerveceria Modelo in Mexico as I waited to pay for the product. Then, out of the blue, some scruffy looking Millennial in the line behind me sporting a man bun offered some unsolicited advice and said, "Hey man, you really should try sipping that stuff then sucking on a lemon or lime afterward. It's really good, man!" At first, I was taken aback by the suggestion, but the longer I waited in line and thought about it, the idea kind of grew on me the way that dude's man bun grew on him. Cough, cough, sniff, sniff, sneeze, sneeze, choke, choke…
I backed out of the line, took a turn to my right, and headed for the fresh produce section of the store. There, between the oranges and the tangerines were the lemons and the limes. Then I froze mid-reach for the citrus fruit and wondered to myself whether I should buy a lime or a lemon to chase after the sips of my south of the border suds. Cough, cough, sniff, sniff, sneeze, sneeze, choke, choke… I really couldn't decide, so I finally figured that since the entertainment promotion and marketing business I owned had been blessed with a steady cash flow all week long I could afford to just buy both. Cough, cough, sniff, sniff, sneeze, sneeze, choke, choke… Now with a pack of a half dozen 7.0 U.S. fluid oz. bottles in one hand and the citrus gripped tightly in the palm of the other, I marched back up to the checkout line, paid for the products then left the store. Cough, cough, sniff, sniff, sneeze, sneeze, choke, choke…
Back home I stored the beer in the refrigerator where it could cool to the proper temperature for consumption (hey, I'm not a barbarian), washed and sliced the lemon, and lime into wedges then waited. Cough, cough, sniff, sniff, sneeze, sneeze, choke, choke… After around 45 minutes I grabbed a chilled bottle, popped off the top, and chugged the entire contents there within. Fumbling for a fruit wedge I sucked the juice from the inner pulp and then shouted, "¡Ay, caramba!". Cough, cough, sniff, sniff, sneeze, sneeze, choke, choke… I repeated this process 5 more times until the last bottle was empty and I was surrounded by spent lime and lemon wedges around my feet. Cough, cough, sniff, sniff, sneeze, sneeze, choke, choke…
I tried to stand up from where I sat, but when I did I felt rather dizzy. Cough, cough, sniff, sniff, sneeze, sneeze, choke, choke… Oh, I had definitely come down with a major case of that Coronavirus. Cough, cough, sniff, sniff, sneeze, sneeze, choke, choke… I also experienced some sad, sorry regrets that I had only bought the single 6-pack instead of a case of Corona and that I now had to return to the store for more. Cough, cough, sniff, sniff, sneeze, sneeze, choke, choke… Oh yeah, ese, as any major L.A. gangbanging güey would tell you; I really got it bad, José, I really got it bad. Cough, cough, sniff, sniff, sneeze, sneeze, choke, choke…
March 11, 2020
---
~ Dollars & $ense ~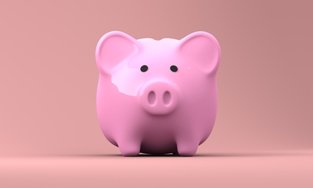 Well-being should not be weighted solely in dollars and cents. A line from Shakespeare's King Richard III, "A horse, a horse! My kingdom for a horse!" pretty much sums up the idea that it's what you need most at the moment is what you need above all else. I like to believe that while with money you may feed your belly, that with kindness you may feed your soul. But then again, I have caught myself expressing these sentiments of hopeless romantics on more than a single occasion during the course of my life.
Don't get me wrong—I like money. I like to earn it, like to spend it, to save it, to share it, to invest it, and of course, to enjoy it. Money, money, money, money makes the world go around is something any cabaret company would share with you in song and dance. But here at this point is where I warn you; don't believe everything you're told. Because the Beatles, after compiling a list of what money could buy in one of their songs, subsequently, warned us it couldn't buy you love. I admit that warning was given in the mid-1960s and many years before the current occupant of the White House flaunted an alternative version of reality in regard to that notion. Yet, in all fairness to that aforementioned White House resident, when the Beatles sang another song, "Gimmie Money", they said that money was all they wanted and to hell with love. So, go figure. Even the Fab Four were at odds with themselves on this sensitive subject.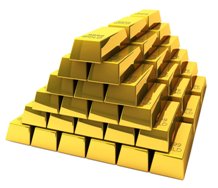 I won't deny that money may make you happy. I'll certainly confess that over the many years I've lived I've enjoyed a laugh or two on account of it. On the other hand, money has often been the source of misery to many; the lack of it, the want of it, worrying about it, losing it, and the need for it. Like oxygen, if you don't have any of it, it's kind of hard to live without it.
The idea that money is the root of all evil is an idea I could never completely buy on face value. Money is not inherently good or bad. In my humble opinion, it's how you use it. So be kind with it. Be generous with it. Make yourself happy with it, but don't forget to make others happy with it too. Invest it not only in companies, stocks, bonds, cash equivalents, cryptocurrencies, futures, or derivatives. Invest it in people, too. The returns on these different types of investments will vary, so choose your investments wisely.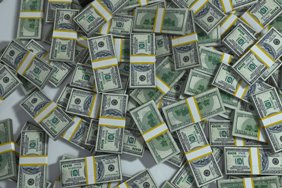 These days I find myself investing more and more of my time writing. I've just completed my second novel and have discovered writing stuff for this blog, and then having you invest your time in reading it, is a real gas. It provides a kind of satisfaction I've not found from anything else I've ever done. I'll willing to bet dollars to doughnuts that I'll keep on writing it for as long as you'll keep reading it. Why you may ask? Why because that just makes sense to me, my dear, dear literate friends.
March 9, 2020
---
~ Public Libraries ~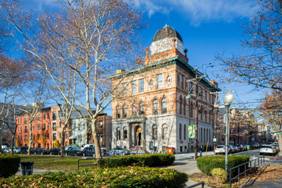 Do you know what I believe? I believe that public libraries are one of the most dazzling gems that rest atop the crown of creation. Think about it. Public libraries are one of the few places on Earth when all people are truly equal, and where all have the opportunity to pass from their doors with more free knowledge than when they entered. Where one may choose to either quietly sit and read or borrow a book, or books, to read at home or wherever you desire.
While I love public libraries I rarely read within their walls. Do you know where I like to read? I love to read at bars. Hardly anything brings me as much peace of mind and as much soul satisfaction than sitting on a barstool at the bar in a bar enjoying a cocktail or small-batch craft beer while reading a book. I have read fiction, non-fiction, biographies, autobiographies, bestsellers, classics, pulp, obscure novels, poetry, and reference books within most of the bars that populate and sell spirits on-premise in my adopted hometown of Hobohemia (aka Hoboken, NJ). I am fond of proclaiming, "Give a man a comfortable barstool, a strong drink and an interesting book to read and you've given a man his own little acre of heaven."
But you know what I find ironic? Of course, the true answer is pretty much everything. But in this instance, for the sake of this blog entry is the following. While my favorite locations to digest letters, words, sentences, paragraphs, and chapters are bars, the only downside I've encountered while reading in a bar is the lighting. Most bars are so dimly lit. It's that ambiance thing if you know what I mean. Many barrooms are prone to being rather dark when it comes to electric illumination. Hey, I know bars are designed with the intention to enhance the mood for liquid consumption and not for literary erudition, but I like what I like, and I am what I am. It's just the way I'm wired, some would say.
Now the lack of good reading light is not where the irony falls. It merely marks where it begins. The irony lies within the threshold of the public library itself. While public libraries are wonderfully illuminated with the purpose in mind to make reading as comfortable and easy as possible, their shortcoming is they don't serve alcohol. Why has someone never opened a library that serves refreshing and intoxicating beverages, or a bar where you can borrow books? And that, my dear friends, is where at least for me, the irony rests. Oh, the irony, the bitter, thirsty irony!
March 6, 2020
---
~

Who's Your Daddy?

~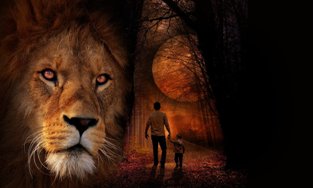 One of my business colleagues is eighteen years younger than I. I first met this young man in 2002, the day he knocked on the door of my entertainment promotion and marketing business when it was still located in New York City. He explained he had recently completed his studies at an audio engineering institute here in the USA, that he was born in Brazil, and inquired if we had any work suitable to his abilities. Since we weren't a recording studio or a record company we had no need for someone with that skill set. Normally the conversation would have ended there, but since I had lived and worked in Brazil many years ago, as well as spent a fair share of life being a stranger in foreign lands, we continued to talk.
As it turned out he possessed a considerable amount of knowledge pertaining to computers and the applications they utilized for both business and creative uses. His command of the English language was impeccable (I did not bother embarrassing either of us with my lapsed use of the Brazilian version of Portuguese). I liked the fellow but told him that I currently had no paid job openings available, only unpaid internships. He said beginning as an internship was fine. So, I asked him when he could begin. His reply was "Now", and that sealed the deal. We gave him a desk and began working together.
I liked his attitude. He displayed intelligence, ingenuity, and integrity from day one. It wasn't long before he transitioned from an unpaid intern to a paid service provider. After office hours, and along with his lovely Brazilian wife, we'd socialize and share our fondness for great food, good drink, and lots of laughs, at some of the best and newest bars and restaurants NYC had to offer during the beginning of the new millennium. And at the turn of that new century, Manhattan provided a cornucopia of them for us to enjoy. Life was good, and I began to look at him as if he were a son.
I have no living children. A few years later this couple, who now lived in Brooklyn, shared some amazing news with me; they were expecting a baby. Together they brought into this world a beautiful baby girl. A little more than a year later they shared another announcement, and their son was born. I believe I know the daddy and mommy of these offspring rather well, so I feel it's safe to say, "Hey Kiddos, you're fortunate to have them as your parents." Then, it wasn't long after that, there was another announcement.
I ran a small business that couldn't provide any benefits such as health insurance or retirement plans. The kid who had knocked on my office door gave me the usual two-week notice and left for a job in the corporate world. I wished him luck, was sad to see him go, and we lost touch for a number of years. By 2007 the Not-So-Great Recession had its stranglehold on the world economy, and it was a particularly dire time for the small business community. Teetering on bankruptcy in 2011, I at last abandoned the office in New York and moved my aging ass over to New Jersey.
Shortly thereafter, in 2012, we made contact again and my former intern paid me a visit on the Jersey side. We talked. He'd left the corporate world, so I asked if he'd be interested in any jobs I could sub-contract out his way. He was, and we began to work together anew. Currently, it's 2020 and the roles have shifted in the relationship. He's now about the age I was when we met. Whereas I once felt I held a patent on the paternal position, with each passing day where I bear the weight of my age more and more, I've noted he's the one who directs fatherly care in my direction. Helping me when I falter, explaining things (multiple times on occasion, I'm sorry to admit) if I get confused, checking in on me every now and then to see if I'm okay. Hakuna-Matata, mofos! The older I get the more I understand that in the circle of life man is father to the child as the child is father to the man. And so it goes my children, and so it goes…
March 2, 2020
---
~ Oh, The Irony! ~
They say a wise man once pondered why we drive on parkways but park in driveways. That's an excellent thought. Life is so full of irony, and the irony is out to get us. Sometimes I believe if cancer, or the Coronavirus, or some kind of toxic mold growing within the walls of our homes doesn't kill us, then the irony probably will. I also find it ironic how we feel compelled to label ourselves and each other, yet hardly ever exhibit the behavior associated with those labels. You may call yourself whatever you want but still, fail in being what you are. It's ironic, isn't it? And so it goes…
Have I mentioned I live in Hoboken, NJ, which I've taken upon myself to rename Hobohemia because of its bohemian vibe and the resident artistic community that is such a vital part and characteristic of the town? Hoboken/Hobohemia boasts several claims to fame: 1) Hoboken/Hobohemia is the birth place of Francis (aka Frank) Albert Sinatra; 2) Elysian Fields, alleged to be the site where the first organized baseball game was played, and as some have said, making it the birthplace of baseball the day the Knickerbocker Club took on the New York Nine in Hoboken/Hobohemia on June 19, 1846; 3) The purportedly best mozzarella cheese (aka mutz here in Hoboken/Hobohemia) in America is made in Hoboken/Hobohemia, and the town even hosts an annual MutzFest every January where local shops such as Vito & Sons, Dolce & Salato, Losurdo Bros., Frankie & Ava's, Tony Boloney's, and M&P Biancamano compete for the cheesy crown; 4) While my neighbors seldom brag about this next thing, Hoboken/Hobohemia, because of the large number of local colleges and universities, and because of its close proximity to the greater New York City metropolitan area, hosts the largest number of bars and taverns per square mile in the Unites States.
On weekends I enjoy walking about Hoboken/Hobohemia and usually stop at different local bars during my walk to sample the various small-batch craft beers they have on draft. One of my latest finds, The Madd Hatter, on Washington St., is my current favorite. The gorgeous ladies who work there behind the bar recently introduced me to the Sierra Nevada Brewing Co.'s Hazy Little Thing IPA. It was love at first sip. Hazy's a hop-heavy, unfiltered and unprocessed brew. Oh, and the aforementioned beautiful barmaids sport neckline plunging, virtually breast-baring outfits while working their shifts that offer the patrons perched on barstools a wonderful miles-of-cleavage view to enhance our drinking experience. As if that wasn't enough, I just discovered they serve what may be the best burgers in all of Hoboken/Hobohemia.
You may have noticed my proclivity to rename things I love, instead of just using their currently established titles and names, to create my own appellations. Take The Madd Hatter for instance. I believe a better and more descriptive name would be Beer, Boobs & Burgers. And the busty barkeeps I enjoy eyeing behind the business side of the bar I've lovingly renamed as my Mona Lisas. Why? Because like the painting it's not likely I'll ever take one of these works of art home with me, ironically, I'm happy enough spending my days admiring them from afar.
February 27, 2020
---
~ Dear Diary ~
A blog is like keeping a diary. But with diaries, most prefer to keep them locked and hidden. A blog is really a diary you've given everyone a copy of the key so they can open and read it. See where we're going? Good. I'm glad we're all on the same page here. Okay, shall we proceed now?
Someone in the marketing department of my entertainment promotion and marketing company suggested that since I'm trying to hawk a new book and attempting to garner the attention of literary agencies and/or publishing houses, that I should have a Facebook author/artist page, open a Twitter account, and create a blog. At first that all sounded like just more work added to my already busy days. But after writing and posting a few pieces on my blog, the blog you're now, of course, reading this on, after getting positive feedback from the readers who had stumbled upon my blog, a new blog among the many of millions of blogs that populate the internet, and after seeing some of the entries I'd posted on my blog had been shared and re-posted by others, I was hooked.
I have a birthday coming up soon and I'll be turning sixty-six. Damn, I'm old and getting older every day. I've noticed that like most old people I've known, the older I get, the more I grouse and complain just like an old person. And what I've discovered about blogs is that they're the perfect platform for someone to grouse and complain from. A digital pulpit from which to pontificate about all that is wrong with the world and the people that live in it. Where you can find out about what's pissing me off, yet I don't have to hear about what's bothering you. And like most old people, we prefer you to listen to us and we not have to listen to you. It's selfish, I know. Now, just deal with it!
Do you know what's pissing me off today? Well, that's an excellent question and I'm so glad someone on this blog finally got around to asking it. So, here goes.
I hate commercials where they speed up the announcer's voice in order to compress multiple minutes of spoken content, usually disclaimers, into a 15-second spot, so they sound like an amphetamine addict spouting gibberish after shooting up too much speed. I hate going to the post office and how the postal workers toss daggers at you with their eyes as you stand in long lines and they look like they wished you'd just drop dead before getting to the window they're working, the window that's maybe only one or two that's open for service, out of the half dozen or so of the other windows that are not, while other postal employees walk nonchalantly throughout the building.
I abhor the ever-growing number of rules and regulations issued by the sanitation department pertaining to recycling that nearly necessitate referencing a manual in order to know which item of trash may be combined with other items of trash and on which days you're allowed to discard them, and in the process has evolved garbage disposal into rocket science. But do you know what really ticks me off and what I hate the most? Kudos on those questions, kids. I guess I just hate getting old. That really, really annoys me…
February 25, 2020
---
~ Court Street ~
I once did a Google search for the place on Earth known for having the kindest inhabitants. Lo and behold, a map popped up with a tiny marker indicating where it was. Much to my surprise, although it really shouldn't have been, that place looked like the town where I've been living for over eight years: Hoboken, New Jersey. I shifted my cursor to that marker, left-clicked, and an address and thumbnail photo appeared. The address was 61 6th Street, Hoboken, NJ, United States.
That's the Court Street Restaurant & Bar, a place I've haunted regularly since moving to Hoboken—the place where I find continued comfort, cunning cuisine, clever conversation, and kind camaraderie during delicious dinners and belly-busting brunches. If you decide to order the Hungry Hobohemian from the brunch menu, be sure to splurge, and for another $1, get the Vermont maple syrup for the pancakes that come with that order. They'll even heat the maple syrup for you that takes it to a level Aunt Jemima would only dream about. There's nothing like, as any rap star would say, living large. The waitstaff and proprietors, as well as every patron of the establishment with whom I've enjoyed the contact, are indeed the kindest of the kind.
This blog post is dedicated to fellow spirits who work at or haunt the bar and dining area of the Court Street Restaurant & Bar. If you're ever in Hoboken you should stop in and meet Artie (who knows everything you'll ever need to know about wines and Phish concerts), Jeff (who is an excellent bartender/mixologist and will laugh at your jokes even when they're not really funny), Laura (who like Artie switches up working the floor and behind the bar on certain occasions and is the person you'd want with you during any blackout because her smile could light the darkest room, and as one of my barstool buddies pointed out, is the masterful mistress of the covert eye roll), Dan (co-owner of the place, who gave me a Court Street t-shirt that has not only become one of my favorite pieces of clothing, but something I wear for good luck), Kevin (also a co-owner, who while having an encyclopedic knowledge of all things relating to ice hockey you should never get him talking about politics), and everyone else within those walls whose names I may have still yet to learn. You're enriching my brief stay on this planet more than I ever would have imagined. And in doing so, in my book, you're making our world a better place.
February 21, 2020
---
~ It Was Written On the Walls ~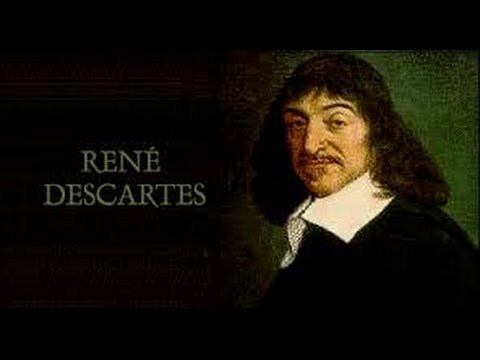 Perhaps it's not exactly Cartesian philosophy, but what do I know? I write—therefore I am. I am what I am. What I am, like most humans, is a compulsive communicator. Even back in the days when we humans were living inside caves, we felt the need to leave painted pictorial messages upon the walls, either for ourselves or for those who would come after us. Were these painters artists? I don't know. But every generation thereafter discovered newer and more ways of communicating. Newer and more ways of leaving a message, perhaps hoping to let someone, anyone, know that they once were there. I don't know. I write—therefore I am.
Artists. The word is overused and misunderstood. If you've ever been an artist then you probably had to work at two jobs at once. One job you work at is the one you do so you can survive another day and pay the never-ending bills that endlessly accrue. The second job, the one you really love and is one of the few things that help you maintain some semblance of sanity so you can get up five days a week to do the first job that supports your second job, is your art.
A commonly shared belief is you have to suffer for your art. I don't know. I'm not comfortable calling myself an artist. Nor do I wish to be known, perchance remembered, even as an author. Both labels will never cease to sting and rankle in my wounds. As with you, I too am a human, and humans are compulsive communicators. In my entire life, I've never seen a blank page I hadn't wanted to fill. I am what I am. I'm simply a writer. I write—therefore I am.
February 19, 2020
---
~ It's Complicated ~
These days, social media platforms are not only helpful, they're simply de rigueur. There's YouTube, Twitter, Instagram, Tik-Tok, Snapchat, WhatsApp, Skype, Reddit, Pinterest, Tumblr, LinkedIn, Flickr, and of course, Facebook. Most of these social networks I use strictly for business. A few, and very few, I use for personal reasons. Why fewer personal vs. business accounts and pages? Why that's an excellent question and we're so glad you asked.
I like to keep to myself. I'm not antisocial, but merely asocial. The number of those welcomed within my comfort zone of social interaction diminishes as the years go on. I'm not lonely—I'm simply more at home by myself than with others around me. I guess you could say it's the way I'm wired, and that's certainly the way I see it. There are not many people that attract or impress me, and even fewer that I care to impress or attract.
I noticed on my Facebook account, within the About/Overview section, there's a setting you can select to let others know if you're in a relationship or not. Recently, I changed that setting from Divorced to In A Relationship. Why you may ask again? Why that's another excellent question you asked and we're so glad you did. So, let me tell you about it. O-key-do-key, here's the scoop.
I enjoy living contently alone in Hoboken, New Jersey. In fact, I prefer that living arrangement above and beyond any other choice of habitation. It works for me the best. I wake up each morning, roll out of bed, sh*t, shave, and shower, brush my teeth and my hair (not with the same brush, of course), then do what the duck I want to with the rest of my day without consulting, seeking approval, or permission from anyone. Selfish, you may ask? Probably, and I couldn't care less that you asked that question.
Now you're surely wondering, then why the heck did he select that relationship setting to on his Facebook account, aren't you? I did it because one day I finally realized I'm happy to be self-partnered with just myself. I'm not somebody who needs another body to conjoin with to be whole. So, I'll admit it—I matter-of-factually complete myself. And that's the way, ah-ha-ah-ha, that me, myself and I like it, ah-ha-ah-ha!
February 14, 2020
---
~ You Know What I Was Thinking? ~
One of my ex-girlfriends had a set of keys to my place. Every now and then, she'd let herself in and we'd spend one or more days together. Our visits end either after getting a call from her current live-in boyfriend wondering where she's been the last few days (a live-in boyfriend who my ex-girlfriend probably had an argument with and which was why she's at my place instead of at their home), or when I'd tell her she doesn't have to go home but she can't stay here any longer. We had an understanding—my door was always open to her and it worked in both directions.
This ex-girlfriend had a job, and I won't get into all the details, that kept her a'working and a'twerking most work nights until about 4 A.M. When she "dropped in" I was usually already in bed asleep. She'd disappear into my bathroom for a few minutes before climbing into bed with me, and then snuggle up before whispering in my ear, "You know what I was thinking?" Now get your minds out of the gutter. From past experience, I knew I was about to be rudely roused from an already interrupted slumber only to probably hear about what new shade of nail polished she was thinking of using next, or what she was going to tell one of the other girls she worked with tomorrow. "You know what I was thinking?" Oh man, that used to really piss me off.
Now, I'd welcome hearing her ask, "You know what I was thinking?" To listen again to whatever was on her mind. Her live-in boyfriend and I had both known for quite a while my ex-girlfriend was battling breast cancer. Back before she moved into ex-girlfriend territory, and was still my girlfriend, she had, IMHO, beautifully and perfectly shaped breasts. We lost touch for over a decade. When we finally reconnected, probably through Facebook, and began our friends-with-benefits-when-my-live-in-and-I-just-need-some-space-for-a-bit reunion it was the first time I had the opportunity of being introduced to what she called her new pair of surgically enhanced "big girls".
I'm not a big fan of boob jobs. Interestingly, more women than men have asked me what size breasts I find most attractive. Neither a very good nor favored question, if you ask me. It's complicated. Of all the breasts I most fondly recall I rarely reliably remember the details of their size and shape, but without fail, I always remember the person they belonged to. "You know what I was thinking?" Well, I think I know I'm going to miss you for a very, very long time, my tiny dancer.
February 12, 2020
---
New book, The Freaky Fungal Family Tree, coming soon.
It begins with the discovery of the largest life form in our world, and ends with a bang! Fungi, like families, can extend over vast areas and are connected it some ways we understand, and in many ways, ways we don't. The Freaky Fungal Family Tree is a short book of short-short stories that are about organisms and beings, living or not, throughout the known and unknown universe. Each tidbit served up melts fact with fiction, melds non-fiction with farce, and mixes truth with lies. Semi-true stories tailored for an era of tweets, emojis, and conversationally abbreviated online acronyms. For conciseness and convenience, let's just label it as true-fiction. In this day and age of digital reading, with our population's ever-shrinking attention span, brevity is not only desired, it's simply de rigueur. After all, isn't it the duty of the artist to reflect the times they live in?
This collection of twelve compact chapters written with reckless references, ever-shifting degrees of temperament, and multiple mentions of muddily remembered events in time, attempts to explain how you can't have the weird without the "we". These are anecdotes about the author and others the author has known or thought he knew during the past sixty-five years of his life, such as; biological family members, spouses, friends, lovers, ghosts, extraterrestrial and terrestrial aliens, a few individuals only through electronic communication such as the internet and telephone, and several pets who have shared some space with him on this big ball of fun we all call planet Earth—while growing up, growing old and getting past the past. Imaginative accounts that are not only about him, they're about you as well.
Fungi and human families are the threads that tie the fabric of all these tales together. In The Freaky Fungal Family Tree, there are few things that are as they appear to be. You've been duly warned. Now, from this point on—read at your own risk!
---
Interview with Stevie B on NACC (North American College and Community Radio Chart).
---
Pajamas on a Sun Stained Beach: (A Story Somewhat Supposedly Based on a True Tale…) was the first book published by Stevie B, independently, back in 2012.
Paul Jones Palin is a deeply depressed, severely stressed, self-medicating dysphoric, agoraphobic on the verge of suicide. He's made and lost moderate fortunes, married and divorced three times, and is terminally ill. Alone in a post 9-11 New York City, P.J. struggles through the not-so-great recession with neither health insurance nor hope just when things couldn't get any worse…but it's not just his disease that's killing him, it's the irony! Pajamas on a Sun Stained Beach is a work of fiction chronicling the dying thoughts of a drowning man. It not only explores biological death but also the death of our dreams. Pajamas on a Sun Stained Beach covers 50+ years of the character's life (1954-2010) and uses the death of the American dream as a basic subtext. It's intended to not only work in a published form but is also adaptable to film as well as a blueprint for various video/computer games.